HTC U12+: Everything you need to know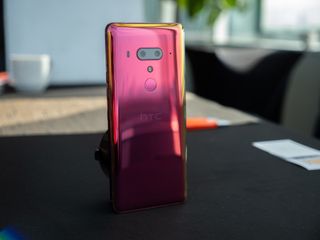 (Image credit: Hayato Huseman / Android Central)
HTC may not be that well-known in the U.S., but if you ever take some time to look at what the company's kicking out, you'll see that it knows how to make an excellent phone. There's a reason it was chosen to create the first-ever Android device, after all!
HTC's last two flagships, the 10 and U11, were both top-notch phones that flew under the radar for a lot of people. The same will likely be the case for the U12+, and should you decide to pick it up, this is what you can expect.
The latest HTC U12+ news
August 17, 2018 — Flame Red U12+ now up for pre-order in the U.S. and Canada
Since its launch, the U12+ has been available in two colors in the U.S. and Canada — Translucent Blue and Ceramic Black. Now, customers in both countries can pre-order the drop-dead gorgeous Flame Red color.
Pre-orders are live right now, and as usual, the phone will set you back $799 and $1,099 for the United States and Canada, respectively.
July 24, 2018 — The U12+'s buttons are getting fixed
The HTC U12 is receiving an update in Europe, a few weeks after the same one was released in parts of Asia, to fix the unreliable volume and power buttons on the phone's frame. These buttons were largely the reason the phone was lambasted in our review, and a primary purchase concern for many people.
According to AC's Alex Dobie, who has been using the phone over the past few weeks, the buttons are "noticeably improved." There's no word when the update will hit U.S. units, but we'll keep an eye out for it.
We'll be updating our review soon, but in the meantime, take a gander at what else it can do.
All the big details
Read and watch our review!
The HTC U12+, when it was released, was a beautiful, feature-rich phone with one major drawback: its capacitive buttons were bad. And that's being generous.
But in the vein of other 2018 flagships, the phone had other benefits, including one of the best cameras on the market.
Now that there's an update to fix the phone's button problems, we'll be re-evaluating our review, but in the meantime, read up on the phone.
HTC U12+ review: Buttonless blunder
Take a gander at the specs
The U12+ is HTC's flagship phone for 2018, and as such, it's equipped with some of the best tech around.
Between the blazing-fast Snapdragon 845, an impressive set of dual cameras, IP68 dust/water resistance, and a large 3,500 mAh battery, the U12+ has everything you could ask for in a 2018 flagship.
HTC U12+ specifications: Dual cameras, BoomSound, Edge Sense 2 for $800
HTC's got three colors to choose from
If you like to make sure your phone stands out from the crowd, HTC's got you covered with the U12+.
The phone's available in three colors, including Ceramic Black, Flame Red, and Translucent Blue.
Ceramic Black is the most subdued of the trio, looking more gray than anything else. However, if you want something that really sticks out, the color-changing Flame Red and see-through Translucent Blue will be right up your alley.
There's no wireless charging despite the glass back
You might think the U12+ supports wireless charging thanks to its glass back, but similar to the OnePlus 6, wireless charging is nowhere to be seen.
Thankfully, HTC does offer Qualcomm QuickCharge 4.0 to help you refuel the U12+ in no time at all. We certainly would have liked to see wireless charging make an appearance, but c'est la vie.
A word on the U12+'s "buttons"
The power button and volume rocker on smartphones haven't really changed that much over the years, but for whatever reason, HTC decided to shake things up by removing physical buttons altogether and replace them with button-shaped nobs that don't actually move at all.
Similar to the Force Touch trackpad on Apple's recent MacBooks and the home button on the iPhone 7 and 8 series, putting force on the U12+'s "buttons" will trigger a vibration through the phone and perform the desired action — such as turning the screen off or changing the volume.
HTC says they made the change to help with the phone's IP68 rating, but we came away less than impressed with their performance during our hands-on preview. Thankfully, there's an update to fix some of the buttons' most glaring problems.
How does the U12+ stack up against the competition?
In a bubble, the HTC U12+ would easily be the best phone you could buy. However, the Android space is anything but.
We've seen a lot of excellent smartphones so far this year, and with prices creeping up all the time, it's important you spend your money wisely on something that's going to serve your needs as best as possible.
Here are the most recent phones we've put against the U12+:
Edge Sense is more powerful and customizable than ever before
The U11 was the first gadget to tout HTC Edge Sense, allowing you to squeeze the phone to open apps, take pictures, and more.
That functionality makes a return on the U12+ in the form of Edge Sense 2, and as the name suggests, lets you do even more than you could on the U11.
Most notably, Edge Sense 2 allows you to trigger certain actions with other gestures instead of hard squeezes, such as light taps. On the U12+, you can double-tap the left or right side of the phone to shrink the UI down to a one-handed mode. Double-tap the right, the screen goes to the right. Double-tap the left, it goes to the left. That might not sound very impressive, but it should prove to be incredibly useful in day-to-day use.
Something else we're excited about is a sub-feature of Edge Sense 2 called "Smart Rotate." The sides of the phone can detect how you're holding it, meaning that even if auto-rotate is on, the screen won't flip horizontally by accident. If you've ever been frustrated by your phone's UI flipping all over the place while trying to use it while you lie in bed, the U12+ just solved that problem once and for all.
The U12+ is expensive
There's a lot to like about what HTC's done with the U12+, but one aspect you may not be too keen about is the price.
If you'd like to own the U12+, you'll need to cough up a hefty $799 in the U.S. for the model with 64GB storage. Want more room with 128GB? Get ready to pay $849.
HTC does offer 0% interest financing through its website to stretch that price over the course of 24 months, but even so, this is a phone that's going to put a big dent in your wallet.
To make matters worse, you can't buy it on any U.S. carrier
The U12+ is being sold through HTC's own website in the States, but that's it. Unlike phones from Samsung, LG, and just about everyone else, you won't find this thing in your local carrier store.
HTC fans or people that want the U12+ bad enough will be able to purchase it just fine, but that lacking carrier support means HTC isn't getting the U12+ in front of eyes of potential customers that may not even know the phone exists.
Speaking of carriers, the U12+ works on AT&T, T-Mobile, and Verizon
On the plus side, folks that purchase the U12+ shouldn't have any trouble getting it to work on the carrier of their choice.
The U12+ is compatible with AT&T, T-Mobile, Verizon, and any MVNO that uses those carrier's networks (such as Cricket Wireless, MetroPCS, etc.)
There's no support for Sprint, however, so Big Yellow subscribers are going to have to sit this one out.
Updated July 2018: This guide has been updated to reflect an important update for the U12's buttons.
Joe Maring was a Senior Editor for Android Central between 2017 and 2021. You can reach him on Twitter at @JoeMaring1.
Wireless charging and IP68 are table stakes in 2018.

What would I like to see, very simple. Proper carrier distribution here in the US. And a lot of marketing wouldn't hurt. You cannot and will not have great sales if you can't get it in the hands of John Q. Public!

Rather have a flat screen and big battery on a bright display

Flat screens are a dying breed :(

The actual display panel will be flat to avoid distortion, just the edges will be rounded to flow down onto the sides.

If that means you cannot securely place a tempered glass protector on it without it peeling off at the edges, then it's a complete no-go for me... That's the issue people have with edged screens. The glare is also pretty awful at the edges, as well. I don't mind curved edges off the screen (2.5D, or whatever they call it), but there need to be a mm or two beyond the screen for good protector placement, otherwise it's a useless "feature" to me). And that's assuming it will even be available on my carrier. HTC is good for being only on the **** carriers, these days - like Sprint. Odd for a "struggling" phone maker. Oh, how the mighty have fallen.

I'm with you on curved screens! Rocking a s8 active with flat screen and a perfectly installed tgsp.

Exactly - Wireless is one reason I am considering the S9 plus. I don't like the design of the device, but I cannot do without wireless charging.

It's got to have more than one LTE band on Verizon to meet with any success.

100% agree. And better distribution than the u11. Otherwise...

It has all Verizon network bands.

Love the U11, but I'm trying to go a bit longer between phones so I'll probably skip the U12. I just hope HTC is still around for the U13

Don't hold your breath, HTC could go with something like K2, R45, T69 who knows HTC loves to come out with a random alphanumeric names that make no sense at all.

HTC cannot miss the mark with the U12. It needs all the pieces of a flagship phone and all the bands. I am currently writing this on a U11 and love the phone but for them to be considered they need nothing missing like IP68, wireless charging and all supported carrier bands. They also need to spend the billion dollars from Google on marketing. If they can they need to be in all major carriers as well. I prefer a carrier unlocked phone but for the masses it needs to be there.

I agree with you. I would add that they also need a headphone jack. There may be a lot of people that do not care, but HTC is not apple. No headphone jack is just another reason not to get it. The only phones I will look at right now are the LG and Samsung phones.

pvcleave - The 3.5 headphone jack is such a throwback. It's simply impossible to get the audio performance of USonic through a passive jack that's a hundred years old.

Throwback? Literally everything has headphone jacks, except some phones produced in the last couple of years. USonic may be great and all, but it will work regardless of the presence (or in the absence of) a headphone jack, it is by no means an argument for getting rid of the hardware. That being said I'm sure less people would buy USonic stuff if a headphone jack was present on the devices. They really are doing you a favor by getting rid of the headphone jack.

Most regular people do not even use headphones not alone a Jack.

Can't miss the mark, the 11 & plus are not selling that well. Now Google has taken their best R&D people away in trade for the 1 billion dollar infusion. Hey I like HTC & owned the 10 but if anybody is going backwards it's their CEO Cher Wanger & upper management. They are the blame. No marketing or proper carrier distribution always hurts a good phone. Yes, the 12 will probably be a great phone but again will be the best phone no one is buying!

Removal of 3.5 and dim screen are biggest U12+mistakes, bigger than those buttons. HTC lost many old fans with the decision to run for others solutions than to stay their own. Sony and htc haven't seen worse days. While trying to be iPhones, real their competition is running over them. Ppl actually don't care for squeezing, infact, I am sure more would prefer 3.5 back than edge sense implementation.

Actual not. Most average people do not even use headphones. There's absolutely nothing wrong with the buttons and Edge Sense is extremely useful. I would not want a phone without it.

Bring back the iconic front facing speakers from the M8. I'll sell my Razer and Pixel 2 XL and pick up the U12.

HTC was bashed for the space their front speakers used, so it's not likely they will come back in that exact form. Perhaps as dual front facing slots though.

I have never understood the interest in tiny front facing speakers. Sure they sound better than a Mono speaker, but why loose screen size for tiny speakers. If I want decent sound I will have a Bluetooth speaker.

The M8 didn't have tiny speakers. Front facing lets you have bigger speakers than down firing.

True; each M8 speaker was four times the size of a Samsung speaker. When travelling, I didn't NEED a bluetooth speaker. The M8 could fill a hotel suite fine by itself :)

The U12+ speakers slaughter the M8 speakers.

why do you have a razer phone and pixel 2???

Why, when the U12+ speakers blow away the M8

Memory card, headphone jack and Verizon support.

Wireless charging is a must for me. No reason not to include it if there's a glass back.

I would like to see band 71 support in the US for the U12 if I am going to consider that phone

I hope its offered through AT&T in the US.

If they even offer it in the us

Under screen fingerprint sensor or on the front at least. Not worried about wireless charging. Apart from that just a slightly tweaked U11. It's definitely the most underrated phone of 2017 not just one of them.

Front Speakers and the infrared blaster again please!

I have the U11 Plus in translucent and it is perfect in every way. All it needs is front facing stereo speakers. That's the only thing the U12 needs.

Ah, would love to have access to that one, all we have in the US is the U11 Life.

It needs an update to Sense, Blinkfeed has adverts and the super LCD 6 screen just isn't bright or the colours aren't saturated enough. It's such a shame since the M7 was king... It's all down hill for HTC now

Loved my M7. Best phone HTC has ever made. If they had that exact design with today's specs, they would get my money in a heartbeat.

All glass back phone should have wireless charging otherwise what's the point of having glass backs

This is one of the devices I'm very excited for this year. If we get a 18:9 screen ratio at a good size with rear fingerprint and minimal bezels save for a little at the top and bottom for sensors and speakers (please don't do an essential or iphone x and eat into the screen, I'll take a little bezel at the top and bottom to have a full un-obscured screen.) Give me a great camera and a clean UI and I'm in. It might come down to this or the Pixel 3 for me as LG is flaking out and I can't go back to samsung. Only other manufacturers I'm looking at are Sony, Nokia & Moto. Oh, and the screen has to be flat, all the way to the edge or I'm out.

The display is flat because HTC made it a point to make sure the image did not get distorted by curves. However, the edge of the glass itself is rounded slightly. It feels very nice without creating reflections.

The edge of the glass is not rounded.

Still on my htc 10, still waiting for same perfect tool, skipping all the jewelry from htc with glossy backs and stale fronts. Hope to see proper, differently designed, htc 10 successor this year. Htc knows how to make great phone inspite everything. They just don't have brave and capable designers.

All of those work for Google now

BigTank, you got that right. Google depleted HTC but left a 1 billion dollar trail. But it appears they took the best of HTC!

Hi Goran, it seems all their capable designer's have left & went to Google. But they did leave a billion dollar infusion behind. We will see if they put it to proper use. Marketing & carrier distribution would certainly help!

HTC needs to get him game together! They are making new products but UNABLE to fix supply chain for their Repair department. I am waiting over 90 days for my HTC 10 to get fixed

Interesting: The phone in the Twitter image has the top of the phone covered in tape. Not sure if HTC came up with their own face mapping tech, or if they are hiding dual cameras. HTC had dual cameras long before Samsung and Apple, so it would be interesting to see what they do on the front. It's not like they would be noobs at portrait mode either, as they had that before the others as well. Not sure they will go with dual cameras on the back, because dual cameras on the back is SO 2014... "Although the U11 was one of 2017's most eye-catching phones when viewed from the back, its front resembled a device that could have been released in 2015"... Unless it was a brand other than HTC, in which case it is given a pass. The screen will likely be 2:1... not because it's a good thing, but because that's the trend and because HTC gets singled out for bezels. The design engineers can probably still taste shoe leather in the back of their throat from the time a Mobile Nations reviewer put his shoe so far up their behind that it almost came out the other end, lol. And for the record, I would prefer a "gorgeous" SLDC6 (as GSMArena put it) over a flawed AMOLED. The U11 screen is better than the iPHone 8 Plus, better than the LG V30, and I can't say there was anything about the S8 that would make me prefer it over the U11 screen when compared side by side. I have not done a side by side with the Note 8 or the iPhone 10, but it's safe to say that HTC is using a very refined and mature technology, and I'm not so sure changing that would be a good thing. Unless you really like blue ;) I'd love for them to have a through the display FP reader as well... anything to keep me from having to pick the d@%n thing up hundreds of times a day just to unlock it. On the back is better for a lot of people, and I get that. For me, my phone is out and on a surface face up when it's not in my pocket, so front means I just touch the phone instead of picking it up EVERY time to unlock. How about that download speed in the Twitter photo? 800+ Mbps over 5G? I'll take some of that regardless of what phone it's on!
IP68 for the U12 would be fine, but IP67 would be ok for the way *I* use my phone. I've had mine in the pouring rain for hours at a time and held it under water with no issues. If I'm at the pool or beach, I leave my phone in my shoe or sandal unless a friend is using it, and in that scenario, I'm more concerned about her dropping it on the walkway. They MUST keep USonic. It will probably be the same as the U11, as I don't see any way it could possibly be improved aside from matching the frequency response between canceling and non-cancelling modes. Right now, the sound quality in the default active cancellation mode is beyond words. Turning off ANC makes it a little less perfect.
But either way, I can't go back to passive sound, and it will probably be years before Apple, Samsung, or LG catch up to USonic. Google may license the technology from HTC, but we'll see. Wireless charging? Fine, but I don't care because a bulky charging pad is just clutter to me. Personal preference again, but I'm not one of those people who needs to charge my phone every fifteen feet. Been hammering the U11 hard all day, and as the sun sets in the West, it's still at 62%. It's workable as a two day phone... except when there's been an update and it has to re-learn battery optimization for several days. Just bein' honest! Stereo speakers? That would be cool, though it would be slots on the front instead of full grilles. More carrier support would be nice, although AT&T is fully in bed with the big two. Unlocked is better better better, but having more carriers would mean more sales sales sales. Oh, and advertising? Please? I saw more U11 ads than I have for other HTC's, but when I'm out on a date and the girl is admiring the phone, she usually asks "How come I've never heard of HTC?"

How do you have time to date?

Not as much anymore! Think it was only a couple times last month, but my "dates" are only as friends and time has been crazy. Got called by three of them on this past Saturday, but couldn't go anywhere because I was putting major work into the car and prepping for a trip on Sunday with my wife. Oh wait, were you talking about how do I have time for dates after typing ginormous posts like that? Yeah, sorry about that... I have to learn to condense more, lol!

Wife. Dates with other girls. Girls admiring your phone.

I can't see why so many want wireless charging, my missus had it on her Samsung S6 which she always had on the sofa with her and the amount of times it slid off whenever she moved, lol. I keep my own phone charging on the other side of the bed so a charge pad would be no good and as I work away so using a pad in the minibus would also be no good, proper wire for me, USB c all the way.

I use to think wireless changing was a waste. Since my Note 8 I will never buy another phone without wireless charging. I have 3 wireless charging stands, one at work one on my nightstand and one in my home office. So great just to put my phone on the stand. With the AOD makes a nice clock with notifications. My phone sits a a nice viewing angle and has never slid off the charger.

That was me too. Thought it was a gimmick, when I got my Lumia 920 in 2013. Took me 6 months to use the free wireless charger. Not stopped since! epic feature, and EVERY flagship should have it.

I love the simplicity of Project Fi. Google is making it very easy to subscribe to their service whether its Play Music, YouTubeTV, or whatever else.

Honestly I would have a U11 today if it was offered on more carriers. On Sprint, the problem is that LG and Samsung are both less expensive than the U11 with their BOGO deals.

Nice, will buy the unlocked non carrier version directly from HTC. U11 was a good phone, with the move to more modern look U12 will be great phone. Hopefully the also work on Sense and make it more modern looking. It looks a bit stale in the current state.

More carrier support in the US. If on all carrier's it will sell very well!

I'm more excited about the gal in the picture!

Yeah, she's cute, but I bet she doesn't have wireless charging either!

I can't plug into her 3.5mm jack either.

Something wtthout a 6" screen. Would have been nice for it to be Essential phone sized.

You would have loved the original HTC One Mini. 4.3 inch HD screen and a feel that made you want to fall asleep holding it. No card slot and only 16GB, and it only had the SD 400, but it did have crazy standby time of 692 hours. That was the best feeling phone I've ever had.

If this release is anything like the 11plus it will succeed. Please HTC, carrier distribution here in the US is a must. Put it on all major carrier's and watch what happens. The edge sense is a great feature and add stereo speakers, 6gb's & 128gb's of storage. Stop screwing around & put that 1.1 billion dollar infusion to work. Your still a very capable OEM so just do it!

What they need to do, besides all you've mentioned, is learn how to optimize the damn batteries they put in their phones. Especially if they insist on continuing to use SLCDs, as opposed to AMOLED.

Here's what we know... HTC will not make any money with this phone and grow closer to extinction...

Basically it should be the U11 Plus with front facing speakers.. And available in the U.S. for goodness sakes with all the necessary bands.

Is it not a big deal that there is no Sprint support? Why would HTC - in desperate need of a hit!, come out of the gate with only 3 wheels?? And, why would Sprint - desperate to retain customers, not try to get anything that could potentially be the new hotness?? I'm frustrated with both on this one...

CDMA is a thing of the past and HTC knows this. Verizon will have CDMA eradicated by the end of the year.

USB-C is good enough for me right now. Wireless charging has its drawbacks. Bezel-free sides is eye candy... nothing really useful about it other than the visual cool-factor. I want to see the U12 produce an even better camera and more capable inner antenna for greater WiFi reception and cellular signal strength. I appreciate the corporate need of taking away a user replaceable battery, but to make it complete "cell phone surgery" process to replace the battery is going too far. The method of doing it on the M8 and M9 (don't know about the 10 or 11) is highly flawed and problematic. At this point, the technology curve is growing less steep -- people are keeping their cell phones longer. And battery replacement will become more important. So at least make U12 more serviceable so there's little risk of damaging the internals during a battery replacement. Lastly, dual front speakers on the M8 are fantastic... need to bring them back.

If you don't like the wireless, don't use it. But it needs adding for those that do.

Having used wireless charging before, well technically it's inductive charging since it has to be placed on a charger to use it, I found it to be fine if you like trickle charging from 10 to 100% and lets not forget that you can't wirelessly charge from an empty battery.

Smaller bezels please! All major carriers compatibility and oh yes smaller bezels!

Still loving everything about my U11 except usb-c headphones. After about 9 months of occasional use the port now thinks the headphones are disconnected if the jack gets jostled to the side in any way. That can happen a lot if you have it in a back pocket or even if I'm just holding it while running. Never had that issue with 3.5mm jack. The usb-c headphone plug just doesnt go in far enough for it to be stable. Design flaw if you ask me since I'm using the HTC supplied earphones (which are quite good otherwise).

I fail to understand why HTC has no intentions of having the 12 on no US carrier. Why, if all four carrier's handled this it would have banner sales. It also appears they have downgraded the battery from the 11plus. Then you get the dongle instead of a headphone jack? Again this all adds up to failed sales and will be once again the best phone no one will purchase!

Have they said that? The U11 Plus didn't get a US release, but I haven't seen anything about the U12 one way or another.

I'm not buying unlocked from them again. I had an issue with my HTC 10 and it took them two months to fix it, it was a complete debacle. I know AC likes to preach buying unlocked, but both times I have I've had terrible support issues. Whereas when I buy from my carrier I just call them or go into the store. Heck, even dealing with Best Buy is better. So I like what I'm seeing here but if I can't pick it up using my Jump on TMO I won't even look at it.

Wireless charging - a cheap to implement feature. Every flagship should have it. Oh, and a bigger battery.

How come everytime I read an article now it turns out to be a recycled article from 5 months ago?

Alex, I just rewatched the video, and I must have missed your comments about the dual sensor setup on the M8. Granted, the software was in it's infancy when released, but I think the feature of Ufocus and 3D imaging were fairly uncommon, and mostly ignored until Apple "invented" Bokeh effect ;)
HTC applied what they learned about imaging in continued updates to the M8, and as it stands right now, the M8 currently does portrait mode better than the iPhone 7 Plus. The M8 still has a few wonky artifacts, and is not as good at portrait as the Pixel 2 or iPhone 10 (unsure about the iPhone 8), but considering how old the M8 is now, it's not bad. "HTC does not have the best track record with marketing" Now THAT's an understatement! As it is, Apple tried to mimic HTC's description of their multi-layer glass back, but of course HTC's was far more attention getting. HTC has a habit of making things special and not bothering to let anyone know. When none of the leading flagships could claim it, HTC's flagships were already water resistant. When HTC had Zoe, little was said, and Apple bought licensing rights so they could call it Live Photos. If Apple had anything as groundbreaking as USonic, you better believe that the world's entire literate population would be sick of hearing about it, and Apple would sell millions more devices because of that feature alone, but I digress.
It will be interesting to see what they do with the camera. U11 camera is great, and the U11+ is reportedly better. I know first hand that the iPhone 8+ is no match for HTC after a side by side low light shootout this past Saturday (3/3/2018). The HTC won hands down in every shot, and the guy was hesitant to email me any originals. A link to pictures of a 5 foot dragonfly are below, and it should be noted that the room was so dark that you could barely SEE this thing on the wall. HTC U11: https://photos.app.goo.gl/T370DeuNi0zuuM1i2
iPhone 8 Plus: https://photos.app.goo.gl/TsAOt65WmrvyZrY32

If this has a headphone jack and SD expandability, I will buy it without question. HTC is not in a financial position where they can drop such needed features, especially when both LG and Samsung continue to produce phones that have both. I'm not buying any flagship without a headphone jack or an SD card slot.

Best comment I've seen all day!

My M9, 10 and U11+ will all be sold for this. CANNOT WAIT!!!!

The 11 & plus are very good phones. Carrier distribution & marketing are their downfall. Isn't it about time we question their CEO & founder Cher Wanger & upper management. With those people in charge HTC will continue to fail. They have been in the red far too long. A change is definitely needed! Until then the song remains the same!

Are pre-orders live yet? Come on already...

AMOLED and front facing speakers with Boomsound please. And regular updates.

Headphone jack, front facing speakers and SD card... Nothing else matters!

What's with dual cameras I. The back (12 MP +6 MP) why not make them both high quality 12 MP cameras behind different lenses?

I think what HTC needs the most is a lightning bolt to go up the poop-shoot of their founder & CEO Cher Wanger. Whether she found it or not her & upper management are slowly killing them as a company. What will they do with the money from Google, line their pockets first then introduce the 12 with no marketing or carrier support. So what happens next a great phone that nobody is buying. Kinda the same song over & over!

First thing I look for is whether it has a notch or not. Then I go from there. Also very high on my list are the aspect ratio being 16:9 and not having rounded corners or a curved display. I am actually pretty limited anymore on what phones will work for me.

Give in to 18:9...it's actually terrific, making for more slender and graspable devices.

23-5-2018 (the sum of its numbers) = 2046
2+0+4+6 = 12
pretty crafty HTC... :-)

I would've never figured this out lol

I've really missed having an HTC device since my Windows Phone days. I've only had the Sony Xperia Z3, LG V10 and currently V20 since being on Android. This might be the year to give HTC a real shot.

Unfortunately the U11 had a limited market release so it never arrived in our market.

My new rule for screening phones for possible purchase: If I can find an Otterbox Defender for it, I'll consider it.
Hint: when Otterbox stops making cases for your brand altogether, you might be in trouble.

Hint OtterBox doesn't make many cases at all. I'm not limiting my phone choice by weather a case manufacturer makes a case or not. On top of that I have had more problems with OtterBox cases than some I have found for less than $10.

Why would anyone want an ugly OtterBox on such a gorgeous phone.

The m8 was my very first HTC phone and I till this day never felt anything near to the build quality and Craftsmenship. It felt solid and sturdy, but not too heavy. The design was definitely an eye catcher. I picked up their HTC U ultra this past summer and man it was a hell of a phone, but with lackluster battery life. I'm really looking forward to this and might even leave my S9 for it. Just really hoping for flat display and AMOLED display.

are you able to disable the squeeze if you don't even want to use it?

i'm interested in knowing why u would want to disable what is essentially nothing more than a hidden multifunction button? You can't accidentally squeeze it bc it takes a certain amount of pressure, so why do you assume that you would want to disable it...it's not like the pixel where all it launches is the assistant it can be set for any app.

Marketing has always been HTC weakness. Sad because they were the first to make an android phone, you you think the OS would be heavily associated with the brand, but nope. Sad because they make great phones.

Smaller battery, with the same screen as U11plus, nightmare battery life incoming. No wireless charging, come on HTC.

Lol @ people thinking an HTC flagship is going to have a headphone jack. I have my eye on this phone but it will probably be expensive with limited carrier availability. We shall see

htc 11 and 12 can be the best phones ever. no carriers. no sales

Clear back, stereo speakers, NO NOTCH, titanium frame to help keep that glass back from breaking. I would even like to see HTC go old school and make the back have glass with a metal band across the center or some design to that point. You could have wireless charging and add some rigidity. Maybe have the metal just where the processor is for better heat dissipation.

The HTC U11 is a wildly impressive phone - in a sea of wildly impressive phones. The core abilities will wow any HTC fan, but the squeezable sides really fail to impress.
However, the phone's biggest selling point remains its advanced audio qualities. HTC's been leading the mobile audio market for quite some time and the 10 cements its position as the best phone maker for music fans.
https://skcamera.com/top-dslr-cameras-under-50000-rs-india/

I know this comment is old but I never understood why reviewers didn't go up for edge sense seeing how most flagships have a dedicated button and they are always complaining you can't remap them and with edge sense you can have it do almost anything without having to reach for a button.

Have to disagree with your take on edge sense. It's one of my favorite phone features of all time, even though when I got the phone I wasn't sure how practical it would be. Just yesterday I was under a car and needed to take a picture of a part. I did it one handed while laying on my back and thrusting my phone up and around the engine bay. Because of edge sense I could do that without fear of dropping my phone. Not to mention turning on the flashlight at a moment's notice without having to turn on the phone screen. The next generation of edge sense is suppose to add even more apps and settings to be mapped as well as more squeeze combinations. I can't wait for that update. It truly is the most useful feature added to a phone in some time.

I agree. It's pretty innovative, you just have to map it to something that works for you.

Edge Sense is one of my favorite features, and I don't want a phone without it now.

One important thing people should know is that HTC is a company that could go under any day now. So buy their products at your own risk!

We can decide for ourselves which phone we want to choose.

All people need to know is that the HTC U12+ is another failure without the proper carrier support. HTC is doomed.

What do you need carrier support for?

I would like proper at&t support so I can use their WiFi calling and enhanced messages options... But I'm thinking, but not completely sure, the person was meaning without them being in carrier stores most people will not hear about the phone and it will fail as the phones before it... HTC needs to find a way back into carriers plus do like Samsung and Apple did, which was give the sales rep in the stores a financial incentive to sell the phones over other brands...

Your ****** xl2 is a failure with that LSD seizure inducing **** screen!

I heRd that this will work on the sprint network.
We're they wrong?? I've all ready ordered it🤪
Any help would be appreciated.
Than's.

Thanks for keeping us informed Alex. I've actually got my hand on the trigger for this one. I'm taking enhanced photography classes and the U12 has some features I need.

Can't do it..no Band 71 t-mobile. I guess it's off to LG or Samsung

This article is a crock of crap. There's absolutely nothing wrong with my buttons everything works flawlessly. It's completely awful how all these bias reviews are lying about the buttons. Shame.

Yeah they're obviously making it up since your sample size of 1 phone is OK! Conspiracy!

I think the phone that AC got did not work well, and they are being honest about it. I don't agree with them figuratively throwing the entire phone in the dumpster for one flaw, especially one that could (and was) fixed. The Note 9 had a flaw in the camera app which caused it to crash, and the S9 had dead touch response issues, but those devices were not trashed the way the U12 was.

But didn't they have a sample size of 1 as well? Lol...I didn't see anyone outside of reviewers complaining about the buttons at least not on popular tech sites.

The U12 will become the 2019 Android one for Google
Android Central Newsletter
Get the best of Android Central in in your inbox, every day!
Thank you for signing up to Android Central. You will receive a verification email shortly.
There was a problem. Please refresh the page and try again.