The quick take
After a disappointing couple of release cycles, HTC's 2016 flagship is a confident return to form, and a reason for high-end buyers to start paying attention to the company once again. This impressive all-rounder gets a lot of important things right — performance, build quality and, for the most part, the camera. And although it's trumped by the Galaxy S7 in some key metrics, the HTC 10 is arguably the closest competitor Samsung has right now.
The Good
Well-built aluminum unibody
Fast performance and clean, uncluttered UI
Impressive audio features
Capable all-round camera
The Bad
Display not great in sunlight
Camera focusing can be finicky, particularly in macro
Battery life inconsistent, sometimes wildly so
Expensive SIM-free price
A return to glory?
HTC 10 Full Review
It's easy to write off HTC. With its declining market share and shrinking revenue, it's been some time since it was a major force in the mobile world. Today, the Taiwanese firm is outspent by Samsung and Apple, and increasingly outmaneuvered by leaner upstarts. It's a small fish in a very big pond.
Nevertheless, HTC's strong history in design has left many of us with fond memories of the company's storied back catalog. Phones like the spectacularly ahead-of-its-time HTC One M7, and the beautiful and unique One S, and even the landmark Nexus One stand out as some of the best handsets of their time.
However it's been a good couple of years since the last real trailblazer from HTC, and competing in the the cut-throat phone market of 2016 demands more than just nostalgia. With diminished resources and brand value, HTC needs a hit now more than ever before.
HTC 10 is what's hoped will fuel the recovery: A new, simpler brand backed up by a marketing message promising nothing less than perfection across the board. Sure, some of the key ingredients will be familiar to HTC alumni — BoomSound audio, metal construction and an "Ultrapixel" camera. But can a modern interpretation of these tentpole HTC features make a big enough splash — especially when it's got to go up against the almighty Galaxy S7?
Let's find out.
5.2-inch Quad HD
SuperLCD5 Display
2560x1440 resolution (564ppi)
12MP Ultrapixel 2, ƒ/1.8 lens, OIS, laser AF
5MP Ultraselfie front camera, ƒ/1.8 lens, OIS
3000mAh capacity
Quick Charge 3.0
Qualcomm Snapdragon 820 processor
Quad-core 2.2GHz
4GB RAM
32-64GB internal storage
microSD slot with adoptable storage
About this review
We're publishing this review after a week with an unlocked European HTC 10 (model 2PS6200 / M10h) on the EE and Vodafone networks in the UK. We've been using the phone in Manchester and London, UK, in areas with generally good 4G LTE coverage. Our device has been running software version 1.21.401.4, and it's been paired with a Moto 360 (2015) smartwatch during most of our testing. Security patch levels aren't shown in the menus, however the AIDA64 app shows that it's got the March 1, 2016, patch.
Our review unit is the "carbon gray" color option with 32GB of storage, and we've used it with a 64GB microSD card for photo storage and Google Play Music download cache.
We've also been using an unlocked North American model for two weeks now, in New York City and Pensacola, Fla. We've not seen any noticeable differences between them, and the vast majority of this review is based on our European device.
15 minutes of 10
HTC 10 Video Review
Metal to the max
HTC 10 Hardware
The HTC 10 represents a return to the manufacturer's design roots. An aluminum unibody with familiar angles and curves, accented by a deep chamfer circling the back, make up a modern interpretation of a classic smartphone design. Aside from the prominent branding on the back, there's a ton of HTC design DNA here. Everything from the contrast between the lustrous machined trim and the softer matte back, to the trademark antenna bands, is pure HTC.
Veterans of the brand might recognize it as a refined, souped-up version of the company's past few flagships. Essentially, it has the look of an M7 on steroids.
It's also HTC's most ergonomic and easy-to-hold phone in recent years, and all without sacrificing the premium design elements we've come to expect. The curved back is a comfortable fit for the hand, while that enormous chamfer — combined with the flat, angled side walls — ensures a steady grip.
The HTC 10 isn't the thinnest or lightest handset you'll come across. (Nor, with an enormous metal enclosure, would you expect it to be.) That's not a bad thing — it's easy to overstate the value of both properties. What's more important is a phone which feels sturdy and well-built, and that's exactly what's conveyed by the HTC 10's somewhat chunky unibody and clean, uncluttered glass front. Its overall vibe is more industrial than the sleek, glassy Samsung Galaxy S7, but there's nothing at all wrong with that.
The main decorative feature — that oversized chamfer — may be a little polarizing. But there's no denying it gives the HTC 10 a necessary visual differentiator in an incredibly crowded field. And when combined with the darker antenna band in the carbon gray model we've been using, it works. On the gold and silver models, it's more pronounced — the chamfer is far more reflective, and makes the phone appear to shimmer as it tilts through different angles of light.
The HTC 10's rear camera — a 12-megapixel "Ultrapixel 2" shooter which we'll discuss in greater detail later — protrudes ever so slightly through the metal back, but not enough to cause any real issues in day-to-day use. (In fact, the slight camera bump means the phone doesn't wobble quite so much when placed on a flat surface.)
Up top, that extravagant metal design is broken up by two engineering necessities — a 3.5mm headphone jack, and a plastic section for antenna reception. It's easy to ignore on the dark gray model, but stands out a little more in the gold and silver versions.
Meanwhile, you're looking at a fairly standard port and button arrangement — a textured power key and smooth volume rocker on the right edge, below the nano-SIM slot, and a microSD tray over on the left. Down below you'll find a USB Type-C cable (supporting USB 3.1 Gen1, which means faster data transfer speeds) alongside one of the HTC 10's two loudspeakers.
Unlike its past few flagships, HTC's latest does away with the front-facing stereo speakers that had become a staple of the "M" series. Instead there's a new "BoomSound Hi-Fi" setup consisting of one front-facing tweeter (in the earpiece) and a bottom-facing woofer, each with its own amp, and Dolby lending its expertise on the processing end. Although it functions differently from earlier BoomSound implementations, the results are still impressive — powerful bass, and more volume than you're likely to ever need without any noticeable loss in clarity.
There is one trade-off, however. Because you've got one speaker facing towards you and another pointing downwards, the HTC 10's output is prone to more distortion when holding the phone in-hand, mainly due to the woofer being so close to your palm or index finger. The effect is less noticeable if the phone is lying flat — as it may well be if you're playing music.
Of course the phone's built-in speakers aren't your only option for music playback. HTC has some serious power behind its headphone port too, with a dedicated amp capable of delivering an output level of 1V, according to the company's own numbers. And using wired studio headphones, the difference is clear: HTC's pushing more power than Android rivals like the Galaxy S7.
The company is also keen to highlight the HTC 10's status as a high-definition audio certified device, with support for 24-bit audio and HD audio earphones bundled in the box in some countries. (Not including the United States, unfortunately.) It' s a neat addition sure to appeal to audiophiles, if not those of us mainly playing compressed music from streaming services.
Nevertheless, phone audio is important — it's where many of us listen to music the most. So it's great to see HTC continuing to pay close attention to audio hardware, even though the days of front-facing speakers seem to have passed.
The display is equally important, of course. It's a 5.2-inch SuperLCD5 panel at Quad HD resolution, just as we'd expect from a modern Android flagship. Generally speaking it's a good-looking screen, with vivid colors and ample brightness without appearing excessively over-saturated. (There's an optional sRGB mode in Display Settings for colorspace purists.) Off-angle visibility is decent too, with only slight color shifting noticeable on our unit at wider angles.
Sadly, wonky auto-brightness and less than spectacular sunlight visibility conspire to make the HTC 10 a little challenging to use in brighter conditions. Like a handful of other phones, including most of Samsung's high-profile models, the HTC 10 has a display overdrive mode that over-brightens the screen when very bright ambient light is detected. The problem is this doesn't kick in anywhere near as consistently as we'd like to see. Furthermore, the 10's screen appears more reflective than Samsung's latest round of SuperAMOLEDs, so it's hobbled from the outset.
It's possible some of these nagging issues with auto-brightness will be addressed in a software update. Even so, the HTC 10 is clearly a step behind the Galaxy S7 and iPhone 6s in outdoor visibility.
But there's more going on around the front than just the screen. The HTC 10 has a unique new button arrangement built around the capacitive fingerprint scanner, which doubles as your home key. On either side you've got capacitive back and recent apps keys which illuminate, Samsung-style, for a couple of seconds when pressed.
In fact the similarity to Samsung's way of doing things makes the HTC button setup particularly vexing if you're coming from a Galaxy phone, as the button order is reversed. It's not a huge thing, but it's definitely a thing.
The fingerprint scanner itself is among the best we've used on an Android phone. Setup is quick and painless, as is using your fingerprint to instantly power on and unlock the phone. Apple's Touch ID is faster, sure. But we're talking tiny fractions of a second here. We've also noticed fewer fingerprint-related failures in day-to-day use on the HTC 10, compared to Samsung's sensor on the GS7.
Powering this whole assembly is a collection of parts fit for any high-end smartphone. Qualcomm's latest Snapdragon 820 chip lurks within, paired with a hefty 4GB of RAM and 32 or 64GB of storage, with microSD expandability. Unlike many rivals, HTC supports Android 6.0's Adoptable Storage (also known as Flex Storage), letting you directly tag your SD storage onto your internal memory and use it for just about anything. (It's possible to find apps that can't save to it, but that's the exception, not the rule.)
Rounding off the spec sheet. there's a 3,000mAh fixed internal battery, along with support for Qualcomm QuickCharge 3.0. Unsurprisingly, the HTC 10 also appears to be backwards compatible with QuickCharge 2 in the handful of older chargers we tried.
As a whole then, the HTC 10 is an impressive hardware package — the latest 2016 internals brought together in a beautiful unibody enclosure, with a high-end audio setup, a decent screen and convenient fingerprint security.
Meet the Ice View case
The HTC One M8 in 2014 brought us the Dot View case, the neat dot-matrix flip cover that showed you the time, missed calls, weather and other info through a low-res grid of dots on the front cover.
With the HTC 10, we're introduced to the successor to Dot View — a higher-res interpretation of the same idea, dubbed Ice View.
Read our introduction to the HTC 10's Ice View case
Googley Sense
HTC 10 Software
Of all the numerous flavors of Android, HTC has generally presented some of the most coherent UI concepts atop Google's OS. HTC Sense has been unique yet attractive, with meaningful changes, and not completely removed from Google's vision of Android.
Then in late 2015, the HTC One A9 pared things back dramatically with a new Sense version — 7.0 G — that included many stock Android elements and design cues in place of HTC's.
Now on the HTC 10, we've got Android 6.0.1 Marshmallow and an all-new version of HTC Sense. The Sense software on HTC 10 doesn't actually have a version number — at least you won't find one in the Settings app. Instead it's advertised as simply "Android with HTC Sense." And that's a reflection of what Sense has become in 2016 — a collection of differentiated apps, UI tweaks, under-the-hood optimizations and standout features that complement the Android OS without completely redesigning it.
Through a close partnership with Google, HTC has reduced the number of duplicative apps bundled on its new flagship, using its own apps in cases where it makes sense, and in others ditching these offerings in favor of Google's. So you've got HTC's Sense Home with BlinkFeed, but the Google Calendar app. Sense Dialer, Google Photos — and so on. The overall app mix is about 50 percent Google and 50 percent HTC, but because HTC's software has adopted a Material Design look and feel, Sense manages to avoid looking like two systems haphazardly tacked together.
When it comes to the overall look and feel, the HTC 10 is way closer to vanilla Android than what HTC One M7 and M8 owners might remember as Sense on their phones. Key elements like the notification tray, quick settings and the Settings app match the "Nexus" software experience almost identically, while the color scheme of the default Sense theme also mirrors that of vanilla Android.
As vanilla as Sense now is, HTC's comprehensive theming engine remains in place, giving HTC 10 owners endless possibilities for customization of colors, wallpapers, fonts and sound effects. And new in the latest version of Sense, Freestyle mode is a wacky home screen layout that lets you replace traditional icons with stickers, and make your home screens an interactive scene where tapping stickers opens your favorite apps. Being increasingly old and boring, we played around in Freestyle mode for just a few minutes before retreating to the familiar territory of our grid of icons.
BlinkFeed, HTC's social and news reader, once again gives you a scrolling panel for Twitter updates (but oddly not the preloaded Facebook or Instagram — they need a separate social plugin) and news stories. And the service continues in a similar vein to what we first saw on the One A9, with more prominence given to the News Republic brand. BlinkFeed news stories display in the News Republic app, and customization is handled through that system as well. This means HTC doesn't need to update this component itself, but with notification nags and account sign-in pop-ups, it's a definite step back in terms of user experience. (Either way, BlinkFeed is easy to turn off if it's not your cup of tea.)
HTC's focus on audio extends into its software, too. When playing stuff through the built-in speakers, you'll be able to choose between music mode and theater mode, which tweaks the EQ levels for different types of content. And when you're connected to headphones you'll have four options to choose from depending on the type of headset. Only problem is everything except "Other," the generic option for all headphones, sounded weirdly muffled to our ears, regardless of which headphones we were using.
Annoyingly, these "BoomSound" software enhancements conjure up a persistent notification whenever any audio or video is playing — including silent videos in Instagram and Twitter. What's more, the notification pops up even if all BoomSound enhancements are turned off, which is mildly irritating.
Image 1 of 5
HTC's sound setup also includes the ability to make audio profiles that tune the phone's output to individual listeners or different audio hardware. This is done either by listening to a series of tones and answering questions, or by telling the software a few things about you (for example how old you are, what kind of music you listen to.) For us, the result was slightly louder output, with a bit more oomph given to the low end.
For all the HTC 10's audio tweaks and preset modes, the one thing that's missing is a dedicated software equalizer for setting your own levels. It's easy enough to download one from Google Play, but for a phone with such a musical focus, it's an odd omission.
Another software oddity is the "Boost+" app preloaded on the HTC 10, an application which does a handful of useful things — like letting you lock away sensitive apps behind fingerprint security, or tweak games' performance for better battery life. It can also help clear up "junk" files like old downloads and cached stuff.
But strangely, Boost+ also, by default, sits in the background clearing apps out of memory periodically. It's not clear why this is necessary — Android's memory management is pretty good, and in the Linux world free RAM is mostly considered wasted RAM. The only real upside: We didn't notice any performance difference either way with "Auto Boost" either on or off. So at least it didn't appear to be doing any harm.
Not that the Sense of 2016 needs any help being smooth and responsive. As you might expect, HTC's software absolutely flies, and we experienced no instances of stuttering, animation lag or performance bottlenecks anywhere during our time with the HTC 10. Part of that's surely due to the sheer hardware muscle of current high-end phones, but the manufacturer also claims it's fine-tuned things under the hood for maximum performance. Given its track record in eking smooth, responsive performance out of less than stellar hardware (like the One A9), we have no reason to doubt it. But it's arguable that we're reaching the point of diminishing returns in smartphone smoothness and performance. Though for sure it's blazing fast, I can't say the HTC 10 felt noticeably quicker than either the Nexus 6P or Samsung Galaxy S7.
Overall, HTC has employed a lighter touch than ever in its software customizations, and the result is an experience we think will please Android purists and HTC fans alike. It's fast, it looks good, and the feature set, though not extravagant, brings enough unique stuff to the table to add real value.
A handful of related software bits:
HTC's Motion Launch has grown a couple of new useful features, the most helpful of which is a double-swipe down on the screen when asleep to jump straight into the camera app.
HTC Connect — the feature which lets you swipe up with three fingers to stream content to other devices — now supports AirPlay. In fact, the feature has already rolled out to older HTC phones through an app update.
The setup wizard on our European HTC 10 gave us the option to install a selection of stuff from a list of "popular" apps. Ostensibly that's a useful feature that saves you time poking around the Play Store later. But some of the apps on offer here toed dangerously close to bloatware territory. (Money had obviously changed hands to get stuff on this list.)
The unlocked HTC 10 we reviewed works with EE's Wi-Fi calling in the UK, however we were unable to get Vodafone's Wi-Fi calling to work on the device. As Vodafone isn't planning on ranging the HTC 10, it's unclear whether there'll be any official solution here. We also used Wi-Fi calling on T-Mobile in the U.S.
When it does work, Wi-Fi calling dumps an unsightly persistent notification in your notification tray, which is less than ideal.
Ultrapixels and Ultraselfies
HTC 10 Cameras
If there's one area in which recent HTC phones have thoroughly disappointed, it's photography. Through a combination of hardware misadventure and lack of competent software tuning, the M7, M8 and M9 were pretty sub-par cameras compared to their competition.
Forget all that. HTC finally — finally — has a good camera.
It starts with an impressive collection of specs. The HTC 10's rear shooter is a 12-megapixel "Ultrapixel 2" setup, with the Ultrapixel brand referring to larger pixels on the sensor. HTC's camera setup has 1.55-micron pixels (like the Nexus 6P), letting each tiny dot take in more light than traditional smartphone cameras, which tend to measure around the 1.1-micron mark. HTC's paired that beefy sensor with an f/1.8 lens, optical image stabilization (OIS) dual-tone flash and a laser autofocus unit. On paper, then, you couldn't ask for much more out of a high-end smartphone camera.
Update May 4, 2016: Right around the time of the phone's release HTC put out a firmware update that (in addition to other things) tweaked the camera a good bit. You can see new samples and read our updated impressions here.
Around the front, Ultrapixel morphs into Ultraselfie, with a new optically-stabilized 5-megapixel front facer — the first selfie camera we're aware of with OIS. It's got smaller pixels than the M9's Ultrapixel front-facer (1.34 microns versus 2.0), but the addition of OIS and a higher overall resolution tilts the balance in favor of the HTC 10.
Technology is one thing, but it doesn't guarantee you'll be able to take great pictures. Fortunately, HTC has mostly nailed it with its new flagship's camera. It's quick to launch, lightning-fast to capture and reasonably speedy to focus. Crucially, it exhibits none of the metering and exposure weirdness we've seen from earlier HTC cameras. With its large pixels and optical stabilization, the HTC 10 is unfazed by darker conditions, and we've been able to get some great-looking night shots out of the phone — with one or two caveats.
The HTC 10 is pretty trigger-happy with its ISO levels in darker shots. Compared to major rival Samsung's Galaxy S7, the HTC 10 tends to crank up sensitivity levels to ensure a steady shot in low light, as opposed to leaning on its OIS and opening the shutter for a little longer. This results in some visible chroma noise in darker shots — although HTC's camera routinely captured more realistic colors in night shots than the GS7, which gives things a yellowish tint.
Image 1 of 33
Photos from the HTC 10 generally have true-to-life, realistic colors. HTC's photos appear a little less punchy than Samsung and LG's more saturated output, but look great in their own right. At the same time, it's clear HTC isn't sharpening its images as aggressively as its chief Android rivals, leading to pics that appear a little softer when viewed up close. On the flip side, we sometimes noticed areas of fine detail being mushed out by HTC's noise canceling and HDR algorithms, an issue that's less apparent with the competition.
But the main point of contention has to do with macro shots, where HTC's software can get a bit confused. Despite the use of laser-assisted autofocus, the HTC 10 takes noticeably longer to focus on close subjects than competitors, sometimes failing to focus entirely. And on multiple occasions the phone told us the laser was being blocked when trying to take macro shots. All of these small frustrations combine to make a camera that's just a little bit wonky when it comes to snapping food pictures, flowers or other shots where the camera is close to its subject. Hopefully some of this can be ironed out through future software updates.
Tapping the screen to focus doesn't set the exposure level, either. The phone instead uses the entire screen to figure that out, and that can be frustrating if you're trying to highlight something in the foreground, with light coming from behind the subject. While that'll keep you from blowing out what's behind, it also means what's in front may be darker than you want.
Like most Android flagships, the HTC 10 can shoot video at up to 4K resolution, with a time limit attached: in this case, 6 minutes per clip. There's no such limit when shooting at 1080p, which is the default for the video camera.
Image 1 of 5
Overall, the HTC 10 shoots great-looking video with similar characteristics to its still camera — realistic colors without oversaturation, and a little focus hunting in scenes with lots of movement. Optical stabilization kicks in to make camera movement smooth and shake-free, even when walking with the device in one hand. The phone's impressive mics, combined with optional high-res audio capabilities, are able to capture a wide range of sounds in louder conditions like concerts or noisy bars.
As for the front camera, HTC's new stabilized selfie shooter mostly lives up to the hype. In all but extremely dark conditions, it's able to pick out your mug and successfully focus in on it. And when it is darker, the phone can overdrive the screen's brightness briefly to act as a makeshift flash. If we were to nitpick, we'd point out that the front camera's focus seemed a little soft in places. On the whole, however, we have no major complaints.
HTC has also overhauled its camera app, finally including single-tap shortcut keys for flash and HDR. And there's now an Auto HDR mode — on by default —which does a great job of automatically detecting shots with bright and dark areas. Just about everything else is tucked away slide-out menu over on the left — features like Panorama, Pro mode, which includes RAW capture, and Zoe shot, a combination of burst shots and a few seconds of video. HTC's camera app also boasts slow-motion video, as well as a built-in Hyperlapse mode for stabilized time-lapse video, both at 720p. And there's a regular old "settings" menu tucked away in there too, which is a bit of a rat's nest. Fortunately there's nothing crucial buried back there.
A big change (and part of this new Google-HTC relationship) is that Google Photos is used as the gallery app. It's a fully functional gallery app, but it can get a bit busy and confusing, especially if you're importing photos from other sources into Google Photos. If you just have to use HTC's gallery app, it's available in Google Play. Or you're certainly free to use any other gallery app.
One thing we'd like to see is a faster quick shortcut for launching the camera app when the display is off. It's possible to double-swipe down on the screen to open the camera, but this isn't as quick as the double-tap shortcuts we've seen on other phones.
This isn't a perfect smartphone camera. There are minor complaints here and there. There are numerous instances where the Galaxy S7 or iPhone 6s will take subjectively better-looking photos than the HTC 10, mainly because of Samsung and Apple's lead in image processing. But equally — particularly at night — there are times when the HTC 10 will come away the better-looking shot.
HTC has come a long way in the past year, and we're way more confident in the HTC 10's photo capabilities than any of the company's previous phones. This is a camera worthy of being mentioned in the same breath as the Galaxy S7 — even if there are still some software issues to be worked out.
A 'one day' phone
HTC 10 Battery Life
The HTC 10 comes with a fixed 3,000mAh battery, with Qualcomm QuickCharge 3.0 support, and a unique charger from HTC. In addition to Qualcomm's latest rapid-charging tech, the plug incorporates power management circuitry from HTC in order to regulate current in the brick itself, as well as integrated surge protection. (Perhaps in an effort to avoid damage to the phone or the charger if a dodgy USB-A to C cable is used.)
Rapid charging is a hugely important feature for a high-end smartphone, allowing a dead handset to quickly return to life with a reasonable amount of charge. HTC claims the 10 can go from zero to 50 percent in 30 minutes, and our real-world experiences back this up.
As for battery life itself, it's been something of a mixed bag. Longevity hasn't been poor per se, more inconsistent — and sometimes wildly so. Indoors on Wifi, the phone sips power. Outdoors on LTE, it can guzzle juice alarmingly quickly. This isn't a universal trait. Some days, even on LTE, the phone would easily last us to the end of the day. But on other occasions we'd hit the 50 percent mark in just a couple of hours.
Following a week of use, battery life seems to have stabilized somewhat, and we'll update this review with any long-term findings.
That said, on a typical day we were getting between 12 and 14 hours out of the HTC 10 with mixed, moderate-to-heavy use on Wifi and LTE, both indoors and outdoors. That consists of browsing in Chrome, chatting on WhatsApp, Slack and Hangouts and streaming music through Google Play Music, along with capturing a few dozen photos. Nothing to sniff at there, but it's a far cry from the vaunted "two-day" battery life proclaimed in HTC's marketing materials.
Bottom line: Expect battery life that's passable — decent, even — but nothing spectacular. Certainly nothing near the two days HTC claims in its marketing material (which undoubtedly makes heavy use of the software-enabled power-saving features.) Even so, the bonus of rapid charging with the bundled plug makes it easier than ever to translate a brief time on charge to a meaningful boost in battery level.
The bottom line
Should you buy the HTC 10? Yes
The HTC 10 is unquestionably HTC's best phone ever. It's also a great Android phone in its own right, with an attractive metal unibody, top-notch audio credentials, fast and uncluttered software, speedy fingerprint security and a camera capable of taking great photos.
Even in the areas where it doesn't shine so brightly — the distinctly one-day battery life, and the display that's unspectacular in daylight — there's nothing it's straight-up bad at. Is it a "perfect 10?" Probably not. But then what is?
The biggest issue here is that the HTC 10 doesn't exist in a vacuum. HTC will be selling the 10 for flagship smartphone money in a world where the Samsung Galaxy S7 exists. It'll be dropping a great phone into a veritable ocean of great phones.
Samsung has set the bar really high this year with two truly excellent handsets. This is what you get when a corporate giant pours its enormous resources into making the best smartphone it can. By comparison, HTC doesn't have the vertically-integrated tech, or the scale, or the financial might of its major rival. It's not even close to being a fair fight.
Nevertheless, this is the comparison HTC invites with its claims to perfection.
And this leads into what in my view is the HTC 10's Achilles' heel: The areas where HTC actually truly beats Samsung are so very few and far between. The speaker's a bit better. It can drive headphones with more power. You'll get more accurate looking night shots, sometimes. The software is somewhat closer to stock Android, if that's your thing. Even build quality is mostly a question of personal taste — do you prefer glass or metal? By contrast, Samsung can point to its its superlative displays, wireless charging, water resistance, VR integration and, in the case of the GS7 edge, market-leading battery life.
The HTC 10 is nevertheless a phone that deserves your consideration, and potentially your money too. And given that LG's G5 seems to have fallen flat, it's probably the closest competitor Samsung has right now. That the HTC of 2016 can create a phone like this is impressive, and a reason for its continued relevance.
Depending on how things play out in the months ahead — and how well HTC's marketing is received — this phone could emerge as the de facto alternative to the Galaxy S7. Ultimately, that's what the HTC 10 is: a worthy challenger, if not quite the very, very best there is.
Where to buy the HTC 10
The HTC 10 will be available direct from HTC, and from independent retailers in the United States, Canada and the UK. In the U.S., it's available on T-Mobile, Verizon and Sprint, in Canada it'll only be offered on Bell, and in the UK it's been picked up by EE and Three, as well Carphone Warehouse as the usual unlocked sellers.
Where to buy the HTC 10 in the United States
Where to buy the HTC 10 in Canada
Where to buy the HTC 10 in the UK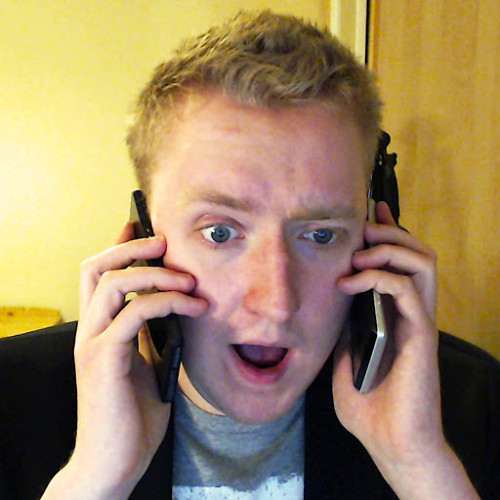 Alex was with Android Central for over a decade, producing written and video content for the site, and served as global Executive Editor from 2016 to 2022.