HTC's 'Ice View' case replaces the lower-res Dot View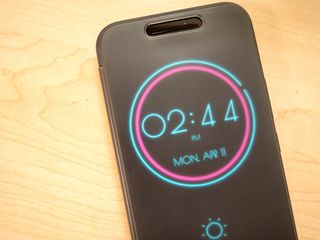 With the announcement of the new HTC 10, we also have a new kind of case to go along with it. HTC's old Dot View cases were fun, but pretty limited, sort of an 8-bit peek at the screen. With the HTC 10, we now have the Ice View case.
Instead of using low-resolution text and images on the the screen to peek through a perforated case, Ice View instead has a nearly opaque front flap. A double-tap brings up the clock and date and notifications, done up in a distinctly Miami Vice color scheme. A swipe up from there allows you to call back the most recent caller without opening the case.
Image 1 of 6
More exciting, however, is that this translucent setup lets you use the camera without having to let the front cover hang open — that's never been a very good option. Because the display is so close to the cover you can see a rough preview of what you're shooting, as well as the camera controls. It's blurry, but it works in a pinch. You're not going to be doing much adjusting on the fly, but it's good for a quick shot.
And you've got a new gesture for launching the camera — both with the Ice View case on the phone, as well as without it. To quickly launch the camera on the HTC 10 you take one finger and swipe down on the screen twice.
The Ice Vice case itself is the sort of TPU rubber that you've seen before. It's a bit of a fingerprint magnet after even just a few seconds, but it keeps the phone protected. There are cutouts for the rear cameras and microphone, and you can easily get to the 3.5mm headphone jack up top. The front earpiece looks like it doesn't quite line up correctly, but that's because there are sensors above it that the case has to account for. (They're visible on models of the HTC 10 that sport a white face.) There's an HTC logo in the bottom left of the front flap that also serves as a magnetic trigger, so the phone knows when the case is affixed.
All in all, an interesting solution to an old problem — how do you protect your phone without making it useless in the process.
Get the Android Central Newsletter
Instant access to breaking news, the hottest reviews, great deals and helpful tips.