HTC 10 camera patch: Updated impressions and sample shots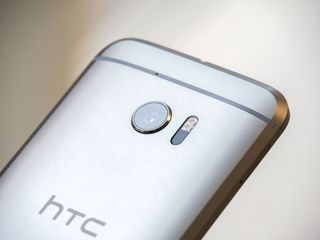 Update: The camera patch is now rolling out to unlocked U.S. HTC 10 devices as well.
The HTC 10 has a pretty good camera — one of the best in an Android phone, and certainly HTC's finest to date, as we discovered in reviewing the phone. But as the phone's release date approaches for many of us, HTC has pushed out an over-the-air update which, among other things, provides several camera-related enhancements. Auto HDR tuning has been improved, HTC says, along with sharpness in outdoor and low-light situations. And the laser autofocus UI has been tweaked to stop it firing error messages quite so often. (It really didn't want you getting too close to it.)
So just how does the HTC 10 perform with the latest camera tweaks? We've spent the past day getting reacquainted with the HTC 10 camera, and you'll find our updated sample shots down below.
Pretty pictures
HTC 10 — v1.30 Sample shots
Note: Click to enlarge. Scroll down for 100% crops.
General observations:
Compared to the earlier firmware, HTC has addressed some of the issues we saw with loss of fine detail, particularly in HDR shots. It also appears to have upped the saturation and sharpening applied to photos, which is most visible in bright daylight shots.
In night shots, we're noticing less chroma noise compared to the earlier firmware.
The issues we encountered where the camera app would think the laser autofocus is being blocked when taking macro shots has been mostly fixed. We came across it once or twice in our testing of the new software, but nowhere near as much as before.
While photos in general appear sharper than before, we're still seeing some cloudiness and mushiness in certain daylight pics compared to the Galaxy S7.
And taking macro pics — though much improved thanks to HTC's laser autofocus fix — remains more of a challenge than with Samsung's camera, with noticeably slower focus times.
Quick comparison
Galaxy S7 versus updated HTC 10
In this first shot, in HDR mode with relatively challenging lighting, the HTC 10 produces a more natural looking image with more shadow detail.
Left: HTC 10; Right: Galaxy S7
The second shot, taken at twilight, shows the GS7's HDR mode pulling ahead, while the HTC 10 captures a darker, grainier image.
Left: HTC 10; Right: Galaxy S7
And finally, the GS7 captures a sharper, lighter night shot — although the HTC 10 captures an image with more realistic lighting. (This pic shows the yellowish hue that often affects night shots from Samsung's camera.)
Left: HTC 10; Right: Galaxy S7
Zoom, enhance!
HTC 10 — 100 percent crops
Note: Click to enlarge these photos, and go full-screen to ensure you're viewing these crops at 100 percent.
Some welcome improvements
The bottom line
The HTC 10 was a great camera when we reviewed it, and it's even better with this latest software update. With sharper and more vibrant photos, particularly outdoors, the HTC adopts some of the characteristics that make photos from Samsung phones look so great. Meanwhile, welcome changes to the software processing of night shots mean it's no longer a foregone conclusion that Samsung will take better pics in the dark.
And while the GS7's shooter still feels faster to use, particularly in HDR mode, the newly-updated HTC 10 is absolutely worthy of its place among the best phone cameras of 2016.
What do you think of the HTC 10's camera with this latest update? Share your thoughts down in the comments, and let us know if you'll be picking up an HTC 10 in the weeks ahead!
Android Central Newsletter
Get instant access to breaking news, the hottest reviews, great deals and helpful tips
Alex was with Android Central for over a decade, producing written and video content for the site, and served as global Executive Editor from 2016 to 2022.
I like what I'm seeing with this new update. Posted via the X '15

I figured this would happen. They got the right hardware. AC your opinions and other reviewers helped HTC fix software issues before it gets to users hands. Great job HTC, this is my number one pick come upgrade time, still want to see the Note 6 first. Posted via the Android Central App

I agree. This camera has the same sensor as the Nexus 6P and they raised the aperture to f/1.8, added OIS and laser Auto focus on top of it. There is no reason why this phone shouldn't be able to take phenomenal photographs with the right software tweaks.

Not going to lie, they did a great job updating the software to reign in the blown highlights especially.

Biggest improvement is addressing the blown highlights. dreaming of electric sheep

Yessir Posted via the Android Central App

Looking forward to my HTC 10 arriving and, as a amateur and one time professional photographer, also keen to try the camera. However, it will have to be very good to better my one time HTC One X - certainly the M8 fell behind its standards.

Lol its better than the one x Posted from my Nexus 6/Nexus 7 2013/Surface Pro 3

Yeah, that's a pretty low bar. I think you'll be very happy. Posted via the Android Central App

Well actually, the hc one x has a great camera. I took pics at the US Open tennis tourney and they were amazing. I have had few cameras that were as good and that includes Nokia Lumias, Samsung S5, and a couple of others. So, don't knock it. Posted via the Android Central App

When you are experienced you will know better.
One X, lol. Posted from my Nokia 3310

When you know how to take a picture YOU will know different. Lol. Posted via the Android Central App

That couldn't have sounded more condescending. Posted via the Android Central App

I also owned the HTC one x. It had an excellent camera. The HTC 10 pictures shown here look pretty good; but not nearly as good as the s7.

Agreed, the HOX camera was known to have the best HDR mode of that year - by FAR! Just look through the reams of XDA threads on it.

Not going to be nearly as confrontational as some others here. I have no doubt that the M8 potentially had a worse camera than the one x. My wife had the one s (I believe same camera, same generation) and it was fantastic. The M8 was the same camera from the M7 (already weak) but without OIS.
However, if you are currently on the M8, I think you will be pleasantly surprised by current smartphones. They are significantly better prior generations and will be much better than the one x.
And the HTC 10 has a pro mode and can take RAW images so the ability to tweak settings/do your own post work is available. That sounds like your thing.

Sweet Posted from my Nexus 6/Nexus 7 2013/Surface Pro 3

Looks like the HTC 10 camera gives the Samsung S7 a real challenge. This comparison seems to be better matched then the S7 vs G5. I just seen AC post in the best smartphones of 2016 article the 10's camera was just above average and the S7 camera was excellent. Seems Samsung is barely pulling ahead in the camera department to me. Posted via the Android Central App

I think at this stage, for most people, the cameras on all of the major 2016 flagships are very good. You can nitpick and find areas that one is better than another, but worse in other situations. 2016 is the year that flagships all became excellent for smartphone photography, and that is good for all of us in terms of competition, options, and keeping each vendor working to improve. Written from my S7 Edge. Posted via the Android Central App

Exactly. I'm having a tougher time telling the flagship cameras apart unless I nitpick. A few years ago, certain OEMs made the smartphone camera a priority . Now everyone does. Posted via the Android Central App

same here bro, they all look good enough to me. I'm not a professional photographer, so for me, any of this cameras are more than sufficient. Posted via the Android Central App

Damn right. The cameras on the current crop of 2016 flagships are all pretty damn good. The only flaws they have are usually minor and are pretty much nitpicks at this point. We're in exciting times for smartphone photography, as any current 2016 flagship should give you a pretty good photo-taking experience.

Samsung is pulling ahead because of how stupid fast and simple their camera is. Picture quality wise, according to sources like Ars, the S7 loses to the 10, and according to GSMArena, even loses to the G5 (now i dont believe the latter for one second however).

What does this even mean? Posted via the Android Central App

Nice. Can't go wrong with most of the flagship cameras this year. I am partial to the cameras that have the best low light shots as that it when I take most of my pictures (well indoor shots which are kind of low light a lot of the time).

That s7e just got a little harder to hold... Posted via the Android Central App

Naaaaa. In fact I'm holding it right now. Moving it in an up/down wrist action motion....

I'd rather have the S7 edge. Have you seen some of the side by side comparisons between the M10 and the S7 and G5? The M10 is getting smoked on every one of them with the same hardware. There's something wrong with the software on that thing

Lol. I love my s7e. But to be honest, those aren't that bad.

Have fun with your bloat and slower updates

What phone is this M10 you speak of? On a related note, I'm surprised there are still 3 of you 9ers left.

Maybe it's because the 10 uses emmc 5.1 memory instead of UFS 2.1

Lol!!! Posted via the Android Central App

Mmmmmm Mmmmmm, I like dem pictures.

Much nicer looking. No doubt.

Good deal. Posted via the Android Central App

Aren't they supposed to ship this week? Crickets so far.

Great shots, HTC 10 seems like an all rounder.

Those pictures look greeeeeeaaaaaaattttttttt

Htc got a Smash hit here Posted via the Android Central App

The HTC 10 is my choice for a camera phone. Easier to hold and snap, front facing OIS, videos capture extraordinary sound, the very best UI, latest technology, and announced and timely updates. The overall package is unbeatable.

Extraordinary sound !!! Jesus mate, ill have to sell my house stereo and get the hct :) .

Hahaha,yes Posted via the Android Central App

He said " videos capture great sound" because it records audio in 24 bit

I forgot about front facing OIS. Video calls and selfies definitely will look better than the competition. Posted via the Android Central App

You used my pet hate...the word "Best" for something that is completely subjective. Believe me, I'm glad HTC sorted this in software before release because, frankly, they would had a bloody cheek otherwise. The one thing I would say, though, is making the JPEGs more Samsung like (I.E. more saturated & sharpened) actually differentiates them less for consumers gives people less choice & less reason to buy over an S7. Would have been a much better idea to just fix the blown highlights problem, sort out whatever is making the battery underperform in optimization and then drop the price by $/£/€50 etc. The problem for HTC is, although this is clearly a great device, carrier support is actually the worst in any of their flagships for years. It isn't available on all networks in the USA & only 1 or 2 in the UK. Therefore, whatever happens, sales are gonna be weaker than ever.
Anyway, I've no buyers' remorse for the same reason I didn't buy the regular S7. The screen & battery are too small for me, that's why I went with the S7 Edge...

Why is there so much more detail in the first picture? Check out the grass and the dirt pathway. There is no comparison here. The S7 takes a way more detailed picture. Shadow recovery can be done in post....

Disagree. As Alex points out, the HTC 10 produces a more natural looking image with more shadow detail. Moreover, the HTC 10 displays natural colors better when using the device for making post processing adjustments.

Ah. Yes. They say it does....with the new update....but not better than the S7.

Actually, most of the reviews I've seen (just about all done before the camera update) say that the HTC does better w/ natural colors and shadows, but the HDR was little lacking in the "pop" department. Posted via the Android Central App

Don't take unrealistic oversharpening as detail..

I agree with the OP, and I'm an HTC guy. But it doesn't look over-sharpened to me as much as just a little better detail. Posted via the Android Central App

Sorry but it is way over sharpened on the S7. Posted via the Android Central App

Shadow recovery on a jpeg is hard to recover. So is over-sharpening.

OK, you are right with this. But in the same time, check the sky reflection into the river. On S7 you can't see it but on 10 you can.

You do see the sky reflection on S7 (The sky just looks different--It is obviously not taken same timing) The grass looks sharper and more detailed to me on the S7--> I much prefer the picture on the right.... (Then again I am a happy snap-and-that's-it kind of casual photographer)

Hey Alex, when will Verizon's HTC 10 get camera update? Posted via the Android Central App

When the htc11 comes out. Posted via the Android Central App

No, the update will be incorporated before the Verizon HTC 10 is released.

It's called a joke, hopefully when Verizon customers boot up their phone they will receive this, after that I would not count on Verizon for any updates unless they happen to hit my phone. Verizon works very hard to be extremely pathetic at updates. Posted via the Android Central App Sent from my Verizon S7edge on Feb.1st. Security patch.

You sure about that? Verizon has been way better as of late. Give a little credit. Posted via the Android Central App

Yes,I'm sure about that.When I purchase a shiny,new flagship device from you and I am still on Feb. 1st. Security patch on may 4th.,yes,you do suck at providing timely updates as a carrier. Posted via the Android Central App

At least the people who pre-ordered on Verizon are getting their phones now and those of us who purchased unlocked from HTC are still waiting. Posted via the Android Central App

Yes,but that has nothing to do with Verizon providing timely updates. Posted via the Android Central App I do get your point though.Verizon said jump,and HTC said,how high?

Yeah but you'll be getting updates faster cuz unlocked. Posted via the Android Central App

I'm referring specifically to purchasing the device from Verizon wireless,which is pretty clear from my comments.Verizon sucks for updates and they are a CDMA network,unfortunately. Posted via the Android Central App As of now,at least,if you want to use it on their CDMA network,you are purchasing it from them and will receive your updates from them.Crappy as that is.

Is this a confirmed statement?

I'm glad to see that HTC is committed to delivering an excellent camera experience. I can't wait to get mine, now if only TMobile would release their info. I'm ready to Jump!

Nice improvement over the former version. Posted via the Android Central App

How do I get the update? My Verizon model didn't seem to have any updates...

I don't think it has hit the US yet. Only Europe so far. Posted via the Android Central App

Looks awesome. I've just ordered a black one from HTC. I found a code, HTC10 and got £57 off. I can't wait for it to arrive.

Great job HTC Posted via the Android Central App

hah, useless comparison when you are not comparing the lastest Samsung firmware as well. We have got yellow tint high ISO fix long back. Get on with the times.

Did that update fix how cheap the hardware is.

Put down the pipe, your lips are blistered. Posted via the Android Central App

I don't think you can call a Sony IMX260 a "cheapskate" piece of hardware, along with some other Sony sensors in general (many of the best flagship cameras use a Sony sensor. I presume the H10 is using the same IMX377 as the Nexus 6P). And that's the sensor many S7 units use for their main camera, although some use an ISOCELL sensor.

Since this is an Android site, I assume their devices are always on the latest update available, and if the Samsung update has been out for a long time I assume his device has it. It's not like he's comparing Samsung pictures taken in March w/ HTC pics taken yesterday. He's taking the same photos at the same time. Posted via the Android Central App

Hmmm....definitely 2 best phones of 2016. One with better camera, one with better sound. One for those who need glamour and one for those who care for no loss of performance over time. One for clumsy ppl, one for watter obsessed ppl. One build gracefully, one like a beautiful tenk. One is flashy, one with quiet beauty. One short term runner, one long term runner. Just pick one that suits you better. There is no perfect phone...but there is a perfect buyer.

Hahaha, your a funny man Posted via the Android Central App

No he's not! Because I'm perfect dagnabbit!

Nice to see the quality of these HTC 10 images considering the trashing the 10 got in Android Authority's recent shootout. The writers claimed that the 10 that they used had received one update, but the images they posted for the 10 were almost all obviously uniformly weaker than any of the images from the other half dozen phones they used. Either they were one update behind, or they got hold of a faulty unit.

So at this rate I'm just waiting for the HTC 10 to be available for T-Mobile. Anybody knows when? Love for all things android and IT

For T-mobile order the unlocked from the HTC Website and get your $100 discount, uh oh warranty, and if you wish the PayPal payment plan. The unlocked will also get super timely updates. No other purchase method is better.

I wanting to use T-Mobile's jump program through. Ik some time in may they should have it available. Love for all things android and IT

I'm liking what I see in the cropped samples, no degradation that I can see. The cropped picture of the flying birds looks perfectly suitable for printing at (at least?) an 8x10 size.

Exactly, they keep a high quality image, even cropped. Posted via the Android Central App

Hurry up and release in NZ dagnabbit!

Bit of a Noob question, will updates like this one come directly from HTC or via the carriers?
The HTC 10 has just been released yesterday in Australia and looks great. It is on my short list to replace my G3 ( the other choice being the G5 ), I would hate to wait 6 months for an important update to hit the phone.

Updates like this one will come directly from HTC. Not sure about LG.

Ok so I'm going to pre-order in a couple of days I just hope the $100 coupon code is still valid. Also HTC's website will let me trade in my A9 for a $250 refund, essentially I can get the 10 for about $349! Posted via the Android Central App

The phone is already shipping to HTC customers and even Verizon is delivering tomorrow, so preordering in a couple of days might be cutting it close

I just found a code htcreddit that is supposedly good through 5/5...keeping my fingers crossed. Posted via the Android Central App

Am I missing something? Did the pictures really suck before? Because these new pics don't look too impressive next to the S7 pictures, especially that first one of the path along the stream with the tree on the left. The image on the right is miles better than the one on the left. Virtually every other shot, the s7 version looks better to me. Bums me out 'cause I don't like the s7, wanted the htc10.

Don't really know photography do you? They both look bad. The S7 is way way way over sharpened and the 10 could use a little more sharpening and cut back on the smudging. I personally think the 10 is more true to life than the S7. Posted via the Android Central App

The S7 pic is oversharpened and has excessive contrast enhancement applied (probably part of its HDR processing). But these are the things that make images 'pop' at first glance to most people. Look at the bright spot in the middle of the clouds and the shadows on the water. You'll see that the HTC has less blown out white in the clouds and more non-black detail in the shadows. Given that I post-process most of the images that I want to show to people, this is far preferable for me. For me, in most cases, the S7 picture would be unredeemable in its processed form. But it looks excellent to a lot of people, I just don't happen to be one of them. Not a knock, just an observation. There are definitely two (or more) camps of smartphone photographers, including 'snappers' and 'pic tweakers'. Snappers tend to always prefer the S7, and I understand why. This is probably the largest group of smartphone photographers, so Samsung is doing right by their market. I just hope that Samsung's success doesn't eliminate the phones that are better for other types of photographers. I wish the reviewers sites would explicitly recognize the different approaches here and point out that the different approaches meet different preferences. One is not better than the other. HTC did a great job with this update (esp fixing the overexposure I've seen in most pics online), without losing the good stuff!

isn't RAW mode better for 'pic tweakers'? I mean some RAW mode comparison for professional photographers and default processing for noobs (I'm in this category btw),

I don't know what to blame, but the image quality especially at the corners of HTC 10 is bad--this is the same observation from all HTC's previous gens since M7. Maybe it's the lens design that HTC has been using and no way to postprocess sharpening the images.

It's not what you got but the way that you use it! I'm still loving my G4 but THIS was from my old HTC One M7: https://m.flickr.com/#/photos/109575772@N02/17861961378/

404: Page Not Found Posted via the Android Central App

I got my 10 last night - Friday. Haven't tried the camera yet but my gosh, this thing is an exquisite piece of stunning design. I have the M8 and the difference is extremely obvious.
Mine came with 1.21.617.3 as the software number. I don't know if this an updated number or not. Anyone?

Don't feel too bad my Verizon model is on version 1.19.6 05.9 Posted via the Android Central App

How do you like it after three days playing around?

well check for a new update. It was released yesterday. It really made a big difference. ITs on par with all top cameras now..

the htc m10 camera is now acceptable ...

well done, HTC! it should've created a high-end camera though.

The HTC 10 is the best device out money can buy right now here in the USA. I would like to try out the P9 but that is really hard to do in the states and if you run on Att. I love the HTC10 it truly does not have one flaw. The screen is the best LCD ever and might even be better than AMoled, Now I know I will get some blow back but until you hold it and use it, don't knock it. I have held and used EVERY phone that is been made recently. I can say that the lcd is stunning and the better because of the burn in issues with the amoled. I love the 10 and you will too if you choose to buy one.

HTC M8 allows me to snap still images during video playback. I use this quite often. Nexus 6P won't it. (both allow still images during video recording, but only M8/9 allow during playback). Does the HTC 10 still allow still image capture during video playback?

What's with this left and right picture? Pictures are one above the other in the app. Don't know which one is which now.
Android Central Newsletter
Get instant access to breaking news, the hottest reviews, great deals and helpful tips
Thank you for signing up to Android Central. You will receive a verification email shortly.
There was a problem. Please refresh the page and try again.