HTC U12+ vs. LG G7 ThinQ: Which should you buy?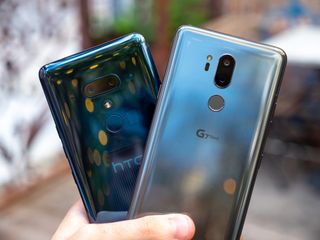 There are all kinds of great flagship phones to choose from these days, and while the average consumer might only see Samsung and Apple in stores, those aren't your only options. HTC and LG have been making sleek and shiny phones for years, and their latest phones are no exceptions.
With the G7 ThinQ now available for purchase and the U12+ following soon, which phone is best for you?
Image 1 of 3
Image 2 of 3
Image 3 of 3
Specifications
The U12+ and G7 ThinQ are pretty evenly matched when it comes to their internals; both feature a Snapdragon 845 processor, up to 6GB of RAM, and great hardware features like microSD expansion and IP68 ingress. But from physical dimensions to camera specs and battery capacity, they're not completely identical.
Category
HTC U12+
LG G7 ThinQ
Operating System
Android 8.0 Oreo
Android 8.0 Oreo
Display
6-inch 18:9 Super LCD 6
2880 x 1440, 537PPI
6.1-inch 19.5:9 IPS LCD
3120 x 1440, 564PPI
Chipset
Octa-core Qualcomm Snapdragon 845, four 2.8GHz Kyro 385 Gold cores, four 1.7GHz Kyro 385 Silver cores
Octa-core Qualcomm Snapdragon 845, four 2.8GHz Kyro 385 Gold cores, four 1.7GHz Kyro 385 Silver cores
GPU
Adreno 630
Adreno 630
RAM
6GB
4GB/6GB
Storage
64GB/128GB
64GB/128GB
Expandable
Yes (microSD slot)
Yes (microSD slot)
Battery
3500mAh
3000mAh
Water resistance
IP68
IP68
Rear Camera
12MP f/1.8 + 16MP f/2.6, PDAF + laser autofocus, 4K at 60fps
16MP f/1.6 + 16MP f/1.9, PDAF + laser autofocus, 4K at 30fps
Front Camera
8MP f/2.0 (x2), 1080p video
8MP f/1.9, 1080p video
Connectivity
WiFi ac, Bluetooth 5.0, NFC, GPS, GLONASS, USB-C
WiFi ac, Bluetooth 5.0, NFC, GPS, GLONASS, USB-C
Security
Fingerprint sensor (back), face unlock
Fingerprint sensor (back)
SIM
Nano SIM
Nano SIM
Dimensions
156.6x 73.9 x 8.7mm
153.2 x 71.9 x 7.9mm
Weight
188g
162g
What the HTC U12+ does better
HTC may not be doing as well as LG in terms of sales, but the U12+ is no slouch. Built with HTC's Liquid Surface design, the U12+ is rounded and comfortable to hold. The finishes are absolutely gorgeous, from the ceramic black and flame red to the flashier translucent blue, and it brings on HTC's most modern look yet. The fingerprint sensor sits easy to access around back beneath the dual cameras, and the 6-inch 18:9 display helps fill most of the face of the phone.
That's all pretty standard fare for a 2018 flagship, though. The most unique hardware feature of the U12+ is its Digital Buttons, which actually aren't buttons at all. With a bit of pressure, the protrusions vibrate back at you without actually clicking. There's also HTC's Edge Sense 2, which detects when you squeeze or tap the sides of the phone to activate shortcuts. You can configure them to do whatever you want, from launching certain apps to toggling the flashlight or pulling down the notification shade. Edge Sense 2 also detects when you're holding the U12+ in portrait mode and prevents the screen from rotating or timing out in your hand.
When it comes to software, HTC has taken a conservative approach to its Sense interface in recent years, with minimal bloatware or customizations. The U12+'s software interface is close to stock Android, though HTC adds optimizations for features like BoomSound, where you can switch between music and theater modes depending on what kind of content you're viewing.
As far as cameras go, the U12+ features a wide-angle primary camera (though not quite as wide as the G7's) and a secondary 2x zoom lens. Both cameras feature both OIS and EIS, which aids in shooting smooth 4K video — you can do that at up to 60fps. You can also shoot in slow motion, up to 240fps in 1080p. We haven't finished our review of the U12+ just yet, and we're still testing the quality of the cameras (so far, so good), but it received a DxOMark score of 103. Not too bad.
What the LG G7 ThinQ does better
You may not love the G7 ThinQ's name, but it's a pretty killer phone. Just like the U12+, the G7 features a rounded back, rear-mounted fingerprint sensor, and dual cameras, but instead of pressure-sensitive sides, the G7 has an additional hardware button. Resting a bit below the volume buttons, the extra button is a quick shortcut to the Google Assistant — no Bixby anywhere to be found. The display is also a bit bigger, with a 6.1-inch display, but you'll have to live with a notch at the top. Sorry.
The G7 may not have HTC's BoomSound stereo speakers, but LG made use of the phone's metal enclosure to form a resonance chamber and amplify the single speaker. LG calls it Boombox, and it's loud enough to fill a room when placed on a flat surface like a table. Speaking of audio, the G7 still features a 3.5mm headphone jack, unlike the U12+, and even better, it features LG's Quad DAC from the V30. This means the G7 can deliver better wired audio than just about any other phone on the market, no USB-C hassle required.
The G7 ThinQ also has a great pair of cameras around back. The standard 16MP sensor takes great photos with a wide ƒ/1.6 aperture and OIS, and the ultra wide-angle secondary lens, while not stabilized, allows for more creative shots than most phones, capturing more of the room in your photos with having to back up. The camera software is also easy to use with excellent manual controls, and the phone's subtle haptics click away at you while you're adjusting your settings.
LG's biggest advantage over HTC this year? Availability. Unlike the U12+, which can only be ordered directly through HTC or Amazon, the G7 ThinQ is available through most U.S. carriers, with the exception of AT&T. It's also a bit cheaper at $750, versus the U12+'s heftier $800 price tag. With wider availability and a lower price, the G7 is much more likely to reach consumers' hands and pockets.
Which is right for you?
Both phones are great choices, and you really can't go wrong with either option, but one may be better than the other depending on your priorities. If you prefer wired audio to loudspeakers, or wide angle photography over zoomed shots, the G7 may be right for you. On the other hand, HTC is putting a lot of focus on its Edge Sense technology, and if that rings a bell with you — or if you just can't live with a notched display — maybe you should aim for the U12+.
Which phone would you pick? And do you plan on actually buying one? Let us know in the comments below!
Hayato was a product reviewer and video editor for Android Central.
Personally, I would say neither. If you absolutely had to buy one though go with the one that doesn't have a notch.

Lol, have you actually used a phone with a notch yet?
I think they will have to add "nochophobia" to the dictionary.
It's about as useless as wireless charging and about as harmless.
Another feature to be ignored.

You can install an app that simulates notches from various phones and see how annoyed or not you are by it. No idea what that app would do on a phobe with a notch already... Doublenotch?

Neither is correct. HTC headed for the dustbin, G7 is a mainly badge engineered V30+. Better stuff out there.

You don't know how long HTC will be in business and therefore you don't know how long the phone will be supported. That alone would be enough to deter me from getting the U12+.

Will def go for LG G7 better brand value and I love the wide angle camera

Neither one. I'd get the OnePlus 6 instead.

The OP6 is a POS. I'm returning mine for the LG G7. OP will be second rate until they step up the camera, add an IP rating, add wireless charging, etc. You get what you pay for.

What a load of crap.
You would have known those features where not on the phone so why would you have bought one.

Because I can. I totally knew about the other features missing but I wanted to see what the hype was about for OP phones that so many of the fans here rave about. Especially the comments about how you can overlook those features being gone. Thats the load of crap. It just overall feels like a cheap phone. Pass.

IP ratings mean nothing until manufacturers actually stand behind them and warranty water-damaged phones. I couldn't care less about wireless charging, and the camera on the OP6 is excellent. The U12+ has gimmicky squeezing and buttons, the G7 has LG's crappy Android skin, and both have LCDs instead of OLED displays, and both phones cost significantly more. I cannot see ANY reason why someone would chose to go with the U12+. If you're really concerned with audio quality a case can be made for the G7. OxygenOS is like a breath of fresh air, and custom ROM community for OP devices means I don't have to worry about the manufacturer dropping support in a year. I'd pick the OP6 over the other 2 any day of the week.

Y'all really let sites dictate y'all narrative... What makes the buttons on the u12+ a gimmick? If the sites didn't continue to mention them we would never hear about them

What tangible benefit do fake buttons provide?

Feels like a cheap phone?
Really?
It felt a lot better than it actually is to me, and every bit as good as LG phones I've owned.
I do like the UI and it is bloody fast but features it's missing plus better cameras available mean I'll be going elsewhere for my next phone.
But calling it a POS sounds very much like an agenda rather than an assessment.

Oh, so you've just picked one up but never owned it? Nice job basing your opinion of the phone just from holding one. And you're buying a different phone? Talk about an agenda. What a hypocrite. Sounds like you just want to pipe in with whatever gets under your skin.

What agenda?
I'm totally open.
I just questioned your opinion that the phone is a POS and the examples you gave.
Never claimed to have owned the phone. (Because I haven't) never claimed that the G7 isn't a much better phone I wouldn't know.
Just seemed like a completely different opinion to what others have claimed who actually have the phone.

No carrier support here in the US would drive me away from the u12+. Hasn't that been reason enough for HTC'S 12 losing quarters! Slowly but surely it appears they are fading into the sunset. It's a damn shame because it is a good phone!

I've had a couple dozen AT&T supported phones, and the U11 was the first unlocked phone I've bought. The only difference I've seen is that now I get faster updates.

I think I'd prefer having both wide angle and telephoto, even if the angle is not quite as wide. Options are nice. LG definitely took the cake for cinematography features in the V30 software, but I have not heard how much of that has been carried over to the G7. Edge Sense is a game changer for some. It's not something that you go out and buy a phone for, but once you have gotten into it, you don;t want a phone without it. The feature is gaining traction and is now on seven phones including the LG-made Pixel 2 XL and the Asus ZOG. I still love how you can whip out your phone and squeeze off a shot (literally) without looking. The new HTC buttons are interesting, but I will say that they are bulletproof in terms of water resistance and durability. HTC has BoomSound, so LG came up with BoomBoxSound. Umm, yeah. I'm sure there's no hidden reference there, lol. But, LG did a good job, and I like the way it sounds when it's on a table. What works for you depends on usage. On a flat surface, LG wins, in the hands the U12+ wins. So if you like filling a room with music, the LG is your best bet. For headphone audio, anyone would be pleased with the sound they get by plugging in a good set of passive headphones on the LG. But the analogy goes like this. Lots of people are familiar with a typical Honda, and that's what most cellphone headphone outputs are like. LG is like adding a turbocharger, and ramps up the game significantly. Is it worth it? YES! Is it impressive? YES!... except to those who have driven a Tesla Model S in ludicrous mode.
HTC USonic is to audio what the Tesla S is to acceleration. For VR, LG takes the win for PPI. For battery capacity, HTC takes the win. Not sure about screens, and I would have to see them in person or get an analysis from Erica. Touchscreen responsiveness and performance will go to HTC. Fingerprint sensor speed might go to LG. I don't know if LG has anything special in the face unlock department. HTC did ramp up their face unlock game and it appears really fast, but I'm not sure what has on the table in that department. Again with the "You can't get the HTC! You can't get the HTC!". Umm, yeah, you can get it in two minutes. Still can't figure out why Android Central keeps wearing out the "Availability" card on HTC and ONLY HTC. OnePlus send you a better check? Ok, that was low and I know that's not the case, but it does come across as you guys being anti-HTC. I remember when AC used to proclaim how much better unlocked phones were, but now locked and bloated carrier phones are better? Anyway, there's lots to offer on both models and it comes down to your preferences.

G7 for the audio, but the notch is uninspired so that's a no. HTC has no notch but is a somewhat boring device so that's a no. So both are just no

njikoka noel - G7 audio is louder, but not better quality than the U12's hi-res certified external DAC. And there's nothing you can plug into a passive headphone jack that comes close to USonic. I know that's hard to grasp without actually experiencing it, but in all my years of doing pro audio, it's to closest thing to being in the recording studio. Even my favorite Sennheisers plugged into a pro recording console can't touch it.

The only option for me is the HTC U12+ just because of the bigger battery. But I went with Samsung instead.

You're not the first person I've seen mention a phone being boring... I'm interested to know that means and what makes a phone exciting? Genuine question...

Waiting for my last LG phone to Bootloop was quite exciting.

Stevenmc8602 - Yeah, I'm kinda curious what make a phone boring as well. I know a few things that make them exciting, but that's different, lol.

Since im an LG enthusiast I vote for the G7.

Neither as I'm getting the Pixel 2 XL which is a better phone than both of these but if I was to pick one I'd pick the HTC U12+ as HTC's sense software has less bloatware than the LG G7 ThinkQ which fails to get the basics right such as having a decent battery capacity as 3000mAh is pathetic for 2018.

OMG, how many times do you have to mention that? Buy the thing already and stop the daily reminders about the phone you're buying. In about 5 months, you'll wish you'd waited for the Pixel 3XL anyway.

I would almost buy the pos phone just to shut them the hell up about the "This Friday I'll have the POS pixel 2 xl".

Give it a rest the Pixel 2 XL is the best Android phone overall and AC agree with me and I'm looking forward to finally getting the best Android experience and no bloatware like your laggy, gimmicky Samsung and their POS software now stfu, Samsung shill.

In 5 months, it will be :
"I'm excited that my pixel 3 xl will be here Friday"

Tecnutcounseler, I don't want the Pixel 3 XL, the Pixel 2 XL is still a great phone and I don't like the notch on the Pixel 3 XL leaked picture. I was always gonna get the Pixel 2 XL and I'm finally getting it this week.

LG G7 is £599 unlocked in the U.K from Carphone warehouse, HTC is £799, £200 different! No brainer really

Not sure where you got the £799, its £699 direct from HTC, or £629 if you join the HTC club. So minimal difference. Both great prices versus Samsung mind.

Wait & see what a few months can do to those prices, Richard...especially HTC due down with bang.

I was aiming at the HTC for better battery usage. Now, after LG dropped the price by $200, I will get the G7.

Between Best Buy & Verizon the deal for the g7 is 450.00. You can't beat that with a stick. Or if you don't mind Verizon, most people do. For that kind of money I consider that a must buy!

I went with the G7. The reasons:
- DAC
- 3.5mm headphone jack
- wide-angle camera
- wireless charging
- price $960 CAD vs. $1099 CAD
- pre-ordered in Canada so I get a 43" TV

"pre-ordered in Canada so I get a 43" TV" Wait, what?

So this is why I am holding off from preordering the u12+ bc I want to see what HTC does..I know it's not gonna be as good as that tho

Yeah. Canada only offer. So far all I've seen in UK is get a free £20 case. Almost enough to put me off the LG. The sound quality is enticing though.

I have had unlocked HTC M7, M8, HTC ONE, HTC 10 All well built phones with metal body construction and you get all the updated operating systems as they are released without having to buy a new phone. HTC takes care of their customers. I pre-ordered the U12+ liquid glass body i'm looking forward to the new style and construction. They are solid phones with great technology. They are worth every penny.

Difficult choice, my 2 fave smartphone brands.

I wished HTC had delivered a complet product ( i hate IPhone & Samsung ) but LG has more usable features. HTC remains my dearest brand though.
Android Central Newsletter
Get the best of Android Central in in your inbox, every day!
Thank you for signing up to Android Central. You will receive a verification email shortly.
There was a problem. Please refresh the page and try again.