HTC U11 and U11+: Everything you need to know!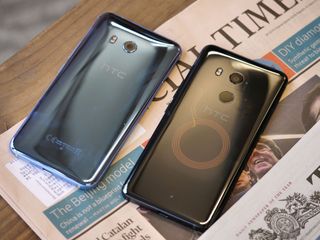 HTC has, to put it lightly, seen better days. And years. In 2017, the company is trying an all-new design language to entice customers. Gone are the solid metal builds from the HTC One lineup, replaced by slick, reflective glass. On the inside, the HTC U11 and U11+ feature standard flagship components for 2017, and the company can finally stand toe-to-toe with competitors' cameras.
Here's everything you need to know about the HTC U11 and U11+.
Read and watch our reviews
The U11 was released in spring of 2017, with the U11+ coming out in the fall. Both are similar enough on the inside, with the U11+ featuring a more modern, small-bezel design. Be sure to check out our review of the U11 and hands-on preview of the U11+.
Check out the specs
Phones need something inside to make them go beep, and the U11 and U11+ both feature the best internals for 2017:
Swipe to scroll horizontally
Category
HTC U11
HTC U11+
Operating System
Android 7.1.1 with HTC Sense
Android 8.0 upgrade rolling out
Android 8.0 with HTC Sense
Processor
Qualcomm Snapdragon 835
Qualcomm Snapdragon 835
Network
4G LTE Cat. 16
4G LTE Cat. 16
RAM
4 / 6GB (Varies by region)
4 / 6GB (Varies by region)
Storage
64 / 128GB UFS
microSD up to 2TB
64 / 128GB (Varies by region)
microSD up to 2TB
Dual SIM
Some regions. Hybrid SIM2/SD slot
Some regions. Hybrid SIM2/SD slot
Display
5.5-inch Quad HD SuperLCD 5
Corning Gorilla Glass 5
6-inch SuperLCD 6, 2880x1440
Corning Gorilla Glass 5
Main Camera
12MP, 1.4μm pixels, f/1.7 lens, OIS, EIS
UltraPixel 3, UltraSpeed AF, HDR Boost
12MP UltraPixel 3, 1.4-micron pixels, f/1.7
UltraSpeed Autofocus, BSI sensor, OIS, Dual LED flash
Front Camera
16MP, f/2.0 with UltraPixel mode
8MP, f/2.0, 85-degree field of view
BSI sensor, HDR Boost
Water/Dust Resistance
IP67
IP68
Battery
3,000mAh
Quick Charge 3.0
3930mAh
Quick Charge 3.0
Audio
HTC BoomSound Hi-Fi
HTC USonic
USB-C + noise cancelling headphones
HTC BoomSound Hi-Fi
HTC USonic
USB-C + noise cancelling headphones
Qualcomm aptX HD, LDAC 24-bit high resol
Colors
Ice white, brilliant black, sapphire blue, solar red, amazing silver
Brilliant black, translucent
The U11+ has a sweet translucent variant
HTC isn't one to shy away from exotic colors on its smartphones. The U11 has a fiery red version and I always wanted to pick up the awesome blue HTC One M7. For the U11+, HTC went in a slightly different direction. There's the standard glossy black variant, but also a really intriguing translucent variant. It isn't completely clear, but you'd be able to pick out the NFC antenna and other components on board.
More: HTC U11+ hands-on preview: More screen, more battery, translucent body
The squeeze feature is surprisingly useful
While squeezing the side of your phone may sound gimmicky, it's actually quite practical. Users can map a short or long squeeze to two separate actions, including custom actions within applications. For example, you can set a short squeeze within Google Maps to zoom in on the map, while a long squeeze could start navigation home. Squeezes can also be used for system functions like launching the camera app, toggling the flashlight or taking a screenshot.
More: The HTC U11 is the most solid phone of 2017 so far
The U11+ is kinda, sorta related to the Pixel XL 2
Smartphones take about 18 months to develop from start to finish, and along the way, things can get complicated due to supply constraints or a different focus within the company. There were rumors earlier this year that we'd see three Pixel phones: what we now know as the Pixel 2 and Pixel 2 XL, and a third device slotted somewhere in the middle. That rumored device had a lot of similarities to the Pixel 2 XL, with a 6-inch 18:9 screen, a rear fingerprint sensor, and the same general proportions. But some of that is table stakes: the Pixel 2 line and the U11+ use similar internal components because they're using the standard 2017 flagship parts. It's fun to think about, but it's unlikely the U11+ was meant to wear the Google badge.
More: HTC U11+ started life as a Google Pixel 2 XL project — but the story isn't that simple
Oreo has arrived
The U11+ launched with Android 8.0 Oreo, making it one of the first non-Google phones to run that version of Android. This also means Project Treble is supported, hopefully adding to the longevity of software support for this phone. Meanwhile, the standard U11 launched with Android 7.1.1 Nougat, with Oreo rolling out to the unlocked version of the phone. The carrier variants should receieve the update shortly.
More: Android 8.0 Oreo for unlocked HTC U11 now available
Compared to other flagships
The unlocked HTC U11 is priced at $649, putting it in the same league as the Moto Z2 Force, Samsung Galaxy S8 and LG G6. Among these devices, the U11 stands well: the camera is solid, second only to the Google Pixel line. The U11 has a very striking design, though it is a bit dated with its capacitve navigation buttons and front facing fingrerprint sensor. The U11 finally added IP67 water resistance, and the squeeze feature is suprisingly effective in everyday use. Where the U11 falls apart is general availability: most carriers aren't stocking the phone, meaning you won't be able to try one in store before buying it.
The U11+ corrects the design flaw, but compounds on the availability issue. The U11 Plus's design catches up in a big way with other 2017 flagships, moving the fingerprint sensor to the back, moving to software navigation keys and including an 18:9 (or 2:1 for those that like math) display. But HTC isn't selling the U11+ anywhere in the United States, meaning those that aren't HTC faithful probably aren't going to even know the device exists in the states.
More: Moto Z2 Force vs. HTC U11: With so much in common, it's a tight race
Be sure to check out our forums!
Want to know more about the U11 and U11+? The Android Central forums are a treasure trove of information, so be sure to stop by there and ask any remaining questions you have!
More: HTC U11 on Android Central forums
Updated December 2017: Updated with all the latest information on these phones!
Android Central Newsletter
Get instant access to breaking news, the hottest reviews, great deals and helpful tips
The U11+, AKA the TRUE Pixel 2 XL.

and the most important thing about any purchase (the price) is missing. so definitely NOT "everything you need to know"

You also left out the lack of availability for the U11+.

I loved my Solar Red U11. It arrived, I used it for a week, sent it in to repair. Waited 3 months. They returned it, and now the home button continues to go out. So I purchased a Pixel 2XL to replace it, and off it goes to HTC again. When it returns it's going on ebay. HTC makes great products but on the off chance you need repairs, be prepared to wait 3 ENTIRE MONTHS.

I had the G1, Mytouch 3g, Sensation, Thunderbolt, M7, M8, 10, and U11. Sadly the U11 is my last HTC.

Sad commentary on how far HTC has slipped. I've had repairs done by HTC twice and it was handled quickly each time by their repair facility in Houston. If I had to guess, that facility is probably long since closed in a cost saving move.

Is it coming to any US carriers?

All I need to know is when is the U11 Plus going on sale. :)

Are they still "crippled" on Verizon?

I have the U11. I have no issues on verizon. No calling over wifi or visual voicemail but I'm ok with that. I use google voice for the few voicemails I get and don't need wifi calling because I always have a signal. I get better reception than I had with my verizon LG G4.

Yeah, the reception on the U11 is better than most. Only phone I've had that topped it was the old Siemens S66 (the Ocean's Eleven phone).

So, do we know why the U11 + is not being released in the US? Is it some type of non-compete agreement with Google? If the plus was available, I would buy it. But in the meantime, the U11 has been great. My three favorite features are USonic, Edge Sense, and battery life being consistently better than expected. There are only two things I don't like on the U11: The Bluetooth toggle in the drop down settings waits for the radio to be active before changing the icon, and the screen is more susceptible scratching than previous HTC models. I Wish the 11 had the option for a full sapphire screen like the Ultra does. Mine was face down on a rolling hospital table, with residual grit from the room being remodeled. The table was apparently moved around quite a bit (curious nurses?) while I was asleep, causing the phone to slide around on the grit.

Lack of marketing and carrier distrabution here in the US is terrible. What a shame, the 11+ looks like a very good phone. I wish HTC would put someone in charge that knows what there doing. CEO Cher Wanger does not!

I asked in Carphone Warehouse about the 11+ and they said they weren't going to carry it, so pulled the trigger on a U11. It's good value compared to other 835 based flagships right now.

Carphone warehouse had a pretty good deal on the u11 so i also went for it. Excellent phone - no complains

If the U11+ was available in the US, I'd buy it. The best phone of the year with no compromises isn't available in the most lucrative mobile market. SMH.

Sorry post was about u11 just realized your comment was about U11+

Huge HTC fan and still love my 10, but would buy the 11+ immediately if it were in the US. And we have to wonder why HTC is losing money?

I honestly dont think they're purposely not offering it. I bet its not up to them.The carriers have become jaded with their devices unless they're midrange or lower for some reason. They only carried the 10 last year for a short time on Tmobile before they discontinued it. Its unfortunate, but i'll keep buying their devices. But they've got to get better with marketing and especially customer support for device repair. I always buy their devices from Amazon because the HTC return policy and repair just sounds insanely inept.Despite all these obstacles they still produce compelling and thoughfully designed devices.

HTC, probably still mad at what the US carrier's did with the 10!

7pm at night and my U11 is still at 70% after 14 hours of hard use. Gotta love how the battery life keeps getting better and better!

I can assure that the U11+ display is top-notch.
Android Central Newsletter
Get instant access to breaking news, the hottest reviews, great deals and helpful tips
Thank you for signing up to Android Central. You will receive a verification email shortly.
There was a problem. Please refresh the page and try again.