HTC U12+ vs. Samsung Galaxy S9+: Which should you buy?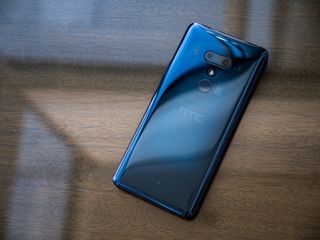 Samsung has been enjoying the limelight for a few years now as the leading Android brand, but it wasn't too long ago that HTC was a major competitor, stealing customers away with its far superior build quality and audio delivery. These days though, neither of those features are unique to HTC anymore. Ever since Samsung shifted from plastic to glass and metal in its flagships, its build quality has been top-notch, and the more recent dual speaker system has made its newer phones formidable in the audio realm as well.
Recent years haven't been terribly kind to HTC, with the company gradually fading into obscurity. That's more the fault of availability than the quality of its products, as HTC has still been putting out great devices each year and even building the last two generations of Google's Pixel devices. The company's most recent announcement, the U12+, is a perfect example — an excellent flagship-tier phone that won't be available in any physical locations in North America.
That doesn't mean you can't still order one online, though, and if you're buying unlocked to use in the States, it'll work on just about every network but Sprint. So should you buy the fancy new U12+, or stick with the tried and true Galaxy S9+?
Specifications
While it's by no means the only way to compare phones (or even the best way to), it's good to know where the U12+ and the Galaxy S9+ differ in terms of hardware specs. Like most flagship phones these days though, they're pretty much the same across the board.
Swipe to scroll horizontally
Category
HTC U12+
Samsung Galaxy S9+
Operating System
Android 8.0 Oreo
Android 8.0 Oreo
Display
6-inch 18:9 Super LCD 6
2880 x 1440, 537PPI
6.2-inch 18.5:9 Super AMOLED
2960 x 1440, 529PPI
Chipset
Octa-core Qualcomm Snapdragon 845, four 2.8GHz Kyro 385 Gold cores, four 1.7GHz Kyro 385 Silver cores
Octa-core Qualcomm Snapdragon 845, four 2.8GHz Kyro 385 Gold cores, four 1.7GHz Kyro 385 Silver cores
GPU
Adreno 630
Adreno 630
RAM
6GB
6GB
Storage
64GB/128GB
64GB/128GB/256GB
Expandable
Yes (microSD slot)
Yes (microSD slot)
Battery
3500mAh
3500mAh
Water resistance
IP68
IP68
Rear Camera
12MP f/1.8 + 16MP f/2.6, PDAF + laser autofocus, 4K at 60fps
12MP f/1.5-2.4 + 12MP f/2.4, PDAF, 4K at 60fps
Front Camera
8MP f/2.0 (x2), 1080p video
8MP f/1.7, 1440p video
Connectivity
WiFi ac, Bluetooth 5.0, NFC, GPS, GLONASS, USB-C
WiFi ac, Bluetooth 5.0, NFC, GPS, GLONASS, USB-C
Security
Fingerprint sensor (back), face unlock
Fingerprint sensor (back), iris scanner, face unlock
SIM
Nano SIM
Nano SIM
Dimensions
156.6x 73.9 x 8.7mm
158.1 x 73.8 x 8.5mm
Weight
188g
189g
What the HTC U12+ does better
The U12+ is HTC's most modern-looking phone yet, with all the necessary stylings to fit in with other 2018 flagships — a rear-mounted fingerprint sensor with face unlock as a fallback, a tall 18:9 display, IP68 water resistance, and so on. Unfortunately, it also follows the recent trend of bucking the headphone jack (as did last year's U11), but you don't have to worry about a notch taking up part of your display up top.
The real advantages of the U12+ come in the form of its software. Though little has changed about HTC's Sense interface in years, that's not necessarily a bad thing, as the company continues its effort of leaving stock Android mostly alone with a few minor tweaks here and there. Those tweaks include the new Edge Sense 2, which improves upon last year's ability to detect launch certain actions by squeezing the sides of the phone. Now, in addition to squeezing, you can double-tap either side of the phone to trigger a separate action — by default, the screen shrinks down to one-handed mode and moves to the side you tapped, but you can reprogram this action to do just about anything you'd like.
Edge Sense is also now able to detect when you're holding the phone vertically by feeling how your fingers are gripping the sides, and automatically lock the orientation accordingly. This means that you can you can use the U12+ while lying in bed without having to toggle auto-rotation or fumble with trying to keep the phone mostly vertical.
Read more: HTC U12+ hands-on preview
Image 1 of 4
Like the Galaxy S9+, the U12+ has dual cameras, with the same combination of wide angle and telephoto lenses, but while we haven't yet spent any quality time with the cameras, the U12+ got a DxOMark score of 103, beating out the S9+'s score of 99. While benchmarks certainly aren't everything, this at least instills some early confidence that the U12+ may be formidable for stills. While both phones offer portrait mode photography, the U12+ also allows you to adjust your point of focus and amount of background blur after the shot is taken.
The U12+ looks great for video, as well. While it can't match the S9+ is slow-motion video (HTC maxes out at 240fps at 1080p, versus Samsung's insane 960fps in 720p), it's the only one of the two able to shoot 4K in 60fps, and it's backed by both OIS and EIS for stability. In addition, HTC uses what it calls Sonic Zoom to allow you to directionally amplify audio on a distant subject, quieting down the surrounding noise when you zoom into a subject while filming.
What the Samsung Galaxy S9+ does better
HTC may be one of the original champions of premium design, but Samsung has stepped up its game considerably in recent years. While the curved glass may not be in everyone's favor, it's hard to argue with the striking aesthetic and in-hand feel of the Galaxy S9+. The rounded sides make the S9+ feel smaller than it actually is, and unlike the U12+ it still retains a 3.5mm headphone jack for wired audio. The S9+ is also the only one of the two phones to support wireless charging, though in HTC's defense, many will find Quick Charge 4 much more useful — the S9+ only supports the slower Quick Charge 2.
Samsung's software has always had a reputation of being bloated and overcrowded with too many Samsung and carrier apps, and while that's still true to some extent, the software on the S9+ is cleaner than ever. More importantly, the additional software is finally actually useful. While not perfect, Bixby is able to pull off quite a few actions Google Assistant can't do just yet, particularly with system-level commands. Samsung Pay is the most widely supported mobile payment service around, thanks to the MST technology that emulates a physical card swipe. Apps Edge makes the curved glass functional with quick access to favorite contacts and frequently used apps.
Read more: Samsung Galaxy S9 review
Image 1 of 4
Photography is an area where Samsung has always excelled, and the S9+ features the company's best camera experience yet. Just like the U12+, the S9+ makes use of a wide-angle and a telephoto lens, but the primary sensor features dual apertures — with the tap of a button, you can switch between f/1.5 and f/2.4, adding nearly 1.3 stops of light for night shots. The results are really fantastic; photos from the S9+ look great in nearly any circumstance, but particularly in low light, this is one of the best options money can buy. Add to that the ability to shoot slow-motion video at 960fps, and the Galaxy S9+ has plenty of room for creative shots of all kinds.
Perhaps the S9+'s biggest advantage, though, is simply its availability. While the U12+ looks like a fantastic phone, you won't find it on any store shelves; HTC is only selling the phone directly from its own site and through Amazon. On the other hand, Samsung is absolutely everywhere; nearly every carrier store worldwide is plastered with ads and banners for the S9+, and you can buy one directly in-store. If you live in the U.S. and like to try before you buy, the S9+ is your only viable option between the two phones.
Which one is right for you?
There are plenty of reasons to go for either phone over the other, but for consumers in North America, the choice is practically already made for you; the Galaxy S9+ is the only phone of the two that you can actually pick up and handle before buying it, and it's the only option for customers on Sprint's network. HTC allows for financing and trade-ins on its site to make the U12+ more affordable upfront, but you'll have nowhere to turn if something goes wrong with the phone later on down the line — you'll just have to ship it off under a warranty claim.
If you live somewhere that will actually carry the U12+ in stores, it becomes a much more compelling option. While a bit pricey at $799, it's still cheaper than the Galaxy S9+, and offers a cleaner software experience and a flat display that should be less prone to damage. In addition, some will find Edge Sense 2 much more convenient than the Bixby button on the S9+ — especially because HTC actually lets you customize your actions. However, if you like to leave your wallet at home and depend on mobile payments instead, there's a very compelling argument to be made for Samsung Pay on the Galaxy S9+.
Which phone would you buy, given the two options? What, if anything, would you bring over from the other phone? Would you like to see Edge Sense on the Galaxy S9+? Or maybe dual apertures or MST payments on the U12+? Let us know in the comments below!
Get the Android Central Newsletter
Instant access to breaking news, the hottest reviews, great deals and helpful tips.
Hayato was a product reviewer and video editor for Android Central.