HTC selling accessories for up to 50 percent off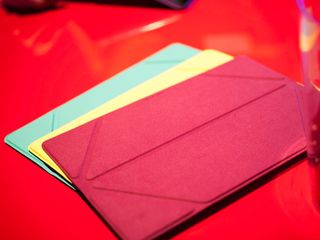 HTC is selling several of their accessories for up to 50 percent off. Accessories for devices like the the HTC One M8, the recently-released Nexus 9, and even HTC's new RE Camera are all part of this sale.
Accessories on sale include the Keyboard Folio and Magic Cover case for the Nexus 9. The Folio is available for $64.99, down from its normal price of $129.99. Be sure to check out our review of the Folio. The Magic Cover is down to $19.99 from $39.99. Also available at reduced prices are the HTC Dot View case for the One M8 for $24.99, as well as HTC Rapid Charger 2.0 for $17.49.
How long the sale will last is unknown, so if you're in the market for HTC accessories, now might be a good time to take a look.
Source: HTC (opens in new tab)
Looks like the N9 magic cover is only in coral/amethyst color. Too bad. For $20, I would've picked one up if it were a different color. Posted via Android Central App

I can live with the color. I just can't seem to add it to the cart.

i cant add to cart either

same here. The same exact thing happened to me during the Nexus 9 50% hot deals debacle as well. HTC screws up another sales event.

Yea it's not available to be put into the cart. However the keyboard @ $65 is a definite buy

damn it charging dock sold out Posted via Android Central App

Interesting. I haven't had much luck buying from HTC this winter. I bought the Rapid Charger 2.0 last time they had this deal (on 11/18/2014) and still haven't received it. Was told " Although we do not have an estimated arrival date, we are working to obtain more stock as soon as possible. " just last week. It was out of stock last week and you couldn't order it. Now today you can order it for half price which hopefully means they'll ship my order soon. I also ordered an Unlocked M8 for $300 on 11/11 and took until 12/3 to get it.

What's the point of having a sale which includes the Rapid Charger if it's "temporarily out of stock"?! Posted via Android Central App

Maybe a get it whilst stocks last? Saying that I'm assuming they probably would of made it clear, I'm just abit dubious about how rapid it is Posted via the Android Central App

From the look of a previous comment it looks like it was out of stock before the sale even started.. Posted via Android Central App on The Nexus 5

Let's see how long these items take to ship. The keyboard appears to be in stock.

I was able to place an order for it, got charged tax so it came out to just under $70... We'll see if it ships in a reasonable amount of time, tho this will be a birthday gift in February so I couldn't care less how long it takes as long as it makes it before then. :) The keyboard was a border line rip off at $130 IMO and I was gonna pass on it even tho the person I'm giving the N9 to used to have the ASUS TF kb, at $65 it's much much easier to swallow... $415 for N9 & kb all in, had the combo been that price on day one it would've been a runaway success IMO.

Two day shipping is only $6 btw, and you can't change shipping method after the order is placed even if you call in (as I discovered, had to cancel my first order instead). Here's hoping my order ships and arrives before the middle of next week or it'll sit at a doorstop for a week... :s

Another HTC sale fail. Posted via Android Central App

NOT an HTC fail...it is limited inventory for 50% off....sheez.
Android Central Newsletter
Get the best of Android Central in in your inbox, every day!
Thank you for signing up to Android Central. You will receive a verification email shortly.
There was a problem. Please refresh the page and try again.