HP Chromebook x2 is the world's second Chrome OS tablet and costs $599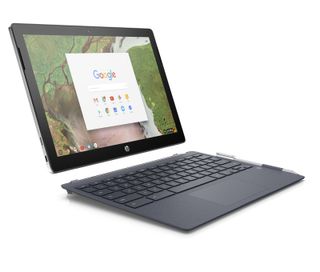 Two weeks ago, Acer announced the Chromebook Tab 10 – the world's first tablet running Chrome OS. Shortly after that announcement, HP's now throwing its hat in the ring with the HP Chromebook x2.
Where the Acer Chromebook Tab 10 is made specifically for the education market, the HP Chromebook x2 is more similar to Google's Pixelbook is the sense that it's being targeted at general consumers and folks that want a premium, good-looking machine. The brains of the x2 are housed in the tablet itself, and this is where you'll find a 12.3-inch 2400 x 1600 touchscreen display. There are dual front-facing speakers flanking the display and there's a 13MP camera on the back as well as a 5MP camera up front.
Powering the Chromebook x2 is the Intel Core m3 processor along with 4GB of RAM, and you can bump this up to 8GB if you need more power. 32GB of storage is present out of the box, but this can easily be expanded via a microSD card. There's also a 3.5mm headphone jack for listening to your tunes, as well as two USB-C ports with an estimated battery life of 10.5 hours.
The HP Chromebook x2 is already $200 cheaper than the 12.9-inch iPad Pro on its own, but that $599 price includes more than the tablet itself. Along with the x2, you're also getting a keyboard dock and a stylus. HP says that the x2 should feel just as sturdy as a traditional laptop when connected to its keyboard accessory, and there's a loop on the right side of it for storing the stylus.
You'll be able to purchase the HP Chromebook x2 this June, and considering the specifications and accessories that come with it, we could be looking at one of the year's best Chrome OS machines yet.
Joe Maring was a Senior Editor for Android Central between 2017 and 2021. You can reach him on Twitter at @JoeMaring1.
Love it!!! Just wish it didn't have the logo...but that's a minor compliant.

You think it's cheap (which is relative) because it has a logo? What's your train of thought there?

Hp not the best brand, put samsung logo on it and it's $200 increase.

Ah, I see where you're coming from! It's a less "desirable" logo... You could also add a Dell one or a half eaten Apple and charge twice as much!

HP makes exceptional.hardware these days

Ha ha…If you put a samsung logo on it, after 2 wks it would slow to a crawl. Just like the galaxies.

Only 32gb?? It sounded so good till I saw that. I'd rather have 128gb and no microSD. At least 64gb minimum; oh well... However, good on HP for including the stylus & dock. That's generous.

Looks pretty decent... Although probably I don't think I'd throw $600 at a Chromebook...

32 damn Gb of internal storage, what horsesh*t. Everything else is great and an instant buy, but 32Gb is simply unacceptable. The storage isn't adoptable for keeping apps on the MicroSd card, and even if it were, the speed would be less than 1/5 of that of native internal storage. SMDH 🤦🏻‍♂️

How many apps are you installing?

This is the device I've been waiting for! For me, it will replace my tablet and laptop. The screen is a good size and resolution and having the keyboard and stylus will make it very flexible. Yes, shame about the 32GB storage. Maybe they'll change their minds about this by June! :-)
Let's hope other manufacturers copy the design.

Sold. 8GB. This is exactly what I wish the Pixelbook was. But for less, I can get down with this and have something more flexible.

Looks like a perfect replacement for my Note 10.1 (OAF 2012 edition!), and right around my birthday, excellent timing! I was thinking Surface Pro, but lack of certain apps for W10, and insane cost have made me wait.

I just hope there's a flash for the rear camera. I use that all the time on my Note 10.1, and I can't believe all tablets don't have that! I can't tell from the picture if it has one.

Serious question; I've been completely disconnected from ChromeOS. All I knew was that it looks like Chrome running apps and the play store works now. My question is, why do we need super powerful processor and a big amount of ram to run Chrome? It seems to me like the selling point of those was a cheap alternative but Chromebooks are now more expensive than PCs in certain cases so I'm kind of wondering what the hell they are trying to target with something this limited?

I can't actually answer your. Question because I don't use Chrome, but I can tell you this neither has a super powerful processor or a lot of RAM. The base model has an M3 and 4 GB of RAM... That is not high end at all.

Some Chromebooks come with powerful chips and a lot of ram. I wasn't talking about this specific one.

Use one, then you will know why. I spent an hour in the computer department of Bestbuy the other day. The Pixelbook is SOOOO DAMN FAST! Nothing is as quick...

What Steve said. Chrome OS is so light that on low end hardware it is still quick. On the Pixelbook it just flies. On like hardware chromebooks are always faster with their windows counterparts and more reliable.
Android Central Newsletter
Thank you for signing up to Android Central. You will receive a verification email shortly.
There was a problem. Please refresh the page and try again.