How to move your OneDrive pictures to Google Photos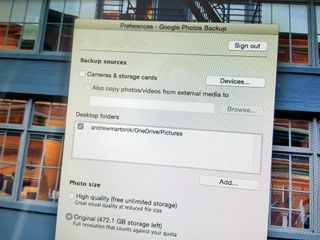 With great cross-device syncing — particularly if you use Windows devices — and very cheap storage options, OneDrive is a great choice for storing photos and plenty of other things. But if you're ready to give Google Photos a try instead, it's a simple move that will only take a few minutes to set up.
Microsoft makes it super easy to download specific albums or every single one of your photos, and if you've installed the OneDrive app on your computer this process is going to be even easier. Let us show you how to get it done.
Getting your photos from OneDrive
The system for getting your pictures from OneDrive and putting them up on Google Photos is simple and very closely mirrors the tutorial we did for Dropbox. The easiest way to do this is by downloading the OneDrive desktop app, and using it to pull down all of your photos to your computer first. (If you're already using this app on your computer, the process is even easier — skip to the next section.)
After signing in with your Microsoft account, the setup process will let you choose which folders from OneDrive to download to your computer. For our purposes all you need is the "Pictures" folder, or any other folders you may have organized photos into. Selecting only your photos folders will speed up the process of getting them down to your computer, and if you want to sync other files later you can do so from the OneDrive app preferences.
In short:
Download the OneDrive desktop app, sign in with your Microsoft account credentials
During setup, select "Choose what folders to sync" and check the box next to "Pictures" and any other folders with photos
Wait for sync to begin, and give it time to download all of your photos (you can check its progress from the app)
If you just have a handful of photos in OneDrive and don't have any other need for the desktop app, you can also simply click the check box on your Pictures folder in OneDrive and click "Download" in the top bar. Once the .zip file with the photos has been downloaded, unzip it and either point the Google Photos Backup tool at the folder (which we explain below) or drag and drop it into the Google Photos website.
Bringing them over to Google Photos
As we've covered a few times before, if you're going to be using Google Photos you'll likely want the Google Photos Backup desktop app — and it's particularly useful when getting your library started from scratch. Once your OneDrive has started pulling down photos to your computer, you can use the Google Photos Backup app to handle uploading them automatically.
Once you've installed the Google Photos Backup app, in the initial setup (or after the fact under "Preferences") you can choose which folders it should watch for new photos to upload. Uncheck any unnecessary desktop folders, click "Add..." and browse to the OneDrive folder where your pictures are. If you want to upload any and all photos, you can simply select the highest-level OneDrive folder, but if you'd prefer to only upload some photos you can do that as well.
Before you click "OK" to start the upload, also choose whether you want to upload these OneDrive images as "High quality" (up to 16MP, but with some optimizations) for free or "Original" (no changes made) and counting against your Google Drive storage allotment.
In short:
Install the Google Photos Backup desktop app, sign in with your Google credentials
Uncheck any unwanted desktop folders, select "Add..." and instead select the OneDrive folders that are syncing
Choose whether you want "High quality" (free) or "Original" (paid storage) versions to be uploaded
Wait as the uploader takes pictures from OneDrive and uploads them in the background
Now with the OneDrive app set to download your photos and the Google Photos Backup app scanning to upload those very same photos, you can walk away and know that in a matter of hours (or days, depending on your Internet connection and number of photos) your entire photo library will be moved over to Google Photos.
Once the process is done, you can remove the OneDrive app from your computer if you no longer have a use for it. Remember that all of your photos are still available in OneDrive and synced to the computer, so unless you uninstall it, any changes made to those files will be replicated in the cloud. As for the Google Photos Backup app, it may be worth keeping on your computer if you decide that Google Photos is what you want to use going forward.
Android Central Newsletter
Get instant access to breaking news, the hottest reviews, great deals and helpful tips
Andrew was an Executive Editor, U.S. at Android Central between 2012 and 2020.
Never gonna happen. One drive is awesome Posted via the Android Central App

Absolutely. Far superior. Why do I choose to keep photos in one and only documents in the others. Onedrive is better any damn day. Posted via the Android Central App

Yeah, OneDrive is great for backup and storage of originals. But using Photos along side it is a great use. Great for creating albums and all animations, etc. It's a great way to share your photos. I use them both, when Photos is free it seems stupid not to.

Not really. In a month Windows 10 will be out and the Photos app will negate much of the need for Google Photos. I don't see why anyone would move data from OneDrive to Photos, given how well OneDrive is integrated in Windows, which is the OS most people are using, anyways.

...and there is easier way www.multcloud.com

How to move the other way? Posted via the Android Central App

This would be useful for you to read: http://www.androidcentral.com/how-use-google-drive-desktop-app-save-local-copies-your-google-photos-library

Thanks for the article Andrew. I've been wanting to try switching to Google photos after the big change. I've been using one drive for a while but after the change to Google photos I find it a lot easier to manage my photos with it. Also with now being able to save photos in full resolution from my S6 I find it much nicer. Love that I have 1.2 TB of storage on One drive though since microsoft loves giving away storage. Posted via the Android Central App

i think there may be a few changing their minds now . . . .
Android Central Newsletter
Get instant access to breaking news, the hottest reviews, great deals and helpful tips
Thank you for signing up to Android Central. You will receive a verification email shortly.
There was a problem. Please refresh the page and try again.