How to move your Dropbox pictures over to Google Photos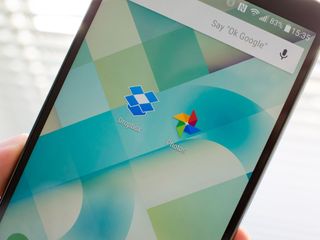 With the ubiquity of Dropbox throughout multiple platforms and its great automatic uploading from your phone and desktop, there's a decent chance you've used it to back up your photos. Whether you have a Dropbox folder structure with a defined hierarchy of categorization or several folders spread all about from various times, it's still going to be a hassle to drag-and-drop individual folders out of Dropbox and over to Google Photos.
Thankfully with just a few steps and a couple of desktop applications you can let your computer do the work for you, pulling images from Dropbox and then swiftly moving them up to Google Photos. We're going to show you how.
Sync Dropbox pictures to your computer
The first step of getting your photos from Dropbox to Google Photos is simple, and it starts with installing the Dropbox desktop app. This app, like the one you may be familiar with from Google Drive, synchronizes a folder on your computer with the Dropbox cloud. If you already have the app installed and syncing your entire Dropbox account to your computer, you're ahead by one step.
If you haven't yet installed the Dropbox desktop app, do so now. Once you have it installed and you sign in to your Dropbox account, head into the app preferences and under "Account" look for "Selective sync." Here you can choose specifically which folders are kept in sync with your computer, and which just stay up in the cloud. For our purposes here, go through and uncheck every folder that doesn't have photos in it. This will save you time because your computer doesn't have to download everything in your Dropbox, and it'll save you storage space on your computer.
In short:
Install the Dropbox desktop app, sign in with your Dropbox credentials
Enter the Dropbox app preferences, choose selective sync, and only sync the files with photos in them
Files will begin to download in the background to a new Dropbox folder on your computer
Set Google Photos to automatically upload them
Once that's set up and begins syncing, you can move on to the Google Photos portion. Depending on your internet connection speed it'll take some time to pull down the requested folders and their contents from Dropbox, but the first thing that'll show up are the high-level folders themselves — that's all we need to set up this system.
As we covered in a previous how-to article, it's easy to install the Google Photos Backup desktop app and configure it to look at specific folders on your computer for photos to upload automatically. Once you've installed the app and signed in with your Google Account, go into the settings and under "Desktop folders" click the "Add..." button. You'll quickly see the Dropbox folder, and have the option to choose subfolders inside as well.
If you want to upload every photo you have stored in your Dropbox, regardless of location, then you can simply choose the top-level Dropbox folder and be done. If you're a bit more specific about which folders are uploaded, make that choice here. Before you click "Ok" to start the upload, also choose whether you want to upload these Dropbox images as "High quality" (up to 16MP, but with some optimizations) for free or "Original" (no changes made) and counting against your Google Drive storage allotment.
In short:
Install the Google Photos Backup desktop app, sign in with your Google credentials
Uncheck any unwanted desktop folders, select "Add..." and instead select those new Dropbox folders that are syncing
Choose whether you want "High quality" (free) or "Original" (paid storage) versions to be uploaded
Wait as the uploader takes pictures from Dropbox and uploads them in the background
Now that you have Dropbox set up to sync down all of the folders you've designated as having photos in them, and also have the Google Photos Backup app scanning those same folders for photos to upload, you can sit back and relax while your computer does the work. No manually dragging and dropping, no worrying about which photos are where — the only limitation here is how fast your internet connection lets you download and upload. Give it a few hours — or a few days if your library is large — and your Google Photos library will be populated with all of your Dropbox photos.
Once all of your photos have finished downloading to your computer and then uploading to Google Photos — as indicated by both apps on your computer — you can then uninstall the Dropbox app (don't just delete the folder) if you no longer have a need for its syncing services. You can do the same for Google Photos Backup, though chances are you'll want to keep that installed for future uploads.
Android Central Newsletter
Get instant access to breaking news, the hottest reviews, great deals and helpful tips
Andrew was an Executive Editor, U.S. at Android Central between 2012 and 2020.
Can you hook up a usb drive and make the dropbox download go to that drive along with the google photos upload? I don't have enough space on my computer HD to download all my dropbox pics.

Of course. Both the dropbox sync app and the uploader can be pointed at any drive, including external ones. Just don't remove or unmount it! Posted via the Android Central App

Awesome! Thanks for that bit of new info Andrew! Posted via someone's Note 4

Why would you want to, Photo's reduces the quality of your pictures? It doesn't save the original file, it reduces the file size!

I look at it kind of as a backup at worst. If something happens to my photo's where I normally store them I would rather have downsized backups than to lose everything. Having the service be free makes it perfect for that purpose alone. Personally for me I don't really have anything over 16mp right now anyway.

Because you may consider the reduction in quality to be negligible.
For most people, free probably trumps negligible reduction in quality.

The ability to upload as much as you want for free kinda trumps the small amount that most people care about when it comes to photo quality. And if you intend to only show these pictures on the web or your phone, you're never being served the full file anyway because of size and bandwidth issues. Of course you can always upload at "original" quality and save your full file size... and just like Dropbox it'll cost you monthly to keep it stored up there.

From what I read it only reduces the photos that are more than 16 megapixels and video greater than 1080p. It does not touch it otherwise. My Galaxy S6 is a 16mp camera so I'm good there and I rarely shoot 4k video.

Unfortunately there are more changes than just resolution happening. When you upload at "High quality", Google Photos is processing and compressing it so that it is a little friendlier size-wise for Google to store. That's how they can offer unlimited storage.

Whats the actual difference on the quality of the photo between the High quality" (free) and "Original" (paid storage)?

Pretty small, but you can notice compression when you set them side by side.

Thanks! Posted via the Android Central App

Thanks Andrew but I have a question what does it mean when there's a cloud symbol with a dash through it Posted via the Android Central App

That means that the pics have not been uploaded yet or that the folder the pics are in is not set to be backed up. Go to the side menu/Device Folders, here you can set which folders you would like to back up. A cloud with a strike through it means that this folder is not currently set to back up.

I can see how Photos can be useful as an additional backup, but you should make it more clear that if you 'move' your photos from Dropbox to photos using the unlimited option then your photos will be compressed and loose quality.

good point ... I still prefer DropBox, but backing em up to Google for free is a nice option. I'm sure they'll get there eventually, but other than the small fee, DropBox is superior IMO. Posted via the Android Central App

Thanks for that info. I was just going through my Dropbox photos yesterday wondering how get them into Google Photos without doing it one at a time. You just saved me hours! Thanks Andrew. Posted via the Android Central App

Thanks. But does google photos will keep photos in the same albums or all photos mix together after backup? Please clarify.

They'll all be in one big blob, how Google kinda wants you to do it. The focus of Google Photos is on search, so you don't necessarily need to have albums. If you want to keep albums, you'll need to upload each album of yours manually and make it a new album in Google Photos.

Hey AndroodCentral Nice to see that my comment with better way to do same thing posted an hour ago disappeared. I never thought that are doing acting like a big brother. Really pity.

I wish there was a way to transfer pictures from Facebook to Google Photos. I checked the "download your profile" option but it strips all the EXIF data...

Doesn't Facebook strip EXIF data automatically now, like "in the name of privacy?"

Could you run an article on doing the same thing with Flickr and Picasa?

Flickr is tomorrow ;) And we have other articles for other services lined up, too.

Thanks Andrew! I just set this up on my PC and it's working great. Posted via the Android Central App

Great article Andrew. I just want to thank all of you at Android Central for the help transitioning over to the new photos app. Posted via the Android Central App

It just me or everyone else stopped reading after the you have to install and sync your pics using the dropbox desktop app

Not sure why you'd stop. That's a pretty important step and means you don't have to do any work.

This has probably been answered a thousand times, but do you have to have a Google + account to use Google photos? Posted via the Android Central App

Nope! They removed that requirement.

Thank you! My promotional storage space with Dropbox was about to expire. And I was dreading transferring photos to Plus. No longer dreading that process. Posted via the Android Central App

I actually prefer drop box..

Dropbox definitely has its upsides. I like it too.

Currently using Google Photos to dump all my old pictures only for the Google's algorithm. Still have two backups in two different HDD.

I wonder if Dropbox will match Google on storage soon?

Dropbox does match Google for the paid storage with 1TB for $9.99 — it just doesn't also offer any lower tiers like Google's $1.99/mo for 100GB. Difference is that Dropbox treats all files the same, whether theyre pictures or documents or audio files or whatever, while Google lets you upload (compressed) to Photos for free.

Thanks drew. This helped a lot. Posted via One+1

I've been doing this with my Dropbox photo archive over the last few days. The problem I'm having with this is that the Google Photos desktop uploader keeps freezing every 50 - 100 photos or so. It's taken me about 5 days to upload 12,000 photos at "High Quality". I have a very good internet connection, so it's not that - and when I restart the uploader app it keeps going straight away. My suspicion is that it's because I'm not uploading at Original quality, so it's having to do some processing - not sure if that is done on my Mac or up on Google's servers. Still, I have auto upload set on my phone, so once it's uploaded my Dropbox photos I'll be turning off the auto uploader apart from plugged in devices. Only another 4,000 photos to go!

I didn't read through all comments but I noticed you didn't mention operating system... Posted via the Android Central App

it's not moving just reuploading

If I upload at "high quality" and later pay for and change to "original" will Photos re-upload my original images with the higher quality?

I started to move all my photos from Dropbox to Google photos - thank you for the good manual. Again I was surprised when dropbox writes that the 48 GB I received (campaign) when I bought my Samsung has now expired and that I need to buy extra space. I started to move my Dropbox photos Sunday evening (approximately 11,000 photos) to Google photos. Google Photos are still uploading - now there is "only" 5000 photos left. Can it really be true that it takes so long? While I have downloaded to GP Dropbox has "closed" my account - so it does not upload more. Does it affect the upload process that is in progress?

Does anyone know that by doing this, you retain the date the picture was taken? For example, I don't want to upload my dropbox photos from 3 years ago if it's gonna show up as a picture from today on Google Photos, I want to be able to see this photo three years ago on Google photos

Excellent article--great instructions--just saved me hours of attempting to do this...Thanks again !!!
Android Central Newsletter
Get instant access to breaking news, the hottest reviews, great deals and helpful tips
Thank you for signing up to Android Central. You will receive a verification email shortly.
There was a problem. Please refresh the page and try again.