How to change the color profile on the Pixel 2 and Pixel 2 XL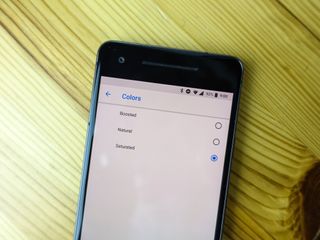 Google's Pixel 2 and Pixel 2 XL both have OLED displays, but they show colors very differently. If you want to adjust the way colors look on your screen, you have a few options from within the Settings. We've got the details on how to do it here!
How to switch your color profile with Google's Pixel 2 or Pixel 2 XL
When the Pixel 2 and Pixel 2 XL launched, there were two options in the Settings for display colors: Balanced, and Vibrant. Both kept the colors pretty muted, and they looked fine on the Pixel 2 but due to the Pixel 2 XL's colder display, neither made the colors pop. With the November update, both phones got new color options: Boosted, Natural, or Saturated colors. Here's how to change them.
Open the Settings on your phone.
Scroll down and tap Display.
Tap Advanced to open more options for Display.
Tap the toggle to switch between color profiles.
The Saturated option is arguably more important for the Pixel 2 XL, but if you're used to the vibrant colors of a Galaxy phone, it's a great change for both the larger and smaller Pixels.
Questions?
Do you have any questions about changing the color profile on your Pixel 2, or Pixel 2 XL? Have you switched from the default color profile? Let us know about it in the comments below!
Get the Android Central Newsletter
Instant access to breaking news, the hottest reviews, great deals and helpful tips.
Jen is a staff writer who spends her time researching the products you didn't know you needed. She's also a fantasy novelist and has a serious Civ VI addiction. You can follow her on Twitter.
Who is using the saturated vs boosted setting? I don't really like the natural one.

Saturated is much too much for me. I'm using the boosted.

After using the phone for a couple weeks before this update saturated is too vibrant and hard on the eyes. Boosted is nice! Natural is just too blah.

What update? Still stuck on September security patch. Would like to try out boosted mode if I ever get it.....

Since I'm on 8.1 beta, can't try these. Dont want to wipe device to get Nov update. Guess I'll have to wait until 8.1 is a general release. :-(

Expect these changes to be integrated into the next Beta release.

I agree that the saturated setting is too hard on the eyes, and it makes it harder to determine if colors in photos are accurate.
However, I have noticed that the "blue shift" is mitigated with the saturated setting.

I'm happy with the boosted. I'll stare at my wife's Note 8 if I really want to see saturated. :P

I'll be glad to try them out if I ever get the G'damn update, still sitting here on September 5th patch, same as the day I took it out of the box, and no, I'm not on the Beta. It's almost December, I'm beginning to get more than a little pissed off.