5G coverage maps: Every US city with AT&T, Verizon, & T-Mobile 5G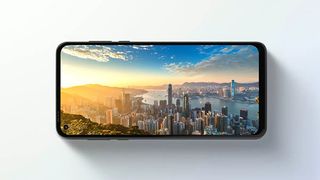 (Image credit: Motorola)
When we first launched this page, the 5G rollout was in its infancy and we were able to list all of the included cities with ease. Now, 5G access is available to hundreds of millions of people, with more expansions on the way. If you're wondering if you can access 5G in your area, this is the page for you. Below we'll share speed info, coverage maps, and everything else you need to know about your 5G experience.
It's nice that most of the best cell phone plans now support 5G, including prepaid options, so no matter which carrier you want to go with, you'll be able to get connected. Still, despite 5G's growth, 4G LTE coverage is still greater than 5G for many people, especially in rural areas. While 5G deployment has been rapid, most of us will still occasionally see LTE on our phones, especially rural customers.

Verizon 5G
Verizon's 5G network is expanding quickly. The carrier started small, with only a few cities deploying 5G mmWave under the Ultra Wideband name. In short, mmWave 5G uses large chunks of high-frequency bandwidth, around 28GHz, that produce very high speeds but suffer in other areas such as coverage over distance and building penetration. While coverage was dense enough in cities to be included on the list, coverage is still only available outdoors in parts of the cities.
A much more extensive nationwide 5G network is now available using Dynamic Spectrum Sharing (DSS). This network now covers more than 230 million customers and 2,700 cities, according to Verizon. DSS allows Verizon to repurpose its huge amount of existing LTE spectrum to work with both 5G and LTE. The equipment on the towers can allocate the spectrum to the network that needs it most without a significant impact on the LTE network, which most people will still be using for a while. Furthermore, this nationwide 5G network is available to all customers on any data plan, unlike Ultra Wideband, which requires an unlimited plan.
Verizon launched C-band in January 2022 to 90 million people. Since then, Verizon has kept the accelerator on the floor and officially reached the milestone of 200 million people with C-band 5G in March 2023. Verizon has continued to build its mmWave 5G network and now has coverage in most of the largest cities in the country with many supporting 5G Home internet.
Instead of listing every single city that has access to Verizon's 5G network (that would be a long list), take a look at the official Verizon coverage map.
Verizon 5G with Ultra Wideband
Catching up quickly
Verizon's 5G network is expanding quickly, and with nationwide 5G now available, there's a solid chance you have access to Verizon's 5G network as long as you have a 5G phone.
T-Mobile 5G
T-Mobile has the largest 5G network by a considerable margin. T-Mobile started building a 28GHz or 29GHz high-band mmWave network in the middle of 2019 before following it up with 5G on its 600MHz spectrum. While this lower-frequency 5G isn't as fast as we've seen with mmWave networks, its extensive coverage area makes it more practical for users.
Most 5G phones on T-Mobile support the entire network now, including some of the biggest names like Samsung's Galaxy S23 series and the Pixel 7 phones. Some older phones will work with both networks, such as the OnePlus 7T Pro 5G McClaren. Most 5G phones you can still find for sale will support the entire network. Look for bands n41 and n71, to be sure.
T-Mobile's largest coverage area is provided by its Extended Range 5G, which as of March 2023, covers more than 325 million people. The coverage map for this network looks a lot like T-Mobile's LTE network, and speeds are only getting better as the Ultra-Capacity network continues to grow.
Currently, T-Mobile's Ultra Capacity 5G covers 260 million people. The Ultra Capacity network has speeds ranging from 300Mbps to 1Gbps and will handle much more traffic than Extender Range 5G or LTE. This mid-band spectrum has given T-Mobile a massive head start over the others that needed to wait for C-band.
T-Mobile has also continued to expand its 5G Home Internet service, leveraging the power of 5G to give customers a new option for home internet. T-Mobile has already added 1 million customers and covers 40 million households.
Metro by T-Mobile, Mint Mobile, Google Fi, and several other T-Mobile-based prepaid carriers offer 5G on supported phones. However, unlike AT&T and Verizon prepaid carriers, there's no special plan or additional fees to use it.
To see how you're covered, take a look at T-Mobile's official coverage map.
T-Mobile Ultra Capacity 5G
The biggest 5G network
T-Mobile is building a nationwide 5G network on low-band and mid-band spectrum. It isn't charging customers anymore to get on it. With T-Mobile, all you need is the phone and coverage to get 5G.
AT&T 5G
AT&T has a very impressive list of cities with available 5G coverage. AT&T started with millimeter-wave and has also launched its nationwide 5G network based on its 850MHz spectrum and DSS in some areas. AT&T's network is one of the fastest overall, thanks to its excellent LTE network speeds, and it's quickly catching up to T-Mobile with its sub-6 5G.
AT&T has 5G coverage for 281 million people with additional mmWave capacity in parts of 42 cities across the country. This has surpassed the goal of 40 in 2021, and AT&T expects to add even more before the end of the year. AT&T has also launched a C-band network with coverage for over 70 million people as of the end of 2022.
AT&T uses DSS (Dynamic Spectrum Sharing) to share portions of the spectrum currently only used for LTE with its 5G network in some areas. This will allow towers to use spectrum as needed and provide a smooth transition to 5G without taking portions of LTE fully offline.
If you want to access 5G, you'll need one of AT&T's unlimited plans. While there will likely be some improvement over LTE using this 850MHz 5G, it's not going to hit the super-fast speeds we've seen with mmWave. Still, the 850MHz deployment should have better coverage than mmWave and be faster than 4G LTE.
Prepaid AT&T MVNO Cricket Wireless also now supports nationwide 5G on all of its plans. So if you're looking for a cheap way to try out AT&T's 5G, Cricket is a great option.
AT&T 5G is available in a lot of locations. Rather than list every single city that's included, use AT&T's official coverage map to see if you can access the network.
Low-band and mmWave working together
AT&T's 5G network has been playing coverage catchup with its sub-6 rivals but is closing the gap fast and already covers 281 million people in the U.S.
Other carriers
Just about every wireless provider has its eye on 5G, and that's no different for UScellular. UScellular provides great wireless service in a much smaller area than the big three, with most of its efforts focused on Iowa and Wisconsin. Still, this hasn't stopped UScellular from building a very respectable low-band 5G network on its 600MHz spectrum in many of the areas it serves across the nation. The carrier also has some licenses for mid-range spectrum that it can use to bolster its 5G coverage. If you love your UScellular service, you don't need to switch to get 5G.
Check the UScellular coverage map to see if your area has access.
Get the Android Central Newsletter
Instant access to breaking news, the hottest reviews, great deals and helpful tips.
When Samuel is not writing about networking or 5G at Android Central, he spends most of his time researching computer components and obsessing over what CPU goes into the ultimate Windows 98 computer. It's the Pentium 3.