Google IO edition Galaxy Tab 10.1 caught on video demonstrating Super Mario awesomeness!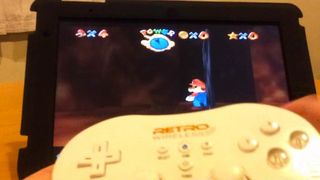 If you happen to be the proud owner of a Google I/O edition Galaxy Tab 10.1 you'll be interested to know that it makes interesting use of the stock Bluetooth stack. And as such, you can do some pretty cool things with it.
One of those things is the ability to load up an emulator app and start playing some Super Mario Brothers -- with a wireless controller. Of course, some other tablets are capable of this as well -- more specifically the Motorola Xoom. When paired with the exact same tools it can have the same end result -- but it's not a Google I/O edition Galaxy Tab 10.1.
PS: If you were more interested in where you may obtain the live wallpaper running in the background than you were in running Super Mario Brothers, we got you covered there as well. it's actually from ASUS EeePad Transformer and can be picked up from this thread over at XDA.
Thanks for sending this in, Murray!
Android Central Newsletter
Get instant access to breaking news, the hottest reviews, great deals and helpful tips
no sound here, but i saw
1: no visual proof of it being a samsung
2: looks like an acer iconia case on it
3: i have that wii controller for the same purpose
4: uh....

You can see the music hub and what not when he opens the app drawer.
Like it matters much anyway, was still neat to see.

Theres always one isn't there? Its my video, and its a Google I/O Tab. Its an Iconia case, because, ah, I can't get cases for a commercially unreleased tablet can I? Used it because it tilts the screen to a good angle for the video. You can head to the Clove Blog to see my brief review of the Tab, replete with my own pictures to satisfy you. Also, as the next commenter mentions there is indeed visual proof of it being the Galaxy Tab. Great that you also have a WiiMote - makes playing the emus so much more enjoyable!

I was a Google IO attendee and can vouch that the device in the video is indeed a Samsung Galaxy Tab 10.1. Mine looks exactly like it. :)

I like that this can also be done on a measly hacked Nook Color: http://www.youtube.com/watch?v=WiWcScext7w

Yep, lots of Androids can do this, I posted it because not many Samsung Droids will do it.

I'm able to run the same on my $300 Viewsonic g-tablet (and in honeycomb, too!). :)

So glad Google added this support for accessories, been saying for ages that these tablets would make awesome complete mobile gaming devices if you could connect a controller :)

Does anyone know where I can find that controller? Is it Bluetooth by itself, or does it require a Wiimote to be tethered to?

Its the Wii Classic Controller Pro. I believe it does need to be tethered to a wii remote to use it. Here's a quick BB link to it: https://www.androidcentral.com/e?link=https2F2Flink... Also I think a lot of gaming places sell a variety of knockoffs of this controller. You might be able to find one that doesn't need a wii remote at a gamestop or on amazon if you look around, but I think most have to be tethered.

actually it's datel's retro controller for the wii. it does not tether to a wii controller and has bluetooth.
http://us.codejunkies.com/Products/Wii-Wireless-Retro-Controller__EF0006...

Correct, much better solution than the Classic WiiMote, which tends to be connected to a WiiMote. If you're outside the US you can use Shipito to get it from Codejunkies (thats what I did), or you'll occasionally see them on Ebay or at Amazon.

Still not very impressed by Samsung, the tab looks great (graphics) wise, but it lags more than my Super Mario 64oid on my xoom! I'll have to be honest the picture is much better but I think the processor wins on the xoom. I did have trouble hook in up my wii controllers the first time I set it up, it justvwouldnt connect, however I do believe this is future gaming and it blows me away!

Its exactly the same processor in the Samsung, if its running better on your Xoom its probably because of other differences (how many apps I have open in the background, my Acer Livewallpaper that I later discovered saps the battery rather cruelly, etc).

never thought we'd be able to run 15- year old games.

I think almost any android device that doesn't have HTC Sense can do this. My Incredible won't connect to a wiimote with a sense based rom, but if I switch to Cyanogenmod or some other AOSP rom, it works just fine.

Who is the developer for this Emulator? Would love to check out the release of his next one.

The dev is YongZH, same guy who makes GameBoid and several other emus. Quality developer with great post-release support for his apps. I emailed him to ask about the re-release and he was hoping to have it out this month.

Thanks! I couldn't figure out how to spell his name after it was said in the video.

Would this work on Asus Transformer?

Yeah, I think it should, I wouldn't think that the Asus is using a non-stock bluetooth stack...

Nice, just got my Galaxy Tab 7 HDMI dock, as shown already on Youtube it works with the I/O Edition Tab 10.1 - just had me some Mario Kart 64 on my 42inch television using the Datel Retro wireless controller! Sadly can't get two player split screen working, despite WiiRemote Controller IME connecting to multiple WiiMotes...
Android Central Newsletter
Get instant access to breaking news, the hottest reviews, great deals and helpful tips
Thank you for signing up to Android Central. You will receive a verification email shortly.
There was a problem. Please refresh the page and try again.