Samsung Galaxy Tab 10.1 review (Google IO special edition)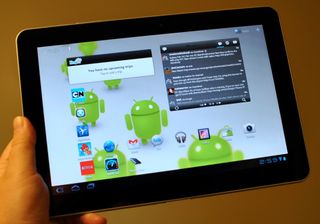 There's kind of no easy way to say this without insulting one of the year's most important pieces of Android tech, so we're just going to come out and say it:
Samsung's Galaxy Tab 10.1 is what Android 3.0 Honeycomb should have launched on.
There. We said it. But it's true. As important as the Motorola Xoom was (and is) to Android and Honeycomb tablets as platforms, it left a bit to be desired in the design department. And so it's almost fitting that Samsung, the company that brought us the 7-inch Galaxy Tab last fall -- basically an oversized Froyo smartphone -- is about to launch a little slice of sexy in the Galaxy Tab 10.1.
But the story's not that simple, is it? Join us after the break as we break down the special edition Galaxy Tab 10.1 handed out at Google IO.
Galaxy Tab 10.1 Specs | Galaxy Tab 10.1 Forums | How to root the Galaxy Tab 10.1
A long, strange trip to the 10.1
Galaxy Tab 10.1 at Mobile World Congress in February 2011
We're not too proud to admit that we've had a slightly confusing time leading up to the current iteration of the Galaxy Tab 10.1. Flash back to mid-February 2011, at Mobile World Congress in Barcelona, Spain, when Samsung first announced the Galaxy Tab 10.1. Thinner and lighter than the Motorola Xoom, which at the time was the only other Honeycomb tablet, we had no problem declaring that "this Galaxy Tab definitely takes Sammy into the next generation of Android tablets." Because it did. (Check out our hands-on with the Galaxy Tab 10.1 at MWC.)
But then something happened, just a couple weeks later. The iPad 2 was announced. Not that we didn't all know it was coming, but it made the Xoom look quite beastly, and the Galaxy Tab 10.1, well, a little boring. And stories started to come out that Samsung likely was already looking to revamp the Galaxy Tab 10.1.
The new Galaxy Tab 10.1 at CTIA in March 2011
Enter CTIA 2011, in Orlando, just a couple weeks after the iPad 2 announcement. Samsung not only announced an 8.9-inch tablet, but that the Galaxy 10.1 "went back to the drawing board ... to create the thinnest and lightest large-screen tablet in the industry." The timing is intriguing. There's no way that the revamped Galaxy Tab went from inception to prototype in just a couple weeks -- Samsung must have already had this in the works.
And we got a quick look at the new Galaxy Tab 10.1 -- behind glass.
That brings us the Google IO developer conference in mid-May. On the first day of the event, upon announcing Android 3.1, Google handed out special edition Galaxy Tab 10.1s to everyone at Moscone West. And that's what we present to you now.
The hardware
The Galaxy Tab 10.1 given out at Google IO -- GT-P7510 -- indeed is a special-edition device. The box sports the Google IO logo, and there' s a big "NOT FOR SALE" notice on the bottom. You won't be getting one of these in stores. But you will be getting the same form factor and guts when its goes on sale June 8.
It's thin. It's 8.6mm thin. It's light. 595 grams light. And compared to the Motorola Xoom, it's night and day.
The Galaxy Tab actually is a few millimeters wider and taller than the Xoom. But as is the case these days, that larger size is mitigated by the Tab's thinness. (We saw the same thing in the Samsung Infuse 4G smartphone. Big, but thin.)
The front of the Galaxy Tab is completely smooth. As is the case with Honeycomb tablets, there are no buttons to be seen. The home-menu-back-search buttons have all moved to software. So all you've got is the 10.1-inch screen (at 1280x800 resolution), and a little speck of a 1.3MP front-facing camera. There's no notification light, which is par for the course for Samsung devices now.
The screen itself is decent enough, but we're quickly starting to want a higher resolution. First-world problems, we know, but individual pixels are readily apparently. That's not a deal-breaker, and it really doesn't take away from an otherwise good experience with the Galaxy Tab. But for otherwise having the form factor nailed, it'd be a feature that would really give it a boost.
The Galaxy Tab has nicely rounded corners, like the Xoom. There are no sharp edges to be found. But the feel is very different. Whereas the Xoom has a metal and soft-touch back, the Galaxy Tab 10.1 is all plastic. (That's another change from the version we first saw at Mobile World Congress, too.) The back of our special edition Tab is done in an Android robot motif, with a silver sliver jutting into it. That's where you'll find the 3.2MP camera and flash.
The top bezel houses the 3.5mm headphone jack, power button and volume rocker. We like having the power button on the side (even if most Samsung smartphones now have it on the right-hand bezel). But the volume rocker can take a little getting used to. On the Xoom, it's vertical, on the left-hand bezel. So you press up for volume up, and down for volume down. But when holding the Galaxy Tab in the landscape position, as you'll likely be doing most of the time, the volume rocker is horizontal on the top bezel. So left is volume-down, and right is volume up. That actually coincides with the on-screen volume indicator, which also is horizontal. But after we don't know how many smartphones and tablets we've used with a vertical volume rocker on the side of the device, we're having to retrain our brains a little.
The bottom bezel has the proprietary connector, which you'll use to charge the Galaxy Tab, or connect it to a computer (or, eventually, accessories). The good news is that you don't need a separate cable for charging. The bad news is you need Samsung's rather large plug to charge the thing. Trade-offs.
There's a little pinhole microphone down there, as well as a couple of plastic circles covering the screws that hold the whole thing together. Toss in the single speaker on each side bezel -- and the speakers are pretty good, but not as good as on the Xoom -- and that's it for the industrial design.
Samsung hasn't necessarily done anything extraordinary here -- it's your basic tablet design, right? It's got the same basic shape as every other Honeycomb tablet we've used. But it's the little things -- namely the simple, clean lines and thinness -- that stand out in the Galaxy Tab 10.1.
What's under the hood
There's not a whole lot to say here that we haven't said already. The Galaxy Tab 10.1 uses the same architecture as the other Honeycomb tablets we've used thus far -- NVIDIA's Tegra 2 1GHz system on a chip. And it's as speedy as it ever was. Undoubtedly Samsung's done a few tweaks, but we really don't see much of a speed difference over the Xoom, at least not in everyday use.
Our unit here is a 32GB version -- there will be 16GB versions as well. There's no swapable microSD card, which might bother you. Or it might not. We've got 725MB of useable RAM, which is working quite well, thank you very much, and we've got 1GB of program memory. Apps, of course, can be moved to the internal storage should we use that up.
As for battery life, it's got a 7,000mAh power source crammed into that thin form factor, and we're easily getting a day's use out of it. That'll vary if you're watching video, of course. But for basic browsing, Twitter use and e-mail --and some Angry Birds -- you should get a day, easy.
The software
Not a whole lot to say here that hasn't been said already. The Google IO special-edition Galaxy Tab 10.1 runs Android 3.0.1, and it'll be getting an upgrade to Android 3.1, with its suite of new APIs -- and, more important, the ability to stream Google Movies.
Otherwise, you've got a stock Honeycomb experience. No skinning, and only a couple of apps loaded by default, including Samsung's Music Hub and Samsung Apps, Pulse and Quickoffice.
While we've got your attention, though, allow us this brief rant: Netflix needs to open itself the hell up and get on this tablet, ASAP. No ifs, ands or buts. It's the perfect form factor, and the perfect size.
We're not going to worry too much about any bugs on this version of the Galaxy Tab. It's a special edition and clearly labeled as a developer unit. That's the price you pay for a free pre-release tablet, and one we're sure most of you would gladly pay.
The cameras
Funny story about the Google IO edition Galaxy Tab as a camera. It was given out the afternoon of the first day of the conference. That evening, Google threw its big party, with Jane's Addiction performing. And while we're quite used to seeing cell phones up in the air at a concert, it's seeing a couple hundred 10-inch tablets held aloft (with two hands, of course) during the better parts of "Ritual de lo Habitual" was one of the most gloriously geeky things we've experienced.
But we digress. ...
Testing tablet cameras is kind of like eating fast food -- we're left wondering why we did it when it's said and done. In all likelihood, you're not going to be doing a lot of shooting with the rear camera on a 10-inch device. Here's a novel idea -- lose the rear-facing camera and up the quality on the front-facing camera. Want us to start doing more video chatting on a tablet? Give us a little better quality on the front camera. It doesn't even need to be 8MP or anything. Just a little better.
But we digress. ...
Images below open in full size in a new window
The wrap-up
We said it at the outset, and we stand by it still. The (latest) Galaxy Tab 10.1 has the form factor that we wish Honeycomb had debuted on. That's really not a knock against the Motorola Xoom -- something had to be first, and we really don't know what kind of time constraints went into development of the Xoom and the release of Honeycomb.
But Samsung has slimmed down the Galaxy Tab enough, and made it light enough, to make it a much more viable option. And Samsung did us a solid by actually announcing price and availability at CTIA. Come June 8, you'll be able to get the 16GB version for $499, and the 32GB version for $599. No, it's not cheap. But it's in line with the the other 10.1-inch Honeycomb tablets.
What would we change? At this point, not a whole lot. Maybe a keyboard dock like the ASUS EeePad Transformer, but Samsung's well capable of bringing something along those lines.
Point is, the Samsung Galaxy Tab 10.1 deserves your attention.
Android Central Newsletter
Get instant access to breaking news, the hottest reviews, great deals and helpful tips
For the price, I'll stick with the tablet that Android Central doesn't believe exists. I have fully functioning usb ports (plural) and swappable microsd cards along with the same processing power! Super thin is not that important.

haha agree, i have the advent vega, running honeycomb, full size usb, full size hdmi, same tegra 2 processor (overclockable to 1.5ghz) hot swappable micro sd cards, couldnt care less if its a few extra mils thicker. For half the price, best bang for buck experience you can get.

I'm still torn, the "tablet that shall not be named" has everything I could ever want including HDMI out. I only worry about future support by third party companies. If money was no object... would you still choose the A500? or would you opt for a different tablet?

Even at a lower price I would not give up usb hdmi microsd options to buy this Sammy tab. And samsung support is nothing to write home about either. Acer 3.1 upgrades are rolling out OTA now. Can samsung say that?

What device are you talking about

I agree, this site must be on the payroll of Motorola and Samsung, the Iconia tab is still king, micro SD card slot, full size USB and micro USB , Dolby pro logic sound!!!! HDMI out and all the rest of the features of all the other overpriced tabs out there , including the upcoming Samsung, it is hysterical how these guys go out of there way to ignore the A500, sad though as it is the best and for far cheaper than the so called competition , anyone whwho spends more is either stupid or badly misinformed , if the latter you can put all the blame on this site!!!

"best and far cheaper than the so called competition"? HAHAHA! Outside of the USB features (though you can transfer files via USB from your computer), the Transformer has the A500 beat. Especially considering the sweet, sweet IPS panel paired with Gorilla glass. I mean I guess if you like having to state straight on to the A500 TFT screen its not a big deal. Not to mention the Transformer costs $50 less than the A500!

I have no issue viewing the Acer screen so that's a mute point, and I like the brushed aluminum back of the Acer, not to mention I have never heard of Asus before so no thanks , and last I saw the Asus doesn't even have a micro SD slot anymore, the extra $50 is worth it to get a product that is better made , looks better , has more features and is from a company I have actually heard of before , I compared both side by side , Asus?? No thanks, and if I wanted a physical keyboard, I would just buy a laptop

You never heard of Asus?? Right after you said that I put you on ignore and know not to listen to anything you say. The Acer screen is a POS! You can see the touchscreen grid. The Asus also had a keyboard dock, a real keyboard that transforms the tablet into a true notebook, not a crappy bluetooth keyboard like on Xoom which you still have to use the touchscreen along with the keyboard to do anything. Right now the best tablets are the Asus Transformer and this new Galaxy Tab.

Price aside, Tab 10.1 or Transformer?

Transformer. I'd sacrifice a true USB (assuming the 10.1 has USB) for a better screen.

This has a better screen than the Transformer (S-PLS).

I've got the transformer and was planning on getting too until they dropped the microSD slot (I think it will still be on the 8.9 though). Even with 32gb, that just isn't enough.

I didn't know the new Samsung Tab has an S-PLS display:
http://www.phonearena.com/news/Samsungs-new-tablets-sporting-the-PLS-LCD... Here's an old link on what S-PLS looks like compared to IPS:
http://www.gottabemobile.com/2010/12/01/samsung-ips-super-pls-lcd-display/ Has anyone done a side by side w/ the Asus Transformer? The Acer Iconia has a much worse screen from what I've been able to dig up...you can see the pixel grid on it. Too bad the Samsung Tablet is missing a microsd slot...and bummer that the Asus Transformer doesn't have a built-in USB port too :-P

Just compared the A500 with my Transformer today. Officemax had one on display. I was in trying to find a case for my TF. Anyway I actually found the hardware on the Acer to be a bit higher quality than I thought it would be from watching the review videos. But it was a little heavier and the screen was no contest. The Asus had the Acer beat hands down. The Acer screen wasn't horrible but you could clearly see each pixel and when held side by side the screen quality on the Asus really shine. Very noticeable difference.

Really? Because Android Central lists the specs with a 8mp camera. That model does not have a PLS screen. Also Samsung does not mention PLS panel on their official 10.1 pages.

I love this Tab. Thanks for the review Phil. And I also agree, "We're not going to worry too much about any bugs on this version of the Galaxy Tab." But I have a couple issues. First, the toggle for 'Software updates' list's only 5 countries. None of which is the U.S.A.? (practicing for 3.1) 2nd, Have you checked out 'Samsung Apps'? Please do. I would like to hear your thoughts. 3rd, Task manager? Where? And the 'Task switcher' I would like to be able to manage that. Have a Great weekend everyone!

Nice looking device. The form factor looks awesome. I'm not sold on one though. Mostly because I already have a Nook Color that works for my tablet needs. I'm also stocking up on giftcards from birthdays and Christmas to build up some gadget money towards a new table next year.

"No, it's not cheap. But it's in line with the the other 10.1-inch Honeycomb tablets." If by in line you mean more expensive, you're correct.

It's a pretty sweet device. Has anyone else had theirs crash and reboot when they let it charge to 100% and then unplug it? Mine has done this each time I have let it fully charge.

i don't know if it happens every time, but it just happened earlier today to me. I first thought the tablet had died while charging. Very strange. Some other issues I have noticed: - doesn't seem to charge via USB port on my Macbook Air or Win machine.
- doesn't seem to charge with iPad charger, only original Samsung charger.
- no Mac support to copy files (other than via dev tools), it seems
- system update lets you choose among five locations, none of them US.

OK, so the Tab is thinner and a little lighter. But it also has no SD card slot AT ALL, and requires a proprietary cable to do anything. The Xoom might also have better sounding speakers and a better main camera. All other specs, INCLUDING THE PRICE, are essentially the same as the Xoom. Same memory, same storage, same CPU, same GPU, same screen size, same battery life, etc, etc. So how does that make the Tab "is what Android 3.0 Honeycomb should have launched on"... really, I want to know...

It doesn't. The lack of microSD kills it for me, though I've gotten used to that on my transformer already. Can't go without it now (also filled up my ipad in no time and it became a paper weight).

Agree..I'll keep a little bit more weight and thickness for the sturdy metal/soft touch build of the xoom any day. I've also had update problems wth samsung in the past. Galaxy phone would never update properly..but that's another complaint for another day.

Not really sold on this. Have Acer a500 and it works like a charm. And, it seems it came withmore functionality, like a fully working USB port and a microSD slot.

Yeah, price is in line with other honeycomb 10" tablet. and I expect the sales will be in line too. lol. Another failure to be. Apple is selling iPad at this price with its fan base, and samsung really think it has that fan base?

The tech world is evolving fast. There is no mistake about it. Many will want an SD card slot, but some are growing away from it, and quickly. The consumer 10.1 Sammy may have the slot in June, at launch? But between the 'Cloud' and gadgets like Seagate's GoFlex Satellite 500GB 'wireless SD card' ; - ) Many won't need it anymore.

Unless your internet is capped then you will wish you could store more locally.

A very attractive offering, but I think ill stick with my xoom

Why do people have such short memories? Samsung announced a microsd slot for the 8.9 and 10.1 consumer versions coming next month. The developer version being reviewed does no have microsd and is not the version that will be in stores.

If you look at their slides from the presentation, they only mention the 8.9 having the microSD. I don't think will have it and after hours of researching online I'm 99% sure of that (J&R had them for preorder with the full specs, but pulled it and there was no mention of microSD).

Not true, when they announced the device at CTIA all of the dummy units they had on display had them. Granted those devices wouldnt turn on, but why include an SD Card slot? http://www.youtube.com/watch?v=zBNXHk-9sTg

When would Android tablet makers learn the simple truth - as a distant 2nd tier maker you can charge more than $399 if the real thing (ipad 2) only cost $499.

Well the galaxy tab 10.1 is the real thing

At this point we shouldn't feed the trolls anymore by I can't resist...32gb ipad 2 is...oh...my.. . God....599....gasp! And iOS is playskol my first os compared to HC... go buy it and post on tipb

But...have you used an iPad 2? I thought it was horrible. So horrible that I returned it two days after I bought it, after having looked for one for like 2 weeks. The "real thing" ain't all it's cracked up to be. I chalk it up to marketing. iOS, IMHO, is to Honeycomb as Win7 is to Win3.1. It just feels old next to HC, and when I was using the iPad 2 I felt like I was using old technology, despite its awesome internal specs.

Gorsh, Sammy, rising from the dead. Not even two years ago, I wouldn't even consider you when it came to mobile technology. Now, I guess due to the further development of Android and the monumental knowledge that came from your multitude of failures, I have been waiting months upon months just to get my hands on the SGS2.

it's lighter then the xoom? gee I wonder why? is it because it's all plastic? I wouldn't give up my xoom for any of the crappy plastic tablets out there. Xoom has the build to be a time piece. Purely my opinion.

If you're interested, here's a look at the Galaxy Tab 8.9 briefly from Mobile Review. Looks like the only difference in OS is the back, home and menu buttons are re-designed, the keyboard is skinned and in the notifications section, there are power settings like for wifi and gps on/off. Then just some widgets and apps added. The only thing that pisses me off though is no MicroSD card slot. This is a deal breaker for me, the same as the Nexus S is for this reason. http://translate.google.co.uk/translate?hl=en&sl=ru&tl=en&u=http2F%2...

I love my Xoom and I love that I got it months ago...its thin enough crazy powerful and oh right 3.1 before anyone

No HDMI, USB or SDHC card support--- No thanks! I'd expect more for the money. Transformer, Xoom or Iconia yeah!

Guys come on! I think you are being way too hard on the 10.1 and being way too kind to all if the previously released tablets. Fact: samsung has the ability to directly compete with ANY tablet. I pad xoom Asus and Acer. I mean it just looks gorgeous. And hardware wise it has the same specs. Yes I realize there might not be a full size USB or microsd but with dlna technology and the cloud those factors are non existent. I just got the Acer iconia and I love it but its not because of its USB or microsd. Its because of the honeycomb interface. In fact I had it for almost a week before I used these features (usb) and then I found myself looking for content to place on my usb and SD card just so I could use them because I was streaming most of my movies over network(dlna/cloud). Also the hdmi out feature is not as cool as it sounds. I bought a cable all excited and hooked it to my TV and then dissapointment struck... all i could do was mirror my tablet.... so i tried out some videogames but the graphics looked shitty in comparison to the xbox and ps3 so why even conncect it to a TV..? I tried a movie but then i realized i have a blue ray player that streams movies over dlna (notice how this dlna keeps popping up?) So what is soo cool about hdmi mirroring? I'm sure samsung will release an accessory similiar to the galaxy tab dock that lets you connect to TV but someone tell me why they need hdmi out right out of the box? I believe I will return this and get the galaxy tab because a) the tab is made by samsung and I am sure there will be a slew of accesories available for it (there are none I repeat NONE for the Acer) b)the tab is thinner and lighter (when I do late night reading the weight of the Acer can be a bit much) c)its samsung and therefore honeycomb updates will come alot faster then to companies like Acer with a smaller mobile space. They freaking reworked the design of the tablet in a few weeks! They will have any and all updates available asap. The only reason this didn't happen for their phones was because of phone carriers NOT samsung. d) its not that expensive. In comparison to the xoom wifi version its the same and cheaper if you dont want the extra storage. The asus transformer is cheaper but thats without the laptop connector and who knows what type if support to expect from them with updates and the htc flyer is a joke because its pricepoint is over $500 if you include the stylus which makes it stand out and it has out dates hardware specs. I for one will get the samsung on launch and will eat my words if things are completely shitty but I doubt that will be the case. I believe samsung will sell the most units worldwide and be the tablet to kick the I pad off the consumer throne. That is all....

I know its hard to design a tablet any other way but Samsung makes their devices way to similar to Apples. I dont blame apple for trying to sue. That being said, i dont like Apple's devices. I love my Xoom and I'm glad it looks a tad different. Wish it was as thin as this samsung but thats about it for me. I am still the window where I can return it Sprint but not letting it go for this look alike.

no camera can save this guy LOL

Can someone tell me why you want to stream movies to a tablet? What is the use case? At home I have a TV in every room. If I'm travelling, I have a much larger laptop screen. The only real advantage would be if you could download la movie to watch on a plane, where you have hours to kill and no wifi.

I have watched Netflix streaming on my iPad hooked up to a big LCD TV in a hotel room. Sure, I could have watched locally stored (on the iPad) movies as well, but in this case I wanted to see something I didn't have. But yes, my primary movie watching use case for my iPad (or the Samsng 10.1) is on the plane.

So what's is the tablet that shall not be named?

I was not fortunate enough to attend Google IO, so I will have to wait until June 8 to purchase the retail version. Being the gadget addict I am, I am sure I will be visiting BB or other retailer on June 8 to purchase my new toy if pre-orders are not available.
I purchased the 7" Tab the day it was released last November. This Verizon version of the Tab goes with me every day when I go out. After 6 months of daily use, I enjoy the Tab more now than when I purchased it which is a rarity as I am the perfect example of "the only difference between a man, and a boy is the price of his toys", and "I always need a new toy for my toy box". Usually by now, the luster of a new toy would have worn off, and I would have long ago moved on to another toy from my electronic toy chest. Not so for the Tab - I use it for watching videos, web, email, Dropbox, databases, spreadsheets, and my favorite 3rd party apps daily. An additional benefit of the Tab (at least the Verizon edition) is the free mobile hotspot. I can use my 3GB of monthly data anyway I desire without extra tethering premium, or scorn from Verizon since they included the app on the device, and advertised the app as a feature. Overall, the Tab has a great screen, has been super reliable, runs all my favorite 3rd party apps, scales my apps fine, basically "just works" while fulfilling all my mobile needs daily, and fits in my winter jacket pocket which has been a benefit for the last 6 months. Now that warmer weather is finally arriving, the Tab will be easier to carry around than a 10" tablet which I tried carrying for a month before the Tab was released. What does this infomercial have to do with the 10" Tab? If the 10" Tab is as well built / reliable as the 7" Tab, and has similar, or better quality screen, the 10" (and 8.9" Tab as well) should be fantastic devices which will deliver many months of great, reliable service. I do have a Xoom, and am very happy with it. I use it around the house, but the 7" Tab is my "electronic date" when I leave the house as any 10" tablet (yes including the iPad) is too much of PIA to carry around all day. 10" Tab vs. Xoom - I can't express my opinion until I use the 10" Tab for awhile. I am very pleased with the Xoom, but I expect the 10" Tab to be one of my favorites as well. To those pundits who say "The 7" Tab, and other 7" tablets are just big smartphones", I say "so what". After watching videos, viewing the web, using spreadsheets, databases, and my other favorite 3rd party apps on the Tab, I do not want to view the same items on smartphones any more. The 4.3 / 4" smartphone screens seem small, and the 3.7 / 3.5" screens downright puny after enjoying the larger screen of the Tab. I watch at least an hour of videos each day with the Tab, many days more (it is nice to be retired). Videos are so much more enjoyable on the bigger Tab screen vs. my smartphones. The videos etc. would be even bigger / better on a 10" screen, but the PIA factor of carrying around a 10" device does not make it worthwhile for the extra screen real estate. Do not automatically dismiss the 7" form factor until you try it for more than 10 minutes at the BB. If you try it, and don't like it, fine, but don't dismiss it based on limited use, or on-line reviews. It will be interesting to see if the retail version of the Tab has the microSD slot. 99% of the videos I transfer to the Tab are via the microSD card using the SD card writer in my laptop. The other 1% are downloaded (not streamed) from my NAS using a SMB client. I am looking forward to the retail version 10" Tab review shortly after June 8.

I'd just like to point out that this is not the device for sale in June. If you buy one in June, it will a touchwiz infected abomination. Samsung just needs to learn to leave well enough alone. Having owned a Fascinate I've lost all trust in Samsung as brand from a quality and support perspective.

What happened to the 1.2GHz dual-core Exynos SoC these were supposed to ship with? Has it been confirmed the retail units will be 'just another' Tegra 2? Also, there are some forum members reporting issues with light leakage on these devices. BGR, if you read this, can you let us know if you see any such leakage on dark backgrounds in low-light situations? I've been reading a lot about this IPS-besting PLS TFT screen technology that's supposed to ship with the GTab 10.1 and 8.9. Do we have confirmation on the panel type in these devices?

Well, gee thanks for throwing the XOOM under the 18 wheeler after drooling over it for months a daily basis and giving us that shove to spend $599.99+. I am enjoying my XOOM, haven't had a problem yet [fingers crossing] and it processes just fine with games or otherwise. Again, thanks.

Well, gee thanks for throwing the XOOM under the 18 wheeler after drooling over it for months a daily basis and giving us that shove to spend $599.99+. I am enjoying my XOOM, haven't had a problem yet [fingers crossing] and it processes just fine with games or otherwise. Again, thanks.

"Samsung's Galaxy Tab 10.1 is what Android 3.0 Honeycomb should have launched on." Are you serious? Your entire case to support this (sort of absurd) statement boils down to the fact that you have a boner for the design aesthetic. Lol. Thinner does not equate to better. The idea that it does is a subjective one, with which I disagree. I had an iPad 2 and I returned it in under 48 hours. One of the many reasons for that was that I HATED how flimsy it felt. Leaving thinness aside, I would argue that the Xoom is objectively better than the 10.1. Non-proprietary I/O port
HDMI out
Micro SD slot
Gorilla glass
Better main camera
Better speakers
Vanilla Honeycomb
Metal chassis Off the top of my head. Everything else is basically exactly the same. My mind sort of boggles at how silly this article is.

Price isn't the same. Bringing Honeycomb to the masses at a better price point would have been a great move for Android as a tablet platform.
Android Central Newsletter
Get instant access to breaking news, the hottest reviews, great deals and helpful tips
Thank you for signing up to Android Central. You will receive a verification email shortly.
There was a problem. Please refresh the page and try again.