Free Disney Plus on Verizon: All the Details and How-to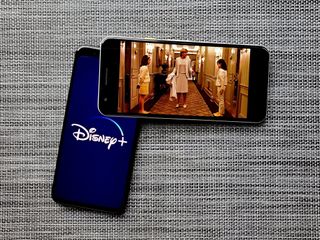 (Image credit: Ara Wagoner / Android Central)
Disney Plus (Disney+) is a great streaming service if you're a Disney fan — and be real, who isn't a Disney fan? — and if you're on Verizon, things get even sweeter. Most Verizon customers are enjoying a free year of Disney+ right now thanks to Disney+ on Us, and once that year is up, customers on certain plans will not only get to keep using it for free, they're getting upgraded to the Disney+ bundle with Hulu and ESPN+! Here's what plans get the goods and how Disney+ on Us's free year works.
Disney and more
Disney, Marvel, Lucasfilm, and so much more.
Watch Disney classics as well as favorites from other studios without limits. You can pay just a little per month for it, or get it for free through Verizon.
What is Disney Plus?
Disney+ is a streaming service from Disney similar to Netflix and Amazon Prime, with movies, TV shows, and shorts. With content from Disney, Pixar, Fox, National Geographic, and Lucasfilm, Disney+ has been getting a lot of praise. Reviews have been positive and there are a lot of reasons to sign up for the service. Especially with a Verizon unlimited plan.
You can watch on more than your phone as well. With support for most major platforms, you can watch Disney+ on your TV, computer, tablet, and current generation game consoles. Quality is up to 4K with HDR with a compatible device. Video quality looks great on a smartphone display, especially OLED displays.
Which wireless plans include Disney Plus?
For the original Disney+ on Us, all current and new Verizon Unlimited plans were eligible for a free year of Disney+. Now with Verizon and Disney's new agreement, the plans that get Disney + or the Disney Bundle are limited to the Play More Unlimited and Get More Unlimited plans, though the Start Unlimited and Do More Unlimited plans are eligible for six months of Disney+ for free.
If you have an eligible account, all you need to do is add your Disney+ account to your Verizon account (opens in new tab) in order to get that Disney movie magic back in your life. If you're not on one of these plans already, let's take a look at which one is best for you.
Pick the right Verizon plan
Verizon's unlimited plans cover a wide range of budgets and needs offering unlimited LTE service on even its Start Unlimited plan. If you don't need hotspot capabilities, cloud storage, or free music streaming with Apple Music, this plan can be a good fit. Keep in mind that video only streams at 480p on this plan. This is a pretty barebones unlimited plan and doesn't come with any premium data, and it only comes with a 6-month trial of Disney+.
Premium data is what Verizon calls data that isn't deprioritized. 50GB of premium data is included with Verizon's Premium Network Access feature. This means that your data speeds will remain high even when a tower is crowded. Deprioritized data will have to wait in line a bit longer for its connection if the tower is at or above capacity. For most people, this won't be a huge issue and often will be unnoticeable, but for someone living in a dense area with congested networks, stepping up to the next plan can help your connection's consistency.
Swipe to scroll horizontally
| Header Cell - Column 0 | Start | Play More | Do More | Get More |
| --- | --- | --- | --- | --- |
| Price per month | $35 | $45 | $45 | $55 |
| 5G included | No | Yes | Yes | Yes |
| Premium Network Access | No | Yes | Yes | Yes |
| LTE Video quality | 480p | Up to 720p | Up to 720p | Up to 720p |
| LTE Hotspot | N/A | 15GB | 15GB | 30GB |
| Disney+ included | 6 months | Yes | 6 months | Yes |
| ESPN+ included | No | Yes | No | Yes |
| Hulu included | No | Yes | No | Yes |
| Apple Music included | 6 months | 6 months | 6 months | Yes |
If you want the highest quality video on the go, you'll need to grab the Play More Unlimited, Do More Unlimited, or Get More Unlimited plan. Both plans come with Premium Network Access which adds optional 720p video streaming and 50GB of premium data. Play More Unlimited and Do More Unlimited come with 15GB of LTE hotspot data. Get More Unlimited knocks hotspot data up to 30GB at LTE speeds.
If your plan comes with Premium Network Access, you will need to go into your account settings to enable 720p streaming or you'll be stuck with standard definition.
How much data does Disney Plus use?
Source: Android Central
Downloads
The most consistent way to know how much data Disney+ will use in the app is to use the download feature. This saves the video file to your phone's storage so you can play it back without using your data connection. This can be a great way to save data by taking advantage of Wi-Fi and can be a lifesaver on long flights. It's also a good option for someone without premium data that wants a consistent video experience.
Downloads come in three flavors: standard, medium, and high. High actually uses significantly more data than standard or even medium. A 39-minute episode of The Mandalorian came in at 270MB, 424MB, and 1.5GB across the three quality settings. Something shorter like the three-minute Pixar short Forky Asks a Question: What is Money, comes in at 20MB, 31MB, 112MB. Both videos come in around 7MB, 10MB, and 38MB per minute of video.
Image 1 of 3
Image 1 of 3
Streaming
Streaming video is always going to be less predictable and consistent that downloading. Streaming over cellular data comes in with the settings automatic and save data. On a strong LTE connection around 50Mbps down and set to automatic, I used about as much data as I would have downloading the video on high. Set to save data, I used closer to the medium setting. Both of these settings will drop the quality to avoid pauses if your connection quality is lower than it needs to be for the higher qualities.
For now, it's safe to assume you'll be operating around medium to high settings on streaming. To be honest, I couldn't see much of a difference on the smaller OLED screen on my phone.
Fios and 5G Home internet plans
New customers on Verizon's home internet plans also got one year of Disney+ for free. Unlike the wireless plans, this only applied to new customers. There is no mention of a continued Disney+ bundle for FiOS at this time, but these plans may be expanded in the future.
Swipe to scroll horizontally
| Header Cell - Column 0 | Better Browsing | Better Streaming | Better Everything | 5G Home |
| --- | --- | --- | --- | --- |
| Delivery | Fiber optic | Fiber optic | Fiber optic | 5G UltraWideband |
| Speed | 100Mbps | 300Mbps | 940Mbps (880Mbps up) | N/A |
| Price | $39.99 | $59.99 | $79.99 | $70 |
What's the fine print?
There are a few things to remember with this promotion but it's straight forward.
How much does it cost?
Disney+ costs $6.99 per month, or $69.99 per year in the United States normally. After your free one year of Disney+ on Us, if you're not on the Play More Unlimited or Get More Unlimited plans, your Disney+ plan will automatically renew at the monthly price on your Verizon bill.
What if I already bought a year?
If you already bought a year of Disney+, don't worry. Your one-year subscription will pause until the Verizon promotion is over. You won't lose the service you paid for.
How many devices can stream at once?
Disney+ can be used on 10 unique devices but only four can stream at once. Still this is good for a family and might be one of the best things to happen to the family road trip since the Game Boy.
How do I sign up?
You will need to create a Disney+ account separately on Disney+ (opens in new tab). There is a free trial for seven days, so you won't need to pay anything right off the bat.
Then you need to add your Disney+ (opens in new tab) account to your Verizon Account (opens in new tab). You can also add your account with the My Verizon app (opens in new tab) (Also on iOS (opens in new tab)). Once this is done, you should have unlimited access to the video service until you cancel your Verizon plan or remove Disney+ from your account.