Fitbit Ionic is the smartwatch that will compete with Android Wear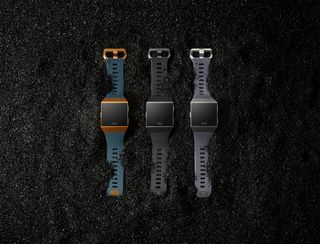 Fitbit has been making fitness trackers for ten years, and some of its more recent models, like the Surge, Blaze and Charge 2, have dipped their toes into being smartwatch/fitness tracker hybrids. Now, Fitbit has officially announced the release of the Fitbit Ionic (opens in new tab) the company's first fully-fledged smartwatch with its very own operating system, Fitbit OS.
What's new about Fitbit Ionic
Fitbit has promised that the Fitbit Ionic will give users the same great activity tracking, sleep tracking, and other metrics that current Fitbit models already offer; however, plenty of new features are to be included in in the Ionic.
Swim exercise mode: The Fitbit Ionic will be water resistant up to 50 meters, meaning you can jump in the pool without having to take it off your wrist. The Ionic will track metrics such as the number of laps, swim duration, and calories burned while you're in the water.
Fitbit Coach: The Fitbit Ionic will provide dynamic on-device workouts directly on your wrist that are said to adapt to your feedback. The device will launch with one dynamic workout, and three static workouts and more dynamic workouts can be accessed with a subscription to Fitbit's new premium guidance and coaching, which will cost $7.99 per month or $39.99 per year.
Run Detect: This new feature kicks-in the on-board GPS in the Ionic as soon as you head out the door for a run. Leave your phone at home and get real time pace and distance. The Ionic will even auto-pause the tracking if you stop to take a breather and resume as soon as you hit the ground running again.
On-board storage: The Fitbit Ionic will have 2.5 GB of storage space built-in allowing you to store music and download apps directly on your wrist! Plus, the Fitbit Ionic will be able to connect to any Bluetooth-enabled headset directly, meaning you don't need your phone for music while you're working out! There's also Pandora Premium support, allowing you to download playlists directly to the watch to play back without a phone.
Fitbit Pay: NFC is including in the Fitbit Ionic, which allows it to take advantage of Fitbit Pay, and pay for things with just a tap of your Ionic to any compatible card reader!
Smart notifications: On top of call, text, and calendar notifications, the Fitbit Ionic can also receive notifications from many popular third-party apps such as Facebook, Gmail, Instagram, Slack, and even Snapchat.
Improved heart rate technology: Fitbit has improved its PurePulse heart rate tracking on the Ionic providing you with more accurate tracking during exercises like cycling and running. The more accurate heart rate tracking, the more accurate the measure of calories burned giving you a better picture of how you're doing during your workout.
New sensor technology: The Fitbit Ionic will be sporting a relative Sp02 for estimating blood oxygen levels. According to Fitbit this will open up the potential for tracking sleep apnea and atrial fibrillation.
Multi-day battery life: Fitbit states that the Ionic will have a 4-day battery life with regular use, although only 10 hours with constant GPS or music playback. Of course, your mileage will vary depending on use.
Fitbit OS
Along with the announcement of the new hardware, Fitbit also announced the Ionic would run on Fitbit OS, a new operating system developed by the company itself. No doubt the acquisition of Pebble and Vector helped make Fitbit OS a reality, which Fitbit promises will be updated regularly.
Fitbit OS will include the all-new Fitbit App Gallery where you will be able to download watch faces and other apps from Fitbit like Fitbit Coach, Relax, Timer and other. Plus, Fitbit App Gallery will feature third-party apps that can be downloaded directly onto your wrist. The three third-party partners have been announced for launch, Starbuck Coffee Company, Strava, and AccuWeather.
Fitbit says the Fitbit App Gallery will continue to grow with more apps available in the fall across multiple different categories including finance, lifestyle, health, music, sports, productivity, and more.
Colors and accessories
The Fitbit Ionic will launch in three different color combinations: silver gray tracker and clasp with a blue gray band, smoke gray tracker and clasp with a charcoal band, or burnt orange tracker and clasp with a slate blue band.
The Fitbit Ionic will also have interchangeable bands. On top of the three bands listed above, you'll be able to get your hands on a three different two-toned sports bands ($29.95 each) including blue gray and coral, black and charcoal, or cobalt and lime. Plus, hand-crafted Horween leather bands in cognac and midnight blue ($59.95 each) will also be offered.
Fitbit Ionic adidas special edition
Fitbit also revealed a new partnership with adidas that will see Fitbit launch a special edition of the Ionic sometime in 2018 along with special training programs on board the device. No word as of right now on pricing of the adidas special edition Ionic.
Pricing and Availability
The new Fitbit Ionic is available for pre-order today on Fitbit's web page (opens in new tab) and will carry a price tag of $299.95. The new device won't start selling in stores until October 2017, and it will be available at retailers such as Amazon, Best Buy, Target, and others.
See at Fitbit (opens in new tab)
Other products
Fitbit also announced three other products coming out in the future.
Fitbit Flyer

(opens in new tab)

: A pair of Bluetooth headphones that are sweat proof that will retail for $129.95 and will be available in October 2017.
Fitbit Aria 2

(opens in new tab)

: A new and updated version of Fitbit smart scale will be available sometime in the fall of 2017 and will retail for $129.95.
New premium guidance and coaching offering

(opens in new tab)

The new Fitbit paid subscription service that will allow Ionic users to access the new dynamic workouts that a personal tailor to fit your needs. The Fitbit Coach app will launch in fall of 2017 on iOS, Android, and Windows, meanwhile, the Audio Coaching won't be available in sometime in 2018.
Are you excited about Fitbit's announcement today?
What do you think of the Fitbit Ionic and the other product revealed today? Let us know in the comments below!
Android Central Newsletter
Get instant access to breaking news, the hottest reviews, great deals and helpful tips
That seems . . . steep for such an unknown quantity. I know their trackers are pretty good, but I think they've got the price point set too high. I also find the styling . . . polarizing (I personally am not wild about it--it looks like a calculator watch).

I believe the Blaze debuted at a price of $200. And they've sold alright. For all this new functionality, a $100 increase isn't that bad.

the surge had a starting price of $250 and sold pretty well. This will do just fine.

The Blaze started at $250 and didn't start moving any quantities until it went below $200.

It depends entirely on context. If you're staying within the realm of fitness trackers, then it's pretty reasonable. If you're more concerned about style and don't like the look, it's going to seem expensive compared to some of the latest Android Wear watches. Personally, I find all of them too expensive. I bought a Moto 360 OG when they were getting cleared out, and i'll wait until the same happens with the current batch of watches.

Personally I'll be waiting for a Polar M600 successor before replacing my gen 1 Moto 360. The current one is a little ugly for my taste but I don't like the idea of going back into a Fitbit ecosystem that won't play nice with any of my previous data.

Compete might not be the right word. Is Android wear still even a thing?

Uh-oh...saying that in here? You realize you're just inviting a million "I love my Moto360!" and "been using my Gear2 since day one and it's better than any fugly Fitbit" comments...

A miilion comments which prove it's very much a thing.

It's a thing for smartwatches, but not for fitness. Last I checked, third party running apps, like runtatstic, didnt work with the heart rate sensor which makes it worthless. Im not going to go all in with my fitness info with Moto or Samsung. I need something that works across Android and IOS. Basically, that means either Fitbit or the Apple Watch. Depending on what phone I am currently using.

" I need something that works across Android and IOS."?
Last I checked the Apple Watch doesn't work on Android devices.

It's certainly a thing for people who specifically like Android, but I wonder if any AW device sells in the kind of numbers that a company like FitBit would really consider to be "competition." On a related note, I just bought my first AW device (Huawei Watch 2), and I'm probably going to end up returning it and going back to my Pebble Time.

I just bought the polar m600 and it's definetly fitness focused if you can get over its ugly looks and unnecessary branding and steep price. Also get's constant updates and full 2.0 functions

Unattractive, overly branded, and expensive, you say? That's a heck of a sales pitch you've got there.

Umm...what about competing with Gear S3? Last I heard Gear S3 was no.2 in smartwatch sales behind iWatch with android wear 3rd. What about a battery size and charging method for this device to back up that 4 day claim, that include using all senosors? I went back to a Gear S3 classic after I just tried and returned Android Wear on Huawei Watch 2 Classic. Tizen OS with rotating bezel on gear s3 is fantastic, so much better than Android Wear from my experience., and better battery life even when using GPS on runs than AW. No mention of how you interact with OS. Swipes suck on a small screen with AW. Only area I see advantage for this device is 50m water resistance. Hard to imagine android or especially iOS developers will embrace this device for the fitbit OS. For example, there is not even a podcast app for Tizen that works with Android, and no podcast support for standalone listening on android wear with pocketcasts or google play. Spotify is only music choice for Tizen besides native music player. I hope the device is successful, but don't hold your breath for developer support of the fitbit OS, fitbit lovers.

Four days is pretty much what I get on my Blaze and seven on my wife's old Charge HR - their claims aren't far fetch from real world use. As for Fitbit going full smartwatch with its own OS ... well, let's wish them luck.

It's too different to compare with AndroidWear. It's still predominantly a fitness tracker but seems to have better notifications. There's no mention of being able to reply to those notifications or interact like you can on AW and I very much doubt it has Google integration or OK Google. I'm tempted to get the Adidas Edition one though for to replace my aging Tomtom Runner Cardio 2

I was thinking that but if they are positioning it as a real smartwatch they have to expect the comparison and offer all the features real smartwatches offer, including responding to notifications, etc., right? Kinda weak to cal it a smartwatch and not be able to reply from it.

I just wish they would integrate with Google services already. Google fit support is everything.

that is a pretty high price tag

Meh. Not a big fan of wearables, although I'm already pretty happy with my Blaze. $300 for what looks like a glorified Blaze will be a tough sell.

I think it might actually beat it. After I got the 2.0 update on my zen watch 2 my voice commands with Google assistant do so much less. Google now commands were so much better.

And wrist gestures. Some things on 2.0 are better but there's a lot more that was better on 1.5. I've stopped using my ZenWatch 2 for now and gone back to my Sony Smartwatch 3 for now as I miss the wrist gestures too much

Not a fan of the design but onboard GPS and storage for music are great additions.

Price will hurt sales significantly. People do not put a Fitbit product in the same category as an apple watch or Android Wear watch.

As a Pebble fan, this does not interest me at all. It is expensive and is geared toward serious fitness users. Not to mention that it looks ridiculous. If this is why Pebble died, then its demise was a waste.

C'mon. You can't defend Pebble by its looks? I've got a Pebble classic in a drawer somewhere and it's by far the ugliest thing I've ever worn on my wrist

I know how you feel. I was a big fan of Vector, until sh1tbit bought them and killed them.
Why can't we get a smart watch with a longer battery life and WITHOUT all the fitness tracking? I want notifications and some basic productivity features. That's all.

Fitbit Pay? I realize it's NFC-based, but is it a whole new payment system? The adoption of Apple Pay and Android Pay have been slow enough. Samsung worked around it with Samsung Pay MST technology, but if Fitbit Pay is a whole new system, then it will be difficult to get retailers to adopt yet another payment system. Hopefully it just works with Android Pay.

Why? Anywhere that accepts NFC payments will accept Fitbit Pay, Android Pay, Apple Pay or Samsung Pay just the same. Most of the world left MST payments behind about 10 years ago and use NFC. It's pretty much only the US still stuck in the past

That's is why I asked. I thought Apple Pay and Android Pay were completely different systems. I didn't realize they were all interchangeable.

For the price, will need to wait for some real world reviews. I would expect a much more durable display - my present Charge 2 will scratch/gouge easily. Could be an interesting little competition between this, the Ionic, the Misfit Vapor, and Gear Fit 2 +/Pro/whatever.

They look... Incredibly Ugly. I had hoped that when they bought Vector, they'd continue making them.... but nope, they just shut them down. Hope fitbit goes bankrupt, I hate such evil ways of "competing".

Vector Watch design, Pebble software with Fitbit funding would have made for the best smartwatch ever.

pretty cool features etc., but - it still looks like a cheap fitness tracker to me, not a real/smart watch--for ex.: look at the original Huawei Watch or Gear S8 Classic, by contrast to the pics above. it's just that for $300, i think any "watch" should look kinda classy too.

Garmin has been in this space for a long time and offers a much bigger range of devices to suit most peoples needs, yes some are way more expensive but you pays your money and makes your choice. The upcoming Vivoactive 3 looks like a proper watch (round face) and will pretty much do everything listed for the fitbit (expect probably nfc) and will probably be similarly priced. Also, Garmins app store is huge, not apple or google huge, but way bigger and better supported than fitbits will be out of the door and (i suspect) for a long time to come. Battery life is for the most part better, more than a week of standard use and 10+ hours of gps.

They acquired Vector and their great design and came up with THIS? Really?

Nice. I will be getting one

Will it be reversible so I don't have to reach for the buttons that are way over on the wrong side (or more likely, hardly press them at all due to the design flaw that discourages use)? The iPhone is but the Gear's from Samsung aren't./

Too bad that it is so ugly. It won't be taking the place of watches worn as fashion accessories.

Love the iconic! Want one now! Only it's $399.95 on their website not $299 as the article says.
Would have been nice to have it with android also and more than 2.5GB storage would be nice.

$300? I think that is the price a smart phone should sell for. For $300, I'd like for it to be a basic phone, at least, since I'd be out running alone. I had the Adidas Training MiCoach and it trained me to run. Seriously, from walking into running 5K's in 6 months. I fell in love with the coaching program. Then they stopped supporting it. I hope the collaboration Fitbit is doing with Adidas will be just like MiCoach or better. I'll be in on that one.

God, is that ugly. And as inaccurate as my Fitbit Charge 2 is with pretty much everything but step count, not a snowball's chance I'd spend $300 on any Fitbit product.

Not sure about the look. The Gear S3 will likely get a get a good price drop and the Gear S4 is sounding like a real contender as well while likely looking better.

Samsung Gear Fit 2 Pro looks like it will offer similar features for $100 less.

Samsung Gear Fit 2 Pro looks like it will offer similar features for $100 less.

Killed the Pebble and this is what they could come up with?...Shame on Fitbit...I wish they go down soon.

When Fitbit gets a round face, call me.

Although I would have preferred a round shape, this watch looks nice to me (might not to you but that's the thing about aesthetics, right?). The kicker for me is that this isn't running Android Wear. We don't need yet another wearable OS, e.g. Tizen, WatchOS, Android Wear, Fitbit OS. The decision to write their own OS will only lead to disappointment and failure. Seems that only we Consumers see these realities. I'm not buying into a closed ecosystem ever again.
Android Central Newsletter
Get instant access to breaking news, the hottest reviews, great deals and helpful tips
Thank you for signing up to Android Central. You will receive a verification email shortly.
There was a problem. Please refresh the page and try again.