Fitbit Ionic is the smartwatch that will compete with Android Wear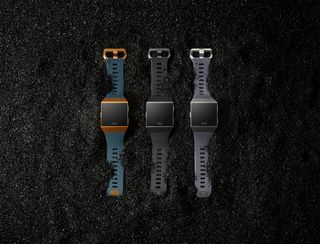 Fitbit has been making fitness trackers for ten years, and some of its more recent models, like the Surge, Blaze and Charge 2, have dipped their toes into being smartwatch/fitness tracker hybrids. Now, Fitbit has officially announced the release of the Fitbit Ionic the company's first fully-fledged smartwatch with its very own operating system, Fitbit OS.
What's new about Fitbit Ionic
Fitbit has promised that the Fitbit Ionic will give users the same great activity tracking, sleep tracking, and other metrics that current Fitbit models already offer; however, plenty of new features are to be included in in the Ionic.
Swim exercise mode: The Fitbit Ionic will be water resistant up to 50 meters, meaning you can jump in the pool without having to take it off your wrist. The Ionic will track metrics such as the number of laps, swim duration, and calories burned while you're in the water.
Fitbit Coach: The Fitbit Ionic will provide dynamic on-device workouts directly on your wrist that are said to adapt to your feedback. The device will launch with one dynamic workout, and three static workouts and more dynamic workouts can be accessed with a subscription to Fitbit's new premium guidance and coaching, which will cost $7.99 per month or $39.99 per year.
Run Detect: This new feature kicks-in the on-board GPS in the Ionic as soon as you head out the door for a run. Leave your phone at home and get real time pace and distance. The Ionic will even auto-pause the tracking if you stop to take a breather and resume as soon as you hit the ground running again.
On-board storage: The Fitbit Ionic will have 2.5 GB of storage space built-in allowing you to store music and download apps directly on your wrist! Plus, the Fitbit Ionic will be able to connect to any Bluetooth-enabled headset directly, meaning you don't need your phone for music while you're working out! There's also Pandora Premium support, allowing you to download playlists directly to the watch to play back without a phone.
Fitbit Pay: NFC is including in the Fitbit Ionic, which allows it to take advantage of Fitbit Pay, and pay for things with just a tap of your Ionic to any compatible card reader!
Smart notifications: On top of call, text, and calendar notifications, the Fitbit Ionic can also receive notifications from many popular third-party apps such as Facebook, Gmail, Instagram, Slack, and even Snapchat.
Improved heart rate technology: Fitbit has improved its PurePulse heart rate tracking on the Ionic providing you with more accurate tracking during exercises like cycling and running. The more accurate heart rate tracking, the more accurate the measure of calories burned giving you a better picture of how you're doing during your workout.
New sensor technology: The Fitbit Ionic will be sporting a relative Sp02 for estimating blood oxygen levels. According to Fitbit this will open up the potential for tracking sleep apnea and atrial fibrillation.
Multi-day battery life: Fitbit states that the Ionic will have a 4-day battery life with regular use, although only 10 hours with constant GPS or music playback. Of course, your mileage will vary depending on use.
Fitbit OS
Along with the announcement of the new hardware, Fitbit also announced the Ionic would run on Fitbit OS, a new operating system developed by the company itself. No doubt the acquisition of Pebble and Vector helped make Fitbit OS a reality, which Fitbit promises will be updated regularly.
Fitbit OS will include the all-new Fitbit App Gallery where you will be able to download watch faces and other apps from Fitbit like Fitbit Coach, Relax, Timer and other. Plus, Fitbit App Gallery will feature third-party apps that can be downloaded directly onto your wrist. The three third-party partners have been announced for launch, Starbuck Coffee Company, Strava, and AccuWeather.
Fitbit says the Fitbit App Gallery will continue to grow with more apps available in the fall across multiple different categories including finance, lifestyle, health, music, sports, productivity, and more.
Colors and accessories
The Fitbit Ionic will launch in three different color combinations: silver gray tracker and clasp with a blue gray band, smoke gray tracker and clasp with a charcoal band, or burnt orange tracker and clasp with a slate blue band.
The Fitbit Ionic will also have interchangeable bands. On top of the three bands listed above, you'll be able to get your hands on a three different two-toned sports bands ($29.95 each) including blue gray and coral, black and charcoal, or cobalt and lime. Plus, hand-crafted Horween leather bands in cognac and midnight blue ($59.95 each) will also be offered.
Fitbit Ionic adidas special edition
Fitbit also revealed a new partnership with adidas that will see Fitbit launch a special edition of the Ionic sometime in 2018 along with special training programs on board the device. No word as of right now on pricing of the adidas special edition Ionic.
Pricing and Availability
The new Fitbit Ionic is available for pre-order today on Fitbit's web page and will carry a price tag of $299.95. The new device won't start selling in stores until October 2017, and it will be available at retailers such as Amazon, Best Buy, Target, and others.
Other products
Fitbit also announced three other products coming out in the future.
Fitbit Flyer: A pair of Bluetooth headphones that are sweat proof that will retail for $129.95 and will be available in October 2017.
Fitbit Aria 2: A new and updated version of Fitbit smart scale will be available sometime in the fall of 2017 and will retail for $129.95.
New premium guidance and coaching offering The new Fitbit paid subscription service that will allow Ionic users to access the new dynamic workouts that a personal tailor to fit your needs. The Fitbit Coach app will launch in fall of 2017 on iOS, Android, and Windows, meanwhile, the Audio Coaching won't be available in sometime in 2018.
Are you excited about Fitbit's announcement today?
What do you think of the Fitbit Ionic and the other product revealed today? Let us know in the comments below!
Get the Android Central Newsletter
Instant access to breaking news, the hottest reviews, great deals and helpful tips.