Droid X2 will actually be on sale in some stores tomorrow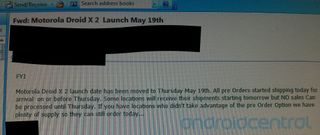 Now, we're not telling you how to spend your Thursday or anything. But if you're dying to get yourself a Motorola Droid X2 ahead of the next guy, it would behoove you to swing by a Verizon retailer tomorrow. Yeah, yeah, the official word is that online sales start tomorrow, and it'll be in stores May 26. But the unofficial word -- which we've received from a trio of sources -- is that this thing's been ready to go for the better part of a week now, and why wait any longer?
Oh, want another pic of a Droid X2 in store? Head on past the break.
whaaaaaaaaaaa...oh wait I am in EU anyways...

I just called my local best buy, and they said it is available tomorrow. So yep :). Gettin me one of these things. :)

A WAY smaller box than shown in the last X2 story.

I'm pretty sure the box shown in the last Droid X2 story was actually for the store's promotional material, rather than the phone's retail packaging.

Im so geeked up!.wait before you laugh at me I'm upgrading from a LG DARE. Yup I said it.... >'o'<

very daring of you to say ;) pun intended

Best Buy will have it tomorrow.

Half of the guys who are hating are going to get this anyways cuz they can't resist the dual-core even tho there are no apps yet =op

Actually any app that uses native coding can utilize both cores. But the android system right now does not delegate apps that do not to do this. All THD games utilize the multiple cores, and I think a lot of Gameloft games and GLU mobile games do or will utilize them.

That email doesn't look legit.

Yea hope it releases tommorow so the 2.3 update will come sooner

Ho hum, droid 2 and X gingerbread updates please

Has any one bought it yet? Does it work with the Atrix docks?

I don't think this is an ugly phone. I think this is the one that might get my upgrade when I can from my Incredible. I love my Incredible but there isn't a device I want, especially 4G. I don't care about the speeds of 4G and I don't need the battery hog of a 4G device. Also there are still too many hiccups in the 4G network as well as a lot of complaints on the devices. I have no issues with 3G and this being a dual core makes it worth my attention. I have no issues with my Incredible, love the phone. I am not liking the Incredible 2 though. So this just might be the one.
Android Central Newsletter
Thank you for signing up to Android Central. You will receive a verification email shortly.
There was a problem. Please refresh the page and try again.