Did Samsung just accidentally reveal the Galaxy Note 8's front?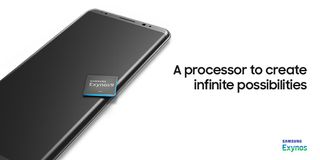 On the heels of new info pointing to an August 23 launch of the Galaxy Note 8, Samsung's official Exynos Twitter account tweeted out a promotional message for its Exynos 9 series processor ... with a device we've never seen before. Showing off a really big screen, curved edges and a tiny top bezel, it sure looks a lot like what we're expecting the Note 8 hardware to be.
But let's not get too carried away just yet.
While this is an official Samsung Twitter account, and leaks do occasionally happen this way, it isn't unprecedented for social accounts to use generic phone renders as backgrounds for a promotional image that's about a different product. Even in the past couple of months Samsung has used awkwardly tall and clearly Photoshopped renders of the Galaxy S8+ in tweets from official accounts — not to intentionally mislead, but simply because they're not the focus of the ad, and these things get overlooked.
Considering the clarity of the image and the fact that it wasn't immediately taken down, it's hard to believe this is actually a view of the Note 8. But it's fun to wonder — that thing looks nice.
Andrew was an Executive Editor, U.S. at Android Central between 2012 and 2020.
What do you mean Oops? Betteridge's law of headlines is one name for an adage that states: "Any headline that ends in a question mark can be answered by the word no." There was no oops.

The screen edges curve to 90°... That's definitely not it (though it might be similar to that design)

That would defy display the geometry of case leaks. That huge curve IMO sucks real hard. if part of the display spec for dimensions, a lot of relative display spec space wasted. That sucks for reading content and pen users. Looks like i will have no buyers remorse with the 8+. Less curve, more battery and lower cost FTW.

Same here. Absolutely zero buyer's remorse with the S8 Plus. We have had months to enjoy it and we have greater battery capacity, a lower price tag, and a wider array of cases and accessories. For me, 3,300mAh battery is the major downfall of the Note 8. Especially for the asking price, a Note device should simply be a no-excuses handset.

My wife's note 5 is hangin on barely. S8 is a really nice phone but she is waiting for the note. She is a note fangirl lol

I can see why! The Note 5 was my first Note device, and I absolutely fell in love with the s-pen. Which is interesting because I was a diehard stock android, nexus kind of guy, so making the jump was a huge sacrifice for me. Turns out TW is actually a fantastic skin, and that s-pen more than makes up for the simple things that TW does differently. I cannot tell you how extremely excited I am for the Note 8. I just really hope they let users unlock the bootloader -___-

Yeah lol I'm excited for you guys. To tell u the truth I have the pixel and I didn't even unlock my phone. I'm done flashing Roms.

Always a bummer when a phone struggles to last 2 years. My Note 5 feels new still, but I quit using it as a daily driver in favor of a smaller screen and got a regular S7.

My wife is also a Note fangirl. She's has the Note 4 so Samsung better not screw it up. I can't tell her to wait for the Note 9.

Meh, who cares (yes, yes, some might) only so much you can do with a cuboid /rectangle. Like its going to be some radical design.

Sure, that was an "accidental" leak.

Looks absolutely gorgeous. The one thing I dont like about the S8/+ is that the corners are was too aggressively curved. These look much smaller, and the bezel looks even thinner. As long as the nav bar and the bottom bezel is less thick than the Note 7/S7/+ bottom bezel, then I'll be happy regardless. I just really want an S-Pen-equipped smartphone again. The Note 7 was such a great phone -_-

That's not what it's gonna look like. The side goes down at a 90° angle

Nothing is ever "accidental" in 2017

Right. "accidental". They know the iPhone is coming. They know they gotta keep their phone on people's minds, as well.

Probably will still have the Snapdragon 835...

In the USA. Everywhere else it gets the Exynos.
Also, there's no successor to the SD835 announced.

Well leaker or not we do know how it looks in the front anyway with the similar infinite display like S8.

Cool glad to see Sammy is getting back in with the Note line.

Quick question. Can you use Spen with a second launcher like Nova? Or do you lose all functionality? Appreciate any info

It should still work from memory since the feature are not part of the launcher. From memory using note 2, 3& 4 ready to come back.

S pen worked perfectly on my notes 4&5 running Nova.

Like what everyone already mentioned, third party launchers do not restrict s pen usage. I use my s pen all the time on Nova.

Pen itself will work, it's hardware not software that enable it. I think all software enhancements are seoerate from the launcher and you will still get full functionality.

So it's another rectangle with a screen, oh my.

Like we didn't all know what it would most likely look like anyway lol.

Is it weird that to think the S8 bezels are too big? The image looks to show a large earpiece. Maybe dual speaker as standard finally.

My note 4 got ran over last wkend. I got the s8 on Monday. I'm returning it. Glass on the front and back will not work for me it's only a matter of time before it cracks. Why glass like seriously.
So last night I found a note 4 on swappa for 180, 30 day warranty, mint condition. I'm really happy with that.
Bri g back removable batteries and don't use glass for chrise sake

Please, no more curved edges. This trend needs to die now.

Phones have become so "meh" - aside from Samsung Pay and Camera - that is it - Samsung would be thee android if it went the way of Oxygen OS with Samsung Pay and camera tech - let android sell itself - after using devices like 1+5 or even KEYᵒⁿᵉ you see just how fluid devices can be- I've been buying a Samsung phone at least once a year for the last 9 years or so - would love to see some changes on the OS side - a complete revamp - their OS skin is too heavy grace isnt so graceful and Bixby is a joke - this note 8 price tag is disrespectful

Hard to believe anyone says meh.

I don't think anything is accidental when it comes to leaks...

If this phone costs more than a G, I'm gonna lose my ****. No phone should cost that much, period. I urge ppl not to buy it if it is, bc you're basically telling Samsung, sure, no problem, you just set that msrp and I'm opening my wallet no matter what.
Also, no more glass on the back of phones, it's stupid. I wish the S Active line could be the way all phones are made. Have we gotten the s8 active yet? My friend has last yrs version, imo that's one of the best phones on the market

Uh, they showed the same before the S8

It doesn't have the Bixby button,so not the new Note
Android Central Newsletter
Get the best of Android Central in in your inbox, every day!
Thank you for signing up to Android Central. You will receive a verification email shortly.
There was a problem. Please refresh the page and try again.