Deal: Get the Galaxy S8 at Cricket for just $349 (50% off)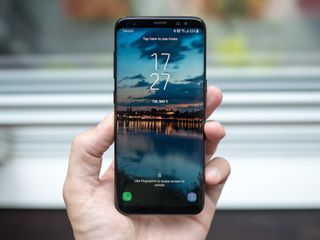 In a little more than a week, Samsung hopes to tantalize us with the launch of its Galaxy S9 flagship. We're expecting the S9 to be one beast of a phone, but if you don't care about having the very latest and greatest, Cricket's running one heck of a deal on the Galaxy S8.
If you have an existing cell number and bring it over to Cricket, you can get the Galaxy S8 for just $349 with activation on a data plan starting at $30/month. The phone typically costs $699 on Cricket, meaning you're looking at a 50% savings.
The Galaxy S9 will obviously be a better phone compared to the Galaxy S8, but that doesn't mean the S8 isn't still worth considering. It's still got a great camera, one of the best designs of any phone on the market, and its Infinity Display continues to be downright gorgeous.
Cricket's running this deal now through March 29 as an online-only offer, and you can check it out below.
See at Cricket (opens in new tab)
Joe Maring was a Senior Editor for Android Central between 2017 and 2021. You can reach him on Twitter at @JoeMaring1.
Hell of a deal
too bad internet speeds are so slow on cricket

Internet speeds are not slow, but rather capped at 8Mbps. Just to put things in perspective at 1.5mbps you can watch a 1080p video on YouTube or Netflix with no stuttering. If you rely on your phone to download huge files then yes, it does suck to be capped at 8mbps.

It's fast enough where you wouldn't know the difference

That's a crazy good deal. Cricket is AT&T towers, right?

Yup the down speed is capped at 8mbps or 3 Mbps depending on your plan

Mary Beth, Cricket is owned by AT&T. Not an mvno

ATT owned, and speeds are capped as someone mentioned (8mbps download...which works for just about anything). It's a pretty solid service for a great price. You don't get tower *priority* though. So if data traffic is congested, postpaid customers are "in line" first to access tower advantages. You may also not get similar coverage in rural or "out of the way" areas. My gf used to have postpaid ATT when I was on cricket. We'd be in the same location and she'd have service but I wouldn't. Like I said, it's a solid service for the price...just know what you're getting FOR that price.

I've had cricket for 3 years and have never issues watching utube or streaming anything on any of my devices. The capped speeds aren't that big of a deal.

This is a steal for the s8. Why the heck not!

I'm on cricket and pissed that this is for new customers only. It's a crazy good deal. Cricket is month to month so there must be some fine print in there.

So act like you're starting a new account and number then put your sim card in it lol. I did it for the s5 a few years ago

And the system didn't catch on?

No I used my mom's information. Address and all that. Let her know about it and when it came I just put my sim card inside. Used that s5 for a year and had no problems
Android Central Newsletter
Get the best of Android Central in in your inbox, every day!
Thank you for signing up to Android Central. You will receive a verification email shortly.
There was a problem. Please refresh the page and try again.