Deal brings Moto Z down to $499 with 2 years of extended warranty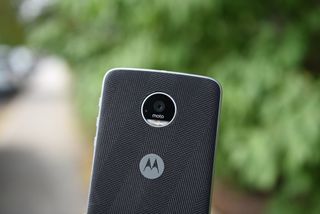 Motorola knows how to sell unlocked phones. To wit, the company has discounted its excellent Moto Z — the OG Z, if you will — to $499.99 and is throwing in an extended 2-year warranty called Moto Care, which offers up to three (!!) low-deductible exchanges and free shipping back and forth.
So should you get a Moto Z right now, especially when the Moto Z2 Play is coming soon at the same price? Well, the Moto Z is more powerful and has a better camera, and while it doesn't yet sport the software updates that come with the Z2 Play's Android 7.1.1 build, it's likely that it will get it at some point (we've reached out to Moto to confirm).
Nevertheless, the Moto Care addition costs $75 on its own, so even if the phones themselves are a wash, if you are clumsy and expect to need to replace your phone's screen, this deal is pretty attractive.
You'll need to enter the coupon code MOTOZ200OFF at checkout to get the discount and warranty extension. Who's buying?
See at Motorola (opens in new tab)
Get the Android Central Newsletter
Instant access to breaking news, the hottest reviews, great deals and helpful tips.
Daniel Bader was a former Android Central Editor-in-Chief and Executive Editor for iMore and Windows Central.
Tough sell with the new crop of phone coming out soon.

$499 o_O Four-Hundred and Ninety-Nine dollars + tax.... Air has moisture KEYᵒⁿᵉ

This is great for anyone who has been watching this phone.

Better deals are out there unless you just have to have this phone.

I'm in the market to dump this POS G4. What are the better deals you speak of?

My guess is one of them is the first gen Z Play. That thing is a battery beast.

Pick your poison..... 499 gives you a lot of options.

For that price is rather spend it on a one plus 3T right now before the launch of the OP5. Or just wait for the OP5. Wait for the Moto X4 even. Heck I'm pretty sure you can get a G6 for just a little more.

500 Dollars??? Buy LG V20 and you have 150 left and a better phone in almost every aspect. Buy leather DBRAND and you have one of the best if not THE best phone out there on the market. Moto Display is cool, though. They do software well and kind of like my Z P but compared to my V20 it's years behind. Z can not even handle miracast/ wireless display. They lie they say it's working in manuals, but it's deactivated. Moto wants to sell their projector mod or Google dongle , I understand, but it's not same ! With my LG I just shoot pictures and videos on my TV via Screen sharing to my TV in a snap. Can not do with my Z Z Play!!! BUT WHY DOES MOTO LIE ? Because they want make money !!!!

Oh and screen sharing, it's even there in the phone settings , but not working :-)

I have acquired a Moto Z a week ago, and the CAST option does NOT WORK!
I am not happy Circle-M created a good product, but felt the CUSTOMERS do not need this capability.
I LIKE being able to CAST to my TV, it msakes sense for most of us!
NO!
I WILL NOT BE WASTING MONEY ON THEIR ADD-ONS NOW...THANKS FOR STABBJNG YOUR CUSTOMERS IN THE BACK ON THIS!

They should update the manual.

I had to check if this article is from 2016 with a offer like that lol but no, it was posted 5 Hours before. Maybe a joke , who knows. 299$ then OK deal. But even that is too much.........

Maybe even $349 but no way in hell I'd pay $499 for an SD820.

Thinness was all this had going for it. The Force was the true flagship while the Play did all the grunt work.

Not really a good deal, unless you just have to have this phone and plan on using it for two years to take advantage of the warranty... especially considering all of the other options currently available.

This has been cheaper many times in the past, and the Play is the phone to have anyways.

It can't beat HTC 10 from Sprint for $240.