Creepy James Franco gives us another peek at the Motorola Droid Turbo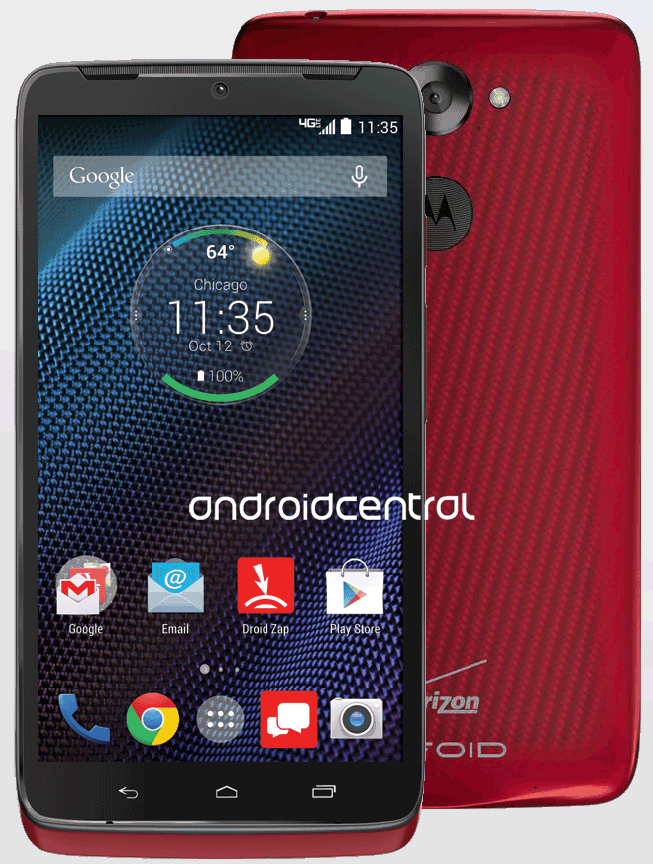 Droid Landing, the twitter page for all things Droid branded, has been up to some shenanigans today — the most recent of which features James Franco riding a bike on a street as his friends try to record him using their phone. Franco pops out of frame, then reappears suddenly, whips out what looks to be a Droid Turbo, snaps a photo, and disappears down the street in the blink of an eye. The message here is clear: your phone is slow and the Turbo is, well, turbo.
This is in addition to an eight-second clip tweeted out by the page earlier, simply captioned "Things are going to get scary, fast. #Droid." The clip features a hand reaching out toward a flowing red ribbon to the sound of tense violins.
The Droid Turbo, which has been far from shy in recent weeks, is expected to be unveiled tomorrow according to a mysterious countdown timer that Verizon initiated two weeks ago.
Keep your eyes peeled here tomorrow for all the Droid Turbo news. In the meantime, head on over and check out what we know about the Droid Turbo so far.
Source: @DroidLanding, James Franco
That red Turbo is hella sexy

Why does Verizon have so many exclusive models for phones? Genuinely curious and I'm not from America. P.S. Commenting from the AC app for Android is very buggy :( Posted from my TARDIS!

The Droid line is pretty much the only exclusive they have. And they have it because they shelled out a bunch of money to get it. And they're the best so they get the best.

Yep, they're the best... From my T-Mobile phone Posted via the Android Central App

T-mobile was awesome when they sold me service for Omaha without telling me they can't port local numbers....an important first step in them paying off your etf....and then it was awesome they took 3 months to process the returned equipment. .....give me a break.

And 2 days ago those Verizon jerks sent me a text doubling my 3gb plan to 6, for no reason. God I hate Verizon. /s

I hope you called them to complain and told them that the folks at Android Central think they're evil

I also complained that the M8 was upgraded to fast.

What do you pay for 6GB? Posted via the Android Central App

Don't know, $50ish it seems. What ever the 3gb family share plan is.

3Gb is $60 alone. Line charge is $40. I think your paying more than that. Posted via the Android Central App

It's probably your Tardis....they're way overrated.

Only some models are. Personally I think the type 40 models are sexy. Posted via the Android Central App

the Verizon network uses unique bands and technology (its related but not the same as Sprint's network) so why not have exclusive phones too? Any phone on Verizon will always be unique to Verizon, even if it's the same design (i.e. Galaxy S5, iPhone, etc) it is completely different under the hood, just to work with Verizon. This Droid stuff is just a marketing layer on top of all the work that already goes into getting new handsets onto such a unique network.

WTF Posted via Android Central App

That was some slick, cool and mysterious advertising for SOMETHING I WANT ALREADY. It doesn't hurt when they know how to sell their product. And this is where the pain of waiting kicks in.

Should have had Rogen in it too lol Posted via...The One

Just IN CASE anyone thinks he's that fast, he's not....edited.

Man....this make me want to go back to Verizon.

Yup that is what VZW is hoping

Go back to Verizon ...return to the light Posted from the Avengers: Age of Droid Ultra

But I wouldn't be able to use my OnePlus One anymore.

The Turbo is coming to all or most major carriers so no need.

Where did you see this info?

AGAIN my next device is this or nexus 6. Have to see the reviews of them . cause both appear to be spectacular.

Prefer this to the Nexus 6, but don't suppose we will ever see it in the UK. Why is it, that when Motorola are producing their best phones ever, they are going to be sold to Lenovo? Posted via the Android Central App

Creepy James Franco. I really like this guy. I would like to meet him. Oh the Droid. I don't care it's on Verizon. How can I meet James Franco?
Android Central Newsletter
Get the best of Android Central in in your inbox, every day!
Thank you for signing up to Android Central. You will receive a verification email shortly.
There was a problem. Please refresh the page and try again.