Corning announces Gorilla Glass 3, will show it off at CES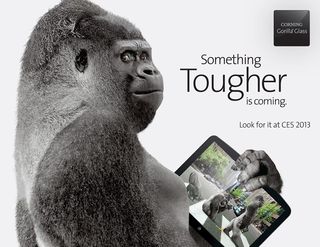 Corning has just announced that they have released the latest version of their hardened glass, and Gorilla Glass 3 will be shown off at CES. They haven't told us a lot about the product in their press announcement, but we expect to see scratch-resistance glass that's thinner and more optically clear than the first two iterations of the popular Gorilla Glass line.
Corning labels Gorilla Glass as "tough, yet sophisticated". Electronic manufacturers seem to agree, as you'll find Gorilla Glass on all manner of products from big screen TVs to the smartphone in your pocket. Their technique makes the surface of the glass clearer and harder to scratch, without adding any bulk or weight. Anything that keeps nasty scratches away from our precious Android phones and tablets.
Corning will have hourly demos that test the toughness of the new Gorilla Glass 3 at their booth at CES, as well as large format multitouch displays for a more hands on look at the new product. We'll be sure to have a look as we mosey through. A demonstration video and the full press release is after the break.
CORNING TO SHOWCASE LATEST GLASS TECHNOLOGIES FOR CONSUMER ELECTRONICS AT CES 2013
Introducing Corning® Gorilla® Glass 3 and Optical Cables by Corning
CORNING, N.Y. , January 3, 2013 – Corning Incorporated (NYSE: GLW) today announced its plans for the International Consumer Electronics Show (CES) in Las Vegas next week. The Corning booth, #14813 Central Hall, will highlight the company's newest specialty glass solutions and their benefits for today's consumer electronics device trends.
Corning plans to introduce two new products at CES 2013: Corning® Gorilla® Glass 3, a new glass composition with durability enhancements; and Optical Cables by Corning, fiber-based, device-to-device connectivity solutions that significantly extend the data transmission range past the limits of copper-based cables. Full product details will be included in announcements planned for Monday, Jan. 7.
"This year at CES, Corning will demonstrate its industry leadership in specialty glass and fiber optic technologies with the introduction of two products designed to enhance and extend the capabilities of consumers' favorite devices," said Wendell P. Weeks, chairman, chief executive officer, and president. "These new innovations build on the increasingly important and continually evolving role of highly engineered glass technologies in delivering improved product performance and functionality through touch capabilities, protective cover glass, and device connectivity."
In the Corning booth, experts will be on hand to discuss and present hourly demonstrations of the toughness of Gorilla Glass 3 as well as the connectivity and flexibility of Optical Cables by Corning. The booth will also showcase the benefits of Corning Gorilla Glass in larger format, multi-touch displays for education, entertainment and other applications.
Additionally, James P. Clappin, president, Corning Glass Technologies will be a panelist in the "Disruptive Technologies Impacting the Future of Games and Video" session at 11a.m. PST on Tuesday, Jan. 8, at LVCC, North Hall N255-257. He will discuss the important role of highly specialized glass in some of the latest consumer electronic technologies such as hi-res, 3D, HD video, Internet-connected TVs, conformable displays, tablets and viral apps.
Forward-Looking and Cautionary Statements
This press release contains "forward-looking statements" (within the meaning of the Private Securities Litigation Reform Act of 1995), which are based on current expectations and assumptions about Corning's financial results and business operations, that involve substantial risks and uncertainties that could cause actual results to differ materially. These risks and uncertainties include: the effect of global political, economic and business conditions; conditions in the financial and credit markets; currency fluctuations; tax rates; product demand and industry capacity; competition; reliance on a concentrated customer base; manufacturing efficiencies; cost reductions; availability of critical components and materials; new product commercialization; pricing fluctuations and changes in the mix of sales between premium and non-premium products; new plant start-up or restructuring costs; possible disruption in commercial activities due to terrorist activity, armed conflict, political or financial instability, natural disasters, adverse weather conditions, or major health concerns; adequacy of insurance; equity company activities; acquisition and divestiture activities; the level of excess or obsolete inventory; the rate of technology change; the ability to enforce patents; product and components performance issues; retention of key personnel; stock price fluctuations; and adverse litigation or regulatory developments. These and other risk factors are detailed in Corning's filings with the Securities and Exchange Commission. Forward-looking statements speak only as of the day that they are made, and Corning undertakes no obligation to update them in light of new information or future events.
About Corning Incorporated
Corning Incorporated (www.corning.com) is the world leader in specialty glass and ceramics. Drawing on more than 160 years of materials science and process engineering knowledge, Corning creates and makes keystone components that enable high-technology systems for consumer electronics, mobile emissions control, telecommunications and life sciences. Our products include glass substrates for LCD televisions, computer monitors and laptops; ceramic substrates and filters for mobile emission control systems; optical fiber, cable, hardware & equipment for telecommunications networks; optical biosensors for drug discovery; and other advanced optics and specialty glass solutions for a number of industries including semiconductor, aerospace, defense, astronomy, and metrology.
Android Central Newsletter
Get instant access to breaking news, the hottest reviews, great deals and helpful tips
Senior Editor — Google Ecosystem
Jerry is an amateur woodworker and struggling shade tree mechanic. There's nothing he can't take apart, but many things he can't reassemble. You'll find him writing and speaking his loud opinion on Android Central and occasionally on Twitter.
But when are they going to make it shatter-proof?

You can't. The laws of physics mean that anything done to harden the surface of a piece of glass mean it's actually easier to break it with stress from the right angle. With glass, hard = brittle. Never in a million years thought a conversation with a guy who installs custom built aquariums would teach me anything :P

If that's the case I would rather have jellyfish glass. Tablets and phones gonna drop. Fancy displays lose their value when shards are missing out the middle of them. This is an advancement in clarity and display potential, but not a step forward for handheld devices.

then it would be scratched (and disfigured). basically its trying to come up with glass as scratch resistant as possible AND as strong as possible at the same time. its not so easy. so, the more shatterproof you make it, the less scratch resistant it is and vice versa. think about this- which is more scratchproof, packing peanuts or granite? granite! so granite is more durable?? NOPE. if you drop a packing peanut and a granite rock on the ground, which will break?

What about a packing peanut with a thin granite shell?
/s

What about a plastic screen with a thin Gorilla Glass layer?

Why not just use plexiglass or some sort of durable transparent plastic? Lighter, cheaper, and more durable than glass. Bam problem solved.

plexiglass scratches easily.

BAM, I'll take scratches over shatters.

Hahaha MERCDROID! I like your replies.

I'm having flash backs to my Materials class where pretty much every answer ended with either "making the material harder, stronger, more brittle, less ductile, and less tough" or "making the material softer, less strong, less brittle, more ductile, and more tough."

Great video. It makes me wonder how close we are to having any of this stuff.

The Gorilla Glass 2 on the Galaxy S3 was a disappointment. I had a scratch the first week. However, the Note 2 is perfect so far. I'm not a screen protector guy and have never had a problem with a scratched screen with Gorilla Glass of any kind (other than the Galaxy S3).

Just don't drop your Note2. My wife dropped hers from about half a meter, it landed flat on its face. There was no place on that display unbroken. She keeps it in an Otterbox Defender now, it has a nice raised edge hopefully will stop the face from touching ground if/when she drops it again.

Phil bring some sand and a diamond and show them its not scratch proof.

Jerry wrote the article...

but, Phil has the diamonds and the sand....

Hahahaha you just made my night man

Even gorilla glass 2 is actually on the note 2,they should be ashamed of themselves

The glass on my S3 has a zillion micro scratches on it. I don't even know where they are coming from. I don't keep it in my keys pocket or anything else stupid. My EVO LTE however had none of this BS happen to it. Ridiculous.

I had the same problem with the S3. Note 2 is as flawless as every gorilla glass phone I've had before it. Not sure what they put on the S3, but it's seriously inferior.

Fingerprints. Dust. Drops from sky high.
How about we solve these problems before creating these fancy things?
I mean, this is cool and all, but I would be more amazed if I could drop a piece of glass from a 10-foot building and nary a scratch or crack appears. And then I could rub my greasy hands all over it with no problem. Just Sayin'.

As other have said repeatedly, these are the laws of physics.
You can choose only one:
Shatter-proof (and full of scratches)
or Scratch-proof (and shatters easily.) You can't have both. Not until someone finds a way to break physics.

The laws of physics have a lot of wiggle room. No need to break them. There are lots of instances in the history of materials science coming up with new materials that are both harder and tougher than previous materials available. -Suntan

What do you want, Transparent Aluminum...lol

Why can't they make it a two-layer design?
Make a near-shatter-proof inner layer so
it wont' crack when you drop it out of your
pocket. Make a super-thin outer layer that's highly
scratchproof, but easily user replaceable at
$30 to $50 a pop. Yes, there are screen
protectors, but I have yet to find a screen
protector that can match the smoothness of
glass.

"but easily user replaceable at
$30 to $50 a pop." Politics comes into play here. A good percentage of phone insurance claims may come from shattered screens. Easily user-replaceable screens would cut into the profits of the insurance companies: quite a few people purchase insurance because they may damage the screens on their handsets. If you could replace the screen for between $30 and $50, you probably won't purchase the insurance. It's just a thought.

Come up with a better digitizer construction design so you can just replace the silver screen and or front glass components separately if they get broken, instead of paying half the price of a new phone to get a new entire digitizer setup.

How about not exposing the edge of the glass like in the s3. Jusy a thin edge trim would make a big difference

Why is that gorilla holding a Nexus 10 with an iPad home button?

Hope they put at least gorilla glass 2 on the next nexus 7 type tablet. Had that on my evo lte and its beautiful. Not a single scratch. Granted I finally cracked about a month ago and got a invisishield to keep it that way.

I agree with the above, a softer shatter proof plastic under a thin hardened glass screen protector is the way to go.
Android Central Newsletter
Get instant access to breaking news, the hottest reviews, great deals and helpful tips
Thank you for signing up to Android Central. You will receive a verification email shortly.
There was a problem. Please refresh the page and try again.