Common Galaxy S8 problems and how to fix them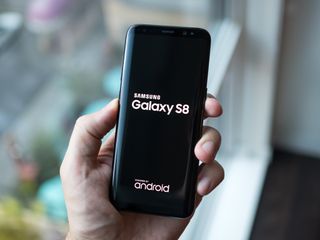 (Image credit: Android Central)
The Galaxy S8 and S8+ are great phones, but no device is perfect and there's a chance you may be having some issues with yours over time. Lower than expected battery life, performance issues, running out of storage, problems with radios and more can all affect the Galaxy S8 just as they do any other phone, but all of these issues have potential fixes.
While it's difficult to diagnose every problem you could be having with your Galaxy S8 or S8+, we've grouped together some of the most common issues and have some tips to help you fix them.
Bad battery life
No matter how good battery life is on a phone, people will always want more. Here are a handful of tips for making the most of the 3000 or 3500mAh battery you have to work with.
Use Power saving mode. Turning it on from the notification shade quick settings or the Device maintenance settings, the "mid" Power saving mode will reduce your screen resolution, lower brightness and stop apps from waking up in the background. You shouldn't use this mode all the time, but if you're low on charge it can be a life saver.
You can find battery-intensive apps by going to Device maintenance and tapping on Battery usage to see what's taken up the most power over the course of the day. If something's out of the ordinary, keep an eye on it and see if it continues to cause problems.
Uninstall unused apps, as they may be waking up in the background and using battery without your knowledge. If you haven't used an app in a while, there's no need to keep it around when it could be using up your battery.
It may look really cool, but you can save lots of battery by turning off Always On Display. Go to Settings, Lock screen and security and tap the toggle next to Always On Display. A compromise can be to limit the hours it runs (via these settings), rather than having it on the whole day.
More: How to fix Galaxy S8 battery life problems
Running out of storage
Samsung made a great move in putting 64GB of internal storage in the Galaxy S8 and S8+, meaning you have even more runway for using the phone without worrying about storage. Still, some people are going to hit that limit sooner or later. Here are some tips for cleaning up your internal storage:
Offload photos to a cloud management service like Google Photos. The service offers unlimited backup of slightly compressed high-quality uploads, plus 15GB of free full-quality backups. After the photos are uploaded, you can save space by removing them from your phone.
Use the Galaxy S8's built-in Device maintenance feature, found in the settings. Tap on Storage and see what it can offer to clean out — just be aware that it may clear some cached images and temporary files that will just have to be downloaded again when you use some apps.
Delete unused apps! You may have gone on a download spree when you first bought your phone, only to end up using 20 of the 200 apps you installed. Scroll through your apps and find a few that you don't use — long press the app icon and tap Uninstall to remove it from your phone. You can always download it again later.
Get an SD card, and start to store non-critical data like music, movies, photos and videos on the card. You can move some apps, but the best way to save on storage space is to move big media files first.
Problems unlocking the phone
One of the most contested changes about the Galaxy S8 and S8+ was moving the fingerprint sensor to the back of the phone next to the camera, and the cascading effect it created in making the phones difficult to reliably unlock. Here are a few tips for keeping your Galaxy S8 secure while also letting you quickly access it.
Re-train the fingerprint model. Chances are you hastily set up your Galaxy S8 at first, and maybe didn't spend enough time setting your finger on the sensor to get a proper read. Go into the fingerprint sensor settings and tap Edit to remove them, then tap Add fingerprint to start over.
Put a case on your phone. As weird as it sounds, putting a case on your Galaxy S8 gives definition and physical separation to the fingerprint sensor, making it easier to locate and more accurately place your finger on the sensor.
Turn on Iris scanning in the Lock screen and security settings. After registering your irises, be sure to turn on the "Iris unlock when screen turns on" setting to make sure the phone starts looking for your irises as soon as your screen is active. This can dramatically speed up the unlocking process.
Use Smart Lock, also found in the Lock screen and security settings. Smart Lock can keep your phone unlocked through a variety of methods, including when it detects you're at a trusted place or connected to a certain Bluetooth device (like a smartwatch). With these methods, so long as you unlock your phone every four hours it can stay unlocked via these methods.
More: Smart Lock on the S8: Everything you need to know
Home screen launcher isn't right for you
Samsung's launcher has really improved in the past few generations, but still may not be right for you. But fear not — you can change it, and there are many great launchers out there that are simpler, more feature packed, or just offer some customization options you can't get in the default launcher.
We have a list of the best Android launchers, but there are dozens out there that fill all sorts of needs. Start with our list, then head to the Play Store to search for "launcher" and find one you like. You can always switch launchers or go back to Samsung's at any time.
Read: The best Android launchers
Wi-Fi, Bluetooth and GPS problems
Dealing with wireless problems can be extremely frustrating, whether you're talking about Wi-Fi, Bluetooth or GPS. There are so many variables involved that it can be tough to tell whether the issue is on the phone's end or somewhere else. The basics of troubleshooting these issues are as follows:
Make sure you turn off Wi-Fi or Bluetooth, wait a few seconds and turn it back on. If that doesn't fix the problem, head to the next step.
Restart your phone. Sometimes all that's needed a quick kick to the reset button and you're good to go.
If Wi-Fi problems persist, try forgetting the network by long pressing on the network name and tapping Forget network. Then tap the network again to re-enter the password and re-connect.
If Bluetooth problems persist, try unpairing the device from your phone and re-pairing. To do that, tap on the cog icon next to the product's name and hit Unpair. Put the device you're connecting to in pairing mode and connect again.
If you're worried you may have tweaked settings inadvertently and want to start over, go to General management, Reset and then tap Reset network settings.
If the problems persist at this point, chances are they are related to something else in the chain, like the wireless router or Bluetooth accessory you're trying to use. Follow troubleshooting steps for those devices and start fresh.
Note: There appears to be a Bluetooth problem with some Galaxy S8 units that causes intermittent dropouts and skips on certain Bluetooth devices, particularly wireless headphones and car units. Samsung has said that it is looking into the issue but there is no known fix or scheduled software update at this time.
Wrong screen temperature/color
Initial reports of Galaxy S8s having very warm or red-tinted displays were wildly overblown, but that doesn't mean you have to stick with the display exactly as it came out of the box. To tweak how the display looks so it's closer to what you want, follow these steps:
Open the Settings.
Tap on Display.
Tap on Screen mode.
First, consider the four presets — adaptive, AMOLED cinema, AMOLED photo or basic — to see if one pleases your eyes.
Move the red, green and blue sliders until you see the right coloration of your display, and tap the back button to return.
You can also tap Restore in the top-right corner to go back to the defaults.
How to factory reset the Galaxy S8
Sometimes after lots of troubleshooting and work, you just can't find out what's causing your phone problems. When all else fails, it may be a good idea to just factory reset your phone and start fresh. Back up your important data, and perform these quick steps to reset your phone to the way it came out of the box:
Open the Settings.
Scroll down and tap General management.
Tap on Reset.
You'll also notice there are a few other options for just resetting settings or networking settings, which could be worth trying first.
Scroll down and tap the Reset button, then wait for the process to complete.
Other issues
What are your main issues with the Galaxy S8 or Galaxy S8+? We'll keep this article updated as new information becomes available!
Update July 2017: Article refreshed with the latest information to keep your Galaxy S8 or S8+ in tip-top shape.
Get the Android Central Newsletter
Instant access to breaking news, the hottest reviews, great deals and helpful tips.
Andrew was an Executive Editor, U.S. at Android Central between 2012 and 2020.
The Bluetooth issue, and the SDCard related re-boots have been very frustrating. Bluetooth: Worked fine for weeks, now I can't turn on Media Audio in my car (2015 Ford Fusion), only receive / take calls. I've unpaired, re-paired, cleared cache partition, cleared cache, re-started etc. Nothing works, and I cannot listen to podcasts, audio books or music through Bluetooth. Samsung has over 10 pages in their forum filled with others complaining about the same issue. SDCard: My phone kept randomly rebooting, or unmounting / mounting the SDCard, or asking me to transfer files everytime it restarted. Finally just took the SDCard out altogether, and it hasn't rebooted since. But still an issue I'd like them to acknowledge and fix, as I'd like to use external storage. Love my S8+, but still annoyed when basic things don't work as intended.

I had similar Bluetooth issues. It helped deleting the phone profile in the cars media centre and pairing again.

On all my other Samsung devices (all other phones up to the S8, plus my tablet) an event notification from google calendar will stay on the screen until you dismiss it, serving as a reminder. On the S8, it simply flashes on the screen for a few seconds and then disappears. The whole point of setting up notification reminders is to be reminded! I've already missed things since getting my S8 because of this.

Certain apps force close on me as I'm trying to launch them and may take 5 or 6 attempts to open. The big one for me is that Twitter still doesn't work right, particularly videos (where they will only play if autoplay is enabled). I also find that the phone takes its time reverting from lower quality video to higher quality e.g. on YouTube where quality is set to auto, the s6 always realised I have a good Internet speed and went for the highest definition video quite quick, whereas the s8 takes forever to do the same thing.

When talking with others on the phone the mic seems to cut out. The first S8 I had was really bad, I got a replacement (brand new) and even though it is not as bad it still happens. I was talking with a support tech yesterday about this and the mic cut out. He thought I hung up so he hung up on me. When using my Bluetooth headset the issue is not present.

I am having an issue where intermittently the camera throws an "unable to start" error and closes. It won't work again until I reboot the phone.

Double check to see if it's Snapchat. I've had the same issue where the camera would not open unless I force closed Snapchat.

i have not had any of these issues on my 8plus, and frankly the battery life has been awesome....better than what I'm used to from other devices...

i did notice in contacts an error when trying to edit a contact that closes the app though

Nice to see excuses provided in front of just about every issue addressed. LOL.

Yeah, I think I'm good without one.

The only issue I have been regularly having is sound from videos cutting out after a few seconds. There is a whole thread about it on Samsung's forums but no clear fix it reason why it is happening. As for everything else people are having problems with, I haven't encountered any of those.

I'm having an issue with my voice echoing back to me when on a call. It only happens when I'm talking to other Sprint customers (I'm on sprint) It happens with bluetooth ear piece, wired headphones, and the phone itself. I've done all the routine troubleshooting (update prl, wipe cache partition, factory reset) still no resolve. I dont believe it's a hardware issue because I have no problem talking to people with other carriers or on land lines. Any other ideas before I take the phone back for an exchange?

So we get an article a couple of days ago telling us how to move apps to the SD card, this one tells us "Some" apps can be moved to the SD card I agree with one of the other posters, Samsung needs to acknowledge the restart / SD card problem. The S8+ I had was my 5th Samsung phone but after 2 phones doing the same thing I returned it in hopes that maybe in a few months it would be fixed and I would buy it again. Each day that passes with nothing said from Samsung makes it less likely I will consider another Samsung.

Its an ANDROID issue, not a Samsung issue.

How much power does the Always On Display use? The article makes it seem like a battery hog, but I thought it was a low power feature.

I turned it off to see, and had no significant change in battery life. Always On does not seem to draw much power at all.

I tried using it with and without it enabled, I saw ZERO difference in battery life.

"Initial reports of Galaxy S8s having very warm or red-tinted displays were wildly overblown" yeah, i'm still looking at a red-tinted screen on my $850 phone here (and the steps you list don't "fix" it).
and it's not about it looking "closer to what YOU want," it's clearly an actual defect.
and i'm still waiting for a fix, if said fix will even resolve it.
and it's still annoying AF.

If it's a defect, why are you waiting for a fix? Do a warranty claim and replace it.

No issues here. Thank goodness!

Audio issues!! The audio on the phone cuts out after 2 secs. Done the developer options thing, disconnected Bluetooth from galaxy gear watch and still no joy. Anyone have any ideas?

try plugging in headphone and unplugging repeatedly...it might think there is a headphone connected, possibly due to debris in the jack...

Sorry guys but I refuse to buy a €900 phone and then try to solve problems...Thanks but No thanks

Thankfully none of these are a problem for me.

Having a build in device maintenance feature that the user can interact with, along with the ability to change the screen settings beyond brightness (and there are other phones that are doing this now, as well) are the best features shown here, IMO.

Since switching to the s8, I sometimes hear my voice echo back after a small delay when on the phone. My main issue however is after switching from the S7e to S8, Samsung Pay will not load any credit cards for me. Other than a complete factory reset of the phone, I've tried every suggestion I've read and even called Samsung Pay and noone can get it working for me, forcing me to go back to Android Pay.

I don't have any of these problems, I feel sorry for the people that do.

Don't, they bought the piece of crap in the first place.

Friends, My new Samsung Galaxy S8 Plus is just a week old now but getting severe Echo on the other end when made or received calls!!! I am with EE in the UK. When I call someone or I get call from someone, party at the other end is complaining that he/she getting their voice echo'd badly, but at the Galaxy S8+ end no issues perfect sound. I tried calls with speaker phone ON and Headphone connected - both cases no echo at the other end!!! Echo is there only when use mobile in the normal way!! Only other reference to this I have seen is below entry in XDA Dev forum, no solution yet!!! As I said when headset or speaker phone ON Galaxy, no echo at the other end. Also I could see when Speaker phone is switched off Echo gradually goes down though first 30 sec after speaker off echo is maximum. I removed cases and screen protector and tried same issue. Also tried with Voice over Wifi OFF - No difference. tried calls in different areas like place with good signal or bad signal every time same experience. But @ Galaxy S8+ end everything is perfect, No issue at all!!! Also called from land line and different phones from different networks, all have same problem - Echo at the other end!!

Best solution for all your Samsung problems, replace it with an HTC U11. Best phone of 2017.

No headphone jack no wireless charging no AMOLED display no SAMSUNG PAY no thank you...

No Always On Display either makes it a no go for me. HTC U11 isn't even the best phone now never mind 2017. There's a few more phones to be released this year that'll be better than it too

Yeah AOD display is a must. And the next best phone will be the NOTE 8!

Sales and actual reviews say otherwise. Missing Always on display, missing OLED, missing Samsung Pay, missing GearVR (which is pretty damn impressive), missing LTE Advanced support, the list is too damn long to recommend the U11 to any but HTC fans.

Your list is silly. Always on display is the first thing everyone should turn off if they care about longevity and battery life. LCD is better. plus its the right form factor. Android pay, i guess if you forgot how to use a wallet. Gear VR.. really.
How about a smooth lag free interface, easily unlockable, better audio, better camera, better battery life. Your list is just the only things a samsung fan can come up with because there isn't anything.

Nah you're wrong. Always On Display is one of the most important things to me on any phone. I'm not a blind fan of any phone and had Glance (Always On Display) on all my Lumia phones since about 2013, then on the Galaxy s7 and s8 as well as my LG G6. LG G6 has an LCD screen and LG still managed to make it work fantastically and barely affect battery. HTC are just stuck in the past still. It's battery wastage is barely noticeable. And using a wallet is your best come back to Samsung Pay? I've not used a wallet in years and barely carry cash at all these days, my phone and watch have that covered.

Thats great pay works for you.. but for someone who drives a car, they have to carry a license. Which means might as well have a place for cash and cards as well. And I don't care that people think i look cool or anything paying at a store. so pay is irrelevant unless you happen to live in a city where you can get by. As for the always on display, meh. Not my thing and it absolutely takes a toll on the battery on the g6. I have one. First option that gets turned off. With the galaxy's you get less battery hit, more screen burn in. Not a worthwhile trade for a misplaced fingerprint reader. So again, I'll enjoy a smooth lag free device, with better audio, better camera, and better battery life.

Get a phone call and no sound even though volumes are full and get a notification hours later. When on a call get told I sound distant. Factory reset it twice already, now waiting till October upgrade date

Should get it rma , doesn't sound right

Gonna see about sending it back

Moisture detected in charging port. When there isn't.

I haven't had a single issue with my S8 plus at all. It's the best phone for me to date no lag at all super fast.

Same here - zero issues :)
Both iris and fingerprint unlocking is working great. Took some time to get used to the on-screen buttons but now I like it.
I'm even considering sticking with the Samsung Experience instead of my usual launcher Nova, it's that good these days.

Are you using Touchwich launcher or a different one? When I use Google Now launcher, all the apps disappear from the app drawer. I looked in the forum and there are some people have the same issue, but none of the solutions have worked for me so far. Sticking with TW, then it runs great.

The most common problem is BACKORDER STATUS, how do we fix that?

I am starting to accept it is the universe giving us a sign - I don't like the arrogance Samsung has been displaying - like Samsung Pay but this is disrespectful

The main issue I have is that the accessibility mode keeps coming on and is a pain to take off. I can't figure out a way to permanently disable that mode.

if i am in 4g lte area, then move to a weak edge area for a few mins, then back to 4g lte...phone won't latch onto the better signal again... stays on edge until i reboot

Yes, please where is the device management setting mentioned in the 1st paragraph?

Is there anyway I can unlock my sprint Samsung galaxy s8 plus so I may use it with another carrier.??

I have problems receiving texts in 3rd party messaging apps. Mostly Android messages. This weekend after the T-Mobile update I stopped receiving texts. I switched to the stock app and all my messages were there waiting for me. I also had this problem when I 1st got my S8 at launch.

I had the same audio issues with phone calls, video chats, audio chats using various apps. I returned that unit and on my second unit now. On this one, my screen won't turn on no matter what (had 40%+ battery life and notification light was blinking). Had to do a soft reset (power+volume down).

Anyone have this problem and how to fix: Galaxy s8+ MESSAGE APP KEEPS CRASHING HOW DO I FIX THIS?