Best wireless chargers under $20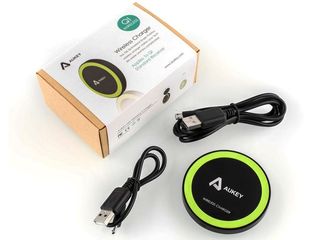 It wasn't uncommon to see ridiculous price tags on the newest OEM wireless chargers, especially after flagship devices started packing Qi-compatibility. Shortly after, however, aftermarket manufacturers stepped in — providing essentially the same convenient chargers — but at a fraction of the price.
This brief list of affordable wireless chargers will give you the sweet freedom from cables that most of us desire without breaking the bank. As with most wireless chargers, be mindful of the thickness of your case, if you're using one. Larger, rugged covers aren't always a sure-thing with these pads.
READ MORE: Best wireless chargers under $20
Aukey Wireless Charging Pad Station
Why you can trust Android Central Our expert reviewers spend hours testing and comparing products and services so you can choose the best for you. Find out more about how we test.
Perfect for anywhere around the home or office, Aukey's Wireless Charging Pad is the ideal size for a single device.
On top is an anti-slip ring that keeps your device stationary while charging, and a low-profile LED displays the charging status on the edge. This wireless charger is also designed with an energy efficient idle mode that prevents over charging. Although it doesn't come with an AC adapter, it does include both a short and long USB cable to accommodate any style desk. Currenly you can grab this wireless charger in either black or white for only $14.99.
Check out the Aukey Wireless Charging Pad
RAVPower Wireless Charging Pad
The RAVPower Wireless Charging Pad is pretty simple in design, but does a great job at charging Qi-compatible devices.
Unlike most other charging pads we've seen, this one features a built-in USB cable that connects to your computer or wall adapter (not included). It's got an anti-slip surface for the safety of your device along with a 1A output. There's also no LED on this pad, which may be suited better for those of us who can't sleep with a bright light at our bedside. You can scoop up the RAVPower Wireless Charging Pad for only $19.99.
Check out the RAVPower Wireless Charging Pad
PowerBot PB1020 Wireless Charger
The PowerBot PB1020 is one of the highest rated wireless charging pads available. It might have something to do with its compact size, affordable price and two sizes of USB cables included.
At only 2.5" in diameter and a half inch in thickness, the PB1020 features a charging LED to keep up on your device's status, along with rubber pads on both the top and bottom to keep your device and pad from sliding around. It includes both 1ft. and 5ft. USB cables — perfect for any setup. Priced at only $14.99, PowerBot's PB1020 is an excellent choice for anyone looking to try out wireless charging.
Get the Android Central Newsletter
Instant access to breaking news, the hottest reviews, great deals and helpful tips.