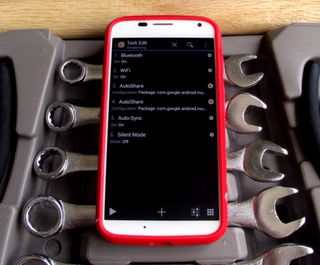 Tasker is a mighty powerful app in its own right, but I'll confess, one of its best features is the plugins that help it do even more than it could on its own. (The best feature is — and always will be — the wonderful support community that gathers around this app.) Plugins come in many sizes and shapes, but a few stand head and shoulders above the rest.
We've covered some of these before, and others will be making their first appearance. Without further ado, let's get automating!
AutoVoice
This is the king of Tasker plugins, at least to me and my Moto X. AutoVoice can intercept Google Now commands and use them to carry out Tasker tasks. For a phone with Touchless Controls, this means that even without going to the trouble of activating AutoVoice's own continuous listening, my phone is always ready to receive commands. I've highlighted this use for shinier, newer phones before, but AutoVoice is also love by the users of older, less endowed phones. This is what we'll focus on today.
I was using AutoVoice back on my old Captivate Glide to emulate some of the Google Now goodness that ICS phone would never get. I used it to turn on and off my personal driving mode, I used it for voice dialing my family, and it was awesome. Now, on phones without 'Ok Google' functionality, users rely on the AutoVoice Recognize shortcut. There are many ways of triggering this, with a traditional shortcut on the home screen, or a gesture control in launchers like Nova. On my old Samsung, I hid Recognize in the capacitive Search button as the long-press action. And once Recognize popped up to listen, I would give my cue.
After getting my cue, it would match it to the profile and task I desired and execute. More in-depth instructions for AutoVoice are in both Tasker advanced use and Tasker tips and tricks. There is a free light version, but when you upgrade, you can either buy the pro version outright for $1.63 or you can subscribe to AutoApps and get all of Joao Dias's Auto plugins (including AutoNotification, which I'll be recapping a little later) for $1.20 a month and support him as he endeavours to keep making awesome plugins for users like us. Remember, support your devs!
Free - AutoVoice
$1.20/month - AutoApps
Secure Settings
A had some users gripe about my not mentioning Secure Settings before, and so I'll rectify that now. Secure Settings is the Tasker plugin many users swear by, especially rooted users, but make no mistake, this plugin is still highly useful for users who aren't into system modification. Secure Settings, as you might have guessed, gives users more control over settings, security, and several other advanced functions in Tasker. Using this plugin, I've seen users create their own anti-theft systems, complete with taking pictures of anyone who puts in a bad password and an alarm if someone tries to walk off with it.
Secure Settings is also a plugin that can help Tasker do a few things that it just can't do on its own, such as rebooting a phone or turning on/off GPS. It can also disable the PIN/password, so it's used in many a Tasker-based lock-bypass system, such as unlocking when connected to home Wi-Fi. The actions here are divided into three sections: regular actions, root actions, and Device Administrator actions, and while some of the actions are accessible for free, and the pro-upgrade IAP is only $1.50.
Free, $1.50 IAP - Secure Settings
Tasker App Factory
Now, Tasker App Factory is a different type of plugin. It doesn't help Tasker accomplish more in its tasks or profiles, it simply turns tasks into standalone Tasker apps, which can be given to any other phone, even phones without Tasker. Tasker App Factory lets me make a quick task that I can then put on my mother's Moto X, or my friend's S3. Before AutoVoice got the Google Now integration — without root, anyways — this was the other method I used to get tasks triggered by voice. I exported them as separate apps, and then used the 'open XXXX' command. That's free and dirty method of that, by the way.
Free - Tasker App Factory
Bluetooth Auto Connect
This simple plugin may be one of the most valuable to me, simply because it is one of the only ways to switch between bluetooth connections via automation. I have one-action tasks using Bluetooth Auto Connect's plugin to disconnect from my bedroom bluetooth in order to hook up to the Bose speaker in the bathroom, and I have another button once I get out to reconnect to it once I get home.
You can also use Bluetooth AutoConnect to trigger modes upon connecting or diconnecting to a bluetooth device, allowing you to recreate the part of Moto Assist that triggers Driving mode based on your connection to the car's bluetooth. It's a simple plugin, and it comes at a simple price: free. If you're a heavy bluetooth users (like me) then this plugin is a great to keep in the Tasker toolbox.
Free - Bluetooth Auto Connect
Pushbullet
Pushbullet is a popular service that many of you know of already, it helps you push files and messages between devices, including iOS, Chrome, Windows, and coming soon to Macs. The Pushbullet plugin for Tasker lets you do fun things like forward texts to your tablet or computer and then you can push replies back the same way. Pushbullet can also push notifications to other people, such as when you get home or to work, and you can push notifications, to yourself or to other devices when a Tasker context is triggered. Nifty for folks that're moving from device to device all day, and even for those that aren't. Pushbullet is free and includes the plugin for Tasker. Pushbullet also works with IFTTT to do more with it once notifications arrive, and notifications are the focus of our last standout for Tasker plugins.
Free - Pushbullet
AutoNotification
AutoNotification is one of my more recent acquisitions, and while I got it for a very specific purpose, AutoNotification has much more to it than it seems. This plugin, also by Joao Dias and also available in AutoApps or standalone, can be used either to act based upon notifications, or it can be used in profiles and tasks to create intensely rich, expandable, actionable notifications.
My primary use for AutoNotification is the former, allowing Tasker to take advantage of the more energy-efficient mode-sensing in my Moto X yet still have more power modes triggered by it. When Driving kicks on in Moto Assist, a notification is created, triggering a profile in Tasker and executing my own Drive mode, as shown in Tasker advanced use. AutoNotification Intercept can crack up the media volume while a notification for Play Music is in your shade. It can allow you to automatically respond to texts hands-free while driving when combined with AutoVoice — y'know, for those not lucky enough to have Moto Assist. Like AutoVoice, there's a free version or test out, then you can either purchase the full version outright, or you can get it in AutoApps.
Free - AutoNotification
$1.20/month - AutoApps
So, which Tasker plugin do you use the most? Are you a Secure Settings master, or are you content with AutoVoice and Pushbullet? Share your favorite plugins — and the recipes that use them — in the comments.
Be an expert in 5 minutes
Get the latest news from Android Central, your trusted companion in the world of Android
Ara Wagoner was a staff writer at Android Central. She themes phones and pokes YouTube Music with a stick. When she's not writing about cases, Chromebooks, or customization, she's wandering around Walt Disney World. If you see her without headphones, RUN. You can follow her on Twitter at @arawagco.