Best Standalone VR Headsets in 2022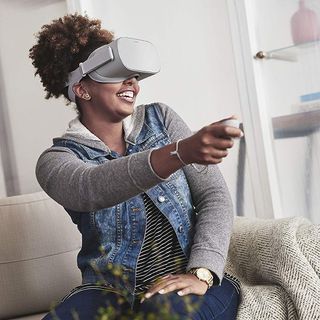 (Image credit: Oculus)
Standalone VR is very different from VR that connects to a console, PC, or mobile phone. Unlike those VR headsets, standalone VR requires only the headset and yourself to get started. There's no need to connect to anything else. Yes, you can buy a standalone VR headset, take it out of the box, and enter the world of virtual reality without having to set it up like you would a console-based VR headset. But which standalone VR headsets are the best?
Which standalone VR headset should you get?
Standalone VR headsets are slowly, but surely, getting more popular. However, each VR headset has something that makes them stand out. Some will be great for creatives; others will just be useful for when you're going away on a long trip and want something to do. Either way, the goal here is, of course, finding out which one works for you.
If you're a creative person, the Pico Goblin offers a Sandbox channel where you can not only create, but show off your talent to others. Unfortunately, you can't use it to watch Netflix or YouTube. If you want a headset with those capabilities, the Samsung Gear VR Standalone Headset or the Lenovo Mirage Solo headset not only offer a variety of games and TV, but you can view it all in 4K. If that's not a win, we don't know what is.
One of our favorite standalone VR headsets has to be the Oculus Go due to its high-quality capabilities, memory space, comfortable fit, and the inclusion of apps, games, as well as TV and movies, all for a reasonably low price. Of course, it's also hard to say no to a good bargain headset like the RtTech which offers plenty of what the other headsets can do, but at a price that won't break into your savings. The Oculus Quest is another great option if you're looking to spend a bit more money for a better product.
Android Central Newsletter
Get the best of Android Central in in your inbox, every day!
Thank you for signing up to Android Central. You will receive a verification email shortly.
There was a problem. Please refresh the page and try again.