Best rugged cases for the Galaxy S7 edge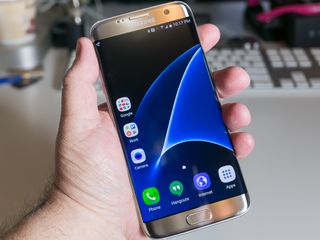 There are few worse feelings than the moment after you drop your phone, screen down. You gasp. Maybe you curse. You reach for it and hope you don't see spiderwebs when you flip that screen upward. And with an all-glass phone like the Galaxy S7 edge, there are two sides you could be breaking.
There's one really easy way to avoid this awful screen-shatter lottery — by protecting your new Galaxy S7 edge with a suitably rugged case. Here are a few of our top picks.
UAG Feather Light Composite
Why you can trust Android Central Our expert reviewers spend hours testing and comparing products and services so you can choose the best for you. Find out more about how we test.
UAG is known for making some of the best rugged cases you can get for your phone, and this lightweight option for the Galaxy S7 edge is exactly what you're looking for if you want rugged protection, while keeping your phone's slim profile mostly intact.
This case features a hard shell back plate with rubber running around the edge, with the lip around the screen providing a gap if you place it screen-down on a table. It also provides adequate drop protection that meets military drop test standards. It's rugged enough to keep your phone protected, while thin enough not to interfere with NFC functionality and wireless charging.
You still have full access to the volume and power buttons, along with ample cutouts around the charging and headphone ports, and it's also available in your choice of four stylish colors.
See at Amazon (opens in new tab)
Supcase Unicorn Beetle
The Unicorn Beetle for Galaxy S7 edge is a two-piece case designed to protect the front and back of your new phone. Its raised bezel means even if your phone drops face-first onto concrete, there is an extra layer of protection to stop the glass screen from impacting the hard ground directly. Even though the Bezel is raised, the case contours to the shape of the S7 edge so you can easily access the sides of your screen.
This case comes with a removable holster which can be rotated depending on how you want to wear the whole assembly. If features closable ports to access your charger and headphone jacks, covered side buttons, and openings for the microphones. And the backing of the phone is raised around the camera lens, protecting it from damage. The case is outlined with Impact resistant bumpers which fatten up the sides of the case to provide extra protection for corner-impacts. Even with the extra padding, this case still works well with wireless chargers.
The Unicorn Beetle for the Galaxy S7 edge provides extra protection for the parts of your phone most prone to dropping damage, without adding too much bulk to your S7 Edge's slim form.
See at Amazon (opens in new tab)
Spigen Rugged Armor
Spigen's Rugged Armor case for the Galaxy S7 edge is one of the thinnest cases you can get, while still being tough. The inside of the case is ridged with a unique pattern to help spread out the impact of drops over the whole phone's body, making it less likely to damage your screen. The corners of the case are designed with tiny air cushions to further protect the phone's most damage-prone points.
The case envelops the side buttons and leaves openings at the bottom for your charger, microphone and speaker. A carbon-fibre strip at the bottom of the phone is placed where your pinky finger would normally rest during texting, which makes it feel extra secure in your hands.
This case has been certified with Spigen's Military Grade drop testing, which means the case has protected an S7 Edge during a battery of shock, quality, and drop tests (26 drops to be exact). This is the least beefy in our list of rugged phones, but was designed to offer good protection in the sleekest possible form factor.
See at Amazon (opens in new tab)
i-Blason Prime
If you want your phone case to feel rugged, the i-Blason Prime is a great option. Its reinforced corners, raised bezel, and hardshell construction meet the expectations of a heavy-duty phone case. The rigid outer inclosure of this case is backed up by a double-enforced, shock-absorbing inner sleeve of silicone. Additional corner cushioning has been added to the phone's case which adds a bit of size, but also gives peace-of-mind in the event of corner-first drops.
The rear of the case has carbon-fiber panels, making the phone case easy to grip. You also can choose to holster the i-Blason to your belt or enjoy its kickstand feature if you want to rest the phone on a table while watching videos. Raised edges around the exposed ports at the bottom of your phone bring additional protection to another vulnerable area of the handset.
See at Amazon (opens in new tab)
E LV Armor Defender
E LV has a slim-form case with added protection features, right on the cusp of the standards for a rugged case. With a rigid outer lining and a flexible inner lining, the E LV case can help absorb some of the impact that comes with dropping your phone. Bottom cutouts are raised to give open access to your microphone, headphones jack, and charger. The corners of this case are built up to provide added protection against corner drops, and the buttons of the S7 edge are protected by the case's hard edges.
What's really unique about this case is its textured back. Reminiscent of the handlebars on your childhood bike, the back of this case is covered by fine, deep, ridges, which help provide great grip even if your hands are sweaty. Overall, this case is not as sturdy as beefier rivals on this list, however its textured back and built-out corners make it a less bulky option.
See at Amazon (opens in new tab)
OtterBox Symmetry
If the only name you trust in tough smartphone cases is OtterBox, the Symmetry is a great choice for a minimalist rugged case. Not as sturdy as the Defender line which is available for other phone models, the Symmetry maintains some important Otterbox features, but slims the case down so you can enjoy the thinness of your S7 edge.
The familiar dual-material body associated with Otterboxes is present in the symmetry with a rigid outer case and an impact-absorbing, soft inner case. With raised and beveled edges, you'll still have access to your S7 edge's most unique feature, while also being protected against drops and scrapes. Pushing your phone's buttons through the Symmetry case can be a little tough, but that's not a deal-breaker. It should be noted that the smooth back of the case makes it slippery in the hand and resting on surfaces, but if you insist on having an Otterbox case to protect your new phone, this is currently your best option.
See at Amazon (opens in new tab)
If you're looking for something a little daintier for your Galaxy S7 edge, then check out the best cases for the Galaxy S7 edge for more options.
How 'bout you?
If none of these suit your fancy, check out picks for best Galaxy S7 edge cases overall! Have a rugged case you love that's not on our list? Make sure to leave us a comment and tell us what kind of case it is and why you love it!
Besides the Otterbox, was the point of this to plug the plethora of Amazon sold cut rate cases? Incipio was where, Case Mate was where? Posted via the Android Central App

AC is all about ad and click-through revenue these days. There's no indication they did any kind of testing of these cases, or have the slightest bit of evidence these cases are better or worse than any others. But they get money every time someone clicks on the Amazon link and buys one.

I have a plethora of cases for my phone but I always come back to the Speck Candy Shell case. It's very protective, slim, and has the best grip out of any case. If I'm not rocking a case, I just slap a Dbrand skin on that b!+ch and call it a day. S7 edge/AC app

I agree,and tech21,although it's not quite as grippy. Posted via the Android Central App Incipio also makes great cases at a reasonable price.

I like that E LV case. That looks sweeeet!

The Supcase Unicorn Beetle is usually my go to rugged case. It's priced right and offers serious protection. I own one for just about every phone I own. I usually pull off the cover and install a tempered glass screen protector. That's not an option with the S7 Edge and even the S7, due to the curve. I've yet to find a great option for screen protection for the S7 Edge.

I went to a mall kiosk. Ghost Armor is the name. They put a screen protector on my Gear S and my S7e. Excellent fit. Posted via the Android Central App

Yes, but the protector you installed most likely is not tempered.

I'm sure that he is aware of that. Plus the tempered glass protectors for the S7 Edge all stink. I've had them and finally decided to go back to the film style such as the spigen curved crystal, and armorsuit.

I've got the Versus USA LLC
Galaxy S7 Edge Case, VRS Design Triple Mixx, in Shine Gold - Clear Cover, with Drop Protection and Slim Fit. It's a hard ridged clear plastic back (good grip)with a colored (gold) complete edge guard and black rubber around the front that is slightly raised protecting the front glass. It is slim, sturdy and looks nice too. I'm very happy with this case. My Spectacular Samsung Galaxy S7Edge

No mention of UAG? sent from my silver gs7 edge

It's the first item on this post...

I wish it was safe to enjoy your phone naked lol I mean I have a dBrand skin on my s7 Edge but that's not much protection. Posted via the Galaxy S7 Edge

I'm the same only using an XtremeSkins (UK) matte black skin on the back and running naked. I've got a Spigen Neo Hybrid case for when I need one though.

I got a Incipio Dualpro case for my Galaxy S7 last month and so far, I still find it to be an amazing case and amazing alternative to getting an Otterbox Commuter case as the Dualpro case is $10 cheaper and grippier than the Commuter case from Otterbox due to the matte finish all around on the outer layer of the Dualpro case. It's also slightly thinner too making it easier to hold the phone in one hand. I've accidentally dropped the phone on the floor from table height and the case and the phone have both held up really well. I also like how the case also has two layer protection, like the Otterbox Commuter case, but doesn't have a flap covering the headphone and charging ports and that's a huge positive because I have an Otterbox Commuter case for the iPhone 6 that I used to use and the flaps always felt like they were going to break off and it often felt like the flaps were getting in the way.

Got the Supcase for my dad for Christmas, he really likes it and it seems pretty durable.

For ten bucks on amazon the TOTU rugged thin fit is one of my favorites (I have 20 cases and growing). It's a 2 piece but the hard outer shell has a rubberized texture that feels great in hand. It's not too bulky (smaller than my Unicorn Beetle) and fit was perfect. For what I paid, I was pleasantly surprised.

I have the Pelican Protector for my S7 Edge and even though it doesn't come with a clip, it's an awesome case. This is my 3rd one (I had the Voyager on my Note 5 and a protector on my Note 7)

I've got about 20 cases for my S7E and I always go back to the Supcase Unicorn Beetle Pro. Odd name but a great case/holster combo. The case and holster combo are perfect for me.

The UAG case is one of the best. I just wish there was an easier way to add a tempered glass screen protector.
Android Central Newsletter
Thank you for signing up to Android Central. You will receive a verification email shortly.
There was a problem. Please refresh the page and try again.