Best Reddit apps for Android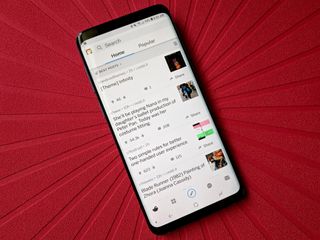 (Image credit: Android Central)
Reddit calls itself the front page of the internet, but it's a little more difficult than that to define to outsiders. It's part social media, part news, and a big part entertainment. There are scores of things you can learn on Reddit, and you can actively kill brain cells in some of the subs. In short, Reddit is many things to many people, but no matter how you perceive the platform, there are a lot of very different ways to actually see and use the service on Android.
For years, Reddit relied on third-party apps for its mobile users, not launching an official Reddit app until 2016. Since then, the race for best Reddit readers has definitely tightened up, and here are the leaders of the pack.
Reddit, the official app: First-party is finally best party
As we just mentioned, Reddit's official app is a relative newcomer to the Reddit Android app space, but in that time it's quickly won millions of users. Reddit's official app has over 10 million downloads, and while being the official app certainly gives it a boost in the marketing department, the Reddit app has more than earned its place as the only Reddit app on millions of users' phones.
Reddit's UI is clean, unencumbered, easy to get around in. The app features five tabs at the bottom, like YouTube or Spotify, and left to right they are: Home page, Subreddits, Post to Reddit, Reddit Chat, and Inbox. If you have a subreddit open in the Subreddit tab, you can quickly switch to Inbox to deal with a new comment and moderator message and then switch back to the subreddit without losing your place. Reddit also has a handy toggle at the top of the home page and every subreddit for you to switch between Card and Compact views, but unfortunately it reverts to your Settings-defined Default view every time you switch subreddits.
Reddit consistently gets notifications quicker than the third-party apps using the Reddit API. It was a minute ahead of some clients and 5-10 minutes ahead of others, but Reddit's notifications were always first, even with the notification check intervals turned up on other clients. Reddit has a night theme and AMOLED night theme for us dark souls, and the rest of its settings are blissfully short. That means there's not a ton of customization here that you'll find on other Reddit clients, but you can disable autoplay outside Wi-Fi to save data and turn on or off NSFW content if you dare.
If I have one flaw to the official Reddit app, it's that it doesn't have the "Fancy Pants" editor for text replies and posts that the Reddit website does, mean you'll need to remember how to format your post yourself. It's basic Markdown formatting, but for newer redditors, you might need to get yourself a cheat sheet.
Boost for Reddit - best for layout-switchers and comment-surfers
Think of Boost for Reddit as a Swiss Army knife compared to Reddit Official's switchblade. While Reddit Official is limited on settings and customization, just about anything you can think of is customizable in Boost. For instance, most Reddit apps have two or three views; Boost has 8: three Card view variants, two list views, two image-centric views, and a Swipe view, for those who want surf Reddit the way they surf Tinder. #SwipeRight
When browsing comments on a Reddit post, Boost allows you to collapse all threads to just the parent comment using the collapse all button within a Floating Action button menu. This allows you to see how each thread starts and how many children it has thanks a numeric badge next to the comment's karma. This is a fantastic tool for megathreads as well as subreddits like /r/WritingPrompts/ where you don't want to break up the entries. When replying to comments or posting a text post in Boost, the bottom bar of the window becomes a swipeable carousel of formatting, preview, and media options.
As I mentioned before, there seems to be an option in Boost for just about everything, and so it's little wonder that when you get into Boost's settings, you can get a little overwhelmed. There are 14 sections in Boost's settings, and while each section is aptly named and somewhat easy to navigate, it is a lot to take in. For power users, Boost's settings are a delight, you can get your link-handling preferences and media preview settings exactly the way you want to. If it's a bit too much for you, it's okay, there are other Reddit apps out there.
Boost for Reddit (Free, $2.49)
Bacon Reader - still sizzling after all these years
If you go looking for Reddit apps, or suggestions about Reddit apps, you will soon hear a sizzle. Bacon Reader is one of the best-known Reddit clients on the market, and has a long, long track record of success and support. It has a dedicated following, a very stable performance record, and while it has delicious, fatty Bacon its name, there is not an ounce of fat anywhere in this lithe Reddit app.
Bacon Reader's two layouts, list and card, are both fairly standard and easy to read, though card view shows fewer non-imgur/non-i.redd.it previews than the thumbnails on list view. When you open a post, be prepared to scroll, as BaconReader lacks a good thread-jumping feature in its comment views short of collapsing all threads. On that note, if you tap a comment, all its children are minimized, as opposed to requiring a long-press on most Reddit apps. In order to upvote, downvote, or reply a comment, you'll long-press the comment to the left to reveal the options.
Bacon Reader's settings are even more paired-down than Reddit's official app, and while the simplicity has a definitely appeal, the appeal of having gifs or videos only autoplay on Wi-Fi, the ability to toggle volume on for v.redd.it videos outweighs it. Also, while you can set a Font size in Appearance settings, it does not apply to the Settings menu, the main menu, or the reply window, so replying to comments can be a strain for those of us with inferior vision.
Relay for Reddit - best for media and AMA skimming
Relay for Reddit is a Reddit client with a slightly funky UI that absolutely zooms and will help you zip through megathreads and especially AMAs like a pro. Unlike most Reddit clients, it has not enabled a full-size Card view yet, but it is coming. While we don't have big, beautiful cards, you can tap the thumbnail to preview most images gifs and videos. Most non-YouTube video previews are muted by default, too. Relay's in-app browser also lets you flip between an article and the comments swiping the action bar up and down the screen.
That said, the real post-surfing magic comes into play with massive posts like Official Discussions and AMAs. If you tap a comment, all its children are minimized, even better and more compact than Bacon Reader, and to comment/vote, swipe left on it. When replying, the compose window is a lot like the Fancy Pants editor on Reddit's website, complete with automatic imgur uploading of photos for easy linking and attaching.
Then there's the Floating Action Button in a post. If you tap this button, you'll get three bubbles that slide out: Previous thread, Thread options, and Next Thread. Thread options allows you to see how many Comment Threads are in a post, highlight recent comments from a user-definable time range, search the comments for specific words, gilded comments, and comments by the original poster. Then there's also an IAMA Mode, which will take you to the comment above a reply by the original poster.
Relay for Reddit (Free, $2.99)
Your turn
What are you using for Reddit? Have you converted to the official app, or do you still rock a third-party client? Are you all-in on cards or do you still prefer the old-school lists? I'll confess that Relay has been what I seem to gravitate back to between my my updates of this article for about the two years, but what can I say? I'm a gif-lover, and being able to quickly collapse comment threads with a quick tap is more satisfying than the long-press.
Whatever you're using, we want to know! Tell us in the comments what you're using and why it is Reddit gold to your mind.
Updated May 2018: This article has been completely rewritten for a more in-depth evaluation of the Reddit apps chosen, and Reddit's official app has overtaken Relay for top billing.
Ara Wagoner was a staff writer at Android Central. She themes phones and pokes YouTube Music with a stick. When she's not writing about cases, Chromebooks, or customization, she's wandering around Walt Disney World. If you see her without headphones, RUN. You can follow her on Twitter at @arawagco.
The official reddit app is garbage. They don't even let you hide read posts (mandatory for me) and it's only a matter of time before they start spamming you with ads like Twitter or Instagram, if they haven't already.

Sync and Slide rounded out my top 6, but I had to draw the line somewhere. Sync's home page and subreddit layout feels cluttered next to Reddit and Boost. Slide's UI is an acquired taste, and misswipes happened a bit too often. That's why I drew the line after Relay.

Nope, it's trash compared to Boost, Slide, and Joey. I have no idea why people keep recommending it, unless they literally haven't tried the others I mentioned.

Sync is my favorite. In fact I went from boost to sync.

Do you recommend any other app? Just curious.

Slide is great if you dig the swipe interface, but it's not my style.

Check out Joey.
You're welcome.

Second for Joey. Found it a couple weeks back great app

The way Joey's Post layout and image style are totally unconnected is a bit odd to me, but it's certainly improving. It kinda feels as if Sync and Slide had a baby, but it still needs to grow to compete with them, y'know?

Just like all email apps look the same, once the industry finds an optimal app UI layout it tends to become standard. 3rd party Twitter apps aren't radically different, either.

Another for Joey. Sync for Reddit is also another great one.

Joey is the best free 3rd party option, but Sync is garbage.

What? Man sync is my favorite

Joey's biggest advantage is it's totally free. Unfortunately, it uses whole word matching for filters (LMAO, what?) which pretty much renders them useless. Also, it rapidly runs out of memory and has to reload a feed if you scroll down too far. So, let's say you're browsing your home feed and are probably 20 pages down. If you go to tap on someone's profile, go to said profile and then use the back button to get back to the feed, the home feed will reload from the top. Neither Boost, Slide, nor Relay have this obvious, terrible problem. Also Joey's dev doesn't seem too inclined to address any of those issues.

I like Boost for Reddit !!

I like boost, but if I can't seem to make it open reddit links and go to the actual post

Join the Beta channel if you haven't already; I think the Android Reddit URL link handling bug has been fixed

Boost is the best 3rd party app by far.

I am part of the Boost brethren.

Same here. Had a bit of a rough start but I revisited a while back and found it to be the best.

What I don't like with this official app is that permanent bar you can't hide at the bottom. I like my apps full screen, that way the app kind of disappears leaving me with just the content.

The entire point of the official app is to show ads, not content, LOL. That said, it's the only way to get chat or realtime notifications, so hey.

This used to be my favorite before I discovered Slide, and then Boost.

Sidebar is a must for me, and it's real easy to get to on Relay.

Sync Developer and Relay for me.

No love for Reddit is Fun?

Another RIF user here. Love the swipe from left edge to right to open my list of subreddit.

Nah, can't still be rocking a 2010 UI in 2018. That entire app needs to be rewritten from top to bottom.

Fun fact: when I was starting to narrow down apps this go-around, reddit is fun was the first one to annoy me enough to uninstall. rif is old-school, but a little too old-school sometimes.

Since only the official app can support chat and (1st party) push notifications, I don't rank it because it's not a fair comparison. Here's my 3rd party app ranking: 1) Boost: literally every feature you can imagine. Top notch memory management; you can literally browse a feed for hours without losing your place. Album view is unmatched.
2) Slide: my former #1. Sadly, doesn't support new Reddit profile features like "Follow."
3) Joey: best free option. Marred by terrible memory management and the dumbest filter keyword implementation imaginable. It's as if the dev has no idea how filters are actually supposed to work.
4) Relay: a good option if you don't care about viewing pics and media, as it somehow lacks a gallery view mode, which is pretty egregious for a paid app. None of the rest are worth anything. Sync: Extremely overrated. Lacks gallery view. Don't spend your hard earned money on this.
RIF: Outdated AF. No idea why people still use this.
BaconReader: Even worse memory management than Joey. At least Joey chokes on media-heavy feeds. BR chokes on any kind of extended browsing session.

Actually, I rather like using Relay for media. I don't want every image and gif full-size and autoplaying. On subs like /r/animegifs things get kind of weird sometimes....... Gallery mode is nice on some subs, but it tends to slow my browsing down and it looks awkward when it comes to text-only posts in places like the Front page. It makes Reddit feel more like Pinterest, which makes me want to run away before someone pulls out some wedding plans.

Since everyone keeps saying RiF is dated, I'm checking it out. I abhor Material Design.

I'm surprised no one mentioned RedReader. I have been using it for over a year, and still nothing comes close to it. It is free, open source with no ads, lightweight and fast.

I've tried them all. Sync is my favourite. There's always that risk once you spend money on a product you want to protect that investment, but I'd drop it in a heartbeat if I preferred another. It's pretty obvious from this discussion it's a highly subjective experience.

Sync is my favorite too but I go between sync and boost
Android Central Newsletter
Get the best of Android Central in in your inbox, every day!
Thank you for signing up to Android Central. You will receive a verification email shortly.
There was a problem. Please refresh the page and try again.