Best cell phone plans for seniors 2023
If you're over 55, these are the best plans for you.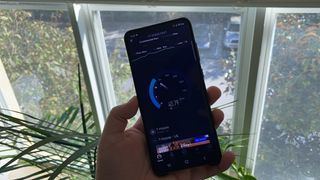 (Image credit: Samuel Contreras / Android Central)
The best phone plans for seniors look a lot like the best phone plans in general. With all three of the major carriers offering coverage for the majority of people, the most important aspect for most seniors is finding a plan that fits their needs. With all things considered, T-Mobile's Essentials Unlimited 55 plan has everything most people need for a reasonable price, including unlimited talk, text, and data on up to two lines.
Mint Mobile 55+
Best for less tech-savvy seniors
Reasons to buy
+
Unlimited talk and text, plus 5G/4G LTE with all plans
+
Free calls to Mexico and Canada
+
Regular deals can make plans significantly cheaper
+
Full service activation at no additional cost
Reasons to avoid
-
480p streaming limit
-
You must buy in 3, 6, or 12-month increments
-
Unlimited plan slows at 35GB
If you're interested in going the prepaid route, Mint Mobile might be the carrier for you. They recently launched a 55-and-up plan that starts at $15 per month and comes with 5G/4G LTE data, excellent coverage by T-Mobile, free calls to Mexico and Canada, and perhaps most importantly, full-service activation by a MINTech Advisor. These customer support specialists are trained to handle all of the setup for you, plus they'll stick around to answer any questions you might have about your new service, ways to save money, and so on. All you need to do is call 833-655-1768 to get started.
Mint Mobile works by offering service in three, six, or 12-month chunks of time, with plans that start at $15 per month for 4GB of data ($45 for three months). The nice thing is you'll save money the more time you buy, and Mint regularly offers deals that could help you save a ton of cash on your wireless service.
All Mint Mobile plans come with unlimited talk and text, 5G/4G LTE data, and a free mobile hotspot. Transferring your number is easy, plus you'll get a 7-day free trial that lets you try the carrier without interfering with your existing wireless service. Unfortunately, Mint Mobile doesn't have any retail stores, but with the presence of MINTech Advisors, you'll always have a dedicated support team of real humans at your beck and call.
Visible
Best bang for the buck
Reasons to buy
+
Unlimited everything with no caps
+
Mobile hotspot usage is free
+
Based on the massive Verizon network
+
You can upgrade to Visible Plus whenever you'd like
Reasons to avoid
-
Limited phone options
-
Signing up can be complex for the less tech-savvy user
-
No retail locations
Visible redefines simple with just one plan and no limits. Well, no limits as long as you have a modern phone and only need to use it in the United States. Built on Verizon's network, Visible is a prepaid carrier with a single $30 unlimited plan including talk, text, and high-speed data. While many carriers will say unlimited with a hard cap on high-speed data, Visible does not. If you use an excessive amount of data, your connection could be made a lower priority on a crowded tower, but it isn't specifically slowed.
Visible also includes unlimited hotspot data, though limited to just 5Mbps, for your tablet or laptop when you're on the go. This can be great if you are on a road trip and want to browse the web on a large screen or just want the peace of mind of a backup internet connection. Though Visible is based on the Verizon network, phone compatibility is limited to a specific set of Android phones and most newer iPhones. You can bring just about any iPhone after the 6 to the carrier as well as the most popular Android devices like the Galaxy S22 series. If you're ready for a new phone, Visible has a solid selection available on its web store. However, Visible has no physical store locations. So if you aren't comfortable managing your account online, it may not be a great choice.
Although they've ditched their popular Party Pay option, Visible recently launched the Visible Plus plan for $45 per month. This new option comes with 5G Ultra Wideband, Premium Network Data, and some new international service options, presenting a great opportunity for subscribers who choose to upgrade their service.
Cricket Wireless 5GB
A simple solution
Reasons to buy
+
Unlimited talk and text
+
No data overages
+
Works with most phones
+
Physical stores for purchase and support
Reasons to avoid
-
Only the most expensive plan has hotspot data
Prepaid has a lot of appeal for those who don't want to participate in any credit check or don't want to be on the hook for a service they don't use. Cricket has a solid range of plans ranging all the way up to unlimited data with mobile hotspot data, but for many people, the 5GB plan is quite enough and comes in at a great price. Not only that, it includes unlimited talk, and text (including picture mail) so you don't need to think about minutes, local or long distance.
The 5GB plan starts at $30 per month and comes with 5GB of high-speed data with speeds slowed to 2G if all of the data is used during the billing period. This slow data won't be good for streaming or browsing but will let you send and receive Facebook messages and emails if you're a bit patient. If you find that you go over your data frequently and want more of it, the 10GB plan is $10 per month more, and if you're willing to sign up with autopay, your bill comes down to $35 per month.
Cricket doesn't offer specific senior discounts, but its simple structure makes it an easy choice either way. Another good thing about Cricket is that it has stores all over the country, so if you need help with your device or service, you can talk to someone in person. Cricket is owned by AT&T, one of the oldest names in communication, and works with that network. That means that pretty much any unlocked phone will work, including flip phones, Androids, and iPhones.
If you find you need to contact Cricket, you can chat online or in-store. If you want to call, Cricket customer support is available at 800-274-2538.
Ting Flex
Best value
Reasons to buy
+
Very cheap basic plan
+
Easy to add more data
+
Larger plans are available if needed
+
Full access to LTE and 5G
Reasons to avoid
-
No physical support locations
-
No multi-line discounts
If you're looking for simple and cheap, Ting is the first name that should come to mind. Ting keeps things simple with an entry-level Flex plan starting with unlimited talk and text for $10 per month. If you need data, that's $5 per gigabyte. Ting uses T-Mobile's network and has access to its full 4G LTE and 5G network so you get great coverage in the areas T-Mobile covers. That also means that Ting is compatible with the same wide range of phones as T-Mobile.
Ting's value doesn't scale as well to larger data plans. If you need 5GB or less, Ting is a good choice. But for larger plans, getting an unlimited deal from T-Mobile or Visible below will work out better. Still, it's nice to have the option in case you want to add more lines to your account with greater needs.
One thing to keep in mind about Ting is that it doesn't operate physical store locations. If you need support, you can chat with a representative and any time from your phone or a computer, but you will need to be a bit more confident with your equipment. Still, if you can get over this hurdle or have someone that can help you, the saving can be immense.
Ting Mobile allows you to set up an account online or by phone at 855-999-7266. You can contact support at 855-846-4389.
US Mobile
Best for families
Reasons to buy
+
Great multi-line savings
+
Coverage on Verizon or T-Mobile
+
Subscription services are included with a family plan
+
International service and calling are available
Reasons to avoid
-
You can only add unlimited plans to a multi-line account
-
The unique structure can be confusing for users
If you need to bring three or four lines of service to your plan, US Mobile is a great option. With coverage available on the Verizon LTE network or T-Mobile network, you're more than likely covered regardless of your phone. US Mobile allows you to customize a plan if you're alone only to get what you absolutely need, with the option to upgrade to unlimited.
US Mobile's family plans make a lot of sense for a lot of families because you can save on unlimited service with high-speed data. The second line you add to your account gets a $10 discount, while lines three and four are $20 less than the first line. US Mobile used to speed limit its unlimited plans, but has since removed that restriction.
US Mobile also will include a subscription to a streaming service like Netflix, Disney Plus, Spotify, or even PlayStation Plus with three lines. If you add a fourth, you can add another subscription. US Mobile makes it easy to get a ton of value with a lot of lines connected.
If you need to call US Mobile customer support, that number is 878-205-0088.
T-Mobile Essentials 55+
Best premium plan for seniors
Reasons to buy
+
Unlimited talk, text, and data
+
5G access is included
+
Unlimited 3G hotspot
+
Discounts for two lines
+
Dedicated customer service, including physical stores
Reasons to avoid
-
Plans are a bit more expensive than prepaid options
-
T-Mobile coverage isn't as good for rural customers
T-Mobile has a few distinct advantages for seniors. First of all, there are T-Mobile stores all over the country, so you can talk to an actual human being to set up your phone and service. The next is that it offers a discount for customers 55 and over and has the wisdom not to make customers refer to themselves as seniors if they don't want to.
T-Mobile has three tiers of plans available to 55 and older customers starting with the Essentials Unlimited 55 plan. As the name would suggest, it comes with all of the basics like unlimited talk, text, and data, so you don't need to worry about going over. You also get access to T-Mobile's ScamShield service, designed to identify and eliminate annoying scam calls before they reach your phone. All plans include access to 5G data as well.
If you need two lines, it only costs $55 per month and includes all of the same features. You can also upgrade to the Magenta or Magenta MAX, which simplifies things a bit with taxes and fees included in the sticker price, and upgrading some features like a mobile hotspot with high-speed data over 3G speed included with the base plan. Magenta Plus also includes Netflix service as well as unlimited in-flight Wi-Fi if you travel frequently.
Just about any unlocked Android phone will work on T-Mobile's network, whether it's a simple flip phone, a super-powered flagship device, or even an iPhone. If you want 5G, you'll need a compatible phone but don't worry if you don't, T-Mobile has a reliable 3G and 4G LTE network to fall back on.
The best way to sign up is online or in a T-Mobile store, but if you want to call T-Mobile, customer service can be reached at 1-800-T-MOBILE.
Which senior cell phone plan is right for you?
Why you can trust Android Central Our expert reviewers spend hours testing and comparing products and services so you can choose the best for you. Find out more about how we test.
As with all cell phone plans, choosing the best one for seniors is going to depend on your needs as an individual. One thing to keep in mind is that if you already have AT&T, T-Mobile, or Verizon, you can already get access to each of their unlimited 55+ plans. Though they only support up to two lines, you can save some money compared to the standard unlimited plans. If you already have one of the best Android phones, you can save a lot of money with a prepaid carrier.
Offering excellent coverage and the aid of specially-trained MINTech Advisors (who activate your service for you), Mint Mobile's 55+ plan might be the best option for most seniors. Not totally sold on the carrier? You can always try out the service for one week at no cost to you and zero risk with the Mint Mobile free trial. Unfortunately, you can't redeem Mint's 55-and-older offer online, but you can call 833-655-1768 any time to learn more.
Get the Android Central Newsletter
Instant access to breaking news, the hottest reviews, great deals and helpful tips.
When Samuel is not writing about networking or 5G at Android Central, he spends most of his time researching computer components and obsessing over what CPU goes into the ultimate Windows 98 computer. It's the Pentium 3.