Best cases for Moto Z Force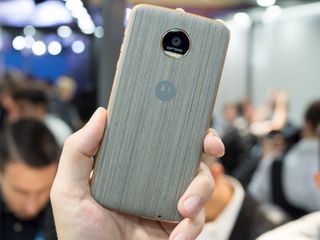 The Moto Z Force Droid Edition was just recently released, but that's not going to stop you from getting a case that's perfect for your new phone. And it needs a case; the Moto Z Force is less than 7mm thick and it's on the slippery side. A good case, paired with the Moto ShatterShield that's exclusive to the Moto Z Force, will keep your phone safe and ding-free for a long time. We'll update our list once the phone's been in your hands for a little while, but for now, we have some excellent contenders for best cases.
Moto Style Shell
Why you can trust Android Central Our expert reviewers spend hours testing and comparing products and services so you can choose the best for you. Find out more about how we test.
The Moto Style Shell is a magnetic attachment, just like the Moto Mods, that snaps onto the back of your Moto Z Force. They're an easy add-on to your pre-order and they range in price from roughly $20 to $25.
These shells come in fabric, wood, and leather options that add a little extra texture to the back of your phone, and they offer some protection for the raised camera edges. They also help to keep fingerprints and other gunk off of your nice new hardware, and dissipate the heat that has been known to radiate from the back of the Moto Z Force.
The downfall of the Moto Style Shell is that none of the shells wrap around the edges of the phone, they only protect the back. The ShatterShield will do its part to protect the Moto Z Force from drops and bumps, but you may want some extra protection for the rest of the body. Nonetheless, these shells do offer a unique look for your Moto Z Force and won't add any bulk to the slim frame.
PLESON ultra slim crystal clear case
To show off the hardware of your Moto Z Force, a clear case is the perfect choice. This is especially true if you decided to go for the white and fine gold or black and rose gold combinations that are just too beautiful to hide.
The PLESON ultra slim crystal clear case is ideal for keeping the phone's slim profile while adding on some grip and drop protection. The soft TPU bumper offers raised edges and corner protection to keep the screen and camera extra safe when you're having a busy day or a clumsy moment, and the precise cutouts don't sacrifice ports or button usage.
The clear case from PLESON is also anti-watermark and anti-fingerprint so you won't get that foggy, muddied look on your case over time.
LK ultra scratch resistant protective case
Add a touch of something formal or fanciful to your Moto Z Force with a scratch resistant case from LK. The five color varieties are on the inexpensive side; grab more than one and have a case that matches every occasion! The solid black version pictured here goes with everything.
The smooth, flexible TPU case easily snaps on and off when you're looking to pop on one of the Moto Mods. The button covers (rather than cutouts) are responsive and provide some extra protection against daily dust and dirt. The non-slip TPU won't let your phone go sliding off of an uneven surface, either.
LK's protective case also resists stains and marks that are bound to happen during your day or night, so it'll last you for as long as you need it.
Cimo shockproof heavy duty case
Planning on being a little hard on your brand new Moto Z Force? Whether it's a rough commute or you just plan on being outdoorsy and unpredictable, the Cimo shockproof heavy duty case should be in your case repertoire.
The dual layer shock and drop protection is paired with a textured back surface that provides lots of extra grip without adding a ton of weight and bulk to the phone; just enough for some added padding. Unlike a lot of cases, Cimo's offers a cutout for the back speakers so sound won't be compromised a bit during those spontaneous dance parties you're always throwing (or is that just us?). The raised bezels front and back protect the screen and the camera to boot.
For a more rugged and sporty look for your Moto Z Force, Cimo is a great pick. You can also grab it in seven different colors, like the armor gray pictured here.
LK luxury wallet flip case
You usually grab your phone and your wallet when you head out the door, right? Get a case for your Moto Z Force that carries the phone, some cash, and three credit cards with the LK luxury wallet flip case. The synthetic leather comes in five colors, from the sleek and subtle black to the vibrant sky blue pictured here. The magnetic closure is secure and the TPU inner shell is shock resistant, covering the edges and corners of the Moto Z Force.
LK's wallet case also folds into a sturdy kickstand for hands-free operating. You'll still have access to all the buttons and ports, including your camera, without removing your phone.
Which one's for you?
Which case do you have ready and waiting for your new Moto Z Force? Shout it out in the comments below.
Get the Android Central Newsletter
Instant access to breaking news, the hottest reviews, great deals and helpful tips.