Best mobile plan add-ons for international travel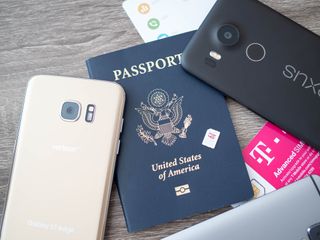 With summer just around the corner, you've likely finalized your travel plans before you set for a summer vacation.
If your travels are going to take you out of the U.S., you'll want to know your carrier's international roaming plans and policies before you accidentally rack up a massive bill. We've broken everything down in terms of the Big Four carriers.
This article is limited to comparisons of the Big Four U.S. carriers, which comprise the majority of cellphone subscribers in the U.S. For information about Project Fi and how it compares to the Big Four in terms of roaming, check out our dedicated roaming portal.
AT&T
AT&T offers plenty of great options for traveling throughout North America and internationally as well. There are two separate options for the Americans and crossing the ocean.
For travel to Canada and Mexico
If you're planning a trip to Canada or Mexico, AT&T gives you unlimited talk and text along with access to your plan data with no roaming charges. This unlimited roaming within North America is a feature included with all AT&T Unlimited Plus and AT&T Unlimited Choice plans, but you may be able to add it to other plan types before you embark on your trip.
Learn more (opens in new tab)
For overseas travel
If you travel plans will see you leaving the shores of North America, AT&T has a few different plans for international plans that are worth your consideration
Your best bet is probably the AT&T International Day Pass. For just $10 a day, you'll be able to take your domestic talk, text, and data plan to over 100 countries, including unlimited calls within any qualifying country. You're only charged for days you make a call, send a text, or use data — which means you'll want to be aware of any and all apps that use data in the background.
Either prepare to pay $10 to enjoy the full features of all your apps, or spend some time turning off background data updates on your phone so you don't get dinged.
Learn more (opens in new tab)
Not looking to piecemeal your mobile plan together as you travel? Then you'll want to consider the AT&T Passport, which allows you to pay up front for 30 days of service in over 200 countries. You pay a flat fee per device that gives you unlimited texting (both SMS and MMS), unlimited Wi-Fi access at participating hotspots, and then tiered data amounts and cost per minute of talk based on the pricing plan you go with:
$40 for $1.00 per minute to any country and 200MB of data ($0.25 per MB for overage)
$60 for $0.50 per minute to any country and 300MB of data ($0.20 per MB for overage)
$120 for $0.35 per minute to any country and 800MB of data ($0.15 per MB for overage)
Obviously, the same advice applies regarding apps that use data in the background, but if you're planning to use texting as your primary way of communicating with your friends and family back home, it's a great option.
If you end up traveling without an international travel plan, you'll have to abide by AT&T's pay-per-use rates (opens in new tab) which differ depending on the countries you're visiting.
Learn more (opens in new tab)
As previously mentioned, AT&T offers Unlimited Wi-Fi in select countries. You'll need the AT&T Global Wi-Fi app (opens in new tab), however, we wouldn't recommend you plan your travel data solely around this service — the most recent app reviews in the Google Play Store claim the app doesn't work as advertised, and the latest app update came back in January 2017.
Learn more (opens in new tab)
Sprint
Sprint offers Global Roaming for all its LTE/GSM capable phones, which offers free texting and free data (at 2G speeds) in over 100 countries. Calls are available for a flat rate of $0.20 per minute.
For your high-speed data needs, Sprint offers data passes that give you up to 4G speeds — get a 1-day speed data pass for $5, or a 7-day data pass for only $25. Which pass you go with will depend on the length of your stay — if it's a short trip five days or under, you may be better off sticking with day passes as needed, but the choice is yours. There's no need to decide before you travel, as you're able to opt in or out of high-speed data at any time while traveling.
For travel to Canada and Mexico
If you're traveling to Canada or Mexico you get the same free texting and free 2G data, but a discounted rate on the 4G data passes — available for just $2 a day or $10 a week. Just another reason to consider visiting our neighbors to the north and south.
For overseas travel
Sprint customers are best off going to Sprint's International Roaming calculator, which asks you where you're going and which device you plan to travel with and then the site gives you a breakdown of the available coverage in the area along with available data speeds.
Most international destinations qualify for the $5 a day/$25 a week high-speed data passes, though China's rates are doubled to $10 a day and $50 a week.
T-Mobile
T-Mobile is generally good about offering some form of free roaming to its customers, whether they're in Canada or Mexico, or further abroad.
For travel to Canada and Mexico
Customers on T-Mobile ONE or Simple Choice North America plans get free, unlimited calls, texts and data while traveling in Canada or Mexico. Calls and texts can be made back to the U.S. or within the country they're visiting. Data speeds while in Canada or Mexico are limited to 128kbps on T-Mobile ONE or, for $5 more per month, speeds can be increased to 256kbps on T-Mobile ONE Plus. Higher speeds can be obtained using an On-Demand Data Pass (opens in new tab).
T-Mobile also offers Mexico + Canada Unlimited, which lets you use your 4G LTE data while in Mexico and Canada just like you do in the U.S., a feature that's available for just $5 a month on T-Mobile ONE Prepaid plans (opens in new tab).
For overseas travel
If you're traveling abroad, you may want to consider the T-Mobile ONE Plus International add-on to your T-Mobile ONE plan for just $25 a month. Doing so gives you unlimited international calling to landlines in over 70 countries and mobile numbers in over 30, and unlimited in-flight Wi-Fi on Gogo-enabled flights (although the Gogo option is added on the regular One Plus plan, which is an additional $5 per month).
Find out T-Mobile's international calling rates or for specific coverage and rate information for the countries you're visiting, click the link below.
Learn more (opens in new tab)
Verizon
Verizon was one of the first carriers to offer a TravelPass that lets you take your domestic talk, text and data allowances with you wherever you're traveling for a daily fee.
For travel to Canada and Mexico
TravelPasses for Canada and Mexico are only $5 a day per device, and allow you to bring your talk, text and data allotments with you as you go. If you're on the Verizon Unlimited plan, Mexico and Canada coverage is included without needing to pay any extra fees.
For overseas travel
Verizon offers TravelPasses for $10 a day, that allow you to take your domestic Verizon plan with you to over 100 different countries (opens in new tab). You're only charged on the days you use your device abroad, so you'll want to be sure to turn off any app features that use background data.
Learn more (opens in new tab)
Which should you get?
Every carrier approaches roaming differently, and some are more generous than others when it comes to including roaming privileges in regular plans.
If you're looking for simplicity, go with Verizon. The company makes it super easy and straightforward to add international roaming if you're on an older postpaid plan, and if you're on a new unlimited plan, it's included if you're traveling to Canada or Mexico.
If you never want to pay a cent extra for roaming, go with T-Mobile. On a T-Mobile ONE plan, roaming is included practically anywhere in the world, albeit at slower speeds. Still, if you just want to connect to the internet, you can't go wrong with T-Mobile.
Your turn!
What are your picks for the best carrier for international roaming? Let us know in the comments below!
Marc Lagace was an Apps and Games Editor at Android Central between 2016 and 2020. You can reach out to him on Twitter [@spacelagace.
Yet another reason I absolutely love Project Fi.

Project Fi wins by a mile, and it's not even mentioned.

Others noted it, but not even mentioning Project-Fi on an Android site seems a bit of an oversight. I haven't had the opportunity to travel myself, but reports from friends and on blogs indicate it is like being at home, no $/day extra, good coverage. You just use your phone like normal. It is limited to certain phones of course, but it makes those phones even more desirable IMHO.

Why wasn't Project Fi not even mentioned in the article. The purpose of informing your audience is to let them know all the options out there.

Anyone on the L, 12 GB, or XL Verizon plans gets free roaming in Canada and Mexico.

It would seem that there is some bias in even mentioning Verizon... You want SIMPLE? Do nothing because you are on T-Mobile. Or, almost as simple, do nothing while on Project Fi and know that you will be only be charged fairly for what you use.

Well, yes, but few people will want to change their carrier just because of international plans, unless they do lots of traveling. For everyone else, it's nice to know what your options are.

Anyone with T-Mobile One doesn't need to add anything to roam in or call Canada and Mexico for free.

Wow the article has everything wrong regarding T-Mobile :(

T-Mobile has the most confusing plans with international service varying widely depending on what plan you have. If you don't need your US phone number, you can often save a lot by buying a pre-paid SIM card in the foreign country. On our last trip to Asia we paid around $10/week for GSM SIM cards with 1GB (per week) of LTE data. They were easy to install and worked great. Some foreign pre-paid SIM cards are available on Amazon if you want to get them in advance. Otherwise, they are easily available at convenience stores and cell phone stores in the foreign country.
Android Central Newsletter
Get the best of Android Central in in your inbox, every day!
Thank you for signing up to Android Central. You will receive a verification email shortly.
There was a problem. Please refresh the page and try again.