Best Google Pixel 5a screen protectors 2023
Keep your Pixel 5a's OLED screen in top condition
While it's no longer listed on Google's online store, you can still purchase the Pixel 5a from third-party retailers like Amazon at very attractive prices. The feature-packed smartphone comes with goodies such as a Qualcomm Snapdragon 765G SoC, an amazing dual-lens rear camera setup, and a 6.34-inch OLED panel with full HDR support. But even though that display is secured by Gorilla Glass 3, we still suggest getting one of these best Pixel 5a screen protectors to keep it looking great.
Here are some of the best Pixel 5a screen protectors
Why you can trust Android Central Our expert reviewers spend hours testing and comparing products and services so you can choose the best for you. Find out more about how we test.
Ferilinso Screen and Camera Lens Protector (3+2 Pack)
Staff pick
Perfectly compatible with Google Pixel 5a, this set of tempered glass protective films does a great job of shielding your device's screen and rear camera array from scuffs and scratches. The 9H hardness level ensures maximum protection against falls and other kinds of impact without messing up touch sensitivity and clarity. The camera lens protector comes with a hole for the LED flash, so photo quality isn't affected either.
Supershieldz High-Definition PET Clear Shield (6 Pack)
Simple but effective
If you're not a fan of hard tempered glass screen protectors, we suggest this combo pack of PET films from Supershieldz. As the name suggests, they are made with Polyethylene Terephthalate and provide enhanced protection without bulking up your Pixel 5a's screen. The high-quality Japanese PET films are quite easy to install and leave no residue at all when removed. You get a total of six films in this package.
LK Screen and Camera Lens Protector (2+2 Pack)
Hassle-free installation
Reliable and effective, this combo pack of protective film is one of the best accessories for your Pixel 5a. It consists of two screen protectors and two camera lens protectors, all of which are made from tempered glass. The included frame makes the installation process extremely easy, without any bubbles. You also get enhanced screen clarity and better touch response.
Supershieldz Tempered Glass Screen Protector (3 Pack)
Tough and clear
With a hardness rating of 9H, these premium tempered glass screen protectors can protect the Google Pixel 5a's screen from even the harshest falls. They come with 2.5D rounded edges and up to 99.99 percent clarity for the best touch response and visual clarity. Also, their oleophobic and hydrophobic coatings help keep away smudges and oily fingerprints.
OMOTON Screen and Camera Lens Protector (3+2 Pack)
Thin yet reliable
While most tempered glass screen protectors tend to be quite thick, that's not the case with these films from OMOTON. With a 9H hardness rating, they are just 0.3mm thick, so your Pixel 5a's screen stays protected from damage without impacting its touch response. The package includes three screen protectors and two protectors for the rear camera setup.
Supershieldz Anti Spy Screen Protector (2 Pack)
For those who value privacy
With Supershieldz's Anti Spy screen protectors, you no longer have to worry about pesky strangers trying to catch a peek of your Google Pixel 5a's screen's contents. As the name suggests, these screen protectors allow the contents of the display to be visible only if the viewer is in direct line of sight of the panel. If anyone tries to see from an angle, nothing is visible. These have a 9H hardness rating and come with 2.5D rounded edges.
ArmorSuit MilitaryShield Screen Protector (2 Pack)
Comes with self-healing properties
Made in the USA, ArmorSuit's MilitaryShield screen protectors are manufactured using laser-cutting technique for a precise fit. Their self-repairing technology makes minor scratches go away on their own with time, and the tough material is also resistant to yellowing. The pack includes two screen protectors, as well as an assortment of items such as microfiber cloth and installation spray.
Sucnakp Case with Screen Protector
Everything you need is included.
If you're concerned about getting a screen protector because it might not work well with a case, this combo pack from Sucnakp is exactly what you need. The screen protector works well when it comes to guarding the screen against scuffs and scratches, and the TPU case shields your Pixel 5a from falls and impacts. The case also features accurate cutouts for all the ports and openings and is available in three colors.
IQ Shield Matte Screen Protector (2 Pack)
No more glare and smudges
While the all-glass OLED screen of Google Pixel 5a (or just about any flagship smartphone!) looks fantastic, it's quite reflective as well. If that bothers you, take a look at IQ Shield's matte screen protector. Made from a thin yet durable military-grade film, it reduces eye strain by eliminating glare and keeps away smudges and fingerprints. The whole package is backed by a lifetime replacement guarantee for added peace of mind.
Spigen GlasTR AlignMaster Screen Protector
Premium protection
Spigen's smartphone cases are renowned for being some of the finest out there, and its GlasTR AlignMaster screen protector is no different. Having a hardness rating of 9H, it's made using premium tempered glass and ensures top-of-the-line protection for your Google Pixel 5a's display. It also includes an oleophobic coating to keep away fingerprints, and the bundled frame uses Spigen's Auto-Alignment technology for a flawless application.
Make sure your Pixel 5a's panel is protected
It might not be one of the best Android phones currently available on the market, but the Google Pixel 5a is still an extremely well-rounded device that will serve you for years to come, should you choose to buy it. But for that to happen, you'll want to ensure it stays protected from everyday wear and tear. While the best Google Pixel 5a cases are essential to that end, you need to go the extra mile to keep the smartphone's OLED screen protected. And that's where some of the best Pixel 5a screen protectors come into the picture.
Our top vote goes to Ferilinso's five-pack combo of screen and rear camera module protectors, which come with a 9H hardness rating for the best protection, while also ensuring improved touch response. If you want something that's a little less bulky, go for Supershieldz's six-pack of PET film screen protectors. Having the best screen clarity, they don't leave any residue when removed and are extremely thin too. Then there's IQ Shield's matte screen protectors, which help reduce eye strain while keeping away smudges and fingerprints.
Be an expert in 5 minutes
Get the latest news from Android Central, your trusted companion in the world of Android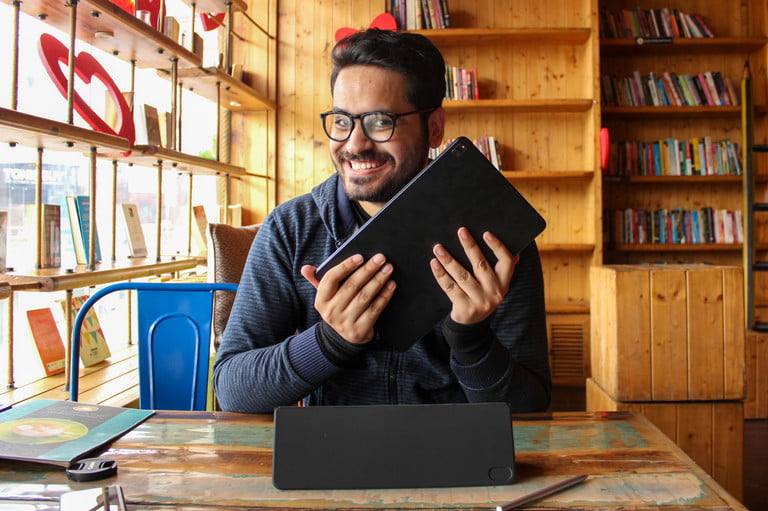 Prakhar contributes with commerce content and writes features and editorials for Android Central.
Contact: parkydoesstuff(at)gmail(dot)com