Best Gifts for Cord-cutters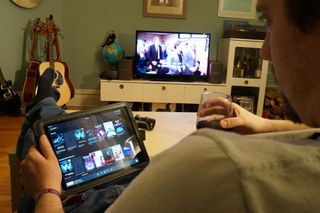 The cord-cutter movement is growing more and more these days. People are looking to save money by canceling that pesky cable bill and finding alternative ways to fulfill their entertainment needs via the internet and/or wireless needs.
Netflix. Plex. Over-the-air antennas. Just a few of the options cord-cutters rely on to stay entertained without cable TV. Give the gift of cutting that special someone's cable bill with these fantastic gifts for cord-cutters.
OTA Antennas
Why you can trust Android Central Our expert reviewers spend hours testing and comparing products and services so you can choose the best for you. Find out more about how we test.
If you or someone you know is looking to cut out the cable bill from their budget, but still enjoys just throwing on the TV and vegging out without the hassle of finding something new to watch on Netflix (right?), an over-the-air (OTA) antenna can be a great compromise. But before you consider whether to buy an OTA antenna, you'll want to know what channels are available in your area and what type of antenna you'll need to draw them in. This TV signal locator from TVFools.com will let you know what signals are available from you or your giftee's address, and from there let you determine whether you should be getting an indoor or outdoor antenna.
An OTA antenna can be hooked up straight to a TV in your house to watch live TV. A couple of the other items on this list require an OTA antenna — HDHomeRun Connect and TiVo Roamio. If either of those boxes tickles your fancy, you'll need one to draw in the signal. Depending on what channels are available in your area, you'll need either an indoor or outdoor digital antenna. The antenna we've recommended here, the HD Frequency Cable Cutter Antenna, is designed for urban areas and can be set up indoors or outdoors. Again, the channels you'll get will be dependant on a number of variables, so the price of this antenna makes it great for testing purposes.
See at Amazon (opens in new tab)
NVIDIA Shield TV
The NVIDIA Shield doesn't garner as much attention as it deserves — it's a sleek-looking box running on the Android TV platform, granting access to all the great content streaming and media options found in the Google Play Store, along with being a scrappy gaming console powered by a GeForce GTX graphics card.
It can stream Netflix and YouTube in 4K, and supports a number of great media server apps including Plex and Kodi. If you're only planning to use it for streaming purposes, you'll get 16GB of onboard storage for your media, along with a streamlined and fast UI so you can get right down to binge-watching PLUS it doubles as a Cast target.
NVIDIA has recently lowered the price on the base model (remote only) to just $179, which is a great deal for cord cutters. For an extra $20, you can get one with the gaming controller included — you'll be able to enjoy the latest and greatest Android games, along with the ability to stream popular PC games via a GeForce NOW subscription.
See at Amazon (opens in new tab)
Tablo Tuner Antenna Adapter
We specifically placed the Tablo Tuner Antenna Adapter at this position on the list because if you're buying for someone who already owns a NVIDIA Shield TV box and a digital antenna in their home, this is the perfect gift to round out their cord cutting experience.
The adapter lets you link your digital TV antenna and Shield together, converting the Shield into the ultimate cord-cutter TV box. Using the Tablo Tuner Engine app (opens in new tab) for Android TV, you're able to watch and record over-the-air HD TV channels right to the internal storage of your Shield, although the recording functionality and enhanced TV guide information is only available as part of a $3.99 monthly subscription — which is still a fraction of the cost of renting a DVR set-top box from your local cable company.
Check out my full review of the Tablo Tuner adapter for a more in-depth analysis of how it all works.
Chromecast
Once you get your first Chromecast, you quickly learn that you can never have too many Chromecasts. It's such a versatile little device that lets you stream Netflix, Amazon Prime Instant Video, Hulu, YouTube, HBO Now… There's a ton of great content available for Chromecast.
While the older models still work great, the updated Chromecast Ultra is the only one you should be buying in 2017. Available from the Google Store for just $70, it supports streaming in up to 4K Ultra HD and HDR, so even if the person you're buying for doesn't currently own a 4K TV they'll be set if they decide to upgrade in the future. The older Chromecast from 2015 is still available for only $35 (opens in new tab) and would still make for a great stocking stuffer because, like I said, once you get your first Chromecast, you're going to want one for every TV in the house.
See the Chromecast Ultra at Best Buy (opens in new tab)
Amazon Fire TV (2017)
If the person you're buying for prefers Amazon's Alexa assistant over the Google Assistant, the brand new Amazon Fire TV dongle will be right up their alley. Not only is this little dongle capable of streaming in 4K at 60fps, it's also got Alexa support built right into the remote which is super handy.
It fits in somewhere between a Chromecast and an Android TV box — it dangles from the back of your TV just like a Chromecast, but also has 8GB of internal storage and a remote control. As expected, it's a great option for those who are already bought into Amazon's services. With an Amazon Prime membership, you get access to Amazon Prime Video and Music, along with Thursday Night Football, and the Fire TV of course supports popular subscription services such as Hulu, Netflix, PlayStation Vue, YouTube, and Sling TV.
Get it from Amazon (where else?) for just $70.
See at Amazon (opens in new tab)
HDHomeRun Connect
The HDHomeRun Connect is an HDTV broadcast tuner that, working in conjunction with an OTA antenna, lets you draw on the available HDTV channels broadcasting in your area. Setup is easy — simply connect your HDHomeRun box to power, the antenna, and your router, then install the software on your computer. From there, you're able to watch live TV from the available channels shows on any DLNA-compatible device connected to your Wi-Fi network, whether that be a smart TV, a phone or tablet running the HDHomeRun DVR app (opens in new tab).
But that's not all. What makes the HDHomeRun a real home run (I'm sorry) is its beta DVR compatibility with Plex. Anyone in the know knows that Plex is one of the absolute best media servers you can use, so if you know your friend or family member relies on Plex this exclusive integration with HDHomeRun receivers is certainly worth exploring.
See at Amazon (opens in new tab)
TiVo Roamio
TiVo's Roamio is certainly worth looking into if you're cutting a cord and considering an OTA antenna. The Roamio comes with 1TB of space to record all your favorite shows as well as built-in integration with Netflix, Amazon Prime Instant Video, Hulu and more.
It's a TiVo, so you'll be able to pause and rewind TV live, as well as use SkipMode to skip over the commercials in your recorded content, or use QuickMode to watch your shows 33% faster with no audio distortion, meaning you can binge watch your favorite shows in less time.
See at Amazon (opens in new tab)
Gift memberships to streaming services
Netflix. Amazon Prime. Hulu.
These are the services that are largely replacing cable TV for an ever-growing number of consumers. Whether or not your loved one already has one of these services, you can cover a few months of their favorite streaming service for a gift that keeps giving throughout the year.
Your best value is absolutely a year's worth of Amazon Prime. Not only do they get access to both Amazon's music and video services, they also get all the benefits of being an Amazon Prime including next-day delivery on a number of products.
Both Netflix and Amazon Prime offer electronic gift cards for their services, but you should also be able to find them at a most major retailers. Hulu currently doesn't offer electronic gift cards, but you should find physical Hulu gift cards at retailers such as Target, Best Buy, and Walmart.
Update November 2017: Added the Tablo Tuner Antenna Adapter and Amazon Fire TV to our list, and updated the article for the 2017 Holiday Season.
Marc Lagace was an Apps and Games Editor at Android Central between 2016 and 2020. You can reach out to him on Twitter [@spacelagace.
Raspberry Pi 3 with a Logitech K400+ and a little programming and you can have a cheap HTPC with Linux, retro gaming capabilities or even Android.

Nvidia shield...well, may be next version.

Tivo is great, but get one with lifetime service included in the price, otherwise you will pay a fortune to keep it running.

No Tablo love? I've cut the chord for 3 years now using Tablo as our main tv viewing experience.

Tablo has been one of the best purchases I've made. Works great with Roku or Android TV. I can watch live or recorded shows on any device in the house or away from home.

Not anymore, they changed it to xfinity tv. You can only watch anything special, especially on local channels(like sports) when your around your own internet. Away from home, a lot of channels will have their "watch" selection greyed out. If it's regular programming, with nothing special, it's not.

I really like Android TV....no idea why it and the shield haven't really taken off. Google needs to prioritize it and get serious.

Don't forget about Channel Master DVR best money I ever spent.

Just cancelled satellite TV. Using Hulu, Amazon prime, Netflix and Hulu . Trying to decide on a dvr.....

I have one of those Watch Air TV antennas. The only apps out right now are android and apple but plans to add more. It has a 60 mile antenna and it covers UHF as well as low\high vhf. Works really good on my phone and really excited for the roku integration. Should also note you can add a SD card for DVR functionality. Though now that I'm looking at the Tablo and If I could of gotten a roof antenna with that and done the same thing.

I don't think this is as true as it used to be. The cable companies have figured out what's happening and have just decided to charge thay much more for stand-alone internet service with high enough speeds to allow streaming. By the time you add any programming services you're almost back to where you started.

Plex, Chromecast plus the "great Internet library" is perfect for me.
Android Central Newsletter
Thank you for signing up to Android Central. You will receive a verification email shortly.
There was a problem. Please refresh the page and try again.