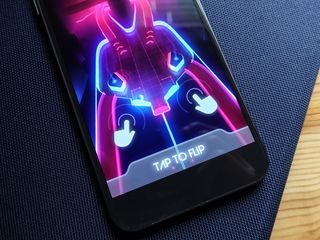 There's nothing like taking some time out of a busy day to play a few minutes of a favorite mobile game. Here at Android Central, a diversity of opinion leads to a bevy of gaming choices.
Here are our favorite games that either came out in 2016, or received significant updates.
Andrew Martonik — Tap Tap Dash
Why you can trust Android Central Our expert reviewers spend hours testing and comparing products and services so you can choose the best for you. Find out more about how we test.
I really don't play many mobile games, so when I do they have to be simple, casual titles that can be picked up for a bit to kill time and then set aside for a while when I'm doing other things. Tap Tap Dash is one that I keep around and play from time to time because it hits all of those boxes.
It's an on-rails game that literally requires one action: tapping the screen to move your character. You make your way through various maze-like levels of varying difficulty, and there are hundreds of levels to get through. There are a few in-app purchases, but they aren't required to get through the game. It's a fun time-killer and worth checking out.
Download Tap Tap Dash (free, in-app purchases) (opens in new tab)
Daniel Bader — PinOut
PinOut is the, um, breakout game of the year for me. It's an endless runner and pinball combined into one of the most enjoyable bite-sized gaming experiences I can remember. Mediocre, the sardonically-named developer behind PinOut, is famous for other addictive-and-accessible games like Granny Smith, Does Not Commute, and my favorite, Smash Hit.
But PinOut is great because it doesn't try to reinvent pinball; rather, it uses pinball as a vehicle for constant progress, a tenet lacking in other genre games that made them stale quickly. Couple that with the unique power-ups and mini-games and you have yourself what is, in my opinion, the best mobile game of 2016.
Download PinOut (free, in-app purchases) (opens in new tab)
Russell Holly — Pokémon Go
I don't usually play mobile games for more than a week before moving on to the next distraction, but like Ingress before it I played quite a bit of Pokémon Go this year. As a result, I've met some great new people and used the game as an excuse to take my family on adventures to places all around Maryland I otherwise never would have gone to.
Download: Pokémon Go (free, in-app purchases) (opens in new tab)
Alex Dobie — Lumines
Lumines finally, finally came to Android this fall, allowing me to relive the decade-old Sony PSP puzzler on mobile. For the uninitiated, the premise of Lumines is simple: you need to arrange colored blocks to form patterns of four or more of the same color, with blocks of four descending from on high. Standard puzzle game fare.
But what makes Lumines unique is the musical aspect. As you progress through the game, not only does the speed increase and the difficulty ramp up, but you also progress through tracks, each with their own unique color schemes, visual styles, drop rates and electronic soundtrack. Lumines is a great way to kill a few minutes — or an entire afternoon. And it's a steal at its Play Store price of $2.99.
Download: Lumines ($2.99) (opens in new tab)
Florence Ion — Pokemon: TCG Online
While the rest of you are outside in the winter cold, hunting for a virtual Pikachu with a Santa Hat, I am laying in my warm bed, with my heat pad on my feet and a hot cup of cocoa in my hand, cuddling with my tablet and Pokemon: The Card Game Online.
I downloaded the game late last year, after hearing the news of Pokemon Go and deciding I wanted a different experience than simply running around town, catching them all. No, instead I battle anonymous people on the internet with Pokemon cards and spend the coins I win in tournaments on more packs of Pokemon cards. In fact, I'm so addicted to creating the perfect deck, that I also buy the physical cards at the grocery store just for the redemption codes. I am a monster.
Download: Pokemon: TCG Online (free, in-app purchases) (opens in new tab)
Marc Lagace — Clash Royale
This is a tough one to answer because there's been so many amazing games released for Android in 2016 (quick shoutouts to Alto's Adventure (opens in new tab), Reigns (opens in new tab) and Sky Force Reloaded (opens in new tab)), but if I had to settle on just one game, it would have to be Clash Royale. Supercell has done a great job keeping the game mechanics balanced while consistently adding new cards and features throughout the year. Having quickly fell off the Clash of Clans bandwagon, I didn't exactly have high hopes for Clash Royale going in, but I was instantly hooked by the fast-paced action and focus on developing winning strategies that Clash Royale kept my attention like no other game did in 2017.
Download: Clash Royale (free, in-app purchases) (opens in new tab)
Jen Karner — Marvel Avengers Academy
Anybody who knows me, knows that I a gigantic Marvel fan. So it shouldn't be that much of a surprise that Marvel Avengers Academy is my favorite Android game for 2016. Based around collecting characters, and completing small missions everything comes together for a lot of fun. While the game relies a bit too heavily at times on in-app purchases, the constant events and appearance of new characters tends to make it up for it.
Download: Marvel Avengers Academy (free, in-app purchases) (opens in new tab)
Ara Wagoner — Disney Emoji Blitz
Disney Emoji Blitz is the longest I've played a game in a many years, which as a non-gamer is saying something. I've always been a sucker for the match-three style game, but this app is something special. Disney Emoji Blitz is more than a game, it's an emoji keyboard, too, albeit a really, really bad one. You can only share three Disney emoji in a string at a time, the keyboard doesn't utilize any of the Nougat image keyboard features, and is cumbersome as all get-out. But at least what you're racking up in the game has some tiny benefit outside the app.
The game itself is addictive, new characters are added and campaigns arise regularly enough to keep you interested and to sway us to shell out for in-game purchases. After blowing $15 and still not getting Sorcerer Mickey, I'm swearing myself off in-game purchases a while, but even without them the game is still fun and genuinely challenging at times. Once Disney updates it to work with Nougat's image keyboard support, this app is gonna be my new best friend. Until then, it's a lovely way to kill time I don't have to waste.
Download: Disney Emoji Blitz (free, in-app purchases) (opens in new tab)
Jerry Hildenbrand — Knights of Pen and Paper
Knights of Pen and Paper came to Android in 2013, but it's as good today as it was then. A take on the classic RPG, with a great story and simple but thoughtful controls. It's easy to play, but not because it's been dumbed-down. If you're looking for a challenging old-school dice-roller with a ton of content that won't get stale (I'm on day 2,300 of my current playthrough) give KOPP a look.
Download: Knights of Pen and Paper ($4.99) (opens in new tab)
Get the Android Central Newsletter
Instant access to breaking news, the hottest reviews, great deals and helpful tips.
Daniel Bader was a former Android Central Editor-in-Chief and Executive Editor for iMore and Windows Central.
I expected to see Mobius Final Fantasy here, Bully or GTA Liberty City Stories, but looks like the tastes of the editors are very different than mine

Meh, I played Mobius a fair amount, until they added even more expensive RNG premium stuff, at which point I realised I was using the auto feature like 95% of the time and didn't feel like I was playing the game anymore.

Same here, it was manageable with iaps until pay $75 for a tidus jobcard. That was the turning point for quite alot of people to bail

I'm not big on mobile games, but I love PinOut.

Been hocked for far longer than I wished for on Clash Royale, love this game.

Bully has a bad frame rate on my Shield Tablet

How's the RAM usage regarding Bully?

For me the games that got me actually using my phone to play again were varying in type: Hitman Sniper The GO series of puzzlers (Laura Croft, Hitman, Deus Ex) Final Fantasy Brave Exvius Kung Fury Magic Rampage

Just tried pin out. Oh my god this is amazing. Graphics, game play. And that soundtrack! It's making me want to watch Drive with Ryan Gosling again...

I saw a Android Police review for Oceanhorn and am going to try it out today. Supposed to be patterned after the Zelda games!

try Oceanhorn, you wont regret it, its free.

Endless Lake is a good one too. https://www.androidcentral.com/e?link=https2F2F...

I was interested in Lumines until I read about the very high priced DLC for it.

Same, i had this game a while back on PSP and loved it. i had no idea it was available in the play store. i was really disappointed reading the reviews. ( ._.)

really nice share, I like it

Knights of Pen and Paper looks pretty cool. Hadn't seen it before! Used to get into those old RPG's back in the day. Might have to give it a try.

No Star Wars Galaxy of Heroes? Interesting...

Again with the incorrectly titled "best" and "of 2016". AC, please do a better job of titling your articles. The correct title is something like "Most played games of 2016". Because your article has noooothing to do with "best" or even "of 2016"..lots of those didn't come out in 2016.

meh idc anymore. this is the internet. What ever it takes to get traffic. google 'best games of 2016' and ac will be a result. its a bit shady but what can ya do. there are tons blatant click bait sites that make this seem way less offensive

Witchspring 1 and 2 were a pretty cool take on rpgs for mobile games. Actual full game and no iap thankfully.

Reigns should have had a spot on this list, some of this is hot garbage.

Gear Club is a good free car racing game and has a fair freemium structure, but it crashes and fails to load a bit as it only launched recently.