Best food delivery apps 2022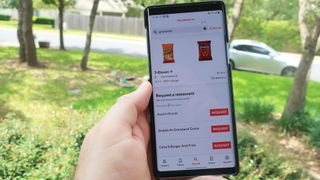 (Image credit: Jeramy Johnson / Android Central)
There are just some days where you don't feel like making anything for lunch or dinner or can't go anywhere. That's where these various food delivery services come into play, and there are more options than ever. You can get some of your favorite restaurants delivered right to your door. Plus, with being able to see everything that you're ordering, it makes using the best food tracking apps for Android that much easier.
When it comes to finding the best Android apps, some of the best options are the ones that help you out. And what's even better is that the best food delivery apps are constantly being updated with availability in more areas.
These are the best food delivery apps
Why you can trust Android Central Our expert reviewers spend hours testing and comparing products and services so you can choose the best for you. Find out more about how we test.
If you want the best of the best food delivery apps, then look no further than DoorDash. The company has partnered with more than 300,000 restaurants across the U.S. and can be found in more than 4,000 cities. Keep track of those orders so you can place repeat orders later on and keep an eye on where your food is at, all from the mobile app.
Grubhub may not offer its services in as many places as DoorDash, but it's not far behind. Those who can take advantage of Grubhub will also want to check out the Perks that can be found within the app. This makes it so that you get the best deals, along with being rewarded for ordering.
Uber may have started out as ride-hailing service, but now you can order some food with Uber Eats. Earn points with every order, and stack those points until you can save a few bucks on your next meal.
1. DoorDash
It should come as no surprise that DoorDash takes the top spot for the best food delivery app. Not only is the delivery service available in more than 4,000 cities across the U.S., but you can also find more than 300,000 restaurants to pick from if you are having a hard time deciding on what to eat.
The app keeps track of your favorite restaurants, making the ordering process even easier if you want to get the same meal you had last week. After the order's placed, you can track the delivery in real-time, as the food goes from the restaurant to your doorstep. Best of all, DoorDash offers its "DashPass," which will lower service fees and $0 delivery fees if you want to save a few bucks.
All the restaurants

DoorDash has partnered with popular restaurants across the country, including the likes of Panera Bread, Qdoba, and Chipotle. You'll also get access to traditional "sit-down" restaurants like The Cheesecake Factory, Outback Steakhouse, and more.
2. GrubHub
It's all fine and dandy to order from your favorite restaurants, even if they don't feature a traditional delivery service. However, GrubHub takes things a step further with the inclusion of Perks. This allows you to earn rewards and find deals to save yourself a few bucks.
You can quickly find a restaurant, view the menu, and place your order. Then, GrubHub allows you to watch the delivery process right from its application. But if you would rather pick up the food yourself, you can use GrubHub to order your meals and then just set the order for curbside pickup.
Perks and rewards

Those who order delivery regularly shouldn't sleep on Grubhub. The service features Perks to help you find the best deals in town while offering rewards for ordering. Grubhub even works with restaurants so that you can pick up the food yourself, instead of having it delivered.
3. Uber Eats
It was only a matter of time before Uber evolved into more than just a unique rideshare service. Uber Eats is here and wants to help deliver food from your favorite restaurants, and even some that can't be found on other popular food delivery apps. Plus, every time you place an order, you'll earn points, which you can use to get cash back and other rewards that can be redeemed from within the Uber Eats app.
Uber has also introduced its new Eats Pass subscription, which gets rid of any delivery fees. Eats Pass also provides a 5% discount for any orders over $15, depending on which restaurant you are ordering from. And as with the other options, you are able to keep track of where your food is before it arrives.
Just Uber it

It was only a matter of time before Uber Eats became reality, and this ties right into your Uber account. The company claims that more than "1 billion orders have been delivered" by Uber Eats drivers. That's likely due to the easy interface to find the food you want while being able to track exactly where your driver is at.
Other great options
Though they didn't quite make it into our top three, here are some other excellent food delivery apps for you to try out.
Postmates
At first glance, you might think that Postmates is just like the rest of the food delivery apps. And while it's true that many of the same restaurants can be accessed from any of these options, Postmates has a leg up with the ability to order from more than 500,000 different restaurants and retailers.
There is even Google Assistant integration that allows you to order some food without even touching your phone. How much more awesome can it get than that? And if you want to get free delivery, just sign up for the Postmates Unlimited Membership, or use Postmates Pickup to avoid the lines and grab your food. With Postmates Unlimited, you'll get free deliveries on orders more than $12 and you can pay either monthly or yearly (and save more). You can even join a "party" to get $0.99 delivery on a rotating list of restaurants.
So many choices

It's not fun to sign up for a food delivery service only to be disappointed in the choices. That's not an issue when using Postmates, as there are over 500,000 restaurants to choose from across more than 4,200 cities.
Instacart
What if you need to get some grocery shopping done but can't go to the store? You shouldn't be left without the ability to cook or bake from the comfort of your own home. That's where Instacart comes into play since you can shop from your favorite grocery stores, and then the Instacart Shopper will pick everything up for you. And if the store doesn't have something you originally ordered, the Instacart app features a chat functionality so you can chat with the Shopper and get the right items.
With some grocery stores, you can still use your rewards account and continue to stack those coupons. But Instacart also offers some deals and coupons of its own. Plus, you can either get same-day delivery or take advantage of curbside pickup.
Stay at home

Can't make it to the grocery store, but need something for dinner? Instacart can save the day. You can use this service to do the grocery shopping for you. Just select your store, add the items to your cart, and the Instacart "Shopper" will pick everything up.
Zomato
Zomato is another awesome food delivery application that makes it easy to find new restaurants to try out. But instead of just using Zomato to have food delivered to your home, you can learn more about restaurants in your area.
Enter your zip code and view all of the restaurants around you. Then, select one to check out and view all kinds of information about it, including the address, the type of food that it serves, and other information including whether it offers takeout. Plus, you can even read reviews right from the app, allowing you to get a feel for whether it's a good place to check out or if you should look elsewhere. Additionally, with Zomato Gold, you can save up to 40% on your order.
Get help deciding

Are you having a hard time trying to figure out what you should eat because you're tired of the same thing? Let Zomato help you out. The app makes it easy to filter through the various restaurants around you.
Order directly from your favorite restaurant
A lot of the food delivery services on this list are great since you're provided with a lot of different options. However, if you already know what you're craving, then you can check to see if that restaurant has an app of its own. More and more restaurants are getting on board with an app instead of just a website, and here are some of our favorites.
Domino's Pizza
Sometimes you just want some cheap, good pizza, and Domino's fits the bill quite nicely. Instead of trying to find a computer or use your mobile browser, just use the Domino's Android app. Create a profile for saved orders, and accrue points towards getting a free pizza. The built-in "Domino's Tracker" gives you a step-by-step overview of where your pizza is in the making process. After the pizza has been finished, you'll be able to track how far it is from your home, right before arriving on the doorstep.
Once your order has been placed, follow along with the Domino's Tracker. There's even integration with Google Assistant and Wear OS so you can order through Assistant or right from your wrist. You can also set up an "Easy Order" so that you can place the same order whenever you're in the mood for some pizza.
Track the whole process

Some apps just let you know when the food is on the way, while the Domino's app takes it up a notch.
Chick-Fil-A
If you just need some chicken, you'll want to take advantage of the Chick-Fil-A app for Android. You can place mobile orders from your phone, and then decide to either pick it up yourself or have it delivered. In the event that your local Chick-Fil-A won't deliver, the company has a partnership with DoorDash to make sure that you can still get those chicken sandwiches whenever you want them.
Every order you place earns you some rewards, which can then be redeemed for various items on the menu. So you can either use the rewards for a free milkshake or you can stack your rewards points and get an entire meal (and then some) for free!
Earn and redeem

Do you need your chicken fix? You'll be able to earn points with purchases and earn rewards like free sandwiches or meals. Plus, you can even get your food delivered right to you without ever leaving the house.
Chipotle
It's never been easier to order delicious burritos from Chipotle thanks to the company's mobile app. Create an account, place your order, and enjoy Chipotle in just minutes without ever needing to leave your home. When you create an account, you can take advantage of Chipotle Rewards, accruing points with every order so you can get some meals for free.
Even if you end up going to Chipotle in person, you can have the cashier scan your Member Card and continue earning rewards. Oh, and Chipotle even offers bonuses such as Extra Point Days, and you'll get a nice little bonus on your birthday after you sign up.
Spicy burrito

The Chipotle app is one of the most well-rounded of the bunch since it's easy to just place your order and get it delivered. Those who are a part of the Chipotle Rewards can keep track of points earned, and then redeem them for rewards on a later order.
Popeyes
You might be surprised to learn that Popeyes has gotten in on the fun when it comes to mobile app ordering. Now you can order that delicious Louisiana-style chicken from your phone, and avoid the long lines at the drive-thru or in the restaurant. Create an order, and set it to be picked up or have it delivered.
Popeyes has also started making use of mobile coupons that you won't find anywhere else, even if you go to Popeyes directly. Find the closest Popeyes from wherever you are and check out what offers and coupons are available at those locations. Then, place your order, skip the line, and enjoy.
Love That Chicken

Popeyes has an app of its own that makes it easy to order you some traditional chicken meals. There are mobile-only offers that will give you some extra freebies.
Panera Bread
Not only does Panera Bread have some fantastic meals for everyone, but the mobile app makes it easy to customize every facet of your meal. Placing your order is as easy as it gets, and if you are a MyPanera member, then you can quickly earn rewards and access those rewards.
Those who want to get all of the coffee they can drink will want to sign up for the MyPanera+ Coffee membership. This gives you unlimited premium coffee on a daily basis, giving you all the caffeine that you need. And if you want to have some food delivered, you can do so right from the app and keep track of where it is before it arrives. Then, take advantage of "Rapid Reorder" to quickly get food if you're busy.
Fresh and healthy

Panera doesn't only focus on selling great loaves of bread and pastries. The restaurant also provides fantastic and healthy meals for everyone, and best of all these can get delivered right to you. And if you sign up for MyPanera, you will build up rewards with every purchase.
Let the food come to you with the best food delivery apps
It really can be a hassle to have every single meal planned out over the course days or weeks. Food delivery services help take the headache out trying to decide what to eat, as you can just order something for everyone. It's also now easier than ever to get food from local restaurants.
Those who don't want to be limited by where they can order will want to look at DoorDash. There are more than 300,000 restaurants that allow for DoorDash delivery across more than 4,000 cities. And if you sign up for DashPass, those pesky service fees will be reduced and you won't have to worry about any delivery fees.
What is awesome nowadays is the fact that more and more of your favorite restaurants are providing delivery services of their own. Whether you want some pizza from Domino's or something a bit healthier like from Panera Bread, there's something for everyone. This way, you won't need to leave the home and can still enjoy the food you love if you were out and about.
Get the Android Central Newsletter
Instant access to breaking news, the hottest reviews, great deals and helpful tips.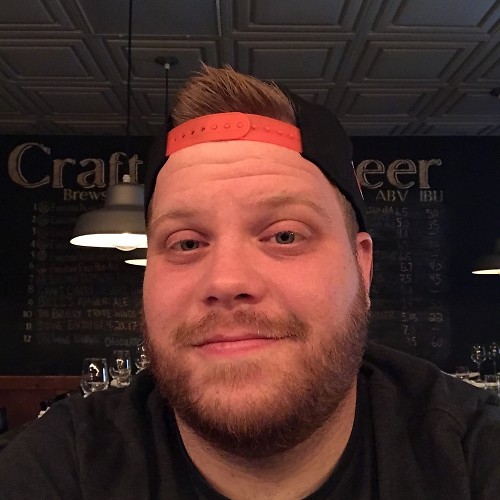 Senior Editor - Chromebooks, tablets, and wearables
Andrew Myrick is a Senior Editor at Android Central. He enjoys everything to do with technology, including tablets, smartphones, and everything in between. Perhaps his favorite past-time is collecting different headphones, even if they all end up in the same drawer.