Best credit monitoring apps for Android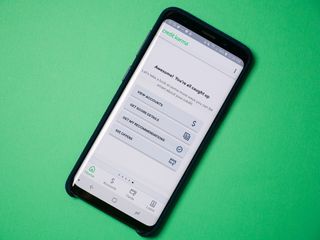 There are few things more important to maintain than your credit score. Whether you're applying a new credit card, a house, or a phone line, your credit score will be an instrumental factor in your approval odds. If your credit score is too low, you may have to pay an astronomical security deposit — if you're able to get approved at all.
Needless to say, a poor credit score can be hugely detrimental, so save yourself some trouble and start monitoring your credit so you can take control of your score. Whether you have outstanding credit or you just went through your third bankruptcy, it never hurts to have an idea of your credit situation, and it's never too late to start working to improve it.
Credit Karma
Why you can trust Android Central Our expert reviewers spend hours testing and comparing products and services so you can choose the best for you. Find out more about how we test.
If there's any one app you should use to monitor your credit score, it's without a doubt Credit Karma. This free service shows your TransUnion and Equifax scores, along with breakdowns of any credit lines on your record — that includes credit cards, auto loans, personal loans, and more. It also provides tools to help you improve your credit, as well as suggestions for new loans and credit cards you might qualify for.
While it's a bit late in the year, you can even file your taxes through Credit Karma. Unlike Intuit (who makes TurboTax), Credit Karma doesn't charge any fees for filing through its services — that means it also doesn't bug you to try a paid version half a dozen times when you're trying to file. I opted to try Credit Karma's filing service for the first time this year after comparing results with TurboTax, and it worked just as well as you would expect.
Download: Credit Karma (free) (opens in new tab)
Credit Sesame
If you don't mind paying a bit for a premium membership, Credit Sesame can offer more information than Credit Karma, pulling credit reports from all three bureaus with a paid account. You can still see your Vantage 3.0 score with a free membership, however, and Credit Sesame has the added benefit of identity protection — even providing up to a million dollars of identity theft coverage at higher paid tiers. Even with a free account, though, you get $50,000 in coverage.
Download: Credit Sesame (free) (opens in new tab)
Mint
Mint is another great service that helps you keep track of all of your finances in one place. It's made by Intuit, so you can sign in with your TurboTax info, and you can link any of your financial accounts (banking, credit cards, utilities and bills, etc.) to Mint to monitor your spending. It breaks your monthly spending into a pie chart, and displays your cash flow in and out.
Like Credit Karma, Mint shows you your Vantage 3.0 credit score as provided by TransUnion, and offers suggestions for various credit cards and loans. You can customize your Overview page in the settings to only display the information you care about, and set up push notifications or emails for upcoming bill alerts — you can even use Mint to create a calendar for your bills.
Download: Mint (free) (opens in new tab)
Your credit card
Most credit card companies these days offer free credit monitoring from within their apps. Most will display your FICO score, but it can vary from bank to bank. In fact, some banks don't even require that you be a customer to get a free credit report — Discover (opens in new tab) is a prime example with its popular Credit Scorecard service.
Plenty of other banks do this, as well. Chase (opens in new tab) provides you with your Vantage 3.0 score, as does Capital One (opens in new tab) (you don't have to be a customer of either bank to check your score), while banks like American Express (opens in new tab), Citibank (opens in new tab), and Wells Fargo (opens in new tab) all display your FICO score.
What do you use?
Do you use one of the apps mentioned here, or is there another app you depend on for monitoring your credit score? Let us know in the comments below!
Get the Android Central Newsletter
Instant access to breaking news, the hottest reviews, great deals and helpful tips.
Hayato was a product reviewer and video editor for Android Central.
I will say the scores from Credit Karma aren't the same as what shows through my credit card. Not sure why there is a discrepancy between the numbers.

Your credit score is factored differently from place to place. Credit Karma receives your scores directly from TransUnion and Equifax, but your bank might use your Experian score, FICO, or a different model entirely. It's frustrating, but as long you work to keep up one score the rest should follow!

I use nerd wallet and credit karma, plus the built in functions of my cards. Capital one and discover have great fico and vantage trackers. Good stuff all around .

Speaking as a guy who sells cars and deals with financing, I will state that in my experience, Credit Karma reports a higher than actual credit score.