Best Christmas Countdown apps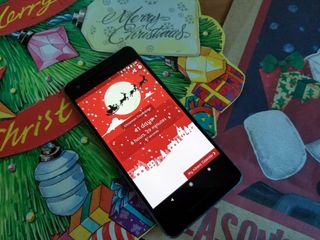 Christmas is almost here bring colder weather (in some parts of the world), holiday parties with friends, and presents to purchase for your loved ones. With so much going on this month, it's easy to become a Grinch, or lose track of the days. If you want to really get into the spirit, or you just like a regular reminder of how much time is left until Christmas day dawns, then check out these Christmas countdown apps!
We've picked the best Christmas Countdown apps for Android, so come take a look!
Christmas Countdown 2017
Why you can trust Android Central Our expert reviewers spend hours testing and comparing products and services so you can choose the best for you. Find out more about how we test.
When you open up this app, you're faced with an adorable snowman in a snowy Christmas wonderland. Christmas Countdown 2017 gives you a few options to customize the way things look, a countdown that is accurate down to the second, and an advent calendar to keep you coming back for more.
From within the settings, you can adjust the date of Christmas between the 24th, and 25th of December, turn the animated snowflakes on and off, get notifications, and swap between the 7 different options for the background. You can also turn on background music that will cue up when you open the app. If you really want to go all out, you can also pick up the premium mode which includes more Christmas tracks, and a full countdown widget for your home screen. You also get access to an advent calendar filled with quotes, photos and links to videos to get you in the Christmas spirit!
Download: Christmas Countdown 2017 (Free)
Christmas Countdown
When it comes to sweet and simple, you may be thinking of this Christmas Countdown app. It delivers a pared down experience with a full countdown to the second, and several different live wallpapers that you can choose from.
The counter lives at the bottom of the screen in clear, easy-to-read boxes. On the left side of the screen, there is a music icon and you can tap it to turn on background music. On the right of the screen is a TV icon, and by tapping that you can cycle through the three different wallpapers available to you. If you want something cute for the season that requires basically no effort on your part, this is the app to check out.
Download: Christmas Countdown(Free)
KM Christmas Countdown Widgets
Not everybody wants a full background or live wallpaper taking up the screen, but they still want to have a nifty little counter on the screen. If that's the case then KM Christmas Countdown Widgets should get the job done for you.
You get access to three small but adorable widgets that can be displayed right on your home screen as a reminder of how much time is left until Christmas. You can choose the day you want to countdown to, swap between a snowman, wreath, or Christmas tree. This app is also compatible with Android Wear, which means that you can also add a counter to your smartwatch!
Download: KM Christmas Countdown Widgets(Free)
Christmas Countdown
If what you really need isn't just a countdown to Christmas, but an app to help you keep track of all the presents you have bought — or still need to buy — then this is the Christmas Countdown app for you! You get a full countdown when you open up the app, as well as the ability to create lists of everything that needs to be purchased.
With lists, you can separate gifts by person, or between friends and family. You're able to see exactly how much you've spent, and enter gifts that you both have and haven't yet bought. If you plan out your lists this is a great way to keep on track, and keep an eye as the hours and days until December 25th tick down!
Download: Christmas Countdown(Free)
Are you counting the days?
Keeping track of everything going on in December can be hectic, especially if you're still looking for that perfect gift to give to someone special. These apps can help you keep track of time so it doesn't get away from you, and put you in the holiday spirit along the way. Do you use a Christmas Countdown app? Is there a great Christmas Countdown app that should have made this list? Let us know about it in the comments below!
Be an expert in 5 minutes
Get the latest news from Android Central, your trusted companion in the world of Android
Jen is a staff writer who spends her time researching the products you didn't know you needed. She's also a fantasy novelist and has a serious Civ VI addiction. You can follow her on Twitter.