Best cheap Wi-Fi 6 routers 2023
Upgrade to a fast Wi-Fi 6 router without blowing money on features you don't need.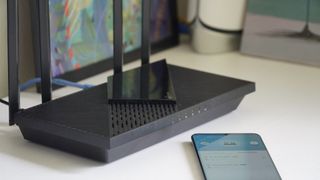 (Image credit: Samuel Contreras / Android Central)
Wi-Fi 6 has become the current standard for WI-Fi devices and routers, thanks to most new devices supporting the protocol. Wi-Fi 6 has made its way to the cheaper routers that most people are interested in buying without giving up its best features. Wi-Fi 6 routers have also ushered in an era of smarter router software with built-in security and parental controls. One of the best cheap Wi-Fi 6 routers is the ASUS RT-AX55 thanks to its solid WI-Fi 6 speeds and great software package for the price.
These are the best cheap Wi-Fi 6 routers for your home
Why you can trust Android Central Our expert reviewers spend hours testing and comparing products and services so you can choose the best for you. Find out more about how we test.
ASUS RT-AX55
The best overall cheap Wi-Fi 6 router
Reasons to buy
+
Solid AX1800 speeds
+
Four Ethernet ports
+
Asus AiProtection Classic is included for free
+
AiMesh support included
Reasons to avoid
-
Manual blacklist site blocking
The ASUS RT-AX55 not only offers great performance but comes with a few extra software features to sweeten the deal. This router has an AX1800 connection with 574Mbps at 2.4GHz and 1,201Mbps at 5GHz. The design is practical, with four Ethernet ports on the back for your wired devices. One thing missing is a USB port, but most people won't use it anyway.
What helps this router stand out is its software. AiProtection Classic software is included for free with security provided by TrendMicro. While most ASUS routers have this feature, it's nice to see it reach even its cheapest Wi-Fi 6 options. AiProtection includes basic but welcome parental controls that allow for time limits, manual site blocking, and a Kid-Safe preset.
ASUS includes a feature called AiMesh which allows you to use multiple ASUS routers to build a mesh network in your home. This is nice since you don't need to give up the features of a router such as advanced network controls and Ethernet ports for better coverage. If you've already got a fast ASUS router, you could even use the AX55 as a node to improve coverage.
Perfect for most people
Reasons to buy
+
Solid AX1800 speeds
+
Four Ethernet ports
+
Easy app setup
+
OneMesh expansion capable
Reasons to avoid
-
Limited parental controls
Many people don't have gigabit internet connections in their homes, and even if they do, they don't need all that speed on their wireless devices. As we saw in out TP-Link Archer AX21 review, this is an excellent choice for most people looking to get a wireless router that offers high speeds for mobile devices that support Wi-Fi 6 without paying for features they can't fully utilize. With an AX1800 connection, this router provides 574Mbps at 2.4GHz and 1,201Mbps at 5GHz. Four Ethernet ports allow you to connect your wired devices as well.
It can be tempting to go for a faster router, but it's worth keeping in mind that with Wi-Fi 6, this router can do more with less when it comes to spectrum and speed. A Wi-Fi 5 Android phone, for example, will connect at 867Mbps at best, while a similar WI-Fi 6 device will connect at 1,201Mbps.
TP-Link's software has come a long way in the past few years, and this router features basic parental controls and QoS options, and support for OneMesh. OneMesh allows you to use a compatible TP-Link Wi-Fi extender to expand your network coverage with the same Wi-Fi name. This router has the right balance of features with plenty of speed for home use for most people.
TP-Link Archer AX55
The best cheap Wi-Fi 6 upgrade
Reasons to buy
+
Fast AX3000 dual-band speeds
+
Four Ethernet ports
+
Support for 160MHz connections on 5GHz
+
HomeShield includes parental controls
+
Mesh expansion available with some TP-Link Wi-Fi extenders
Reasons to avoid
-
Requires a subscription for all security features
TP-Link makes some of the cheapest Wi-Fi 6 routers at any speed so if you like what you see with the cheaper AX21 but want a bit more speed, the AX55 is a great pick. The TP-Link Archer AX55 has a dual-band AX3000 connection which doubles the 5GHz speed compared to the AX21 as well as support for 160MHz connections so you can get closer to getting gigabit speeds over Wi-Fi.
On the back, you get four gigabit Ethernet ports for LAN so you can get your wired devices connected. There's also a USB 3.0 port so you can hook up some easy network storage with easy access. You can even choose to set up your connected drive as a Time Machine backup so you can back up a Mac without searching the bottom of your bag for your USB-C adapters.
Like many other TP-Link routers, a security package called HomeShield is built-in. To get access to all of the features, you will need to sign up for a renewing subscription but the price is reasonable for those looking to get advanced parental controls and a bit more web security while they're at it. Still, you can set up basic parental controls with the free version of HomeShield so you're not completely out of luck if you don't feel like paying extra.
As cheap as it gets
Reasons to buy
+
Solid AX1800 speeds
+
Easy setup and management with the app
+
Four Ethernet ports
+
Basic parental controls included
Reasons to avoid
-
Feels lightweight and cheap
-
Not the most consistent speeds
While we gravitate towards the brands we know, there's a lot of good value in some up-and-coming smaller brands like Speedefy. The Speedefy KX450 is a fairly basic Wi-Fi 6 router with AX1800 speeds but as I found in my Speedefy KX450 review, you get plenty of speed for most everyday tasks with generally high reliability despite some speed fluctuations. If you're looking for Wi-Fi 6 on the cheap, this router is definitely worth a look.
You get four gigabit LAN ports on the back for wired devices between two antennas and that's about it. On the bottom, you get holes to make wall mounting easy which is always appreciated. When it comes to software, Speedefy keeps its app simple but functional with the ability to change the most popular settings. Advanced settings are a bit lacking but the settings most people are looking for are here. Overall, Speedefy has built a solid option for those looking for the cheapest possible Wi-Fi 6 router without giving up 2.4GHz speed like the AX1500 options from other brands.
Faster performance for lag-free gaming
Reasons to buy
+
Fast AX5400 speeds
+
Gaming QoS software included
+
AiMesh support for easy coverage expansion
+
AiProtection Pro included for free
Reasons to avoid
-
Expensive
-
Only dual-band
The Asus RT-AX82U is a dual-band AX5400 router with enough power to keep any gamer happy. With six streams, this router can deliver full Wi-Fi 6 speeds to devices, including 160MHz support. Four gigabit Ethernet LAN ports are on the back, with one port singled out as a gaming port. There's also a USB 3.1 port to quickly share a portable drive with your connected devices.
The actual gaming magic comes from the software. Asus has optimized the RT-AX82U for gaming without giving up any other software features. For example, managed with the Asus Router app, users can choose whether to enable Game Boost for console or PCs to prioritize that traffic. There's also a Mobile Game Mode that can minimize lag when gaming on a great Android gaming phone.
AiMesh is supported, allowing you to improve your coverage by creating a mesh with additional Asus routers. AiProtection is also included for free to enhance network security from the router without needing to install extra software on connected devices. Finally, robust parental controls are included so you can set profiles and block content for specific family members.
The look of this router won't be for everyone, with oversized air intakes on the front glowing with RGB lighting. Still, as we found in our review the angular black housing looks nice, and with complete control of the RGB lighting, you'll be able to find a color you like.
Eero 6
Build a mesh with Wi-Fi 6
Reasons to buy
+
Fast AX1800 speeds
+
Easy coverage expansion
+
Compact size
+
Works with all other Eeros
Reasons to avoid
-
Only two Ethernet ports per unit
Thanks to its impressively intuitive software and solid performance, the older eero was one of our favorite mesh routers and if you don't need Wi-Fi 6, it's still a solid pick. Eero 6 takes it one step further with faster AX1800 Wi-Fi 6 speeds while not growing much larger than the older eero. The speeds break down to 574Mbps at 2.4GHz and 1,201Mbps at 5GHz. Eero recommends this router for gigabit connection on its own or up to 500Mbps connections as a mesh.
Eero's software is quick and easy to get the hang of with everything being controlled from an app. While you don't have as much control as other routers, everything you need to do is included, from setup to device management. You can also set features like IPv6, WPA 3, and even port forwarding from the app. Eero 6 doesn't have as much coverage as other routers at this price, but its compact size and easy mesh expansion make up for it. Speaking of mesh, eero 6 is compatible with all other eeros, including Wi-Fi 5 models, so you have plenty of options if you need to expand your coverage.
If you like eero 6 but need a bit more speed, the eero 6+ is the same size with double the speed thanks to 160MHz support. Eero 6+, however, isn't a good option to pair with older eero systems due to older systems not working well with 160MHz connections. If you choose eero 6+ makes sure you're only expanding your mesh with more eero 6+ nodes or eero Pro 6E.
TP-Link Deco X55
The best cheap Wi-Fi 6 mesh upgrade
Reasons to buy
+
Snappy AX3000 connection is better for mesh performance
+
Easy expansion with any model Deco
+
Three Gigabit Ethernet ports per node
+
HomeShield includes parental controls
+
Support for 160MHz improves mesh speeds
Reasons to avoid
-
Advanced HomeShield features require a solution
When it comes to building a mesh system, one of the most important things to keep in mind is the need for faster hardware. A mesh Wi-Fi system works by linking the nodes via a high-speed connection on the 5GHz band. As a result, the full speed of your router must be shared between your devices to maintain the mesh connection.
'The TP-Link Deco X55 doubles the 5GHz speed of something like the eero 6 with an AX3000 connection. This breaks down to 600Mbps at 2.4GHz and 2402Mbps at 5GHz. Best of all, the X55 supports 160MHz connections so your mesh can link at up to 2402Mbps so your system can put speed where it's needed most.
Like other TP-Link routers, you get HomeShield included for improved web security and parental controls. To get the most out of HomeShield, you'll need to subscribe for a fee but many people will be happy with the features included for free. Another Deco software trick comes with mesh expansion. Any other Deco will work to expand this mesh system so you could even use an older and slower Deco node in an area that doesn't need as much speed.
Affordable Wi-Fi 6E performance
Reasons to buy
+
Fast speeds at 5GHz and 6GHz
+
Band support for 160MHz at 5GHz and 6GHz
+
OneMesh expansion compatible
+
VPN Client supported
+
Free HomeShield parental controls are solid
Reasons to avoid
-
Full HomeShield requires a subscription
-
OneMesh only works with a handful of extenders
If you bought one of the latest Android phones like the Pixel 7 or have a Galaxy S23 phone on the way, you can utilize the latest Wi-Fi tech available to consumers, Wi-Fi 6E with improved speeds in congested areas like apartment buildings. To use it though, you'll need a Wi-Fi 6E router and now that TP-Link has stepped in, they're more affordable than ever. We were impressed with transmission speeds in our TP-Link Archer AXE75 review, even compare to much more expensive models. TP-Link has also included its solid HomeShield parental controls with this model including the less popular subscription upgrade.
This router has a tri-band wireless setup with 574Mbps allocated to 2.4GHz, 2402Mbps at 5GHz, and another 2402Mbps for 6GHz devices. That means you'll have plenty of speed for your 2.4GHz smart home devices, existing 5GHz devices (even with 160MHz), and the next generation of Wi-Fi devices. Furthermore, spreading your devices across as many bands as possible can help keep speeds consistent on your own network.
One thing to keep in mind is that 6GHz Wi-Fi simply doesn't travel as far as 5GHz or 2.4GHz Wi-Fi. This is down to a combination of factors including power levels and interference from walls and furniture. Having all three bands in your home means you can use the Wi-Fi band that gives you the best possible connection around the house.
Get the speed and features you need from your Wi-Fi
If you have a fast Wi-Fi 5 router and internet under 1Gbps, there's not much reason to upgrade to Wi-Fi 6 unless you are in an area with a lot of wireless traffic. That being said, if you're going to buy a new router, you should make sure it has Wi-Fi 6.
If you're looking for a major upgrade to match an internet upgrade, you could also check out one of the best overall Wi-Fi 6 routers, or even one of the best Wi-Fi 6E routers for a bit of future-proofing.
If you have a high-speed gigabit internet connection, you might want to invest in a faster router, but AX1800 will be more than fast enough for most people. The ASUS RT-AX55 is not the cheapest AX1800 router around, but with ASUS' great software packages and solid build quality, the extras will be worth it for many people. Not only that, but ASUS keeps setup simple and easy and hasn't stripped away the advanced settings for those that want them.
Be an expert in 5 minutes
Get the latest news from Android Central, your trusted companion in the world of Android
When Samuel is not writing about networking or 5G at Android Central, he spends most of his time researching computer components and obsessing over what CPU goes into the ultimate Windows 98 computer. It's the Pentium 3.