The best Android tablet is on sale right now for just $319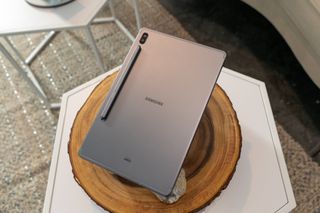 (Image credit: Android Central)
Samsung makes the best Android tablets, and while the Galaxy Tab S7 debuted earlier this year, last year's Galaxy Tab S6 continues to be a stellar choice in 2020. Right now, you can get your hands on the Tab S6 straight from Samsung for just $319 (opens in new tab), or 50% off its retail price.
That price is for the model with 128GB of storage, and it is available in three exciting color options: Mountain Grey, Cloud Blue, and Rose Blush. The deal also includes two months of YouTube Premium for free, so if you're in the market for a new tablet, hit up Samsung from the link below to get your hands on the Galaxy Tab S6.
A fantastic deal

The Galaxy Tab S6 continues to be a fabulous choice a year after its launch. The 10.5-inch AMOLED screen is sublime, the Snapdragon 855 chipset still has a lot to offer, and the value on offer here makes it a downright steal.
$319.99 $649.99 $330 off
The Galaxy Tab S6 debuted a year ago, but the hardware on offer holds up just fine in 2020. The tablet just got the update to One UI 2.5, and like Samsung flagships, the Tab S6 will get three guaranteed Android updates, so it will switch to Android 11 and Android 12 once that becomes available in a year's time.
The Tab S6 features a stunning 10.5-inch Super AMOLED display, and the Snapdragon 855 is just as powerful as the Snapdragon 865 in day-to-day tasks. There are four speakers on the tablet, and the vibrant screen combined with the onboard audio makes it a great device for streaming content.
The base model comes with 6GB of RAM and 128GB of storage, there's a MicroSD card to boost storage, you get Wi-Fi ac, Bluetooth 5.0, and Samsung DeX. With a 7,040mAh battery under the hood, you'll easily get over ten hours of screen-on-time from a full charge, and when you do need to plug it in, there's 15W fast charging.
Essentially, the Galaxy Tab S6 has plenty to offer in 2020, and the fact that you can get your hands on the tablet for just $319 makes it one of the best Black Friday deals right now.
Harish Jonnalagadda is a Senior Editor overseeing Asia at Android Central. He leads the site's coverage of Chinese phone brands, contributing to reviews, features, and buying guides. He also writes about storage servers, audio products, and the semiconductor industry. Contact him on Twitter at @chunkynerd.
Nothing remotely close to that in the UK. You lucky buggers in the states!

Misleading article. Samsung is offering $200 off of the Galaxy Tab S6 mentioned above without any trade-ins. And with a $649 starting price, that doesn't get you to $319.

its showing $320 for me (actually $295 with my employer discount). Great tablet, I got the 256gb - its fast and the AMOLED display is fantastic!

It shows that too for me, until I add it to the cart.

Looking into it too. Talked with one cs rep and they said they were having issues. It does show "with Samsung Financing" but even selecting that as an option it doesn't show the discounted price.

I contacted CS through chat. They suggested technical difficulties and to check back in 24hours. No guarantee on $319 price, either.

Yeah, I asked about that too. She said she would send an email on, but yeah no guarantee.

I had the same issue. Called support, they said they were having technical issues but could see the $319 on their end. They said they couldn't do anything about it since in their system the discount is only $200 (so the $249 that shows in cart). I asked to speak to supervisor. They asked for screen shots and said they would give me the price in the form of a $130 return after it ships. Got it confirmed via email. I think if you push them, they have to give it to you otherwise it's false advertising. Give it a try.

So have you seen the $130 return yet? They have our information and were supposed to get back to us since I was a bit gun shy about actually getting the $130 back.

Have to wait for it to be shipped and received to get the $130. I have email correspondence so I don't think they will go back on it.

Been told stuff by other companies who never followed through on "promises", I just don't get why it has to be delivered before they will do something on it.

Certainly sounds like a bait-n-switch on Samsung's end. I added one to the cart 6 hours ago and was 1 click away from the order being placed and it showed $319 (128GB w/o trade). I didn't order it then because I had to check on something first. I went back to the page a moment ago and the price still shows $319 until I get to the checkout it changes to $449. I don't trust them to adjust the price so I'll keep trying until I see the $319 stick.

I'm weighing the risk vs reward. Don't know what Samsung returns are like if they don't process the "refund".

I just got off the chat with support. They're aware of the problem and claim that they are working to fix it. I'm skeptical because it was working this morning (local time) and now suddenly it doesn't. It doesn't take hours to "fix" a bug like this. I periodically re-try ordering to see if the lower price sticks. Especially since the keyboard case and folio case are at clearance prices when added to the order.

Had tried several times. Sure seems like a bait/switch and they hope people don't notice it. Finally asked in chat and they were incredibly rude. First telling me pretty much I was lying about it. Then stating it was only for trade-in deal. Then demanding a screen shot as I was obviously mistaken. To ignoring me for the next hour. Incredibly poor customer service on their part. Mistakes happen but either correct the deal or honor the deal. And treat your customers or potential customer better than that.

Kind of went through the same progression, though the rep I got was pretty nice about it. They were a little unbelieving at first and then when they finally tried it themselves their tone changed a little bit. We got emails like another post here, went ahead and bought one last night. Supposed to be here on Friday, guess we will see how it goes.

Its a shame for names like Samsung that they can not get even their own ordering system right. How should one believe their claims about the software quality they deliver to users !!!
I have come across such errors in pricing with other vendors but they acknowledge and honor what they advertised. But with Samsung, this seems like B&S.

Reviewed Samsung's website again this morning (6AM Pacific). They have made changes to the pricing structure, but still no $319 option. They still show a better discount on the configuration screen than the checkout screen (B&S).

Well, I'm surprised. Typically my level of trust with big companies isn't high, and then I'm told "Sure, buy that tablet at not the price it's listed at and then we will refund you after you receive it. 😉, 😉.". Well, they did. Wow. This isn't the second time Samsung has come through this last year for us either.

I got the refund too. Fantastic deal! And I haven't seen it go back to that price either. We scored! I will say Samsung customer services has been stellar in my experience, for various products.
Android Central Newsletter
Thank you for signing up to Android Central. You will receive a verification email shortly.
There was a problem. Please refresh the page and try again.