The best Android apps for following the London 2012 Olympics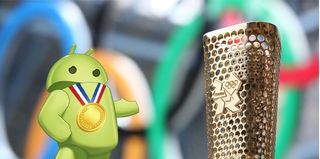 (Image credit: Android Central)
The 2012 Olympics kick off in London tomorrow, and we have a collection of the best apps for staying on top of all of the action. Whether you want to watch the games as they happen, catch up on the latest results, or just feel like a world-class athlete from the comfort of your phone, we've got a little something for everybody.
London 2012 Results
Why you can trust Android Central Our expert reviewers spend hours testing and comparing products and services so you can choose the best for you. Find out more about how we test.
Your first stop for keeping tabs on the Olympic games should be the official London 2012 Results app. It includes schedules, results, live updates, sport details, medal tables, athlete profiles, and lots more. Users can follow specific countries so they can root for the home team.
Download: London 2012 Results App (opens in new tab) (Free)
London 2012 Join In
If you're attending the games, Join In was built for you. Yet another official Olympics app, Join In offers a full event guide, maps, live updates, and a scheduler to make sure you're there to catch the action from the ground floor. Coordinating with other spectators is also really easy thanks to a location-sharing function. There's Facebook, Twitter, and Foursquare integration so you can brag to friends and family back home about how much fun you're having.
Download: London 2012 Join In App (opens in new tab) (Free)
London 2012 Official Mobile Game
Tired of watching and want to be a part of the action? The Official London 2012 game puts players into 9 Olympic events, including the 100 m dash, 110 m hurdles, triple jump, pole vault, 1 K kayaking, archery, and more. You can customize your athlete with a bunch of different items. There's a premium version that provides extra points, more stamina, and double stat rewards, but if you're just looking to kill some time until the next event, this should do the trick.
Download: London 2012 Official Game (opens in new tab) (Free/$0.99)
NBC Olympics Android Central
Americans will be able to catch the London 2012 games from the NBC Olympics app. It comes complete with news, TV listings, medal counts, photos, video and the ability to follow inidividual athletes, teams, and sports. Facebook and Twitter are plugged in for those times when you really want to cheer.
The core NBC Olympics app is free, but if you're a subscriber to CNBC or MSNBC cable service, you can watch the games live through NBC Olympics Extra. It offers full replays, live streaming, access to TV channels, DVR controls, and push notifications for when events are about to start.
Download: NBC Olympics (opens in new tab) (free)
Download: NBC Olympics Extra (opens in new tab) (subscribers only)
BBC Olympics
Our U.K. readers will be able to enjoy live and on-demand streaming of the 2012 Olympics over 3G and Wi-Fi through BBC's Android app. They'll have up to 24 live streams running throughout the games, which means you'll never be hurting for something to watch - just make sure you have Flash installed. Every sport, country, and athlete gets their own page, and are put on a full schedule of events to come. If you miss an event, there are video highlights, top stories, commentary from BBC journalists covering the Olympics, and outcomes.
Download: BBC Olympics (opens in new tab) (Free)
Bell Mobile TV
For Canadians, Bell Mobile TV will have live Olympics coverage from CTV, TSN, and Omni through their Android app. $5/month provides subscribers 10 hours of viewing. You'll also get access to a bunch of other Bell content, like MTV, TVA, and CBC.
Though I never had any issues with Bell Mobile TV when playing around with it on the Galaxy Note, the Google Play store is full of complaints. Unfortunately, Canadians don't have much in the way of alternatives, since Bell owns pretty much all of the major media outlets. Additional downside: you have to be a Bell customer to get in on the service, so unless you're really hardcore about the Olympics or already with Bell, a fresh 3-year contract probably isn't worth it.
Download: Bell Mobile TV ($4.99/month)
How are you going to be enjoying the Olympics? Are there any particular apps we're missing in this list?
Simon has been covering mobile since before the first iPhone came out. After producing news articles, podcasts, review videos, and everything in between, he's now helping industry partners get the word about their latest products. Get in touch with him at simon@futurenet.com.
I am no environmentalist. No, I don't even recycle unless required by law. :) Having said that, I believe it's a gigantic wastes of the Earth's resources to host the Olympics in a different
city every 4 years. Think of all the stadiums, roads, hotels, airports they build just for the Olympics. Oh,
wait, make that every 2 years, since there's also the Winter Olympics.

Its not like these facilities go to waste after the games.
Some venues have been used repeatedly for 10 years, all the while serving the local country every single day. Its not a perfect solution, but it gets sports facilities built when nothing else would work as well. We can argue whether sport facilities are the best investment a country can make at a later time.

Well it's not just sports facilities it's housing and other types of venues. It's quite the economy booster and it forces the host city/nation to spend money on beautification. Beijing was forced to work to clean up its air quality when it hosted. The olympics bring a lot of revenue and as people become more "green" conscious one can hope that money is going to such projects. Additionally, as the poster above stated, the buildings aren't just demolished or left vacant they serve as tourist attractions and housing or whatever else they're designed for. I myself have stayed at the 1964 olympic village in Tokyo which they use as a hostel. The grounds are still quite beautiful.

It has been reported that the London Olympics will be the greenest yet. The majority of the venues including the Pool venue were built in pieces so that after the games are completed they can be dismantled and moved to another city in England.

The NBC Olympics app on the Nexus 7 looks amazing, crystal clear I just hope it stays that way when millions are online!

NBC Olympics Live Extra requires that you have a TV subscription somewhere (not on your device, but just some form of TV that could (if you chose) get the feeds). Then it will work, otherwise, not so much. LIVE EXTRA Bugs:
As of this writing the Live Extra app has a serious bug on some Tegra3 Tablets and phones. Works perfectly on Tegra2. If your video and sound get a sudden case of the sloooooooow dooooooowwwwwns after starting any feed on a Tegra3 device, do this: Tap lower right corner of screen to bring up the Notification Bar.
Tap the three slider icon to access settings. (video and sound stops).
In settings, touch nothing, just press the recent apps icon next to home icon in bottom bar.
Select bottom entry in recent apps.
It will pick up playing your video with sound and picture working properly. You probably have to do this for each new feed you select.
After the first time, you can just go to the Recent apps, settings, recent apps, last app in quick succession. Maybe they will fix this. Probably just as soon as the games are over.

This works great on my Xoom, but after last update it says it's not compatible with my Razr Maxx any more. Still, I was able to watch two soccer games at once earlier (one on tv and one on the Xoom) so that's cool.

Only available in the U.S. :(

I recently got a Galaxy SIII and I've been cruising around for apps to keep tabs on the Olympics. I will have to check some of these out, since my work schedule will tear me away from my living room for much of the Summer Games. I plan on using the Dish Remote Access app to watch live coverage on NBC channels. My coworkers at Dish suggested the app and it came in handy earlier this week to watch the US women's soccer game against France. I'm curious to see if there will be a Harry Potter-themed routine in tonight's opening ceremonies.
Android Central Newsletter
Thank you for signing up to Android Central. You will receive a verification email shortly.
There was a problem. Please refresh the page and try again.