Best alternative launchers for the Galaxy S6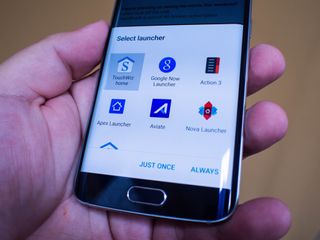 The Galaxy S6 and S6 edge are two of the best phones to be released in 2015, due largely to Samsung's impressive overhaul in design philosophy and an impressive photography experience. Software on the Galaxy S6 is significantly improved over the previous generation, but the app launcher and homescreen setup still lacks flexibility.
Fortunately, this being an Android device, there are plenty of alternatives. Here's a quick look at some of the best out there, should you be interested in a different experience.
READ MORE: The best alternative launchers for the Galaxy S6
Google Now Launcher
Why you can trust Android Central Our expert reviewers spend hours testing and comparing products and services so you can choose the best for you. Find out more about how we test.
While this launcher was originally saved for Nexus devices, Google has opened things up a bit and made it possible to install their experience on just about everything. Google Now launcher offers big icons with simple customization features, and Google Now sitting on your leftmost homescreen at all times. This eliminates the need to long press on the home key to access Google Now on the Galaxy S6, but perhaps more importantly it resets the app launcher to the center of the page instead of the far right.
The only thing missing here for those who have used a Nexus device are on-screen buttons, but the high resolution display of the Galaxy S6 makes this launcher look nice and clean with the apps lined up against the bottom edge of the display.
Download: Google Now Launcher (Free)
Aviate Launcher by Yahoo!
Yahoo's launcher replacement is all about getting you to the things you want to do as quickly as possible, and this happens through a learning algorithm based on your usage. The launcher replacement starts off by asking you to select your most used apps and organizing everything else in a large alphabetical list, with pull gestures to the left and right of this central homescreen that offer up apps and content based on context.
The more you use it, the smarter it gets, which in theory leads to fewer taps as you try to locate the apps you want to use and a better all around experience.
Download: Yahoo! Aviate Launcher (Free)
Action Launcher 3
Action Launcher 3 is the latest in Chris Lacy's efforts towards a better launcher for everyone. This iteration of the software focuses on bringing a little more of Google's Material Design into the world, while trying to make the icons on your homescreen more useful than simple launch links. The little icons you see under some of the applications on the homescreen indicate quick folder launches and even collapsible widgets that offer a quick glimpse into whatever is happening inside the app.
This launcher is one of the best out there for those who enjoy spending a little time creating the perfect experience for their needs, but with that customization comes a bit of a learning curve.
Download: Action Launcher 3 (Free)
Nova Launcher
There's no doubting Google's launcher experience wins points for being smooth and minimal, but it doesn't hurt to add a little flair. Nova Launcher offers exactly that, a Google-ish launcher with a whole lot of animation options and organization tools. You have granular control over things like grid size, whether the app drawer loops on itself, and what icons are used for things like folders. Setting everything up requires some time and patience, but the end result can be rewarding.
There's also a "Prime" version of the app for $4 with additional features and animation options, so you can take customization one step further.
Download: Nova Launcher (Free)
Apex Launcher
Apex launcher is another great option for those who want a clean homescreen experience, but would also like a little more organization in the app drawer. Instead of an endlessly scrolling list or tons of pages to flip through, Apex has some unique tools for icon management. You can assign apps to groups and quickly access exactly what you need, and you've got some additional control over the way you navigate apps inside the launcher. It's arguable the most flexible of the browsers, but with that comes a layer of complexity that is summed up by the existence of a separate settings icon just for Apex options.
Apex launcher also gives you the ability to lock the position of everything on your launcher, just in case you've got a little one with grabby hands or a coworker that likes to hide everything in layers of folders just to mess with you.
Get the Android Central Newsletter
Instant access to breaking news, the hottest reviews, great deals and helpful tips.