Best 5G cell phone plan 2022
Mid-band coverage is available on the Big Three carriers but T-Mobile is still firmly in the lead when it comes to coverage.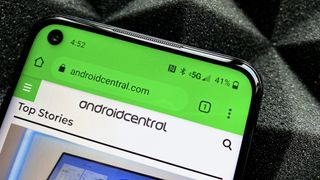 (Image credit: Samuel Contreras / Android Central)
The majority of the population in the U.S. now has 5G coverage from at least one carrier, so it's time to think about getting one of the best 5G cell phone plans with your new phone. T-Mobile has a commanding lead in coverage, with AT&T and Verizon struggling to get off the start line with C-band deployment, so for now, it's the best network to try out 5G. Still, all carriers have some level of 5G coverage and, in some areas, may even come out ahead of T-Mobile. Overall, the best plan for 5G is T-Mobile's Magenta plan with unlimited premium data, Netflix, and great family savings.
Take advantage of 5G's performance with these plans
Why you can trust Android Central Our expert reviewers spend hours testing and comparing products and services so you can choose the best for you. Find out more about how we test.
T-Mobile Magenta
A dense 5G network and all you need is a 5G phone
Reasons to buy
+
All plans get 5G
+
low-band, mid-band, and mmWave on one network
+
Netflix included is with multiple lines
+
5GB in Canada and Mexico
+
Unlimited 3G speed hotspot
Reasons to avoid
-
SD streaming
-
Only 5GB of high-speed hotspot data
T-Mobile offers 5G on all of its plans, so if you upgrade to a 5G capable device, you can get connected with no hassle. T-Mobile's 5G network not only has the best coverage, but its use of mid-band spectrum has also made it one of the fastest overall. Best of all, this mid-band spectrum covers more than 200 million people, and it's still growing. With that in mind, the Magenta plan is one of the best values on T-Mobile, thanks to its unlimited data with deprioritization at 100GB and Netflix included.
This plan only includes 5GB of LTE hotspot, so it may be worth it to step up to the Magenta Max plan for $15 more if you use a lot of data on your other devices. Similarly, you can drop down to the Essentials plan if you only need the basics. This makes T-Mobile one of the easiest ways to try out 5G without going for the most expensive plan. If you're bringing the family, you can get your third line for free.
T-Mobile 5G for a discount
Reasons to buy
+
Save by buying more months
+
Easily upgrade to a large data package
+
Most unlocked 5G phones will work
+
Data can be used as a hotspot
Reasons to avoid
-
Must buy at least 3 months
-
No multi-line savings
Mint Mobile has larger plans than its entry-level 4GB plan, including an unlimited plan, but a lot of people don't need that much data. Even so, if you find you need more data than you signed up for with Mint, you can upgrade mid-cycle to the 10GB, 15GB, or unlimited plan. This is a great thing because you need to buy at least three months of service upfront. Mint Mobile is available in three-month, six-month, and 12-month terms with greater savings when you buy the whole year. The 4GB plan, for example, comes down to just $15 per month for 12 months.
Mint Mobile uses T- Mobile's network, including 5G, so for the best results, you should have a 5G phone that supports both band 71 and band 41. You can try out your first three months at a discounted rate, so you don't have to commit to the full year at first.
Remember that Mint Mobile does not offer any savings for multiple lines, so if you want to get the whole family connected, there are better options.
Cheap and unlimited with Verizon 5G
Reasons to buy
+
Unlimited data, calls, and texts
+
Party Pay savings
+
Unlimited 5Mbps hotspot
+
No hidden data cap
Reasons to avoid
-
Video streams at 480p
-
No 3G support
-
Only a handful of supported 5G phones
Visible is a prepaid carrier operating exclusively on Verizon's digital network. This means that Visible only uses LTE or 5G and will have no access to the older 3G and analog towers. Still, for most people, the Verizon LTE network offers excellent coverage, speed, and the addition of 5G only sweetens the deal. Visible has two plans, with the entry-level Visible plan only getting nationwide 5G speeds. The upgraded Visible+ plan not only comes with Ultra Wideband (including C-band) but also has 50GB of premium data each month. That means your speeds will be much closer to postpaid Verizon plans despite Visible+'s lower price.
In our Visible review, we tested the old Visible plan, but we were able to see that even LTE and nationwide 5G speeds were high enough for most day-to-day usage. It's also nice to remember that both Visible plans come with unlimited hotspot data at 5Mbps. If you're looking to try out Verizon's 5G network but don't want a postpaid plan, Visible+ is a great option that doesn't give up anything important.
Google Fi Unlimited Plus
Pay for what you use
Reasons to buy
+
Only pay for what your use
+
Same price for international data
+
Hotspot included
+
Bill protection at 6GB
Reasons to avoid
-
Data throttled at 15GB
-
Not all 5G phones get the full Fi network
-
Apple iPhones still don't work with 5G
Unlimited Plus plan is Google Fi's biggest plan, with 50GB of high-speed data, hotspot tethering, and international roaming included. Google Fi also has multi-line discounts, so you can save when you bring the whole family to the carrier. Unlimited Plus, as well as Google Fi Flexible, also include the option for a free data-only SIM. This SIM allows you to share your data with other cellular devices without needing to pay for another line of service.
Google Fi's network in the U.S. is made of coverage from T-Mobile, UScellular, and Wi-Fi partners on phones designed to work with Fi. Several phone models work with Google Fi's full network and include 5G, such as the Pixel 6 and Samsung Galaxy S22 series.
You can bring other unlocked 5G phones to Google Fi, but they will only support the T-Mobile network. Google Fi's network switching alongside other great features such as a VPN connection, you can be sure your connection is secure whether you're on Wi-Fi or 5G in the U.S. or abroad. Be warned, Google Fi does not support 5G on iPhones at all despite supporting the proper bands.
Cricket Unlimited More
Unlimited data backed by AT&T's massive network
Reasons to buy
+
Solid low-band 5G coverage
+
Unlimited talk, text, and data in Canada and Mexico
+
Premium data unlimited
+
Multi-line savings
Like the other carriers, AT&T's 5G network will be a combination of mmWave in venues and dense areas, low-band coverage for rural areas, and mid-band coverage for urban and suburban areas. AT&T is playing catch-up with its 5G network, but it's not dragging its feet with mid-band coverage expanding quickly. If you're covered by AT&T 5G, one of the best values to try it out is with AT&T's prepaid carrier Cricket Wireless. All Cricket plans come with nationwide 5G but to get the most out of it, you'll want the $60 Cricket More Unlimited plan.
This plan comes with unlimited premium data, 15GB of wireless hotspot data, ad-supported HBO Max, and 150GB of cloud storage. This plan also comes with Cricket Call Defense, so you can get some extra spam call protection like postpaid carrier customers. Multi-line savings are available for up to five lines as well. Keep in mind that Cricket doesn't officially support 5G on all phones that will work, so it's a good idea to check with customer support to be sure.
Verizon 5G Play More
Fastest wireless on a phone
Reasons to buy
+
50GB of premium data is enough for most people
+
Disney+, ESPN+, and Hulu are included
+
25GB of mobile hotspot
+
50% off Verizon home internet
Reasons to avoid
-
4G and Nationwide 5G deprioritization at 50GB
-
720p video streaming must be manually enabled
Verizon has an impressive 5G network with a strong combination of low-band, mid-band (C-band,) and mmWave coverage. Though its C-band coverage still isn't a match for T-Mobile's mid-band coverage, it's catching up quickly and has coverage in many populated areas. Verizon isn't slowing down either, with its C-band coverage area continuing to grow for the next few years with speed and capacity improvements planned for the end of 2022 and 2023.
If you connect to Ultra Wideband, you get truly unlimited data, hotspot, and streaming quality. If you're on nationwide 5G, your plan and limits match the LTE service. The Play More Unlimited plan is a great fit to make the most of 5G, thanks to its Premium Network Access feature with 720p video streaming and 50GB of premium data. This goes well with the include Disney+, ESPN+, and Hulu package. Verizon has packed in 12 months of Apple Arcade, Google Play Pass, and Discovery+.
Get the right 5G coverage for your area
All 5G networks in the U.S. are growing rapidly, with new cities being constantly added. And with most carriers, all you need is one of the best Android phones with 5G to get access. There's a good chance that if you already have one of the best cell phone plans, 5G access is included. While the speeds available on sub-6 5G aren't as great as some expected from 5G, carriers have gotten serious about mid-band 5G, and speeds will likely continue to improve over the next few years.
If you're ready to upgrade to 5G, T-Mobile has one of the most robust 5G solutions so far, and it's only improving with consistent updates, mid-band coverage rapidly growing, with 200 million already covered, and millimeter-wave and C-band capacity ready to deploy when more people hop on 5G. T-Mobile considers 5G to be a normal part of its network and, luckily for you, doesn't charge a premium to use it. T-Mobile Magenta is the best way to experience 5G today at a reasonable price, Netflix included, and the largest 5G network by far.
Android Central Newsletter
Get instant access to breaking news, the hottest reviews, great deals and helpful tips
When Samuel is not writing about networking or 5G at Android Central, he spends most of his time researching computer components and obsessing over what CPU goes into the ultimate Windows 98 computer. It's the Pentium 3.
Android Central Newsletter
Get instant access to breaking news, the hottest reviews, great deals and helpful tips
Thank you for signing up to Android Central. You will receive a verification email shortly.
There was a problem. Please refresh the page and try again.