A beginner's guide to the Samsung Galaxy Note 5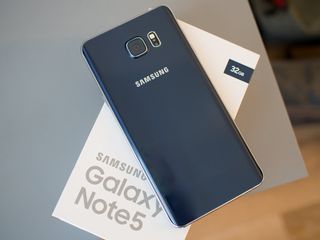 If you're looking for top-of-the-line phones, the Galaxy Note 5 is bound to be in the conversation. With a great new design, high-end internals, wonderful screen and powerful camera, the Note 5 has a ton to offer. Many haven't been able to resist, and have already made the upgrade to a Note 5 — but others may still be on the fence.
No matter which camp you're in, we've rounded up all of our coverage that's required reading if you're getting into a Note 5. Let's get started.
Hardware
Samsung introduced a brand new design language with the launch of the Galaxy S6 earlier in the year, and that was brought over almost entirely to the Galaxy Note 5. The latest Note has a solid metal frame sandwiched between two panes of glass, which makes it a touch more fragile but oh-so-beautiful to look at and hold. On the inside, it takes the Galaxy S6's specs as well and adds in just a couple places — but that's not a bad thing. It all powers a wonderful 5.7-inch QHD Super AMOLED display, which leads the market.
Here are the most important specs you need to know:
Category
Features
Display
5.7-inch QHD (2560x1440, 518 ppi) Super AMOLED
Operating system
Android 5.1.1 Lollipop, TouchWiz
Processor
Exynos 7420 octa-core (2.1GHz quad + 1.5GHz quad)
64bit, 14nm
Storage
32 or 64GB, UFS 2.0
Non-expandable
RAM
4GB (LPDDR4)
Rear camera
16MP, f/1.9, OIS, phase detection auto focus
4K video, slow motion video
Front camera
5MP, f/1.9
Battery
3000 mAh
Non-removable
Charging
Micro USB 2.0, Adaptive Fast Charging
Qi wireless, Powermat wireless, fast wireless charging
More: Complete Galaxy Note 5 specs
Also: Our full Galaxy Note 5 review
Setup
Samsung has a pretty self-explanatory setup process right out of the box with the Galaxy Note 5, and has actually left most of Lollipop's stock setup features including "Tap and Go" setup from another device over NFC. During setup you'll be able to do usual things like get connected to Wifi, add your Google Account and restore your apps.
But you'll also do some Samsung-specific things during setup (adding several steps), like get signed up for a Samsung Account and train the fingerprint sensor in the home button to recognize a finger. Both are things you may not want to spend time doing when you're anxious to get started with your new phone, but getting them out of the way up front is the best way to go.
More: How to set up the Galaxy Note 5
User interface
Samsung's take on Android 5.x Lollipop is much the same on the Galaxy Note 5 as it was on the Galaxy S6. It hardly follows Google's lead in terms of design and colors, but if you've used a previous Samsung phone you'll feel right at home. Here are a few of the broad strokes to know about interacting with your Note 5.
The launcher
Samsung's launcher — or the app that generates your home screens and app grid — is pretty simple to wrap your head around, but still has a few quirks. There's a standard grid of apps and widgets available for you to set up how you like, with as many pages as you want in whatever order you prefer.
Pinch in with two fingers on the home screen and you can then edit the screen grid size — to fit more apps and widgets on each page — or add/remove individual pages. The app drawer is pretty basic, but one thing we do recommend is using the "A-Z" button to sort your apps alphabetically (you'll have to do that regularly, as the apps don't auto-sort when you download new ones). You can also use the "Edit" button to delete folders or apps quickly.
If you're not a big fan of how the Galaxy Note 5's launcher looks or performs, Android makes it easy to grab a new launcher from the Play Store and replace it entirely. You can always go back to the Samsung launcher if you wish, or have multiple installed and switch as you see fit.
Briefing
By default your leftmost home screen on the Galaxy Note 5 is taken up entirely by what Samsung calls "Briefing" (you may know it as its old name, My Magazine). This Flipboard-powered newsreader is pretty basic, and most news junkies will be happier with their own app of choice that isn't tied into the home screen launcher.
Thankfully you can turn off Briefing entirely just like you could on the Note 4 if you don't want to see it, and can put a regular page for apps and widgets in its place. Briefing is also simply tied to Samsung's default launcher, so if you replace it you'll also lose Briefing.
Notifications and quick settings
Samsung has eschewed the standard Lollipop style dual-swipe notification shade, sticking instead to what it has used for years where a single swipe down from the top of the screen reveals both quick setting toggles and all of your notifications. You instantly have access to five quick settings toggles to do different functions, and a swipe to the left reveals another five. Just like other Android phones, you can swipe notifications away to the left or right, and if the notification has additional content available you can swipe down on it to expand the notification.
You can edit the placement of the quick settings from the edit button at the top of the shade or in the phone settings. When the notification shade is pulled down you can also quickly access the phone settings with a tap of the gear in the top-right corner, and adjust the brightness with the slider under the quick settings.
One-handed operation
Samsung has two basic settings that help you use the large Note 5 with just one hand — you'll find both options in the Display settings. The first is "Reduce screen size," which lets you shrink down the screen proportionately to about half size with three quick presses of the home button. You can then interact with your phone normally, but with everything within reach.
The second is "One-handed input," which once enabled permanently shifts your lock screen pattern, stock keyboard, stock dialer and calculator apps to one side of the screen (you choose) for easier input. It isn't quite as useful as the other option, but if you use your Note 5 in one hand more often than two, it may be worth considering
More: How to use the Galaxy Note 5's 'One-handed operation' modes
Camera
The Note 5 has an absolutely great camera on offer, from how quickly it launches — just press the home button twice — to the final image quality when you snap a picture. It can take HDR photos just as fast as single shots, and even offers higher-end features like 4K video, slow motion video and a fast burst mode.
You'll be able to take wonderful pictures with the Note 5 in complete auto mode, but you can also hop into the "Pro" mode to get full manual control over the camera. When in Pro mode you can even get RAW picture output for tweaking later.
Get all the Galaxy Note 5 camera tips here!
A couple other things to note when it comes to the Galaxy S6's camera:
Samsung's HDR mode does a great job of brightening pictures without going overboard, and we recommend leaving "auto HDR" on in most situations.
The camera can also handle 4K video recording, but it's turned off by default due to the fact that it also disables many of Samsung's more advanced camera features.
The Note 5 offers RAW image capture — just enter Pro mode in the camera, then enable it in the settings.
Check out the "wide selfie" mode for those big group shots with the front-facing camera.
The included Gallery app is pretty good, but it doesn't handle cloud accounts very well — consider Google Photos, Dropbox or even OneDrive for that.
How to get better battery life
The Note 5 actually offers better battery longevity than you may expect given its high-end specs and 3000 mAh battery, but of course everyone always wants to get more out of their phone. For most people, there won't be any issue getting through a full day of work or play with battery to spare, but if you're having trouble, there are a few things to consider.
Samsung's built-in Power Saving and Ultra Power Saving modes will help make the most of the phone and its non-removable battery. You can also invest in a charger that'll boost the battery quickly thanks to Adaptive Fast Charging technology, or pick up a wireless charger to add a few percent here and there when you have time to set it on the pad — the Note 5 even supports faster wireless charging than other phones, if you have the right charger.
There are also the standard battery longevity tips such as reducing your phone's brightness (just simply using auto brightness can help, too), and checking for battery-thirsty apps.
Read: How to get more out of the Galaxy Note 5's battery
Tips and tricks
Once you get past the basics with your Note 5, you'll likely want to learn a few of the lesser-known features. Getting to know some of the included gestures, settings and tricks will turn you into a master of your new Note.
That's particularly true if you're interested in making the most of the Note 5's S Pen, which integrates with a wealth of apps and services from utilities to fun and games. Pull out your S Pen and launch Air Command to get started with all it has to offer.
Read: 10 things to know about your Galaxy Note 5
Also: Tips and tricks to make the most of your Galaxy Note 5
And: First things to do with your Galaxy Note 5
Accessories
With the slick and beautiful exterior of the Galaxy Note 5 it may be painful to cover it up with a case, but when it comes to protecting your phone from unwanted bumps and drops sometimes practicality wins out. If you're considering a case or other accessory for your new Note 5, we have you covered with reviews of all the top choices and a great place to buy them if you need.
More: Galaxy Note 5 cases and accessories
Also: Shop for Galaxy Note 5 cases
Need more help?
If you're just getting started and still need more help, don't worry! We have more than two million members in our Android forums with all sorts of experience with all sorts of things. Point is, you're not alone.
So don't be afraid to ask questions. Or just lurk and see what others have sought help with, if you prefer. Chances are you're not alone.
Andrew was an Executive Editor, U.S. at Android Central between 2012 and 2020.
Another? Wow, how many Galaxy Note 5 articles is that already? It's a great phone and all but wow, seems like overkill. Not that I'm complaining or anything, I like to read as much as I can on here. I was just surprised is all. I guess it's just a slow news day. Note 4 vs Note 5 Speed Comparison: http://youtu.be/MYkTxA7dcEY

Well because the note 5 gs6 edge plus are still very popular a are still selling well .this article could be helpful to some of the iPhone convert . Oh and it's bound to bring out all the Samsung haters on AC. 3 2 1 Posted via the Android Central App

Your gonna be pissed at Christmas when every phone has these articles being recycled and put back out. That and the 'you got and android, now what''? Article. I suggest you skip a few months Signatures are so___________!

How many? About 1/10th as many Moto and Nexus articles.

You could just Not click on them, read them AND comment on them. Jus sayin.

I'd like to see more info on the Note's multitasking features. Surely a phone with the same amount of RAM as many computers that play multiple GB games can multitasking apps that are less than 100MB each. Posted via the Android Central App

Oh the n5 can do that and sooooo much more it's an amazing phone that despite all the Sammy hate manages to out sell every other android flagship phone combined . Imagine that even with out the SD card and removable battery I'd have thought by now the haters would have given up the fight by now Posted via the Android Central App

Not a hater. I had the S2/S3/S5 and now on the G4. I'm just tired of the absurdly terrible RAM management on Samsung phones. When you put it in perspective, 4GB is a LOT of RAM! I would have bought the N5 if they improved the multitasking. I need that ability, and a power user's phone should have that, no question. Posted via the Android Central App

Hey you have a right to your perceived opinions rather ram gate is are isn't a.issue . But haven't you noticed that to a.man everyone that actually own the phone see it as a non issue . That only seems to bother nexus and iPhone people . For us that have the phone what we do know is that in day to day operations this phone is Hella fast and sooooo smooth. The build quality is second to none. And the camera is the best in smart phones ever . Samsung sells maybe 400 million phones every year and most are running TouchWiz if it was that big of a issue to the average Joe folks would be buying nexus,lg and moto phones in far more numbers then Samsung. ..there not . At my work place which has a few hundred employees most ether own I phones are Samsung Galaxy. And because I'm a tach geek and know most of them I ask them there gs6 and n5 experience few said that they'd like more battery but when I mentioned multitasking and RAM it was a non issue and most said never gave it a thought. .. so there's your answer from the general public on ram gate only tech geeks and haters care about that ...just saying . Should I really care it the 12th app I opened 5 hours earlier take all of 2 second to reopen. When everything else about my phone is so crazy fast ..hell na Posted via the Android Central App

There are plenty of people that own the phone that see it as an issue, I own an S6 and multitasking is a joke. Last Samsung phone I'll own till they get it sorted out. Posted via the Android Central App

There's a youtube video that shows the Note 5 can't multitask at all. And you should always base your purchases on youtube videos -- like the one that shows a little girl can bend a Nexus 6P. If it's on youtube, you can believe it. Just ask 49ersfan.

Try 3 dozen videos all showing that same crappy, aggressive RAM management. 1 or 2 is debatable, seeing all of them do the exact same thing makes it a fact. Not to mention every other one in existence, lmao. Embrace the butthurt

dude, just STFU already and go watch the Nexus 6 bend like paper.

I'm kind of disappointed in your trolling lately, 9er. I mean, to each their own, right? You always seemed to be the more sensible one in the comments sections. I've watched a few of your debates and rarely have I ever had to tack anything on because you're always on point. If people buy the Note 5, use the Note 5 so on and so forth and think it's the best device on the earth, let them. I mean, if you had a Lamborghini would you argue with someone who owned a Chevy Impala? Not saying the Note 5 is a Lamborghini I'm saying your Nexus 6P or whatever you have is YOUR Lamborghini. Also, would you want every Tom, Dick, and Harry to have one too? I'd hope not. You have a wealth of knowledge and you know what you're talking about sometimes but your reason trolling makes no sense. It's not your money so it shouldn't keep you up at night who buys what, when, how, and why. You have a Lamborghini outside with a hot model washing your car. Don't worry about your neighbors hose leaking. That's all. Have a good one, bro. - I'm the guy at the bar turning the TV with his phone during your favorite sports game. -

Dude, I have no issue with anyone buying any phone. That would just be stupid. It's a personal preference. I'm writing this on a galaxy tab S for Christ's sake, lol. Well, of course it is running Pacman 5.1.1, not touchwiz. The only reason I responded to that comment was because he mentioned my username. Otherwise I wouldn't have

Like I said. You always seem to be the most sensible one. Sense in not feeding the troll or climbing aboard the troll train. You're better than that. At least I think you are. I'm just severely disappointed in the comments I've seen from you lately. Someone who as articulate and smart as you doesn't have to resort to dumb ass comments and point out flaws on every other device. Like I said, you have your Lamborghini, bro. That Lamborghini is either the wealth of knowledge you have on Android or your personal preference for a phone. It's your choice if you want to drive it on the highway or do donuts in field with freshly laid fertilizer. - I'm the guy at the bar turning the TV with his phone during your favorite sports game. -

I'm hoping these analogies aren't flying over your head too much... In other words. Pick battles that are worth fighting. Nobody ever bragged about killing a mosquito. They only complain when they get bit. - I'm the guy at the bar turning the TV with his phone during your favorite sports game. -

Lol, well I appreciate that. Really I do. But like I said, the dude mentioned my username, that's why I responded this time. I point out what I think are flaws wherever they exist, regardless of who made it or what software its running. But you'll notice my comments towards Samsung are typically directed at those same Samsung lovers that talk about their (Samsung fill in the blank) in tons of articles on AC having nothing to do with Samsung, all while defending why their Samsung device is better. Especially if it involves nexus or Motorola. Honestly though, you might be exaggerating things juuuust a bit. Let's not get carried away. There's no need to take any of this stuff too seriously. It's not politics or religion, its mobile tech. lol

Sorry. I'm like Dr. Seuss. An idea, an opinion, and an open canvas I can tell you why the Whoos had Horton find a Cat in the Hat that liked Green Eggs and Samsung. - I'm the guy at the bar turning the TV with his phone during your favorite sports game. -

You've been drinking tonight havent you. Lol

Nice shitty car analogy Posted from my Nexus 6/Nexus 7 2013/Surface Pro 3

Oh shit! Somebody grab a broken bottle and let's do this! Posted via the Android Central App

I brought my new WAAHHmubulance. The new Hamilton Beach SD toaster. Powered by the Snapdragon 810.

The Nexus 6P bent in that video because the glass was damaged and the heat probably weakened the adhesive. Now, you might be thinking "What the heck does glass and adhesive have to do with the frame of a phone?" Well, this might come as a surprise, but the glass actually plays a central role in the structure of a phone, kinda like a car's bonded windshield. If it's damaged, the car's structural integrity is compromised. Same thing goes for phones. When the screen of the 6P was damaged, he was essentially bending a piece of aluminum, which is pretty easy. In fact, further bend tests with an undamaged 6P showed that it's just as strong as any other phone. TL;DR version: The phone isn't that weak. It's just as strong as any other phone. Just don't purposely bend it and it'll be fine. I'm not saying this as a fanboy. Bend tests are pointless to me and really, if the Nexus 6P was as easy to bend as paper when it's undamaged, then we would have seen a flurry of complaints. The new Hamilton Beach SD toaster. Powered by the Snapdragon 810.

You mean the Nexus 6 the dude heated up then bent? Yeah, the only thing that's a joke about that video is the creator. Posted via the Android Central App

But it's true, so what? The ram Management on the S6/Edge/Plus and Note 5 sucks balls. Posted via the Android Central App

Until Samsung fixes the mms issues they have by resizing every dang photo.. I'll never buy another Samsung again!!! Posted via the Android Central App

Isn't that all of them that suck at mms? Signatures are so___________!

Don't put the pen in BACKWARDS Posted via the Android Central App

A lb of butter is better than 3 lbs of wiz. Posted via the Android Central App

All day When we die, we go bye-bye. - Sal Vulcano

Insert mother and jizz joke here Signatures are so___________!

I don't see the multiple user icon under quick settings. Is that a feature taken off by Samsung? Because if so, that a big deal breaker for someone like me who uses multiple accounts. That's one feature I love about Nexus devices. Posted via the Android Central App

It's a great phone. Can't wait for it to receive Marshmallow! Posted via the Android Central App

It will be a while. Posted via Nexus 6 running on any data plan I want

Regardless, it runs as good or better than any phone on the market. Id guess not much later than Jan 1. Posted via the Android Central App

I'm almost inclined to not take the 6.0 upgrade .With 5.1 my gs6 edge plus has been a beast since day one. So no I'm not counting the days for 6.0 why mess up a good thing Posted via the Android Central App

6.0 is excellent. It will improve your battery life, plus it's not a major overhaul. Very few bugs compared to lollipop when first released. Posted via Nexus 6 running on any data plan I want

You know what improves your battery life all the way to 100%? Wireless charging.

What about it? I have it also. Posted via Nexus 6 running on any data plan I want

A lot of people regretted taking the 5.0.1 upgrade on the Note 4. Lollipop was crap until 5.1.

Yep my Verizon Note4 is still stuck on 5.0.1. Its been annoyingly laggy ever since I got 5.0 and 5.0.1 only helped a little. I meant to go back to KitKat but I kept thinking that they would release 5.1.1 for the VZ N4. Well that never happened and it looks like they are skipping it and just going to 6.0 next year. That is terrible update support! I hope they dont do that to the Note5 next year if it starts having issues after getting 6.0. Samsung has too many devices and they neglect the previous model once they release a new one.

16bit, go to your nearest store and buy marshmallows and melt them down and spread it on your phone LMAO and then you'll have marshmallow. Posted via the Android Central App

Would AC stop shoving a gorgeous blonde ex - model nymphet with an inherited fortune in my face all the time!! - please!! Thank you!! oh I mean the Note 5, sorry. Well, I can't get my hands on either. :( :D

Note 5 and S6 Edge+ best phones released this year. Posted via the Android Central App

You would not say this one you used a Nexus device. Posted via the Android Central App

I have both. Love both for different reasons. I know that goes against the pro Nexus agenda, both they are both great devices, and neither shows up the other. Guess what, outside these forums, no one gives a shit as long as the darn thing works. Sacrilege! Posted via the Android Central App

I love both, actually. In fact, I have a love affair with the Nexus 6P, Note 5 and LG G4, because they do everything you'd expect from a high-end smartphone really well, with their own benefits. The 6P has those quick and consistent updates, which makes people who keep their phones for more than a year happy, while the Note 5 has the amazing S Pen which makes it a productivity monster and let's not forget the G4's removable battery and SD card slot, something which makes power users happy.

You hit the nail on the head and perfectly explained to some of these knuckle heads on here just why someone might choose one phone over the other. On the other hand, owning two or three of these premium devices really gives you perspective. Each one has strengths, weaknesses and similarities that makes these trolling phone wars so childish. Posted via the Android Central App

Exactly. I also spent some quality time with the iPhone 6S and really, I loved using it. It's really fast and is definitely a really solid device if you're heavily vested into iOS. The thing is, the only thing is that I'm not big on iOS' closed-nature. But really, for anyone who wants an iPhone, it's pretty good. I wish all this smartphone bashing ends. There's a reason why so many are out there with different operating systems and features, and why 2 phones are never the same.

I'm not a fan of ios either, for the very reason you mention. I have friends who swear by their iPhones I can't understand why I don't have one. Until I take a raw photo with my Note 5, or place my screen next to there's. On the other hand I am fascinated by some of the iPhone features that I know Android would screw up and turn into gimmicks. Choosing a particular phone is a trade off, and I love that fact. And I love that next time out I can choose another one. Even with my 6p, which I love, I still miss my Samsung features like Samsung Pay. Posted via the Android Central App

I too, am fascinated by some iPhone stuff, especially the A9 processor in the 6S that actually keeps up with the E7420 pretty well despite being a dual-core along with NVMe storage, which is really fast (even faster than UFS). Not to mention how I still like iOS's resource management and other stuff. Though, like I said, that resource management and consistent updates are thanks to its closed-nature, which I'm still not a big fan of. Even though I love my G4, there are some things I miss from my M7, namely the build quality, HTC Sense (Sense still looks a whole lot better than LG UX, which I still find ugly), quirky HTC stuff, BoomSound speakers and programmable remote (yeah, the G4 also has a programmable remote, but it's only limited to LG's app).

Right, as someone else said, there simply is no perfect phone and never will be. Google did themselves a favor and actually put a great camera on the 6P, so it's now very difficult to find flaws with it. Yet it just doesn't excite me as much as it should. Posted via the Android Central App

The camera used to be the main Achilles' Heel on Nexus devices. Now that it's sorted, the only issue I can find with it is its barebones nature. It has the usual features but nothing extra that you'd find on others, like floating windows, IR blasters and some others. But hey. Some prefer it that way.

Right. It's smooth and stutterless which is awesome. 6.0 is also a treat to use. Everyday I use it I'm like, oh cool I can do this now. But I still slightly prefer the camera and features of my Note 5. The sPen is still the best thing Samsung has ever done. It's hard to use a phablet without one. Posted via the Android Central App

I love using the S Pen. Using it makes you wonder why other phablets don't use a similar input device. So much so that I've decided to get a capacitive stylus for my G4. Yeah, it's not going to work as well as an S Pen (not even 25% as well) but at least it's something. :P

I just wanted to reply to yall and say that those 3 phones are what going to end up getting for those exact features. I want to try them all and see which I end up liking the most. This week I just got the Note 5 and LG G4. I'm going to rock them both for a bit and then once the frost 6p comes back in stock (if ever) then I'll get that and give it a go as well. Posted via the Android Central App

I think you'll find all 3 a pleasure to use. They're the cream of the crop of all Android phones for different reasons, so you're bound to have a distinct preference for one of the three simply based on what extras it has over the other. In terms of the essentials, they all do that really well. The new Hamilton Beach SD toaster. Powered by the Snapdragon 810.

Do you have both? I'm a Note 5 user who ordered a 6p. I can deal with not having S Pen anymore. I'll miss Samsung Pay which is legit and not a gimmick but I'm really worried about the Camera. Are you happy with the Camera compared to the Note 5? Posted via the Android Central App

Good post! And so true. Posted from my Beast Galaxy Note 5 DEVICE HISTORY (since they got smart)
PHONES: Galaxy Nexus, LG viper, Galaxy s3, HTC Evo 4g, Galaxy Note 2, Galaxy s5, LG G-Flex, Galaxy Mega 6.3, Galaxy s6 edge, Galaxy Note 5. TABLETS: Galaxy Note 10.1 gt-n8013, Galaxy tab 3 7.0. Lenovo tab2 A8 50f WATCH: Galaxy gear

How's the camera Note. Vs. Nexus 6? Posted via the Android Central App

Had the phone since launch and still learning new tricks... Posted with my NOTE 5 on damn verizon!

The features and tricks on the Note 5 is what makes so amazing! Dude at the T-mobile store was all like "wow how you do that" ? Lol smh they're selling phones and don't even know them all. I think my favorite one is the triple press on the home screen makes the screen go small and stay that way for easy to use with one hand. Posted via the Android Central App

Maybe you could do something like this for the S6 Edge Plus I don't think I've seen anything even close to this on the S6 Edge Plus. Posted via the Android Central App

The gs6 edge plus has the same features as the n5 for the most part go into your settings you'll see it Posted via the Android Central App

Haven't really spent that much time with the S6 Edge+, but the Note 5 is definitely one of 2015's best phones. Right up there with the Nexus 6P, LG G4 and some others.

I've always been curious since the Nexus 6P came out... it has an AMOLED display, the Note 5 has Super AMOLED. The ppi is pretty close, so what's the difference? In any case, I was interested in the Note, and would've seriously considered it until the 6P came along. Posted from my Nexus 5 via the cooler than cool Android Central App

The Note 5's display is much brighter. "Super AMOLED" is just a name. The display tech used in the 6P and Note 5 are almost the same, but, like I said, the Note 5's display is much brighter.

According to Wikipedia: "Super AMOLED is Samsung's term for an AMOLED display with an integrated digitizer: the layer that detects touch is integrated into the screen, rather than overlaid on top of it. According to Samsung, Super AMOLED reflects one-fifth as much sunlight compared to the first generation AMOLED."

I heard them talking about this in the podcast the other day saying that the display is the same, but I really doubt it. Nothing comes close to Samsung's display in outdoor visibility. I don't how they do it, but their displays get ridiculously bright. Posted via the Android Central App

Because it's Samsung. :P No, I'm serious. Samsung could do it because they've got a boatload of cash and they're a gigantic company, so they have the resources to make their tech even better.

Rules number of using Android phone , turn off auto-update , manually update only as needed, check review before update, update one item at a time, use few days make sure no battery drain, stutter or slow down your phone then proceed to the next item, if update cause any trouble uninstall and do it again or just don't do it, remember not all update are good, like the old saying if it works don't F*** with it.

I've always disliked Samsung phones including the Note 4. But the Note 5 was the first Sammy phone which I thought operated smoothly throughout the UI and its very well made. I would say the top 3 phones rite now would be this, 6P and the iPhone 6S plus. Posted via the Android Central App

The combo of a lighter Touch wiz and the 4gb of ram really made the difference. The Note 5 is simply a joy to use, even 3 months later. Posted via the Android Central App

S6e plus is the best phone I've ever used and you all know it's just a flashier and more expensive version of the note 5 without an s pen but with an awesome dual edge display ... I'm not restrained by the cost of a phone. I could switch to any phone right now via the jump on demand and it wouldn't cost me a cent...in fact it would save me money to jump to a cheaper phone like the iphone 6 plus ot nexus 6p or lg v10, but they aren't as good or I would jump for free and save money on a cheaper device. Posted via the Android Central App

Just for the camera alone I would pick up a 64gb variant of the Note 5. Dam It Feels Good To Be A Google Gangster

Yep the camera is the best in the business. Case in point both me and my buddy took pictures at the Steve wonder concert last week he with his iPhone me with my GS6 edge plus. Concert shots aren't easy in that lighting. The next day when we looked at all our pictures. ..well let's just saying my friend now wants a note 5 Posted via the Android Central App

Everything you need to know except the most important : this article only applies in countries where Samsung has deigned to sell it

This article is for people who have just bought the phone. Not people that can't buy the phone. Posted via the Android Central App

iMissMyPsion"s comment was speaking for all of us "former" Samsung fans and Note owners who Samsung deem can't buy one. The comment wasn't meant for people who already have one.
Many of us are long time members and helpful contributors on Android Central. I am sure the Editorial team are happy for 'any' member to read any blog and make a comment relating to how it affects them. I am getting more, not less peeved at Samsung's decision as time goes by. I currently have an old Motorola, am intrigued by a Moto X Style/Pure and the N6P, but know I would always prefer the Note 5. I wouldn't risk the extra money on an S6E+ as I think I "may' be unhappy with some aspects. I wouldn't have such doubts about the Note 5. They said it would not come to the UK 'this year', and there has been no clarification since. I doubt it's coming now, and I very much doubt I want to give them my money again. Goddammit Samsung, shame on you. :(

@codiusprime Oh really? Then why is the first paragraph:
"If you're **looking for** top-of-the-line phones, the Galaxy Note 5 is bound to be in the conversation. With a great new design, high-end internals, wonderful screen and powerful camera, the Note 5 has a ton to offer. Many haven't been able to resist, and have already made the upgrade to a Note 5 — but others may still be on the fence. No matter which camp you're in, ..."

@codiusprime SO have you changed from your S6 that ou were using in August?

Completely off topic, but I too miss my Psion Had a few of them Loved them

My wife got the Note 5 about two weeks ago. She absolutely just loves this phone compared to the iPhone 6 Plus.

How did you get a UK plug in the box? The note 5 isn't available in the UK? I cant wait to get this phone or the 6! What ever is available when I can afford to pay off my Xperia Z2 Posted via the Android Central App

I'm coming to the Note 5 from my beloved Windows Phone (Lumia ICON). The Note 5 has been a hard phone to put down. I am still trying to test to see if the camera is better. Posted via the Android Central App

Trust me the camera in the note 5 gs6 edge plus is second to none in just pure speed and focus . Although my old 1520 still is a top line camera Posted via the Android Central App

If you say so. LOL...kidding aside, leaving the camera from the ICON has been agonizing and I still feel it is hard to beat. Though several pictures from dusk on the Note 5 were outstanding this weekend.

I really like my phone but my concern is .....when im at work listening through my expensive bluetooth headphones in the middle of listening they cut out and the sound comes out of my phone..... my headphones dont say disconnected or anything.....then i have to disconnect and reconnect my headphines..... then i discover that there should be an auto restart under backup/reset option and there isnt?
Android Central Newsletter
Get the best of Android Central in in your inbox, every day!
Thank you for signing up to Android Central. You will receive a verification email shortly.
There was a problem. Please refresh the page and try again.