Samsung Galaxy Note 5 specs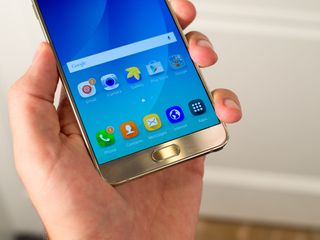 The Galaxy Note 5 is here, and alongside the nice new external hardware Samsung has made some big changes to the internals of the phone compared to the Note 4. The screen size and resolution has stayed the same, but a new Exynos processor is running the show, backed up by a healthy bit of RAM and two internal storage options. Of course there isn't a removable battery or SD card here, but there are plenty of other specs to be excited about. Here's the full spec sheet:
Swipe to scroll horizontally
Category
Specification
Operating System
Android 5.1.1 Lollipop, TouchWiz
Display
5.7-inch QHD (2560x1440, 518 ppi) Super AMOLED
Processor
Exynos 7420 octa-core (2.1GHz quad + 1.5GHz quad)
64bit, 14nm
Storage
32 or 64GB, UFS 2.0
Non-expandable
RAM
4GB (LPDDR4)
Rear Camera
16MP, f/1.9, OIS, phase detection auto focus
4K video, slow motion video
Front Camera
5MP, f/1.9
Network
LTE cat.9
(network bands vary by market)
Connectivity
802.11ac Wifi, 2.4/5GHz, MIMO (2x2), 620Mbps
Bluetooth v4.2 LE, ANT+
NFC, Location (GPS, Glonass, Beidou)
Sensors
Accelerometer, Proximity, RGB Light, Geo-magnetic, Gyro, Fingerprint, Barometer, Hall, HRM
Charging
Micro USB 2.0, Adaptive Fast Charging
Qi wireless, Powermat wireless, fast wireless charging
Battery
3000 mAh
Non-removable
Dimensions
153.2 x 76.1 x 7.6mm
Weight
171g
Colors
black sapphire, white pearl, gold platinum
(colors will vary by market)
Android Central Newsletter
Get instant access to breaking news, the hottest reviews, great deals and helpful tips
Andrew was an Executive Editor, U.S. at Android Central between 2012 and 2020.
Let the "No SD no removable battery-> no buy"comments roll in now :)

Yeah, don't forget the "this is the end for Samsung" yet the Note 5 will probably outsell all other Notes combined. It sure is purdy...

No SD is annoying, but I can live with that. My iPad lacks a removable battery and SD, yet It's served me well for 3 years. The glass back is what bothers me. Apple learned that was a bad idea, so why is Samsung deliberately copying them? Intelligent people learn from other's mistakes.

I really don't care about the battery, never had to replace a battery in any of my phones before. The memory is a BIG deal. 64GB is not enough for me. No external memory would not have been so bad if the phone came in 128.
I use my phone for my music, as a camera, apps and games. I will not pay a monthly fee for cloud when I got a 64GB card for like 28 bucks. I loved the Note 3 and now have the 4, it would suck to have to find another Brand in the future. I would hate to have an Iphone.

Why is everyone missing the sd card slot located at the top of the note5? You use that dorky looking tool and open it, sd slot right there for an additonal 64gb like i did... whats up with you nerds? I have 128gb on my note5 and oh ya, i use my phone a lot and that pos 3000mha battery everyone is freaking out about below lasts a good long time but a car charger and a battery charger is a no duh for most of us that use a phone more than most. You're welcome ; )~

BOO!! No Deca-Core no buy :-P

So they went with the tiny 3000 mAh battery. No thanks.

I'm sure this phone will only get ~4 hours SoT like the S6. What a disappointment.

For real the note just lost what made it the note besides display size Posted From my Nexus 6/Nexus 7 2013/Surface pro 3

That sd slot in the Moto X style sure looks nice! Posted via the Android Central App

thanks god for samsung removing sd card

Troll much? Posted via the Android Central App

Go away, and hug your iPhone loser!

For someone who celebrates rape in their avatar, I would expect no less.

Ha-ha Posted via the Android Central App

No SD card. Crap battery and no way to fix it.
Equals....NO BUY!
IT'S A shame it's got so many cool features and an awesome processor. All of its useless if the battery is always dead and you have no room to DL apps and docs. Cloud is nice, but no one wants their private docs stored there!

Thank You!!! Posted via the Android Central App

The battery is actually really good, this is my first phone with no SD card slot and I don't think im going to run into any space issues.

Wow, it was already a downgrade from a note 4, but I see this as even a downgrade for the regular s6 smh, yeah more battery but its cancelled out by the bigger screen, very disappointed.. Posted via the Android Central App

With AMOLED screens, the power consumption doesn't correlate as closely with size the way it does in LCDs.

Perhaps, but that is irrelevant. My Note 3 has a larger battery than the Note 5, a lower resolution Amoled display (thus less power requirements), and barely lasts a day. The Note 5/S6+ batteries are smaller, and the screen will draw more power.

Buy yourself a new battery for your note 3 , mine easily lasts a day after getting a replacement battery on the N9005

Seriously? NO 128Gb? No buy. Byeee Posted via the Android Central App

THIS! I don´t mind battery. I don´t mind SD card. But no 128GB? NOT WAY IN HELL! Also: Same SoC as the S6? What happened to the 7422?
And the same sensor as in the S6 AND the Note 4? I had EVERY Galaxy S and Note phone since the S3. This is the first one i will sit out and keep my S6 and Note 4. Great job Samsung, disappointing your biggest fan....

Why am I laughing so hard??? Why? Why? Why? Can't stop laughing. It hurts so much. Greatest joke ever Samsung. LG G2
GSIII
Galaxy Note 4
(The Sprint Lover)

Wow! I'm so glad I'm over Samsung. This is really crappy... xD Sorry Samsung, but I'm done with you for at least another year :P

I had a bed feeling about this. Ever since the release of the S6 I had a feeling it was over. The Note 5 confirms the ship is sunk. I just want to know why Samsung is giving us such tiny battery's. This makers zero sense. I'm currently staring at my girlfriend's Note 4 and realizing this really is the end of an era for Samsung. Just a shame. Posted via the Android Central App

The only hope is a Galaxy Note 5 Active with the 4100 mah battery everyone was hoping for. Maybe 3 months from now? Posted via the Android Central App

Your right about that. Posted via the Android Central App

It's a sad day in the smartphone world, truly. Posted via the Android Central App

More like a sad day for a few nerds that populate Android forums

Truly a sad & disappointing day especially, for loyal Note owners!!! Posted By MY Next Big Thing, The Galaxy Note 4!

I can see the sealed in battery from a manufacturing standpoint, but putting in only a 3000mah one and telling people its got fast charge is just lame. You just dont do that on a phone that has built up the kind of reputation the note has. Everything it stood for was tossed out for style.

Why on earth is there no 128gb model when there's a 128gb model of the S6??? Posted via the Android Central App

Because the S6 128 didn't sell and the Note 128 would be way more expensive than the S6. Posted via the Android Central App

Are you kidding me? I had to wait almost 4 weeks longer because the 128GB model was sold out when the S6 was released.

It is a shame though. One of the main selling points of the Note 5 over the Moto X (for me at least) was that I was expecting a 128gb model. It's getting harder and harder to like the Note 5. Posted via the Android Central App

Okay, this is such a fail. 3000mAh. That's smaller than the Note 4 but since the processor is more efficient, it should get roughly similar battery life. But the storage irks me. 64GB MAX?! WTF?! Why is the S6 128GB max while the Note 5 only 64GB max?! I'd be fine with it if it has a microSD card slot, but it doesn't,

No 128GB = no way in hell! LOVE my 128GB S6 WAY MORE than my Note 4. Unified memory is SOOOO much better than dealing with SD shit. But 64? HELL NO!

I have a 128GB SD card in my G4. I'd be fine if there is a reasonably priced 128GB option, but no, There isn't.

Why exactly is sd shit? I can understand unified memory being more efficient. However, that doesn't automatically make sd cards obsolete or "shit," as you so affectionately refer to them. Still, I will agree with you, it makes no sense to not include a 128gb variant of the Note 5.

Because apps are always stored on the internal storage. On android SD cards the use cases of SD cards are VERY limited - nothing compared to "real" internal storage. The 32GB of my internal Note 4 storage are ALWAYS full - not with videos and stuff like that - with data from APPS. So i have to work with foldermount to "illegally" store apps and data on the external SD - but it makes everything slower. On my 128GB S6: i copy what i want where i want. Everything stays fast - no headaches. Also: I ONLY buy expensive name brand cards. And STILL 2 SD cards just died without warning.

I can understand that, as I have had sd cards fail in the past. Still, for movies and music, having a card in my Note 4 helped me get through my last deployment. And, the 64gb card I purchased a year and a half ago only cost me 30 dollars. If not performance, the one true advantage of sd cards versus onboard storage is price. 64gb of storage for under 30 dollars is a steal in my book; and, it will hurt, in the future, for some to not have that option.

I have nearly half of my apps on my SD card (Samsung 64gb Pro card), so far no problem... And even with that less than 7 gigs of internal storage left. IMHO it's not the SD card causing issues, it's the firmware and OS creators fault. Platforms across the board have been successfully utilizing external memory/storage for decades. Posted via the Android Central App

OF COURSE its google´s fault.

My biggest issue is no USB C?

My biggest issue is why they made 64GB the largest storage capacity. Seriously, if I owned a Note 4 like you, I'd be keeping it for another year.

That is a curious choice as well. The USB C gets me because most of the phone is made to be future proof, but that is a relic

I only know 2 phones that have USB Type-C The OneMinus Two (USB 2.0) and that ZUK Z1 (USB 3.1).

Guess I will be keeping my Note 4 for another year. Some will like this but a huge fail when it comes to storage. Posted via the Android Central App

Not gonna lie, I'm a little surprised to see Samsung take this route with the Note 5. I understand that battery size doesn't tell the complete story about battery life. However, to make the battery both smaller and non-removable is definitely a huge strike against Samsung, especially considering the battery life complaints from S6 owners. As for the UFS 2.0 storage and no sd card slot, this is something I'm not too concerned about. 32GB is the base amount of storage, plus I have a 128gb usb 3 flash drive and a 256gb usb 3 ssd. However, if/when I do finally upgrade from my Note 4, it will hurt to not be able to use my 64gb card. It is what it is, though. No amount of complaining here will change the direction that Samsung wants to take with its devices.

Been a while since I saw you around these parts. How's your "Gift from God" Note 3?

Hey! The Note 3 became the Note 4, which has been an amazing device so far. However, it may be my last Note, judging by the news today. I'll definitely be taking the advice that you gave to NoNexus and keeping my Note 4 until he proverbial wheels fall off.

I really need to give my LG G4 a good nickname since I love it so much as it does everything I want it to do...and then some. (Yes, it even serves coffee in the morning xD)

Oooh.... How does your g4 make coffee? I need this app..... Lol Posted via the Android Central App

Don't forget, IR Blaster was removed :(

To quote Eric Cartman: Boooooo! boooo wendy testaburger (samsung) boooooo!!!!...Boo! Wireless charger, 4 gb ram and samsung pay are all a plus, however there's no value if there's not a 128gb option. I was afraid they got rid of the sd card but offering a 128 gb phone wouldn't have been a bad compromise... and the keyboard!? This whole experience is worse than the new fantastic 4 movie.

As someone with a 64GB SD card in my Note 4 I'm a bit disappointed in storage for the 5, no 128gb option makes it worse. I'm also a bit concerned with the battery, haven't needed it for the note 4 but I've bought spare batteries and extended batteries in the past. Note 5 looks like one impressive beast, but these 2 features being removed makes the device less capable...still a good chance I'll end up owning one I admit, rather have the new note than any other release this year. Posted via the Android Central App

Yeah, judging by the specs, performance is sure to be good. The jury is still obviously out on the battery performance. We will see, soon enough.

No jury needed. The battery life will suck. Posted via the Android Central App

I hate the glass back and smaller battery, but i do like the new note, if the battery would last a day like my note4 i might be interested.. But i am not making any decisions until the new moto droid is announced.. Its one or the other, or i keep what i have. If i did decide on a note 5, i would be interested in wireless fast charing, but that glass back would have to be in a case.. I can see a lot of people not happy.. And when the lady said they listened to the consumers i almost spit out my coffee! Posted via the Android Central App

Missing in action:
1 ) USB-C
2 ) waterproof
3 ) microSD They may as well have forgotten to include a sim card slot. I have to ask if they've not used a Nexus 6 ... or their own Note 4, for that matter ... ? p.s. note that samsung.com/us as of an hour after the announcement ... doesn't show either device ... time for Samsung to wholesale sack their marketing and product management teams (their public speakers are incompetent, too) and put (much) more effort into engineering. Any 12 year-old with an interest in Android could have spec'd a better phone just by standing in a retail store for 30 minutes and _thinking_ ...

if they are going to not have expandable memory, 64gb is NOT enough, especially considering that their direct rival in apple has devices that have 128gb. that small capacity is not going to go over with a lot of power users, cloud capacity be damned.

I'm just very happy I got a LG G4 and didn't wait for this. Posted via the Android Central App

Me too. Not only does the G4 have a SD card slot but I snagged the free 128GB card from T-Mobile. For those that wonder what you'd use an SD card for, how about downloading all the maps for North America, a 6+ GB, in Here maps for offline use? What about the ability to download a ton of podcasts and Google Play Music to the card and not have it impact internal storage?

Same here. Coming from a note 2 to a g4 as the best decision I made. Posted via the Android Central App

Wow not one positive post about the Note 5 so far... I've been a long time samsung user with the GS3, GS4, Note 3, and Note 4... but I agree with all of these posts. I'm done with samsung unless they bring back a bigger removable battery and SD next year.

Does anyone know the brightness nits?

How can they gather in a boardroom later and ask how they are losing ground when they clearly did not listen to those who complained about the crap battery life of the S6? It's no secret. Wireless charging and quick charge does not make up for crap battery life. Even solar charging would not make this better. No thanks. It's official, after 4 years of straight Samsung I'm bailing. The Moto X is about to have another fan.

That pathetic battery tho. What a shame. Posted via the Android Central App

Seriously Samsung? I was so hoping it would weigh a half gram less, and include 3 more pixels, and have the camera make me look 4x....no 6x better, and flush toilets for me, and feed my cats, and make my grandmother stop repeating herself....but it does not. There's no way I'd find use for it without these features. Me no buy. Sticking with my Hero. Hasn't let me down yet.

i just took my aunt to at&t because her note 2 finally gave up on life. they tried to convince her to wait for the note 5 and i'm so happy i told them to go away... Posted via the Android Central App

Same soc as the s6. Just ridiculous. These guys are crazy. I hope they don't sell much and receive so many criticism that they go back with good phones next year.

This is the kind of shit that cracks me up. The 7420 is the most powerful mobile SoC on the market to date and yet some still bitch that the N5 doesn't come with something more powerful, lmao!!!

Actually, that kinda surprised me. I know that because the Galaxy Note 2 had the same SoC as the S3 but they clocked it 200MHz higher. There doesn't seem to be any clockspeed changes here. In fact, the main hardware change is an extra GB of RAM over the S6. We'll have to see how well the phone manages RAM, though.

Well, I was late to the Galaxy Note party. I bought a Galaxy Note Edge on Verizon back in April. Great phone! But Samsung is seemingly prioritizing style over functionality. Better materials, better build quality, better display. The issue is, they have abandoned the core part of the last 2 years of their core bullet point of advertising: Removable batteries and SD cards. Remember the Note 4 and S5 airport commercials bashing Apple users for being cordhuggers? What happened? This is what happened. Samsung is so popular and so mainstream, they are starting to homogenize it's own products. They are starting to look and act the same. And they are getting full of themselves. I believe this company is alienating a core demographic that will walk away from their product if not careful. With such a pixel dense screen (518ppi), you need more than a 3000mAh battery to power this thing. And with no way to remove it if your phone freezes up or if it needs replacing, what then? Take it to get serviced? How convenient is that to the average consumer? This lack of choice is what a lot of people in the Android community are upset about. The average mainstream consumer that just wants a Samsung phone might not know about that or even care about it....until they NEED to know and care about it.

Note 5 is a complete JOKE, no Expansion! No way will I buy it. I've been a client with my whole office since the Note was introduced and buy at least 15 a year for my office. Samsung has lost a loyal customer. I need memory! Samsung you are fired!!!!! NEXT!

The only pause I have is the lack of a 128GB option. The battery, the removable storage... not showstoppers in my book. The "outrage" kind of reminds me of when DVRs first dropped and people were hoarding VCRs because they wanted to keep their own tapes. Assuming the battery still gets through a day, a 64GB Note is probably the perfect combo or form and function for me.

That is a big assumption. That smug presenter on the Samsung event didn't even mention the capacity or life.

One thing I didn't like is how he poked fun at others for making "wall-huggers" when the Galaxy S6 itself is a wall-hugger. Funny that my LG G4 hasn't hugged a wall unless its midnight. Not to mention it's poor hygiene.

NOT the same. One deals with changing of the times plus there were other methods of recording tv besides vcr and dvr (old wintv to HDD). There is no other option here except to trade out your phone once the capacity drops in 18 months.

I have a note 4 but I might sell my g3 backup phone and get the new moto phone or the new nexus to mess arou d with when they come out. Samsung should have kept the removable battery and sd card to set itself apart, but I guess they love copying apple too much to do that. Posted via the Android Central App

3,000mAh battery what the hell samsung

You guys will complain no matter what Posted via...The One

To be frank, I was expecting a lot of backlash way before the phone was even announced. I'm not too impressed, but I'll still be using it for a bit to see how it's like.

Hey Android Central, apparently there will be a Galaxy Note 5 128GB (SM-N920PZKFSPR) but just for Sprint. Here's the link: http://www.qiibo.com/2015/08/13/samsung-galaxy-note-5-128gb-sprint/ (spanish but images and links included)

Call me a complainer or whatever you like. I am a consumer. If I had wanted an Apple device, I would have purchased one. This is how I see it and that is all that matters. No removable battery, no SD card expansion = no money from me. It is time companies stopped trying to fix what isn't broken. How about instead of remaking apple devices you stop filling devices with bloatware.

Is it me or am i growing tired of all the phablets? Posted via the Android Central App

Epic FAIL! Posted via the Android Central App

So much the 4,000 mAh hour battery people and the rumors were saying. Ouch Posted via the Android Central App

Yup... It's like a slap to the face! Posted via the Android Central App

No its like a shart in the face. .

Note 4 is a better buy Posted via the Android Central App

I will definitely be looking for a N4, not 5. I still use my N2 currently but no battery replacement, I cannot support the N5.

No expansion slot, AND no removable battery... Even though the new features are awesome, this signs the death warrant for any future consideration of buying a samsung phone on my part. I'm switching to LG which (still) hasn't gone all iphone clone. Too bad #Samsung

I like my micro sd card. If android phones are starting to be like crapple phones I'll be annoyed. Luv android and I loved having micronsd support and removal battery.

That power of processor and 4k 5.7" display and that battery??? sounds good but i cant see how youl get much on screne time from full charge -_-

Note 5 :-( ...I'm trying to understand but I feel like I did when I didn't make it out of the office to the bathroom the terror of running down the aisle the excitement of opening the bathroom door and then realizing all the stalls were full the sadness as I crapped my pants .

Maybe battery optimization will make it better but as of now I'm passing on the note 5 until I see reviews Posted via the Android Central App

Damn, my GN4 is the 1st phone I've ever really liked and was hoping the GN5 would be even better & I was thinking of "upgrading", but based on the spec's I think I'll keep what I have.

Hmmmm, it may be frowned upon to complain but , my note2's battery lasted roughly 2 years but with the ability to add a new Samsung battery and a 32GB card I have added another year to my phone, and possibly two. I am not the type to switch out phones every year or two years. I understand that people like me are now the minority with payment plans and all giving others the ability to switch phones every 10 months but once I get attached to a phone I do not like trading it. With a N5, I would be buying another after 24 to 30 months due to a lazy capacity.

New it was coming ,Following the s6 . No note 5 for me. Battery life down to 3000 mah from 3220.

I really tried to like the Note 5, I really did. But just like me, and as the weeks have gone by, I have watched one group of Note faithful after another, follow me down the rabbit hole in questioning Samsung's direction. First the SD crowd, then the removable battery bunch, then the group that counted on a MUCH larger battery, not smaller, then the group that said 128gb was more than enough memory but now with only 64GB, no sale, and finally the group that listed the removal of an IR blaster, or MHL, etc. Collectively, all of those "features" made the Note line unique. The only two things that really remain are the performance "specs" and the "pretty face". Is that enough to get enough people to still buy the Note 5? We shall see. With the internals now equal, I expect that the Edge + will vastly outsell the Note line simply because of the "edge" screen and those that actually used the Spen are vastly among the aforementioned groups. As for me, If all I looked at were the performance specs and how "pretty" it was, I would buy it in a sec and I am sure that will be the ones that rush to get it in a week or two, but then what? However, I require MUCH more from my "smartphone" than just good looks and simple processor/memory performance specs. I, and many of the Note faithful were always willing to look past the "ugly duckling" looks because what was underneath that dull, cheap looking shell of a phone (that was usually covered with a flashy case anyway) was the "true beauty" of the Note, one capability after another. No one else in the market could match the Note, feature for feature. So alas, I now have pulled the trigger on purchasing what may very well be, in my opinion, the "last great Note", which is the Note 4. It's "pretty" enough for me, has decent performance and still has all the "features" that made the Note a success in the first place. It will take me out at least a couple more years, and hopefully Samsung finds it's way back to us users that are now mourning what appears to be the end of our beloved Note's as we knew them. Just because it is named a Note, and still has the SPen, doesn't, in my opinion, MAKE it a true NOTE.

Well I will keep my Note 4 as I will not buy a Note 5. No SD Card slot or removable battery is a deal killer for me. I was planning on getting a Note 5 but will now trade my Note 4 and S5 for another brand when my contract is up next month. Samsung seems to be shotting themselves in the foot more often. What a huge mistake......

why don't I see any wireless companies selling the gold one of the note 5?

I Just upgraded to the note 5 from a note 2 not having an SD card is not great but I found a way around it. Use an OTG SD adapter or an OTG memory stick. I got it to work with all my audible files Amazon recognized it as an internal sd card to save files to and read from. I just copied my audible directory from my sd card from my note 2 to the memory stick then plugged it into the note 5 told Amazon to save files to the external card synced they then showed up as being downloaded so I wouldn't have to redownload them again saving my data plan. Since I'm in my car most the time and my phone is in a holder it doesn't matter if it's plugged into the bottom of the phone. You can also buy in OTG USB adapter that lets you plug in a charger and a memory stick at the same time.

I LOVE my Note 5. Plenty of FREE cloud space out there, very amusing seeing so many cry/whine about it. I use my phone for photography (taking photos AND on the professional side showing my photography work that I do with my Canon to clients on my Note). I even use my Note to fly my Phantom 3. Samsung realizes that approximately 80% of smart phone users have some sort of cloud account so they took advantage of this and made an SD free phone (again). Solid/integrated battery also helps with saving space, keeping the Note slim and efficient. Who is away from a car or wall charger/outlet longer than 5 hours???? If you are THAT concerned, purchase the phone case that has the built in extra battery (4200 mAh) for under $30! If I could have something negative to say about this phone, I would. But I honestly love everything about it. I use this more as a professional tool and not as a play phone. So I do NOT download tons of games, etc. I don't sit around and play on Facebook all day, I have much better things to do. I don't sit and cry because I can't turn my TV up louder or change the channels with my phone! That's what the remote is for. It takes less time to pick up the TV remote than access the IR Blaster on a phone, LMAO. I use the phone because of it's awesome performance, not for gimmicks. Samsung has FINALLY started to cater to the more serious/business crowd instead of the whiny nerds who want to DL games all day and can't figure out how to log into a cloud (we all have 4g/LTE now, it takes 3 minutes to upload all your photos and free up space). Thank you Samsung!!! Finally a phone to separate the men form the boys! I have the 64GB version and still only use about half that.
Android Central Newsletter
Get instant access to breaking news, the hottest reviews, great deals and helpful tips
Thank you for signing up to Android Central. You will receive a verification email shortly.
There was a problem. Please refresh the page and try again.