10 things to know about the Galaxy Note 5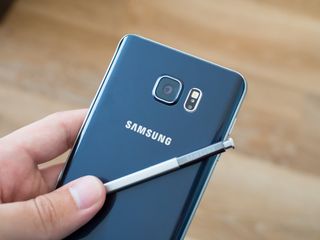 Samsung has brought the Galaxy S and Note lines closer together in 2015, with the Note 5 having very similar design to the smaller Galaxy S6 as well as many of the same internals and features. That doesn't mean that this is the same phone as the GS6, though — there's still plenty here to differentiate it, and keep its title as a Galaxy Note. Here's what you need to know.
Read now: 10 things to know about the Galaxy Note 5
It's actually physically smaller than the Note 4
Despite having the same 5.7-inch screen size as the Note 4, the Note 5 is physically smaller in every dimension. It's actually only a touch bigger than the LG G4, despite having a larger screen. That means the Note 5 is easier to hold in one hand and operate, and it's thanks to the new metal-and-glass design — the only downside is no longer being able to remove the battery.
But let's be realistic, this is still a phone with a 5.7-inch screen, and that means it may cause you issues when reaching to the status bar or using it in one hand. If you absolutely must be able to do everything on the phone without the use of both hands, you may still consider a Galaxy S6
This is the same great camera as the Galaxy S6
There's been no shortage of good things said about the camera experience on the Galaxy S6, and Samsung has brought over that same exact experience to the Note 5. You get a 16MP sensor, but this isn't just about the number of pixels — it has great low light sensitivity, is supported by OIS (Optical Image Stabilization) and a simple camera interface that makes taking pictures quickly and accurately a breeze. Add in the ability to launch the camera at any time with two presses of the home button, and you've got a winner.
The Note 5 does have a few extra camera software features over the Galaxy S6, though — including RAW capture in the "Pro" mode, better software video stabilization, and the ability to set manual shutter speeds — between 1/24000 and 10 seconds — in the Pro mode.
You can do more with the latest S Pen
Galaxy Notes are known for their S Pens, and the Note 5 builds on this legacy nicely. The new S Pen is roughly the same physically as previous models, but stores fully in the phone and retracts with the click of a button — pretty neat trick. When you take out the S Pen with the screen off you can instantly write on the black screen to take a quick note, and save it to S Note for further editing. You can also still launch Air Command with the S Pen, giving you quick access to apps that work with the pen (plus any other apps you want). There's now built-in PDF annotation as well.
The Screen Write app — compatible only with the Note 5 — also gives you the ability to screenshot multiple screens (like a long list of directions or an online article) and automatically stitch them together for future annotating and reference. All of these little tricks add up to a great stylus experience, if that's what you want or need from your phone.
Perhaps most importantly is the fact that you don't lose S Pen functionality if you choose to go with a third-party launcher. So even if you don't like the look of Samsung's stock offering or prefer to have extra features of another launcher, you can keep using the S Pen as well.
No more swiping: You get a new one-touch fingerprint sensor
Samsung started early with fingerprint sensors embedded in the home buttons of the Galaxy S5 and Galaxy Note 4, but they were slightly clumsy because they required fully swiping your finger over them. Thankfully with the Galaxy S6 samsung put in a new-and-improved sensor that just required a simple touch, and that new technology is here in the Note 5 as well.
It only takes a minute to train the phone to recognize each one of your fingers — usually your index fingers and thumbs are good choices — and you can use the sensor to unlock your phone, "private mode" for sensitive data, KNOX for full security and several other apps that have integrated with the sensor. It works quick, is super secure, and best of all is easy to manage.
Multitask all you want with 4GB of RAM
It was a pretty easy guess that phone makers would start to move toward 4GB of RAM in phones, and Samsung has done just that with the Galaxy Note 5. Bumping up from 3GB in the Note 4, you now have just a little more room to work with when it comes to playing intensive games, running multiple apps at once and keeping background tasks active while jumping back and forth between them quickly.
But perhaps most importantly, having 4GB of RAM inside the Note 5 means you have that extra bit of headroom to know your phone is ready for the future. Whether it's bigger and better apps or full software updates, one or two years down the road you can know that you have enough RAM to handle what's coming next.
Though the screen is still 5.7-inches, you can see more
Though the screen is still 5.7-inches and 2560x1440 resolution like the Note 4, the Note 5 has a higher screen density that lets more content fit on the same screen. Display density is defined on a system level and tells the phone how to render content to fill each pixel on the screen — in the case of the Note 5 that density is higher, meaning apps, icons, text and content all show up physically smaller on the screen than they do on the Note 4.
The density works out to be about the same as the Galaxy S6, meaning items on the screen are physically as large as they are on the GS6, but since you have a larger screen you can just show more of those items. So instead of the 5.7-inch display just making things bigger, it gives you more of them.
It's easier to just see than explain, but the end result is very practical — in Gmail or Hangouts you can see a couple more messages in your inbox, in all apps the navigation bars and interface is scaled down to show you more important content, and when the keyboard is open you can see just a little more in the app still.
It honestly takes a little getting used to when coming from something like the Note 4, and may actually cause usability issues for those who bought a Note 5 specifically to see things larger because they have trouble seeing smaller phones. But for most people, this is an upgrade — actually making use of the large display to simply do more.
There's quick charge, both wired and wireless
The Galaxy Note 5's battery may not be removable, but there are more (and better) options for charging it. Samsung's latest fast charging technology will boost your battery quickly when plugged in so long as you have the proper charger (like the one in the box).
There's also wireless charging built-in, and going a step further than the Galaxy S6 the Note 5 supports fast wireless charging on compatible chargers. You can still expect wireless to be slower than an old-fashioned cable, but you just can't beat the simplicity of just placing it on a charger for a quick power-up.
One-handed usability options
Samsung has included one-handed usability options on previous Note phones, letting you tweak the software somewhat to make it easier to manage on a large-screened device. The Note 5 has some features still, but they've been changed yet again.
First up is "Reduce screen size," which is activated with three presses of the home button. It shrinks the screen down (proportionately) to roughly half its usual size in a window, and pulls it over to either the left or right side as you choose. The window stays this size until you tap a button to restore it, so you can hopefully do what you need to do while you can reach the whole "screen" area.
Next is "One-handed input," which is a setting that permanently shifts areas of the interface down and to the right or left corner. The dialer keypad, Samsung keyboard, in-call buttons, calculator and lock screen pattern area are all shrunken to be easier to use, and they stay that way until you go back to the settings.
Both features make it a little easier to deal with the large screen, but they're both a little clumsy and are only useful for a handful of interactions with the phone. There are still lots of things that will best be dealt with using both of your hands, or at a later time when you have better control over the phone.
The Note 5 is ready for Samsung Pay
Paired up with the launch of the Galaxy Note 5 and Galaxy S6 edge+ was the public availability of Samsung Pay, the company's payment solution that lets your phone work for payments via both NFC and MST (Magnetic Secure Transmission) at virtually every store that accepts credit cards. The system looks promising, and the Note 5 is one of the handful of devices from Samsung that's ready to go when Samsung Pay launches.
You'll have to wait until the end of September to use it in the U.S., but know that when you get a Note 5 you'll be ready to go if you want to be one of the first to try out the new payment technology.
The Note 5 is pretty expensive
Though the Note 5 shares many design traits with the Galaxy S6, the price is clearly a step higher than the smaller phone as has historically been the case with the Note line. Depending on which U.S. carrier you buy from, you can expect to pay between $700 and $840 for the 32GB model, with 64GB storage costing an extra $100.
That's not cheap, and though the carriers all offer some sort of financing plan to spread out payments over a year or two, the total is still the same — and it's a really high price to pay for all of this shiny metal and high-end tech.
Android Central Newsletter
Get instant access to breaking news, the hottest reviews, great deals and helpful tips
Andrew was an Executive Editor, U.S. at Android Central between 2012 and 2020.
Oh well
G4 it is Posted via the Android Central App

Nah, might as well wait for android m devices at this point unless your phone is really hurtin. Not far off at this point

LG's software is crap compared to Samsgungs.

Haha this guy. I have no lag on my G4. I had a note 2 for about 3 years and lagged, not a lot, but enough to notice. Posted via the Android Central App

Retired my note 4 and canceled my pre-order of the Note 5 ..they lost me with this - wife and I both purchased G4's - nothing bad to say about em at all..then throw in the $100 rebate, all great.

The butthurt is strong with this one.

Where? Posted via the Android Central App

I did the same exact thing. Samsung is on my shit list for a long time. Had a Note 2 for 2 years (it lagged significantly) but really, to me at least, was the first "true' note phone to make a big splash. After 2+ years I bought Note 4, it lagged just as bad right out of the box. I should have returned it right away but I thought it would get better. Long story short I sold my Note 4 at a loss, bought a G4 and love it, no lag what so ever. I'm so over Samsung's laggy phones, I won't be going back to themanytime soon. All that big hardware is useless with no software optimization!

I had the note2, 3 and note 4. They all lagged and wondered why other phones like iPhone didnt... never found out why. About 2 month ago I updated my verizon note 4. Never heard this was a big update but it finally fixed the lag issue. Thanks Samsung. Finially! But now they are killing battery replacement and ir blaster so gonna stick with 4 or switch. Ps. Having 12 remotes on one screen is sick. So is the spen for signing documents and drawing. A 6400+ battery means no charging all day long...

i've return my G4..
I love EVERYTHING except battery life, thats why i returned G4.
so sad, but im glad I returned.
today i switched to ATT from Sprint for BETTER service.
i just went with note 5 but my line and 2nd line got each 400 bucks(200switching credit+200 trade in )

Hate when morons come here to talk about other phones .This phone is sic and very nice. memory cards and extra batteries are things of the past.Phone comes with fast charging and extra gb if needed.

The higher screen density is pretty great, I wanted that on my Note 4.

Took a little getting used to coming from the Note 4, but it's a better choice overall. Get more out of the screen.

I've never understood why, up until recently, most manufacturers have opted to stick with four columns on their stock launcher despite larger and higher resolution screens. Not to mention seeing more content in general. Posted via the Android Central App

That's one of the many reasons I replaced the Touchwiz launcher with Smart Launcher Pro 3. Nova Prime is also a great solution to that problem.

Changing the launcher doesn't change the DPI of the whole phone. The GS6 and Note 5 have an option to be 4x4, 4x5 or 5x5 grid, that hasn't changed. The DPI changes everything about the phone, not just icon size. It changes how all apps look and work, giving you more content on the screen by scaling down interface elements like toolbars, text and icons.

I was just talking about the difference between launcher home screens. Nova Prime/Smart Launcher lets me set the icon size so that I don't have to look at the huge icons taking up so much space in Touchwiz.

Have you seen 1DPI? I took a screenshot when I tried it. It's like a tablet. Posted from a metal Nexus

No idea what you're talking about.

It's an app. Posted via the Android Central App

Yeah it is. It can finally take full advantage of the super high resolution display now. I had a note 4 for about a month which I used alongside my current iPhone 6 plus. The note was superior in screen quality when it came to videos and pictures but in things like web browsing and APS the 6 plus looked just the same or in some cases better than the note 4 because the content was better adapted to the display. Posted from my nexus 7 2013

Note 5 and Note 4 are using the same screen part number.

+1000000000, the dpi is the same on the Note 4 and Note 5. Posted via the Android Central App

That unlocked price tho..... Posted via the ONE M9

Care to try a full sentence? Posted via the Android Central App

That unlocked price though sucks hella bad. My wife would murder me.....literally kill me....if I spent almost $1000 on a phone. That's a nice weekend in Vegas. That's an Xbox and PS3 plus games. That's enough money for other things than just a phone.

This.. Haha Posted via the Android Central App

how bout a Moto Pure, Moto G and Chromebook?!

The bitter taste of poor quality lingers long after the sweet taste of low price is forgotten.

The Moto X pure is not of poor quality in any way. It's a high end flagship with a midrange price

Motorola lost me as a customer when they took away SIM card slots. Thus my current Note 4. Also why I won't buy a Note 5.

I assume that you meant SD card slots... that being the case the new Moto X pure actually does have an SD card slot.

well... think of it this way... $1000 is less half the cost a decent Vegas hooker.

hey sucks it up lol. who wears the pants anyways. I got my note 4, ps4, new laptop and gta5, bf4, assassins creed unity, and cod AW. CAMERA. and network cards all in the same week. spend some money on yourself. the note 5 is more of an asset

I not going to say it's not expensive, but remember this is pretty much a computer in your pocket, what can it not do? Posted via the Android Central App

Nothing more than the Moto X Pure at half the price, really..

It can't make me dinner or have sex with me.

Lol Posted via the Android Central App

Are you married?? And do you work at Amazon?? Who the hell has money for all that in one week and still able to pay rent, groceries, and other things??? Good on you man. If you're single....then stay single....and keep on splurging on yourself.

I know right? Once you have kids, those splurges cease to exist! Lol Posted via the Android Central App

Definately the best smartphone's ever built IMO when it comes to hardware, and it'll still be better, more powerful hardware than the iPhone 6s after it launches too. But I will say, if this terrible RAM management continues and the phone isn't able to hold far more than 3 to 5 recent apps in memory, then you're fired Samsung !!!! No excuses. You already unforgivably screwed S6 owners, now get your shit right this time

+1 Posted From my Nexus 6/Nexus 7 2013/Surface pro 3

My S6 runs just fine Posted via the Android Central App

yeah just taking hardware into consideration, definitely the best smartphone there is ... hopefully their RAM management will improve this year.

#6 - it's overpriced and maybe worth half what you paid 6 months later..... Posted via the Android Central App

All phones are that way though. Posted Via my Samsung Galaxy Note 4 using the AT&T Network.

Just like cars... Posted via the Android Central App

And wives ***makes sure the coast is clear, hits send*** Posted via the Android Central App

Lol Posted From my Nexus 6/Nexus 7 2013/Surface pro 3

Like you ever had a relationship.. :)

He's married. Google knows why kids love the taste of cinnamon toast crunch. And they're willing to sell it to you.

I came out of my basement.... Once... Lol Posted via the Android Central App

Just because people pay more, doesn't mean it's actually worth that much. ;) Posted via Android Central App

They are worth what someone will pay, not one cent more, which is always more than a used Android. They just hold more resale value, period.

Just because you may be able to convince a complete idiot to pay $200 for a $5 hat, does not make that hat worth $200. It makes the buyer an idiot. Posted via the Android Central App

You've just convinced me to get into the business of selling hats...

No, that makes the hat worth $200, because someone paid it. May be worth it to only that person, but still........

That is true. But people pay a lot of money for a lot of things that aren't worth the cost... Virgin Mary grilled cheese sandwich sold for $28k. People who like Apple see the "premium value" as a social standing.

That's because they unlike android have only one manufacturer, you locked into no choice so the phone retains value. Android is flooded with manufacturers. Posted via the Android Central App

My question is, beyond the new features for the SPen, does this list of features apply to the GS6E+ i.e. Screen density, raw mode/the other new camera features, etc? Posted via Android Central App

What's this screen density nonsense, the Note 4 and Note 5 have the same exact screen, I am able to fit 12 icons horizontally and vertically on my Note 4 using Nova Launcher, and also scale icons to the size I like, it looks like Samsung is a bit late to the game on this, apparently many people in here have been living in a cave. Posted via the Android Central App

Man I wish I could get behind this phone. I love the concept of the Note. Replaceable battery and SD expansion. So we forgoe those and we are left with software. I can't believe how much lag I get on S6 edge. Camera and display are great but that's where it ends. Really wish Sammy could tone TW way down. I just bought Nexus 6 to tie me over until Nexus 2015. Sorry for the hating but with all these hardware specs these devices should fly. They work well for couple days but.... Posted via the Android Central App

Lag? What is this lag you speak of? Posted via my 1 year old One that's begging to be replaced.

When you make a comment like that, you should probably disable the signature first :)

... unless his sig is for the One M8, which does not have memory management issues and can smoothly handle 25 open apps at the same time ;) Posted via the Android Central App

But still is begging to be replaced

Yep, I own a Oneplus One, and I have no shame. It does truly run smooth, but there are other reasons I want a different device. Posted via my 1 year old One that's begging to be replaced.

Once you use a Nexus device, you will understand, until then, don't comment. Posted via the Android Central App

I'm using a Nexus device, have so for almost 2 years and I can still say that anyone who still claims that Samsung devices lag is a troll that is letting bias do the talking and/or hasn't actually used a Samsung device for several years. Posted via Android Central App

I have a Nexus 4 and S4. Both actually still run surprisingly smooth. The S4 does lag though.

I own both, a Nexus 6 and Note 4, the Nexus 6 is smoother and quicker than the Note 4, sorry there is no way to sugar coat it, not saying the Note 4 is a bad device, but with the same hardware as the Nexus 6 it should be just as smooth and nimble, which it is not, it's TW that is holding it back, also when there is any kind of software update, the Nexus 6 has around 200 apps that need to be updated while the Note 4 has close to 400 "Samsung bloatware". Posted via the Android Central App

Had a Nexus 4. Ran smooth, but it was a wall hugger. Glass remained intact though. Posted via my 1 year old One that's begging to be replaced.

When I go to open an app and a white screen just stares at me. Or when I get some dumb error message or when it...... Posted via the Android Central App

Same thing here, had a galaxy nexus, then a note 2 and now a G3. I miss the nexus. Only way to get rid of the lag on a Samsung or LG device, root and debloat or run a custom ROM. But CM on these devices is buggy. I'll be getting a moto X or nexus this fall. Posted via the Android Central App

That's the thing coming to a nexus 6 from a galaxy s5 I just can't go back now and I've tried the g4 but the software just wasn't doing it for me I just don't know how or if I can go back to a skinned phone Posted From my Nexus 6/Nexus 7 2013/Surface pro 3

I understand how you feel. I've lost all interest in skinned devices. Nothing beats stock Android. Nothing beats Android period! Posted via the Android Central App

Whats great about stock is that it uses minimal resources and runs exactly the way the operating system is built to. But Google does need to bake in some more functionality, IMO it definitely needs much more robust quick settings/ customization and things of that sort

That I agree on 100% Posted From my Nexus 6/Nexus 7 2013/Surface pro 3

Use Nova Launcher, it works great with my Nexus 6 and Nexus 7 2013. Posted via the Android Central App

That is not going to make my camera bearable or give me multi-window.

Nexus 6 camera is not that bad at all I can get really good shots in daylight Posted From my Nexus 6/Nexus 7 2013/Surface pro 3

I got really good daylight shots with my droid 2... Ahhhh, I miss that little slider phone sometimes. MIC DROP

I wasn't talking about launcher functionality

I agree Nova is much better than stock. Apex is my favorite.

I haven't had a high end non-stock device since the S III. After that I had the Nexus 4 (Meh) and then the HTC One Mini. I like the Nexus 5, but I think it's time to try the Note 5 if the LG Nexus 5 2015 doesn't check all the boxes the Note 5 does. Google Nexus 5 | T-Mobile $30 Plan

Yep, I only run custom ROM's.

Yeah, I know, right? Samsung should remove all the features from Touchwiz that make it useful so we can get that Pure Android experience on Samsung phones. There's nothing like Pure Android, uncontaminated by any useful features.

Don't you ever get tired of spewing that shit? Posted From my Nexus 6/Nexus 7 2013/Surface pro 3

Yeah, I was getting tired of it. But now that i know it annoys Nexus fanbois, I'm getting my second wind.

It's just obnoxious but you do what you want Posted From my Nexus 6/Nexus 7 2013/Surface pro 3

Is he lying... Nope. A nexus opens apps, that's it, nothing else.. Did I miss something? Oh the shitty camera... Yeah, sorry MIC DROP

Picks up mic....... Last I checked all devices open and close apps. Guess what? The Nexus 6 has front facing stereo speakers that just sound marvelous. I could go on and on but I'm not in the mood to wrestle in the mud. Posted via the Android Central App

Sundae > scoop of vanilla MIC DROP

I could use some ice cream right now. Posted via the Android Central App

Me too. Good thing I just baked cookie dough brownies... MIC DROP

Neener neener, I have Chocolate Chip ICS in the freezer

I have bluetooth speakers. And the S Pen, and all of its features and apps. And a fingerprint scanner, which is integrated into various apps like Lastpass, FingerSecurity, etc. (Thankfully, Android M will support fingerprint scanners). And multi-window support (not just split screen). And SideSync (works great). And a host of other things. You have front-facing speakers and the only launcher on the planet that has fewer features than the crappy Touchwiz launcher. Bravo.

Thankfully I have ZERO Samsung apps on my device. Even on my Samsung devices I have all of the Samsung apps disabled, makes things run better. Multi-Window? Yeah no thanks I have zero desire to go from one 6 inch screen to two 2.8 inch screens. I'm not one of those people who likes to pretend I'm some kind of busy multitasking dude. As far as launchers goes I use Action Launcher 3 and Google Now Launcher. During the work week I use Google Now Launcher for its powerful all business approach to handling business. During the weekend I change things up by using Action Launcher 3 and custom icons. Posted via the Android Central App

I'm not a fan of Action Launcher, but I admit I've frozen or uninstalled a number of the pre-installed Samsung apps on my Note 4 (including Knox). It really does make the phone run better. Samsung needs to let us do that without root. However, I do find multi-window very convenient, despite the fact that I got a big screen phone so things wouldn't look so tiny.

Multi window has a ton of uses, and it is on the note tablet as well. /I need them to do another line of those

Yeah it does, I'm reading the comments here and texting my girl at the same time :) Posted via the Android Central App

Obnoxious but funny...I love the Nexus line but this guy made me LOL.

Then my work here is done.

I don't think it has to be pure, just some enhancements like what moto is doing. Make it so when you setup the phone for the first time or do a factory reset you can pick what manufacturer or carrier apps you want. I've had a couple nexus devices and while they tend to run well, there are small things that are missing. I love profiles in CM for example. Great feature all phones should have. Posted via the Android Central App

Who said the Note was defined by two features hardly anyone uses? I feel like that's something you invented in your head. Posted via the Android Central App

Dude the whole lag thing is way over played. Do you really have a s6 edge cause I don't believe you do . I know more then a few with the gs6 and we don't have that issue . So get over yourself bout the lag thing that jokes old . Oh and by the way the battery issue has gotten better to with latest updates . We get it you don't like samsung now move on Posted via the Android Central App

Install Facebook. It'll lag like crazy, just like on every other phone where Facebook is installed. ;)

Lag??? there is something wrong with your phone. This is by far the least amount of lag on any Samsung phone. Not quite as snappy as the M9 or straight android devices but what lag might be there is hardly noticeable. The camera is super fast to launch as well as snap! You are just trying to bash and either don't really own one or have a defective unit or crap software installed.

Is the note 5 going to have another iteration of gear vr? Will it work with the note 4 headset or the s6 headset?

The screen density on the Note 4 is the exact same as that of the Note 5, at 518/581 (i'm kinda dyslexic)

What Andrew is saying is that Samsung has told Android that the density is higher, so that it actually renders everything just slightly smaller, to keep the size of elements the same as they would be on a 5" screen, and just be able to view more at once. The difference between the ppi of the screen, and the ppi at which the OS is being rendered.

Display density and pixels per inch are different. Though the screen size and pixel density is the same, the display density (how many virtual dots fill each physical pixel) has been increased.

They forgot to say it is 64 bit processor so android is now running at 64 bits instead of 32 bits(note 4).

That doesn't mean much if anything for devices right now except the amount of RAM that can be addressed. But ya odd they didn't mention it. Posted From my Nexus 6/Nexus 7 2013/Surface pro 3

There are more benefits to 64-bit than just RAM.

Nice looking phone with some features I would like to have, but for the price difference between the G4, I could also buy a top end tablet to go with it.

As good as this device looks, if it can't keep apps running in the background and forces you to have to wait to do almost everything then its a no go. My wife's S6 on at&t reloads apps even when it's showing 1.1GB of free ram. The fact that the picture was showing 1.4 GB means nothing. Hopefully Samsung has fixed this problem of theirs.

I don't have an S6 to experiment, but I don't have that problem on the Note 4 with Sprint's latest 5.1.1 update. Recent apps pops right up, and when I choose from one of them, it doesn't reload. If I clear all recent apps and launch the app I want again, then yes, it does reload.

It's bad on the S6, can hardly do anything. Posted via the Android Central App

That's really strange. I know someone who has a Sprint Note 4 on 5.1.1 and it couldn't keep 3 apps open in the background. Any non web based app pops up fast and sometimes it's hard to tell if it reloaded or not unless you're really paying attention, but on the Note 4 that I tested it was definitely reloading apps and couldn't keep apps open in the background. It had the same problem that my S5 had when it was updated to 5.1.1.

I just ran 6 apps, and all but 1 always comes up instantly. The one that lags is Google+, and for all I know it's supposed to refresh. You can REALLY tell if Aquamail is reloading (it takes a while), and it's instant every time unless I clear recent apps.

The s5 didn't get 5.1.1 (yet) MIC DROP

Trust the whole lag thing is over played . I actually have the phone and my gs6 is way faster and smoother then my note 4
.these folks are just repeating things they hear not what they know Posted via the Android Central App

Who said anything about lag?

Phone is great and regardless of cost I want it. Posted via the Android Central App

Looks great, on the fence! Posted on my Galaxy S6 edge (S is for Super) via the Android Central App

wow 1.6gb taken by the system....only 400mb on my moto g haha

What's sucking up that 400 MB? It's not like the Moto G has any features.

Features or gimmicks? Posted via the Android Central App

+1 Google Nexus 5 | T-Mobile $30 Plan

Well explained for those of us who can't take in the differences on a quick store fumble. How the screen real estate works I mean. Never having a Note 4 / G4 etc I can't figure what the gpu has to do to feed regular apps and up to 1080 material to that many pixels. TV's have to upscale. If the text is crisp and easy to read at the same size then only the browser, 4k video, and homescreens / app drawers can fit more on the screen. I don't know, I have to try it. (I can only try the S6E+).
4k video would be downscaled. It's confusing. Anyway, if you ignore the sealed battery and lack of sd card (and I can), this article makes the Note 5 very appealing. Posted via the Android Central App

That price is comical in today's market. I wish them the best. It was fun having the Samsung guy in Best Buy try to convince me yesterday that the little hole on the top right was an IR blaster. Tee-hee there fella. I thanked him for showing me the iPhone 6s and waked away.

Don't really care that the battery isn't removable
Kinda disappointed that their is no sd card slot
Biggest issue and the killer is that they took the ir sensor off Posted via the Android Central App

Queue the Samsung haters "muh sd card because I don't understand technology!" Posted via the Android Central App

Are you serious? I really hope your joking. Posted via the Android Central App

Sorry, but I can't function without having 10,000 songs in FLAC format and 500 movies in my pocket 24/7. And don't tell me about the cloud. I can't risk the possibility that I'll be in a cave somewhere without signal. How would I be able to listen to Justin Bieber then? Huh?

I get by with 3,000 songs and 2,000 pictures on my device. I don't save movies on my device. There are times when I spend the weekends/vacations taking hundreds of pictures and recording lots of videos. That can fill up space very fast. Posted via the Android Central App

Google photos was the reason I didn't mourn the loss of a SD card slot going to a nexus 6 :) Posted From my Nexus 6/Nexus 7 2013/Surface pro 3

I don't want them tampering with the photo quality to achieve unlimited storage. I'll take a ding to my 150 gb limit. They'll charge me in 2017... MIC DROP

I love the new Google Photos app. Does everything and more that I want. Posted via the Android Central App

Google Photos is awesome. Love that free unlimited backup Posted from a metal Nexus

Get the USB adapter, not saying I have used it a ton, but I have got my moneys worth over the yrs of having it. If your taking a lot of pics/vids I highly recommend it, works with pretty much all Samsung phones. And it's a small adapter, I also always have a USB drive on my key ring so it's not really a bother. Posted via the Android Central App

You sound like a broken record. Posted via the Android Central App

Just ignore him the amount of trolls on this site has picked up like mad in the past couple months hopefully they'll come and go Posted From my Nexus 6/Nexus 7 2013/Surface pro 3

Yes yes you want faster internal storage than expandable storage we get it And stop telling ppl to Google that shit Posted From my Nexus 6/Nexus 7 2013/Surface pro 3

Wow, what's with all the hostility, man? Aren't you supposed to be the "positive" guy?

I am positive but the trolls on this site are getting annoying Posted From my Nexus 6/Nexus 7 2013/Surface pro 3

Agreed. Posted via the Android Central App

Looks like an awesome device hope the battery lasts longer than the s6 that I had for 1 week, 3 1/2 hours on average of on screen time just wasn't working for me but it was a the fastest phone I have used to date so I went back to the note 4 which is at 43% right now and will be instantly back to 100% when I swap the battery priceless Posted via the Android Central App

Number 11...it made Rene Ritchie's (iMore editor) head explode. Shoulda named it the Galaxy iNote to really make it hurt. Posted via the Android Central App

I have my own top 10!
#1 it no longer has a sd!
#2 the battery is sealed!
#3 the battery is smaller!
#4 it's cute and shiny! Just like that iphone!
#5 Samsung dropped the ball bigtime!
#6 no 128gig option!
#7 it is now no longer Sammy's phablet flagship!
#8 ppl that love to click things, ur in luck!
#9 it won't be released in the UK!
#10 the note4 (I'm a proud owner) is ashamed to call it its successor!
So there u have it folks! Posted via the Android Central App

LoL Posted via the Android Central App

Don't see how people cry so much about a phone. Its easy just don't get attached I get bored with my phones in 6 months anyways. My Note 5 will be in tomorrow and I'll use the hell out of it till March then get the S7 then get the Note 6 again in Aug and keep on going. I'll take the bump in ram better cam better processor each new one always has. If you don't like it keep your old weaker phone and cry about how you don't like the new one but wish you had it in the back of your mind. I know I would cause I can't stand not having the latest and greatest. Just saying Posted via the Android Central App

You are the absolute opposite of objective. I'm not sure if you'll be able to understand this so I'll keep it simple. People in general focus more on what they are losing than on what they are gaining. So when you take away expandable storage, removable battery and lower the milliamps people are going to focus solely on these things that have been taken away. I hope this explanation has been helpful. Posted via the Android Central App

What are they losing it just a phone. This whole thing is so over blown . They haven't spent a dime on the phone and from the sound of it don't intend to so what's the problem really? You know samsung has a right to changed there phone and they will every year. If the changes don't meet your needs are expectations you simply buy and different phone it's just that simple as you say Posted via the Android Central App

It's just the samsung haters they show up everytime there's a samsung article. With the same old no SD card and removable battery rhetoric . Oh and the fact that there not buying it . You'll get use to it Doesn't matter that other phones have omitted the same features go figure Posted via the Android Central App

Do you even know what rhetoric means? It was the use of rhetoric that was used to brainwash people into believing that expandable storage was ancient technology. These "Samsung Haters" that you mentioned happen to be very faithful and loyal Samsung customers who feel betrayed by the loss of what most normal people consider very useful and powerful features that made the Galaxy and Note line the best in class. I'm not sure if your aware of this but most people in the real world don't always have the luxury of being able to plugin and charge a phone whenever the moment arises, most people in the real world don't have unlimited data plans. A lot of people have jobs that take them away from areas with data and WiFi. Who do think fixes the rails that trains run on in order to get you your products. You need to look at the bigger picture my friend. Posted via the Android Central App

I think you are missing the big picture. IT"S A PHONE!! Move the freak on... This is ANDROID, we have lots of choices. YAY!

there not just phones anymore haven't you noticed there mini computers. Posted via the Android Central App

Exactly. I basically ignored him after he made that bizarre statement. Posted via the Android Central App

I have something to say about the Note 5, but I'm worried that I'll attract both die-hard Samsung fanboys and long-time Samsung complainers....... Posted from the LG G4 "Spigen + Anime" Edition. Wait, what?

Don't even worry about it. All the real Samsung fans will understand. Posted via the Android Central App

Alright, here goes. *deep breathing* I think the Note 5 is a solid device that owners are gonna like to use. It looks pretty nice (especially in Titanium Silver, though I sometimes prefer the look of the Note 4, but that's personal preference), has a lot of power, the S Pen continues to be awesome and despite the smaller battery, it's actually pretty solid in terms of battery life, lasting as long as the Note 4 and sometimes, even longer (which makes me sad because those 4100mAh rumors spoiled me as it made be think about how much better it could be). My biggest pet-peeve is the storage. No, it's not the lack of an SD card slot, but it's that 64GB is the max you can get. Now, I'm sure that it's more than enough for many, but for someone that stores lots of media locally, it's not enough (for me). The Cloud doesn't count as I'm living on a 4GB data cap and I keep having an inconsistent signal, so lots of local storage is a big deal for me. Device longevity might take a hit due to the sealed design, but so far, those are my only concerns. Also doesn't have an IR blaster, but it really isn't an issue unless you use it. Overall, I like it. Although I'd still prefer a Note 4, I think this is another solid phone in the Note line. The removal of a removable battery and SD card slot might alienate some long-time Note fans, but for those, there are alternatives, though you lose out on the S Pen. While I won't be buying it, I'll likely be using it for a short while to see how it's like and if I win the giveaway, it will be a pretty awesome work companion to my already-stellar LG G4. Posted from the LG G4 "Spigen + Anime" Edition. Wait, what?

Two words: WiFi. Okay, that's two syllables, one word. No data cap.

I don't use free Wi-Fi, bruh. Either they're not that reliable or just too open. (Also, I travel a lot internationally, and Cathay Pacific and some other airlines doesn't offer WiFi in their flights. Maybe I'll go with Delta for a bit.) Posted from the LG G4 "Spigen + Anime" Edition. Wait, what?

Great argument. That's like me saying, "Sorry, I don't use SD cards, therefore the Note 4 and LG G4 sucks." There's a solution. You don't want to use it. So keep your LG G4 and create a library of microSD cards. Note 5 is not for you.

Dude, quit the negativity, man. Be positive. I never said the Note 5 is a bad phone. It just doesn't fit my usage pattern as well as the G4 and N4. But that by all means does NOT make it a bad phone. It's the perfect phone to others. I may not like the Note 5 as much as others, but that doesn't mean I hate it. I would like to use it one day to see how it's like. Also, I used to be a Samsung hater. This comment would be very different if I was still a Samsung hater. Posted from the LG G4 "Spigen + Anime" Edition. Wait, what?

Also, FYI, there are other WiFi solutions other than Cathay Pacific. There are WiFi media servers (including some with external battery chargers) that you can tuck into your carry-on. Put it in your bag and stream your 64 GB of Anime off the microSD card in the WiFi unit. And it even has a battery charger. Google HooToo and Kingston wireless storage, or whatever, and you'll probably find it.

I actually have an OTG drive that I have for my old HTC One M7 that I use to store media files. Not the most elegant solution but it did solve the storage woe for me before I got the G4. And I'm actually planning to get an external hard drive that has its own Hotspot for my family as my mom and sister have phones that lack expandable storage (a Lenovo S960 and an iPhone 5S respectively), so that also solves the storage woe for them. But to me, I just prefer the SD card because I just like how it's it's tucked neatly inside your phone and how it's not too intrusive. If you think SD cards are fragile and outdated, that's fine. We all think differently. Posted from the LG G4 "Spigen + Anime" Edition. Wait, what?

The SD thing would be the biggest loss for me but I guess I can live with the 64GB. The IR blaster I do use, however, it sorta lags a bit, so It wouldn't be a big loss. Plus, I'll be buying a keyboard for my XBone that will be able to control my TVs volume, which is what I most use it for.

Get a case. The Note 5 is already broken after one weekend at my ATT store. (So is the S6 for that matter) It's gonna shatter like a cheapChinese glass trinket if you use it very actively at all. http://i202.photobucket.com/albums/aa125/livefaith/Note5onDay3.jpg?t=143... It's purty tho. :-)

I've seen some Galaxy S6 display units suffering from a crack around the area where the anti-theft thing is. Glass clearly isn't what you should be using on something that's bound to be dropped. Also, GG4 is scratch-resistant and is shock-resistant to a certain degree. Note that I said certain.

If you get the Note 5 another storage option is the Samsung USB adapter, and then get a USB drive that attaches to your key ring. And about the all glass, that's the only thing that scares me about the Note 5! Time will tell lol Posted via the Android Central App

Still not getting my money Posted via the Android Central App

Yes, I knew that it is way better than the Samsung Galaxy S6 Plus. The features and specs are just amazing. It is not just the upgrade of another phone.

You are all crazy. I'm buying Moto X Pure Edition. I don't care any more. Lesser specs, maybe shitty camera, don't care. Sick and tired of Note 5 debacle. You guys have fun. Lol Posted via the Android Central App

The Moto X Pure does not have lower specs. The camera is going to be top notch and the display will be perfect. It's all good man, lots of former Samsung fans are just frustrated right now. I know because I was one of them. Posted via the Android Central App

I need to see proof that camera is worth a damn. Moto can't put a Camera in a phone to save their life MIC DROP

If camera is number one concern, then yeah, probably look somewhere else. Personally never been number one factor for me deciding on a phone. Stock plus user experience trumps all. Posted via the Android Central App

That's one thing I'll mostly agree on that you say you Posted From my Nexus 6/Nexus 7 2013/Surface pro 3

You don't know how to read spec sheets, I guess.

This phone is a beast!!!!! http://www.phonearena.com/phones/Motorola-Moto-X-Style_id9553 Posted via the Android Central App

It's still lower specs than the Note 5 / Edge +. six-core 808 vs. eight-core 7420 running at a higher speed. 3 GB of RAM vs. 4 GB of RAM. microSD vs. UFS 2.0. And so on... the Moto X has lower specs. Just admit it.

The Note 5 needs all that added "power" in order to run all those features (gimmicks) LoL Posted via the Android Central App

The reason the Note 5 added more team is to help with it's TW resource hog skin, 3GB of Ram on any device is MORE than enough. I own a Nexus 6 and Note 4, the Nexus 6 runs circles around the Note 4, and they both have the same hardware, it's the software stupid, not the hardware. Posted via the Android Central App

G4 Pro in October for me with better specs than the Note 5 and micro sd card.

Doubt the specs will be better. Comparable maybe Posted via the Android Central App

For those unhappy with Samsung, might get a Nexus in October/November too. I heard both G4 Pro and Nexus are supposed to have Snapdragon 820. A lot of "might's". I have upgrade on available on Sept 3. Just don't know if I want to wait...

I'm also sick to death of plastic which the G4 Pro and the Nexus will probably be. Choices.... At least we have lots to choose from. I have been known to go into a crack flashing frenzy after I get board of the phone (seems about a year into it, I get flash happy). That would lean me toward the Moto X... Knox makes rooting no fun (from what I hear, once rooted, you can't go back).

THE 820 SILICON WON'T BE READY BY THEN I've been saying this Posted From my Nexus 6/Nexus 7 2013/Surface pro 3

Yea, I will wait for the Note 6, I am perfectly happy with my note 4, I change the battery when one gets low, I use the micro sd card for lots of storage, I use the IR blaster for everything around the house as well so that would be a sacrifice. Samsung may just be cutting themselves out of my life. It's too bad because it is a good phone. Hopefully Note 6 will have USB-C.

I never change the battery in my Note 4, and I could easily survive with 32 GB, but I'd get 64 just to be sure. I never use the IR blaster. I have these things called "remotes" and I know how to use them (so beware). Nevertheless, I'm happy with my Note 4, too. I have no plans to upgrade. Maybe Note 6. Or maybe I'll win a Note 5 or get a great deal in 6 months. But I have no burning desire to get the Note 5.

You don't deserve to win anything... Your comments are all over the place. I have been long time Samsung fan. But I moving on to LG and moto.. Infact I traded in my note 4 for t mobiles version of the lg g stylo. Guess what.. The LG G stylo. While being way less of a phone. Runs smoother and battery last twice as long. My wife got the lg g4 from a s5.. She couldn't be happier.. I only miss the camera on the note 4. And like most people. We feel betrayed that Samsung played comercials pointing out the use of removable batteries and SD card.. But now tool those away to be just like Apple. If I wanted an apple phone with lag. I will now consider Samsung... And if anyone in here says you have no lag.. You should seriously pick up any high end phone in the world and run your own test.. Posted via the Android Central App

No lag here gs6 edge 32 gold runs like a demon . That's the new version of samsung and the n5 will be even more the beast . Hey I'm glad you chose a android phone of any kind. And you didn't go to the dark side Posted via the Android Central App

Going to put $400 in my pocket, get an SD card, front facing speakers, water resistance, customized look, an almost pure Android experience and have a serious upgrade to my last ever Samsung (Note 3) by getting the Moto X Pure.

Very smart move! Posted via the Android Central App

Thanks! Great stuff. Finally 5 wide screen icons :-)

Sucks. Overpriced. Sucks. Overpriced. sucks. Overpriced. Sucks. Overpriced. Sucks and Overpriced... Lol.. And i used to be a Samsung fan boy.. Lol but that's my 10 Posted via the Android Central App

Hey hey cool your jets sucks person if you'd open your eyes and not your mouth you'd see that the note 5 is $140 cheaper then the note 4 . The note 5 is a premium phone that's not your price range don't get mad cause you can't afford it . I see a moto e in your future Posted via the Android Central App

On what planet is the Note 5 $140 cheaper than the Note 4. Posted via the Android Central App

When released the note 4 was 850 on release the n5 740 ok 110 bills cheaper my bad but you get the point . That's on att . Hey it clear your not paying over $400 so the note 5 is not for you but don't knock folks like myself . Don't have issue with spending the extra cash for what we want . Heck my note 4 edge was almost a grand after tax and I'm trading it for the n5 Posted via the Android Central App

I have a simple price structure in my head
-Feature Phone $200
-Smart Phone $400
-High End Windows Desktop $800
-MacBook $1199 Why is a Galaxy Note being sold for $840? I read somewhere that the Note 4 components only cost about $289. Multiplied by 2 that would be $578. Something is wrong when Cell Phones and Hyundai's cost the same price. Posted via the Android Central App

It's called markup that's the way the free market works . You do realize there are phones that you can buy that will have the same basic functions. .moto e $79 at best buy there problem solved. Do you get just as pissed when you see the guy driving a Porsche when a chevy spark will do the same thing hum? Just saying Posted via the Android Central App

Every time I use the S-pen on my Note 3 (be it to tick a very precise point on a video playback line or to quickly write down my mileage while running an errand for my job) , I get to thinking "what if I didn't have the S-pen?" honestly, if the Moto X pure had an stylus, I would not be considering any other phone. But I don't see a good phone out there with a Stylus. And that's why I am gonna upgrade from my Note 3 to the Note 5. Posted via Android Central App

At last week's Note 5 and S6 + launch event Samsung opened the event saying how much they listen to their customers, however practically everything they announced after that proves the complete opposite! They should have called it the Samsung 'white flag' event cause they've basically surrendered to Apple! and went against everything that made them different. The decision to deny Europe the Note 4 is beyond ridiculous! and a very dangerous marketing decision! 2 or 3 years ago they'd have got away with it but there's too much competition in the big phone space like iphone 6 plus, Nexus 6 etc and people will go elsewhere rather than have a S6 Plus forced down their throats. Posted via the Android Central App

This looks like a solid upgrade. It's a shame that I can't buy it in the UK. I hope the s6 edge has the same features minus the S-pen related ones of course. Posted from my nexus 7 2013

The edge plus and the note 5 are pretty much the same phone . Just that one has a pen . I have a gs6 edge and love it I wished that the plus was available before I got the gs6 Posted via the Android Central App

I went to best buy today to. just take a look at the" inote 5" I must say it is snappy fast but then again everything is when its at the store. but the camera literally opened up from a off State in a half second! but! it was the 32 gig model and I looked at available space left after the stem files and all the apps that were on it and it read 15gb lmao terrible! and 64gb and much either if it would have came with 128gb and not have gotten rid of the ir blaster I would have bought it. but they went backwards. I hope they sell very few of these Posted via the Android Central App

I may be in the minority but I don't know how much more space is needed. I have the note 4 que only have half the memory used. That includes all my go to apps and games. I have an SD card that will now be obsolete now that I use Google photos. I'm not excusing Samsung for their short sighted decision by any means. I'm just saying that these phones should be given a fighting chance. I for one will have the phone in my hand before I make a decision. I prefer to have the battery and memory expansion but I want to see if the changes are worth the upgrade. If not I either keep my current phone or look for another. But I will give it a chance. Posted via the Android Central App

Two reasons samsung got rid of both of those options. One the 128 gig didn't sell all that well because price . And the blaster never really was all the widely used, everybody tried it but that was it then they went back to there old habit of tv remote control Posted via the Android Central App

That can't be true my gs6 is a 32 g model and before adding any apps the phone had 26 gigs free . Keep it real my friend state the fact Posted via the Android Central App

I'm glad I got the Note 4 Edge even more now. I don't care about the 'premium glass & metal' the 5 boasts. Not many mention the Note Edge so I guess it isn't the most popular device but I love this phone. The battery life is okay, what can you expect if you're on it all day? I have a portable power bank, carry charger in case. It is comforting to know if the battery fries (this phone tends to reach temps of 90°+ several times per day) it can be easily replaced, though I don't think it'll need to be. I've had 6 Samsung smartphones & never been disappointed except to want the new one sooner! I have an app which closes 'heating apps' it isn't a deal-breaker. I don't use the S pen as much as I thought I would, but I'm glad it's there when I want to. 32 gb of storage is enough so far, after 2 'smart switches' from the S G4 & S G5. I regularly delete outdated/unused files/apps & use a sweeper app. But it is comforting to know I can use an SD card if necessary. Multi-window on the Edge means just that, not only split screen (I realize the Note 4 as well) but with the Edge it couldn't be easier to multi-task. Pop-up windows galore, fast, if desired. It looks cool, it's functional, it's fun! No it wasn't cheap, but I didn't get it as soon as it hit the market, which helped. Some say the Edge screen isn't useful, but I love it! I guess the Note 5 Edge or Note Edge 2, whichever, is impending, (unless it's out & I missed the memo) but I still prefer the removable back. I read an article that complained of 'no IR blaster' on the Note 5..really? I use my phone remote constantly, so that sucks if it's true. Yep, my Note Edge is a keeper, the Note 5 just makes me love this one so much more. :) I'm not dissing the Note 5, I love Samsung. I just love it more with the Edge, & features that they've removed. But that's only my humble opinion.
Posted via the Android Central App

Good points I to have a note 4 edge , and a gs6 edge love them both for different reasons. Sadly I'll be trading my note 4 edge for the new note 5 nothing wrong with my 4 . Just that I get the latest Sammy phone every year. A believe it or not the new touchwiz is so much faster. But the note 4 edge is a beast in its own right. It's refreshing to hear nonhating comments on the n5 just your honest opinion Posted via the Android Central App

My wife has the Edge and loves it ... except for the heat. In fact she had it in a case (which made it gigantic :-\) but it actually started shutting down, we think because of overheating. Works fine now out of the case.
Great phone IMO. I personally don't like the way that it feels in hand. The Edge just makes it a bit wide and weird to hold. But, the edge apps are super cool to me and she (a non techy) uses them for her most used apps access.
The Note 5 feels awesome in hand IMO. Lighter, rounded back, thinner than the 4 (albeit a tiny bit longer). It seems super fast in my in-store fondle. Nice new pen and apps. But, if you want the 5, you have to compromise durability (the Note 5 is fragile), no replaceable battery, no SD expansion, no IR functions. So, basically Samsung has went sideways at best with the Note 5. The first time in the series IMO. I really was planning on getting it, but with the cheap (and stupid) glass back and sealed battery, I'm just going to upgrade my 3 to a 4. :-\ Those two factors kill it. Could have lived with a 64gb and no SD. Could have given up IR, b/c I don't use it a lot. But Sammy forcing me to put on a fattening (and prob plastic LOL) case and stay tethered to a charging cord / pad are deal killers that make the 4 better in my world. I guess I'll save a little $$$. Sucks tho.

Thing number 11, it's not available in Europe. Posted via the Android Central App

For the folks over seas you can buy the phone unlocked it's just that simple , last year you guys got the gold note 4 and we didn't . So my buddy got a unlocked gold n4 problem solved just saying Posted via the Android Central App

Much like the Galaxy S6, the Note 5 may not be a great successor to its predecessor (the Note 4), but is a brilliant device in its own way. There may be a loss of functionality, but that doesn't mean it isn't a worthy upgrade. Too early for people to be deciding whether or not to buy this phone when we haven't really heard the word of those having bought this. Just my 2 cents. Posted via the Android Central App

if its not a I-phone then it must be a Samsung....PMSL

For those worries of the battery android authority just did a n5 vs n4 text and the n5 out lasted the n4 by 30 minutes and it charged up faster to . That should give you a good days worth of usage Posted via the Android Central App

The Note 5 I want is going to have 2x-3x the Note 4 battery life when I swap in a larger battery. Note 4 + 30 mins doesn't help when your job often keeps you far from a charger, much less a quick charger. Posted via the Android Central App

it charged faster cause there is 220 less miliamps Posted via the Android Central App

Soooo bummed. My Note 5 showed up today but when I opened the FedEx box it was a Edge 6+ :(

First off; thanks for the well-done article Andrew.
Secondly; I can't recall a more hostile comments section!
It's an important release, but 'things' are not more important than people. If I was confronted by a gunman and he said he was going to shoot the stranger next to me, or my phone, and walk away, I hope it would not be a hard decision to make...
Now about the phone itself; I think Samsung did a good job in several areas. They kept it in line with the rest of the "New" family in terms of build quality and appearance. It's my opinion that the Note 5 looks better and feels better than previous versions, but that's just my opinion. A curved back fits my hand better, and kudos to Samsung for keeping the screen the same size and making the overall size smaller. Increasing the display density was a good thing, as it's more useful than empty space between the icons. Also, being able to shrink everything down and move it to the bottom corners for one handed operation is WAY better than Apple's method of just sliding the top down. There are times when your other hand is full and you need to do it all with the other hand, like when walking from the parking deck into work with a laptop bag in one hand and the project manager keeps on talking about irrelevant stuff. Every device has downsides, and if I was in Samsung development, I'd take a "Woah" moment when capping the memory at 64Gb for a device that should favor power users. Yes, no card is Ok if you have enough internal memory. 64 is not enough for some users. There are a few other things, but memory would be the biggest issue.

Well to samsung defense they dropped the 128 gig version for obvious reasons. No way did they want to be stuck with a bunch of unsold phones .based on most reports the most popular storage is 32 and 64 on the gs6 and believe it or not reports show 16 and 32 gigs where the most popular for the iPhone. now I know you gonna say most note folks are power user . But the fact is according to samsung most are not they just want the bigger screen hence the reason is not being released in Europe. Now everyone has different needs but I would think that 64 gigs and 200 gigs of free cloud should be plenty for most Posted via the Android Central App

You're right, 64 gigs should be enough for most people. It seems like they could have has a 128 gig version available, and just adjusted production according to demand.

Let me jump on this power house of a phone with great multitasking for buisness uses, an amazing screen for multimedia, great sound, and the greatest camera in a smartphone. But I want you to cap me at 15gb of usable storage for over 800.. Um no thank you.. Samsung the new iPhone... After years of Samsung support my family is finally moving on to other manufacturers... :( Posted via the Android Central App

4GB de RAM and only 1.3gb free.... really? my alcatel idol 3 withn 2 gb of ram, have the same memory free!

Which is better value for money an s5 or an s6. Posted via the Android Central App

Well for just a bill more I'd take the note 5 over the 6 any day . More ram bigger screen S pen the list goes on plus best buy is giving you $200 to boot Posted via the Android Central App

Love it! Best Android ever. Had major issues with the s6 and sold it. Don't believe the negative noise until you've used one.

Go see this phone in person. If looks good, it's fast and the battery life very than note 4 even though it's physically smaller.

I am getting mine the day it's available for in store pickup.
Can't wait.
Love this phone. Played with it at best buy for a while. Posted via the Android Central App

Why are so many people hurt over the none removable battery and SD card support. Apple has been doing it since the beginning with the first iPhone and they sell a buttload of iPhone. Posted via the Android Central App

Trust me just the haters are pissed most note lovers like myself love the new phone . Don't listen to the hater aid Posted via the Android Central App

Why do you think I didn't buy an iPhone? Posted via Android Central App

I have a 200gb SanDisk micro SD and plus 32 internal gigs? 232 gigs.
wjat phone that don't have a micro sd card touch that?. I have 50 full HD movies on my phone downloaded from Torrents. I have 3,000+ mp3s. tons of apps. all on my device ready to access and play at a moments notice. can u do all that with a iPhone or the new inote5?.power users care about these options. everyone else who simple states just use the cloud! is not a download junkie. someone who really uses there device very heavy. also it's safer to have your stuff with you then on some server. being hacked by China! Posted via the Android Central App

Love love love the size. It has a huge screen but feels small.

Does it say Fast Charging when plugged into a fast charger, or only on the Wireless charger? I'm using the Fast Charger that comes with the Note 5 and when I plug it in it never says "Fast Charging" like in your photo.

Does it say Fast Charging when plugged into a fast charger, or only on the Wireless charger? I'm using the Fast Charger that comes with the Note 5 and when I plug it in it never says "Fast Charging" like in your photo.

I have the Note 3 ...I think the finger point sensor sounds awesomw. I love samsung products.

What the HECK is going on with the Note 5. I am currently on my 5th phone under warranty. First two had wifi that failed. The next 2 had bad Bluetooth and now this 5th phone is doing the same thing. The Bluetooth (verified on 5 different bt devices) starts ok but within a few days begins to fail. Callers report my voice breaking up or totally unheard. I can still hear them. These issues have been verified by AT&T's testing and repair facility. Right now I wish that iPhone would add stylus features and I would run to it. I mean what is the use of an unreliable phone, especially if Samsung and AT&T don't get this fixed. Could it possible be fixed in Marshmallow OS (which, btw, AT&T STILL hasn't released!!!!
Android Central Newsletter
Get instant access to breaking news, the hottest reviews, great deals and helpful tips
Thank you for signing up to Android Central. You will receive a verification email shortly.
There was a problem. Please refresh the page and try again.