10 things to know about the Galaxy Note 5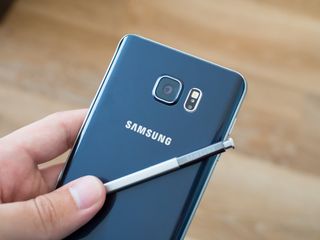 Samsung has brought the Galaxy S and Note lines closer together in 2015, with the Note 5 having very similar design to the smaller Galaxy S6 as well as many of the same internals and features. That doesn't mean that this is the same phone as the GS6, though — there's still plenty here to differentiate it, and keep its title as a Galaxy Note. Here's what you need to know.
Read now: 10 things to know about the Galaxy Note 5
It's actually physically smaller than the Note 4
Despite having the same 5.7-inch screen size as the Note 4, the Note 5 is physically smaller in every dimension. It's actually only a touch bigger than the LG G4, despite having a larger screen. That means the Note 5 is easier to hold in one hand and operate, and it's thanks to the new metal-and-glass design — the only downside is no longer being able to remove the battery.
But let's be realistic, this is still a phone with a 5.7-inch screen, and that means it may cause you issues when reaching to the status bar or using it in one hand. If you absolutely must be able to do everything on the phone without the use of both hands, you may still consider a Galaxy S6
This is the same great camera as the Galaxy S6
There's been no shortage of good things said about the camera experience on the Galaxy S6, and Samsung has brought over that same exact experience to the Note 5. You get a 16MP sensor, but this isn't just about the number of pixels — it has great low light sensitivity, is supported by OIS (Optical Image Stabilization) and a simple camera interface that makes taking pictures quickly and accurately a breeze. Add in the ability to launch the camera at any time with two presses of the home button, and you've got a winner.
The Note 5 does have a few extra camera software features over the Galaxy S6, though — including RAW capture in the "Pro" mode, better software video stabilization, and the ability to set manual shutter speeds — between 1/24000 and 10 seconds — in the Pro mode.
You can do more with the latest S Pen
Galaxy Notes are known for their S Pens, and the Note 5 builds on this legacy nicely. The new S Pen is roughly the same physically as previous models, but stores fully in the phone and retracts with the click of a button — pretty neat trick. When you take out the S Pen with the screen off you can instantly write on the black screen to take a quick note, and save it to S Note for further editing. You can also still launch Air Command with the S Pen, giving you quick access to apps that work with the pen (plus any other apps you want). There's now built-in PDF annotation as well.
The Screen Write app — compatible only with the Note 5 — also gives you the ability to screenshot multiple screens (like a long list of directions or an online article) and automatically stitch them together for future annotating and reference. All of these little tricks add up to a great stylus experience, if that's what you want or need from your phone.
Perhaps most importantly is the fact that you don't lose S Pen functionality if you choose to go with a third-party launcher. So even if you don't like the look of Samsung's stock offering or prefer to have extra features of another launcher, you can keep using the S Pen as well.
No more swiping: You get a new one-touch fingerprint sensor
Samsung started early with fingerprint sensors embedded in the home buttons of the Galaxy S5 and Galaxy Note 4, but they were slightly clumsy because they required fully swiping your finger over them. Thankfully with the Galaxy S6 samsung put in a new-and-improved sensor that just required a simple touch, and that new technology is here in the Note 5 as well.
It only takes a minute to train the phone to recognize each one of your fingers — usually your index fingers and thumbs are good choices — and you can use the sensor to unlock your phone, "private mode" for sensitive data, KNOX for full security and several other apps that have integrated with the sensor. It works quick, is super secure, and best of all is easy to manage.
Multitask all you want with 4GB of RAM
It was a pretty easy guess that phone makers would start to move toward 4GB of RAM in phones, and Samsung has done just that with the Galaxy Note 5. Bumping up from 3GB in the Note 4, you now have just a little more room to work with when it comes to playing intensive games, running multiple apps at once and keeping background tasks active while jumping back and forth between them quickly.
But perhaps most importantly, having 4GB of RAM inside the Note 5 means you have that extra bit of headroom to know your phone is ready for the future. Whether it's bigger and better apps or full software updates, one or two years down the road you can know that you have enough RAM to handle what's coming next.
Though the screen is still 5.7-inches, you can see more
Though the screen is still 5.7-inches and 2560x1440 resolution like the Note 4, the Note 5 has a higher screen density that lets more content fit on the same screen. Display density is defined on a system level and tells the phone how to render content to fill each pixel on the screen — in the case of the Note 5 that density is higher, meaning apps, icons, text and content all show up physically smaller on the screen than they do on the Note 4.
The density works out to be about the same as the Galaxy S6, meaning items on the screen are physically as large as they are on the GS6, but since you have a larger screen you can just show more of those items. So instead of the 5.7-inch display just making things bigger, it gives you more of them.
It's easier to just see than explain, but the end result is very practical — in Gmail or Hangouts you can see a couple more messages in your inbox, in all apps the navigation bars and interface is scaled down to show you more important content, and when the keyboard is open you can see just a little more in the app still.
It honestly takes a little getting used to when coming from something like the Note 4, and may actually cause usability issues for those who bought a Note 5 specifically to see things larger because they have trouble seeing smaller phones. But for most people, this is an upgrade — actually making use of the large display to simply do more.
There's quick charge, both wired and wireless
The Galaxy Note 5's battery may not be removable, but there are more (and better) options for charging it. Samsung's latest fast charging technology will boost your battery quickly when plugged in so long as you have the proper charger (like the one in the box).
There's also wireless charging built-in, and going a step further than the Galaxy S6 the Note 5 supports fast wireless charging on compatible chargers. You can still expect wireless to be slower than an old-fashioned cable, but you just can't beat the simplicity of just placing it on a charger for a quick power-up.
One-handed usability options
Samsung has included one-handed usability options on previous Note phones, letting you tweak the software somewhat to make it easier to manage on a large-screened device. The Note 5 has some features still, but they've been changed yet again.
First up is "Reduce screen size," which is activated with three presses of the home button. It shrinks the screen down (proportionately) to roughly half its usual size in a window, and pulls it over to either the left or right side as you choose. The window stays this size until you tap a button to restore it, so you can hopefully do what you need to do while you can reach the whole "screen" area.
Next is "One-handed input," which is a setting that permanently shifts areas of the interface down and to the right or left corner. The dialer keypad, Samsung keyboard, in-call buttons, calculator and lock screen pattern area are all shrunken to be easier to use, and they stay that way until you go back to the settings.
Both features make it a little easier to deal with the large screen, but they're both a little clumsy and are only useful for a handful of interactions with the phone. There are still lots of things that will best be dealt with using both of your hands, or at a later time when you have better control over the phone.
The Note 5 is ready for Samsung Pay
Paired up with the launch of the Galaxy Note 5 and Galaxy S6 edge+ was the public availability of Samsung Pay, the company's payment solution that lets your phone work for payments via both NFC and MST (Magnetic Secure Transmission) at virtually every store that accepts credit cards. The system looks promising, and the Note 5 is one of the handful of devices from Samsung that's ready to go when Samsung Pay launches.
You'll have to wait until the end of September to use it in the U.S., but know that when you get a Note 5 you'll be ready to go if you want to be one of the first to try out the new payment technology.
The Note 5 is pretty expensive
Though the Note 5 shares many design traits with the Galaxy S6, the price is clearly a step higher than the smaller phone as has historically been the case with the Note line. Depending on which U.S. carrier you buy from, you can expect to pay between $700 and $840 for the 32GB model, with 64GB storage costing an extra $100.
That's not cheap, and though the carriers all offer some sort of financing plan to spread out payments over a year or two, the total is still the same — and it's a really high price to pay for all of this shiny metal and high-end tech.
Get the Android Central Newsletter
Instant access to breaking news, the hottest reviews, great deals and helpful tips.
Andrew was an Executive Editor, U.S. at Android Central between 2012 and 2020.