A quick look at the Samsung Fast Charge Qi Wireless Charging Pad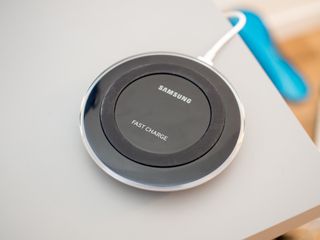 Building on the announcement of built-in wireless charging on the Galaxy S6, Samsung did us one better with the inclusion of so-called "Fast Charge" wireless charging on the Galaxy Note 5 and S6 edge+. Problem was there actually weren't any wireless chargers out there that actually output enough power to take advantage of it — that is, until Samsung started selling its own Fast Charge Wireless Charging Pad.
It looks, feels and acts much like the last version announced just a handful of months ago with the Galaxy S6, but has the additional power to juice up your Note 5 or S6 edge+ even quicker — here's our quick take on the accessory.
Design
Image 1 of 3
Image 2 of 3
Image 3 of 3
We took a look at Samsung's then-latest Wireless Charging Pad back when it came out with the Galaxy S6, and unfortunately it wasn't all that impressive. For a rather premium price the wireless charger just didn't do all that much — it matched your phone nicely, but it didn't really hold onto the Galaxy S6's glass back all that well nor did it do anything special to set itself apart from other chargers. Unfortunately, we have to say the new version stumbles on many of the same points.
The new model has the same "flying saucer" style design, with a circular platter to set your phone on that tapers down to a narrower base to give the charger a look like it's floating on the table. There's a Samsung logo on the top surrounded by a now thicker and tougher circular strip of rubber that actually holds onto a Note 5 — an upgrade from the prior model — and the same rubber is found on the bottom to keep the charger itself from sliding around.
The charger unfortunately still has a rather annoyingly-bright LED on the front that is solid blue while charging, and green when fully charged. A translucent edge around the top of the charger disperses the light, meaning it's honestly a bit too bright for a bedside table — just like the first model.
Faster charging
Image 1 of 3
Image 2 of 3
Image 3 of 3
Design aside, you can't look past the fact that this Wireless Charging Pad does charge considerably faster than the previous model and all other current Qi chargers. When plugged into the included Adaptive Fast Charging wall plug, the new Wireless Charging Pad will juice up a Galaxy Note 5 or S6 edge+ from dead to full in just over an hour and a half, which is considerably faster than a standard wireless charger. That's about the same pace as plugging the phone into a standard 5V / 2A (non-quick charge) wired charger, and some 40 percent faster than a "standard" Qi wireless charger. These are the charging rates we'll need to see in all phones and chargers if people are going to adopt wireless charging more broadly.
Unfortunately right now these are the only two phones to support the faster charging — all other Qi phones will charge at a "normal" rate on the pad.
The downside of faster wireless charging (well, all faster charging) is heat, and here's one place where the Wireless Charging Pad has a little bit of innovation. To help counteract the extra heat generated from inductive charging, the base of the charger has a low speed — and completely silent — fan inside. It slowly circulates air through the charger using the vents around the base, and while we're not entirely sure how much air it's actually moving, it certainly can't hurt the cause. For our time using it the charger never got abnormally hot, even over a 100 percent charge cycle, and that's just how it should be.
Worth your money?
We didn't highly recommend Samsung's last Wireless Charging Pad (unless you could get it for a steal of a deal), but we're a bit more on the fence about the newer model. The design is polarizing, the LED on the front is too bright and the price is a bit steep, but at the same time it has much better rubber on the top for phone stability and has a quite ingenious fan inside that aims to keep things from overheating.
Those improvements in themselves wouldn't be enough to flip the switch to "buy," but remember you're also getting the addition of Fast Charge. A 40 percent boost in wireless charging speed is extremely significant, and enough that it makes wireless charging with this accessory more of a situation of power and convenience rather than power or convenience.
At about $65 the new Fast Charge Wireless Charging Pad is hardly a bargain, but if you have a Note 5 or S6 edge+ and want the fastest possible wireless charging, this is the one to get despite its design shortcomings. If you have any other Qi-compatible device and just need a standard charging pad, you should look elsewhere.
Andrew was an Executive Editor, U.S. at Android Central between 2012 and 2020.
Does it work with the regular galaxy s6? Posted via the Android Central App

"Unfortunately right now these are the only two phones to support the faster charging — all other Qi phones will charge at a "normal" rate on the pad."

It will charge the S6 at the same rate as the older model. The S6 does not support wireless fast charging. Posted via the Android Central App

Samsung's new Fast Charge is made with looks and feels that were announced with Galaxy S6. But now Samsung reveals more features and powers in its Fast Charge. The wireless charger comes with additional powers that can charge new Samsung devices quicker than the conventional charging. The design is good with old flying saucer shape which holds your device on top to look like floating on table. You can read more about the technology here: http://mobilesiri.com/samsung-...

This charger came free with my Note 5. It is the first one I have ever owned, so I was not really sure what to expect other than it would charge my phone faster. The rubber grips really do keep my phone from sliding. The led does not bother me. I like being able to glance over and know that it is charging. The one thing I do not understand about this device is every now and then, when I put the phone on the charger, it will beep and let me know charging has begun, and then 10 minutes later, the blue led is flashing and the charging has stopped. It is like there is a sweet spot on the charger and that phone has to be placed just right.

This was an issue with the standard samsung charger when the S6 was released. This issue as well as when the phone charges to 100% the charger turns off. No maintain mode, so I'd wake in the AM to a phone with 92% charge. I switched to a Tylt Vu and have been much happier. My guess is Tylt will have a Vu fast charger soon. Posted via the Android Central App

my also happens that, but in my work I use a wireless charger of Nokia, much more low profile, and it NEVER happened this problem.

I also use the Nokia wireless charger. Probably best charger out there. Triple coil, charges to 100% and maintains charge at 100%. Only 2 shortcomings: no grippy rubber top on it (so charger and phone must be on a flat surface), and the proprietary charger. The proprietary charger is not a deal breaker because we never have to unplug it so no big deal, but that AC adapter is huge.

Err, are you sure you got the Fast Wireless Charger or the original Wireless Charger free? The new fast one specifically says Fast Charge under the logo, and have been relatively difficult to find (none of my local stores have had them in sock for weeks, eventually found them on Amazon). I know there were promos with the standard Wireless Charger free with Note 5s and S6E+s. ~ SM-N920T ~

True, I think he also has the older version Posted via the Android Central App

He has the older model, because I just got mines free as well and it doesnt mention Fast Charge no where on it.

I think so too Posted via the Android Central App

While I would love to have fast wireless charging just 'cuz, I don't get the downside of slow "normal" wireless charging. I put my phone on the wireless charging dock at night, and pick it up the next morning. I don't care if it took 1 minute or 120 minutes to charge overnight. On those rare occasions when I need to charge quickly (like the two times when I forgot to put the phone on the dock), I unplug the wireless dock and plug in my phone for fast charging.

It's all about your personal habits. I personally spend the majority of my day moving about the office and only occasionally sit at my desk. I'm up before a slow trickle has done very much so fast=amazing for me. Being able to drop my Note 5 down on the pad without missing a beat is pretty Damm nice. No more losing my cable behind the desk.

I have a Note 5, in an Otterbox Commuter case. I find that this charger is a bit finicky with this combination. It requires placing the phone on the charger "just right". Not too big of a problem, though. Does charge very quickly.

Is this the free charger we get from Samsung for signing up for samsung pay? I have a regular samsung Qi charger and love..would love fast charger for my note t Posted via the Android Central App

No, u get the basic one that's 49.99. Posted via the Android Central App

I wish my S6 supported this, though I wouldn't shell out $70 for a charger either. Qi fast charging is going to be amazing. I'm glad that the new Qi standard is FINALLY making it's way into peoples hands. The new standard was updated and released over a year ago. Can't wait for other third parties like Aukey/Anker etc.. To start making some of these. I've got a Qi power bank and it's super convenient.

The light issue? Non issue. This doesn't need to be your bedside charger. Unless you are only getting 1.5 hours of sleep each night. This is better suited to your desk or sofa end table or kitchen countertop, places you may set your phone down for shortish periods of time.

Well said. Posted via the Android Central App

This is really encouraging to see. Cannot wait until this type tech can recharge a dead cell to 100% in a minute or less. Then it will have equaled or surpassed swapable battery tech currently available on the market. Keep t up Samsung.

Alright say that happens..can you imagine the catastrophic downside ..side effects..battery lifespan heat fire etc..too good to be true wo paying a price. I'm all but certain of that 100%

I have the older model that came with the S6. I don't think the LED is too bright at all. Have no issues trying to sleep with in charging less than two feet away from my bed. $65 is steel but at least it's future proof I suppose Posted via the Android Central App

I still cant understand the benefit of this wireless charging. It's very expensive, charge slower and the worst of all unable to use my phone while being charged. The only benefit is that it is more convenient Posted via the Android Central App

I agree, but do you use your phone while asleep? Also if you need to use fast charging you can always use the regular charger. Personally I hardly ever do wired charging at home since I have 5 Qi chargers spread around the house (3 Nokia and 2 Samsung branded chargers) so I just drop my phone on a charger in whatever room I'm in. My phone is really never under 40% and always as average of 70+% so even if I do need to use the phone, I have plenty of power. The only time I do wired charging is in the car for that quick top up during a 10 to minute drive.

I was in the same boat never really cared if I had wireless charging but when I got my Note 5 and a wireless charging stand now that became useful. Notice I said stand. I like having the phone propped up on my desk or nightstand so I can see it better and even use it. I'll only ever get stand up wireless chargers for that reason alone. Eventually some aftermarket manufacturers will make QC wireless stands... Posted via the Android Central App

For that price I'd just use a regular, cheap, Qi charger more frequently. And if I really need to charge in a hurry once in a while, it's really not hard to take the cable out of the charging puck and plug it into the phone.

Just got me a Fast Charging Samsung Wireless pad for my Samsung Note 5 for which I use an OEM S-View Flip Cover Folio. Problem is with phone inside case, there is zero action, no charging whatsoever. If I remove the case, then it starts to charge fine. Today, I went to Best Buy and I tried it on their display model, but it was not the Fast Charge, and it worked right away. Why will my Fast Charge not work with with the Samsung S-View Flip Cover Folio on?? Any help would be appreciated!

$70 is just too expensive. Need some 3rd party competition. Posted via the Android Central App

I've been considering a Note 5 and wondered if I could use my Qi ASUS PW100 Wireless Charging Stand from my Nexus 7 2013 model. http://www.amazon.com/ASUS-PW100-Wireless-Charging-Stand/dp/B00IAMEGPU?t... Has any tried this or have thoughts on using it?

Can someone tell me, why the blue charging light just blinks a couple of times and the green light then blinks once and then they both go out. What does that mean ? Is the charger charged or not?

Does anyone know if the Samsung branded Fast Charge units posted on Ebay for around $25 are legit? or knockoffs?
Android Central Newsletter
Get the best of Android Central in in your inbox, every day!
Thank you for signing up to Android Central. You will receive a verification email shortly.
There was a problem. Please refresh the page and try again.