A quick look at the Samsung Fast Charge Qi Wireless Charging Pad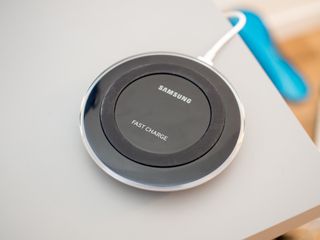 Building on the announcement of built-in wireless charging on the Galaxy S6, Samsung did us one better with the inclusion of so-called "Fast Charge" wireless charging on the Galaxy Note 5 and S6 edge+. Problem was there actually weren't any wireless chargers out there that actually output enough power to take advantage of it — that is, until Samsung started selling its own Fast Charge Wireless Charging Pad.
It looks, feels and acts much like the last version announced just a handful of months ago with the Galaxy S6, but has the additional power to juice up your Note 5 or S6 edge+ even quicker — here's our quick take on the accessory.
Design
Image 1 of 3
We took a look at Samsung's then-latest Wireless Charging Pad back when it came out with the Galaxy S6, and unfortunately it wasn't all that impressive. For a rather premium price the wireless charger just didn't do all that much — it matched your phone nicely, but it didn't really hold onto the Galaxy S6's glass back all that well nor did it do anything special to set itself apart from other chargers. Unfortunately, we have to say the new version stumbles on many of the same points.
The new model has the same "flying saucer" style design, with a circular platter to set your phone on that tapers down to a narrower base to give the charger a look like it's floating on the table. There's a Samsung logo on the top surrounded by a now thicker and tougher circular strip of rubber that actually holds onto a Note 5 — an upgrade from the prior model — and the same rubber is found on the bottom to keep the charger itself from sliding around.
The charger unfortunately still has a rather annoyingly-bright LED on the front that is solid blue while charging, and green when fully charged. A translucent edge around the top of the charger disperses the light, meaning it's honestly a bit too bright for a bedside table — just like the first model.
Faster charging
Image 1 of 3
Design aside, you can't look past the fact that this Wireless Charging Pad does charge considerably faster than the previous model and all other current Qi chargers. When plugged into the included Adaptive Fast Charging wall plug, the new Wireless Charging Pad will juice up a Galaxy Note 5 or S6 edge+ from dead to full in just over an hour and a half, which is considerably faster than a standard wireless charger. That's about the same pace as plugging the phone into a standard 5V / 2A (non-quick charge) wired charger, and some 40 percent faster than a "standard" Qi wireless charger. These are the charging rates we'll need to see in all phones and chargers if people are going to adopt wireless charging more broadly.
Unfortunately right now these are the only two phones to support the faster charging — all other Qi phones will charge at a "normal" rate on the pad.
The downside of faster wireless charging (well, all faster charging) is heat, and here's one place where the Wireless Charging Pad has a little bit of innovation. To help counteract the extra heat generated from inductive charging, the base of the charger has a low speed — and completely silent — fan inside. It slowly circulates air through the charger using the vents around the base, and while we're not entirely sure how much air it's actually moving, it certainly can't hurt the cause. For our time using it the charger never got abnormally hot, even over a 100 percent charge cycle, and that's just how it should be.
Worth your money?
We didn't highly recommend Samsung's last Wireless Charging Pad (unless you could get it for a steal of a deal), but we're a bit more on the fence about the newer model. The design is polarizing, the LED on the front is too bright and the price is a bit steep, but at the same time it has much better rubber on the top for phone stability and has a quite ingenious fan inside that aims to keep things from overheating.
Those improvements in themselves wouldn't be enough to flip the switch to "buy," but remember you're also getting the addition of Fast Charge. A 40 percent boost in wireless charging speed is extremely significant, and enough that it makes wireless charging with this accessory more of a situation of power and convenience rather than power or convenience.
At about $65 the new Fast Charge Wireless Charging Pad is hardly a bargain, but if you have a Note 5 or S6 edge+ and want the fastest possible wireless charging, this is the one to get despite its design shortcomings. If you have any other Qi-compatible device and just need a standard charging pad, you should look elsewhere.
Be an expert in 5 minutes
Get the latest news from Android Central, your trusted companion in the world of Android
Andrew was an Executive Editor, U.S. at Android Central between 2012 and 2020.