ASUS Transformer Pad Infinity TF700T receiving minor update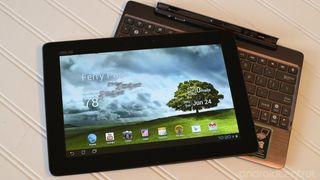 Well, how convenient. We've posted earlier today that the ASUS Transformer Pad TF300T was getting a small bugfix update, and now the TF700T is getting its own. Similarly to the TF300T, this small update is bringing the model up to firmware version IML74K.US_epad-9.4.5.30-20120907, according to our forum members who have received it. The update is small, mostly updating the camera firmware and fixing some bugs here and there.
If you've got a Transformer Pad TF700T laying around, head to Settings > About tablet > Software updates and see if your device is ready to download the update. Once you get it, chime in in the forums and let us know how it's working.
Source: ASUS Transformer Pad Infinity 700 Forums
Andrew was an Executive Editor, U.S. at Android Central between 2012 and 2020.
I had a TF300 that I sold to buy a TF700. The guy I sold the TF300 to got the JB update almost a month ago. Where is our update to JB? Edit: Got the download, don't see any difference.

Hmmm... I don't see any update. :(

Too bad Asus has completely forgot the Prime exists. Can't remember the last time I got a firmware upgrade for it.

I got the update and nothing seems to have changed. Was really hoping that my headphone jack would magically start outputting both channels again instead of just one. Oh well guess I will stick to using the HDMI out for running audio out of tablet.

I too received the update, but not sure what was changed. I was hoping it was the jelly bean update but imagine my disappointment that was not jelly bean. I want around and around which tablet to buy and I went for the power thinking that it would be the one to be updated. To think i could have saved $100 dollars to.

Would be nice if ASUS would update the Prime sometime in the next 30 or 40 years. Come on. The Prime is basically identical to the 300 and the 700 with slight modifications. I cant believe that it would be so much more difficult to port Jelly Bean to it than the 700 and 300. Its like another user said, it looks like ASUS has left the Prime out in the cold. I guess with the whole GPS snafu, they spent too much money fixing that debacle (with an even more redicules toggle) so they ran out of money to port jelly bean.

I got the tf700t,, tried to update to JB no luck, still seeing 4.0.3 what's up..??
Android Central Newsletter
Thank you for signing up to Android Central. You will receive a verification email shortly.
There was a problem. Please refresh the page and try again.