ASUS EeePad Transformer TF101 bug fix update now rolling out via OTA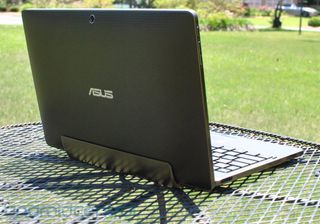 The introduction of Android 4.0 on the ASUS Transformer TF101 looks like it didn't go as smoothly as what ASUS had hoped. Some folks in the Android Central forums had issues after installing the update, unstable WiFi, random reboots among other things were reported. ASUS however, is now rolling out a new update for the device labeled 9.2.1.17-20123012 and while the verdict still seems to be out on what, if anything the update fixes -- it's an update.
Did your device get the update yet? If not, go ahead and check for updates. If you find it there waiting for you -- give it a go. Once your done giving it run through, drop into the forums and let us know how it's working out for you.
More: ASUS Transformer Forums; Thanks to everyone who sent this in!
Don't have a transformer but I still recommend them for these timely updates and service to the consumer. Well done ASUS

...and that's why we continue to stand by Asus. Can't wait til they get serious about being in the phone game.

This is so weird. I've been experiencing random reboots and just checked for an update two days ago. Had another random reboot this evening and after everything loaded, I saw the headline in my AC widget (wished it was a scroller, by the way). Anywho, just downloaded and installed the update...time will tell if all is well. ASUS rocks!!!

just got the ole update...now i wait and not have a random reboot

I was so fed up today I went to the forum to see if it was just me. And here we are....thanks because I was frustrated with the reboots.

downloading:)..yes after i made the ics update i had random reboots.when that happend.i though it was some running apps..so i deleted beautiful widgets and multi wallpapers..but it kept doing it..but now that i know that i was not the only one having this issue i feel more relief..THANKS ASUS FOR KEEPING US UP TO DATE..

Mine, just came in as well. Only time will tell if it fixes my issues.

Haven't updated yet, but for anyone having reboot problems, open the TegraZone app, go to settings and turn notifications OFF. This solved all my issues and my TF runs silky smooth!

Already experienced the sleep of death after updating... ffs Asus.. :rolleyes:

update not available in uk yet

Nor in Germany yet....so looks like Europe isnt getting this yet....waiting for it though as I have had the random reboots and really temperamental WIFI since the ICS update.

Hopefully fixes G+ crashes. Been getting android.media crashes reports though no media is playing. I find that notification system takes input during open transitions if you tap notification bar (lower right corner) before transition completes, you may accidentally hit the quick settings for gps, bluetooth, rotate lock, etc..

Updated to the latest (BUG FIX) update. But device rebooted almost three times since last night!!!! Obviously problems still exists…

notice a little perkier screen response now and benchmarks like nemamark show a small (under 1 fps) speed up.

Like tareksh, I installed the update yesterday, but work up this morning to find my tablet screen on and frozen in the midst of a reboot. -1 for the bug fix update.

Only one reboot just after install, turned of Tegra Zone notifications, no problems for the last 30 hours.

Mine is doing fine so far but will make sure Tegra notifications are off too.

I haven't seen any reboots, just shutting down overnight and taking a very long press to reawaken. Not sure if the OTA did much good for me.

I didn't really have the reboot problem. Not that it never happened, but it was so seldom I can't ever remember how many times it did it, but . . . Since this update, my alarm clock won't shut off by pressing dismiss. I have to completely shut down the tablet. This is a major annoyance since I use the alarm to remind me to take medications a couple of times a day. Anyone else notice this? Hope an Asus engineer is following these posts. :) Frank

I'm getting the rebooting problem although it's not a often as before. The update did fix the Google+ issue which was a pain.

My TF101 was very stable until ICS with over 120 apps installed. I almost never had to reboot a crashes were very few and far between. Now I can't be on it a hour and it wants to reboot and many crashes, almost every 15 minutes. I also noticed before the TF101 use to sit at 216 ram used now with ICS only 50 or 60 ram is unused in the system this could be a major cause for the freeze crash issue. I growing tired of this. 4.0 is suppose to be better fastier and more intelligent and it seems it's taking my TF101 and made it a piece of garbage at this point. Note: My email boxes also freeze up and when typing the cursor moves around from time to time.
Android browser force closes but even if the system reboots it keeps the site data upon opening it which is a plus! I wonder why Google would allow this OS out and to back that up ASUS should of protected it's TF owners from this OS until 4.0 was worthy. I remember the days when you knew could opt in for a beta test. Seems like now days these companies don't care about that. We pay alot of money for our gadgets and the companies that go to for them get the reward. That's fine, we want something that works good and is reliable most of the time if not all of the time. I use to think very highly of ASUS and the same for GOOGLE . This is leaving a bad taste in my mouth. I might just get a ipad!

Never had a single problem with my transformer before the update. Since it has locked up on me twice, 1st time it was working fine, put it down and came back to it, the screen was blank, I couldn't get it to do anything, power button did nothing, I left it for a while then tried again and eventually got it to boot up. 2nd time I picked it up and it was frozen on boot screen, it had rebooted by itself and stopped half way through bootup. I couldn't get it to do anything so I left it over night, it was still on the same screen in the morning, after playing with the power button for a while it eventually rebooted. I'm also having issues with the attached keyboard now, the backspace button wouldn't work, don't know if it's more than that, I have only tried it the once and gave up on it. I hope they fix the new bugs soon, is there a way I can uninstall the upgrade?

I have exactly the same problems. Black screen then have to manual force boot

Oh and can anyone tell me how to shut off that hideously annoying beep every time you touch the screen, I have to mute it which sucks because if I forget to put the sound back on I don't hear notifications

i am typing this as quick as possible before ics 4.0 either turns off, runs out of battery, reboots or locks up. Or maybe looses the sound on streaming or keep reloading my email. Well done android another useless upgrade that does not fix anything. What gets me is asus say they have had no problems. funny how every sight you visit is full of coments like this. Andriod is so good in concept and so poor in every other way. I never have this on my ipod touch and I am no apple fan. 3.2 was stable and the upgrade has not made any significant difference at all we all thought this was a big step forward. Funny we used to slag windows off. welcome to windows for android. ipad have no fears yet and that is a fact what a shame. hope android and asus can get this soughted out soon.
Android Central Newsletter
Get the best of Android Central in in your inbox, every day!
Thank you for signing up to Android Central. You will receive a verification email shortly.
There was a problem. Please refresh the page and try again.