Another Android-powered Samsung flip phone leaks out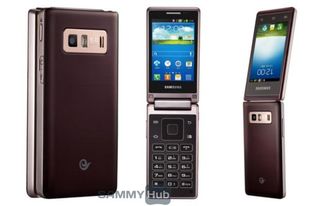 Dual-screen, quad-core device pictured for China Telecom
Flip phones are apparently still a thing, and so Samsung appears to be working on a couple of Android-powered clamshells for the Asian market. Last week brought the first leaked spy shots of the Korea-bound Samsung "Galaxy Folder," and today images of another similar device have leaked through Samsung fansite Sammy Hub.
The images reveal the Samsung W789 "Hennessy," a maroon red handset with bronze accents, capacitive keys, two screens and a single rear camera. Unlike the Galaxy Folder, we're looking at a fairly basic spec sheet -- a quad-core 1.2GHz processor (likely a Snapdragon 200), 1GB of RAM, 3.3-inch HVGA displays, a 5-megapixel camera, microSD support and Android 4.1-based software.
It's unlikely we'll see the W789 anywhere near Western markets, but it's an interesting addition to Samsung's endlessly-varied Android stable. The device is apparently headed to China Telecom in the near future, where it'll support both CDMA and GSM networks.
Source: Sammy Hub
Alex is global Executive Editor for Android Central, and is usually found in the UK. He has been blogging since before it was called that, and currently most of his time is spent leading video for AC, which involves pointing a camera at phones and speaking words at a microphone. He would just love to hear your thoughts at alex@androidcentral.com, or on the social things at @alexdobie.
Crap Posted via Android Central App

Eh... there's always a market for everyone. The front screen could be used for a lot of things, like telling you info without having to unlock/flip open the phone-- especially if it's AMOLED. Samsung sells in many markets outside of your own little world. People who haven't jumped ship to smartphones completely might find this appealing.
Or just as a good backup.

This. Posted via Android Central App

Some1 make high quallity qwerty slider damn it!!! Posted via Android Central App

They did. It was called the Palm Pre........... oh. Wait. Did you say high quality? Posted via Android Central App

Waste of Hennessy name. Should've gone to a higher spec phone.

Hey at least Samsung is giving people alot to choose from. I think its cool. And if it ever make it to the US I think it would sell actually.

Good for you and your thinking. Dear owl, in how many drops will you total this phone by breaking the inside or outside screens?
One

We're not all as clumsy as you, lol. Posted via Android Central App

Hmmzzz I kinda like it. It looks to bulky and I like to know what about the front and inner screen. But I would really wanna try one... Posted via Android Central App from my galaxy nexus

I'm really digging the design and specs. Samsung seems to be the only company at the moment that's willing to try something totally new like this. I don't think we should just immediately shoot them down just because it's not something you'd enjoy owning. Without Samsung trying designs that are "out of the box" who knows if we'd have phones similar to the Galaxy Note, Galaxy Mega, and this (the Hennessey). Posted via Android Central App

I won't say it's totally new (well maybe the dual screen part, but even then it was done before). Sharp already made some clamshell android phone.

Non-smartphone people are still warm to flip phones. It seems there may be a bigger market for those than for Android qwerty's. Posted via Android Central App

This. Posted via Android Central App

exactly! my grandpa can enjoy features of a smartphone he'll use while using the device form he's used to!

Bring those modern flip phones over to the US and inferior products like the LG A340 et al with completely outdated specs and features (1.3 MP camera for $249 according to Best Buy) can be laid to rest. It is time to let the flip phone move back to the smartphone level again (like it was before with devices like the Nokia N76, N90 and N93). So I think those new Samsung products is a great product for those who like that design concept.

I'm sure nobody wants to choose something that breaks on one drop. You place two screens that flip from a keyboard and SometHIng Totally bad happens.

Thanks, for thinking for the rest of us, lol. Posted via Android Central App

Now now merc. This guy have obviously been around and tested this phone quite extensively. I mean he said the same thing a few times. The man obviously knows exactly what he is saying... Wait what? He's full of sh**? Carry on then. Seriously. Before smartphones I had a dual screen wannabe that was a frigging tank. I dropped it, threw it did everything but run it over with a tank. It was beat to hell but the screens never broke. The hinge proved to be it's eventual down fall, this phone is worth grandma and grandpa moving to the smartphone era at the very least. There would be something of a market. Maybe not N4 numbers but something Posted via anything but a Nexus phone.

really? why do asians buy a lot of clamshell phones then?

You must drop your phone alot.

SCHEIßE (SHIT)! Posted via Android Central App

I'd actually consider getting a Samsung phone if they brought one of these to the US.

I think it's a good idea. Nobody has yet to even dare bring back the flip phone... I mean blackberry tried but obviously they fail at everything Posted via Android Central App

In related news, Apple is filing a lawsuit claiming that they, in fact, invented the flip phone and that Samsung has infringed on their patents.

I would seriously love an Android flip phone, I think a lot of people would. I'm surprised nobody has done one in the States yet, it seems like a missed opportunity.

Reminds me of the Pantech PN-820 which I was VERY close to getting. I was carrying my LARGE smartphone with a flip cover case and figured why worry about protecting my screen when it could be in a clamshell. Only thing that dissuaded me was the lack of QWERTY keyboard. I think there's room for non-slab smartphones. Not sure this is the way to go or not.

The front looks like the Samsung Instinct.

Im going to trade my S3 for this. NICE!!

Too bad it won't head to the Western markets. This would have made a nice phone for my mom.

I like the concept. Now if only Samsung would make a QWERTY phone for the US market. Posted via Android Central App
Android Central Newsletter
Get the best of Android Central in in your inbox, every day!
Thank you for signing up to Android Central. You will receive a verification email shortly.
There was a problem. Please refresh the page and try again.